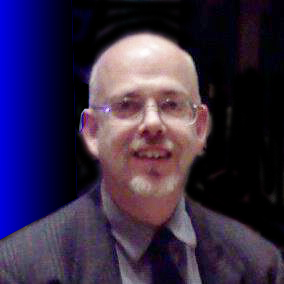 R. Craig Collins > Web Page Design > Portfolio > Japan/Taiwan/S Korea
Spring Break, Japan, Seoul Korea, & Taipei Taiwan © R. Craig Collins, 2018/9
to Travelblog (My planning details for now)

to Maps
Plans are useless, but planning is indispensable
To the travel blog, and of course the pictures, when we get back
March

Sunday

Monday

Tuesday

Wednesday

Thursday

Friday

Saturday




Check in Delta
JMAT6E

08
6:15am AUS SEA
DL 2885 23 B/C
13 B/C

9:00-11:55
Seattle

Korea rerouted to Japan
46 BC




09
Korea Japan to Taiwan
China Airlines
34 EF

TPE 10:45 pm

Klook transfer

Ximen Hedo Hotel Kaifeng


10

Explore area
Explore Main Station,
pick up vouchers

Taipei 101,
11:00-9:30

Chank Kai Chek
Freedom Park

Lungshan Temple

Shilin Night market


11

Chiang Kai-shek
9:00-6:00

Dr. Sun Yat-Sen
9:00-6:00

Dalongdong Bao'an Temple
Taipei Confucius Temple
5:00-10:00

National Palace Museum
8:30-6:30

Night Bus

12

Zoo and gondola
Maokong


Ruifang??

13

Beitou

Tamsui
Ferry

Beitou, Tamsui
MRT Red line Beitou Station
Puji Temple
Hell Valley
Thermal Valley
Public Library
Tourist route?
MRT Red line Beitou Station

MRT Red line Tamsui
Old Street
Fort
Lighthouse
Wharf
Shuttle
Sunset
MRT Red line Tamsui

14

Check in Delta Korean Air
4763-7635JMAT6E


Jiufen
Shifen Waterfall

15
8:00 Klook transfer
12:25 pm TPE ICN
DL 7866 ?? ??


Korean Air

KE0692


4763-7635




3:50 pm-7:35 pm
Seoul, Korea

7:35 pm ICN SEA
DL 0198 32 A/B

2:05 pm-5:50 pm
Seattle

5:30 pm SEA AUS
DL 2876 23 B/C

AUS 11:51 pm

Unlimited FunPass, includes museum entry and unlimited area travel
pick up
Opening hours: 9:00am-9:00pm
Lion Travel booth in Taipei Main Station (near North Gate No. 2 on the ground floor)
Cheat sheet English-Mandarin phonetic plus characters

To the travel blog, and of course the pictures, when we get back

More Maps Below
The Trip
Friday, to Korea Japan
Saturday, to Taiwan
Sunday, Taipei 101, Temples, Night Market
Monday, Chiang Kai-shek, Dr. Sun Yat-Sen, Dalongdong Bao'an Temple, Taipei Confucius Temple, National Palace Museum, Night Bus
Tuesday, Zoo, Gondola, Ruifang
Wednesday, Beitou, Tamsu, Ferry
Thursday, Shifen
Friday, Lots of pictures of Breakfast foods; Travel

(Scroll down for A LOT OF DETAILS on places visited, and of course, the pictures once we return)


General Note, almost everything mentioned has several different spellings in English, I went with the most common.
But it was confusing to see signs next to each other with different spellings of the same place.
Some information is adapted from Wikipedia to suppliment what we learned.

Friday, Mar 08:
12:30am Get up and start getting ready
2:30 am to Austin, FastPark & Relax T11
Passport issues resolved, moved to new gate and explored new airport addition
6:15 Upgraded to 13 BC Comfort as back of plane was overbooked
9:00 arrive SEA and snow


Lunch: Wrap, plus chocolate for flight $8.99/$7.00 AmEx
1:00 ish Text: Inbound flight Delayed; we ran to Service counter and got changed to DL 167 to Tokyo-Narita instead of Seoul. Not the way we wanted to visit Japan, but part of the adventure.
Noon: Got in seats 46 BC, but this flight was then delayed for security reasons, as a passenger was removed and they searched the area he was sitting in, even removing seat bottoms. Took off an hour late, now sweating this connection.
Dinner was chicken and pork, with ice cream.

Saturday. Mar 09:
Pre-arrival meal was brocolli wrap that did not agree with Susann
Late into Narita, but the staff met us at the gate with a sign and yelling Taipei over and over to get us all together, then they guided us through security and got us on a bus to our terminal.
5:45pm Running, we got to the China air gate for flight 105 to discover a weather delay... but soon boarded seats 34 EF in the middle. Older aircraft, a bit cramped. Chicken and rice for meal service.
10:30 pm, arrived Taipei late, and security told us we arrived in the wrong terminal, due to flight change.

11:00 pm Tourist Assistant contacted cab company, and alerted them to new pick up location. Took two calls
11:30pm apologetic driver arrived, and got us to his car.

Sunday, Mar 10:
12:15am arrive hotel, paid driver 100NTD, and checked into Ximen Hedo Hotel Kaifeng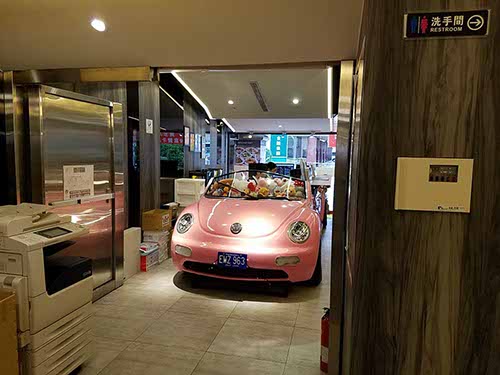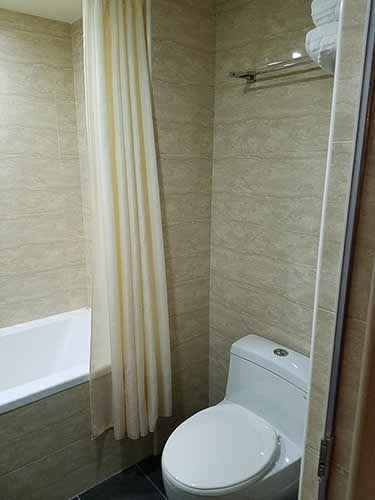 Crash

7:15am up and showered
View from our room


9:00am Noodles, steamed rolls, chicken fries, dates, and meat buns. See also Breakfast, for more pictures of what was often available.

Near the hotel was an entry to several underground malls which led us to Taipei Main station, to pick up our preordered travel vouchers.



10:00 We finally locate the Lion's shop, but they had delivered only the two day passes but not the 3 day passes... not enough for the whole trip; we took the 2 day vouchers and they told us to return the next day to get the rest.
We then headed to Taipei 101, once the tallest building in the world. The subways were fantastic, and everyone queued up and waited there turn, even on escalators.



Taipei 101, but it was too cloudy to waste a trip to the top; we walked around at figured out what to do when we returned later.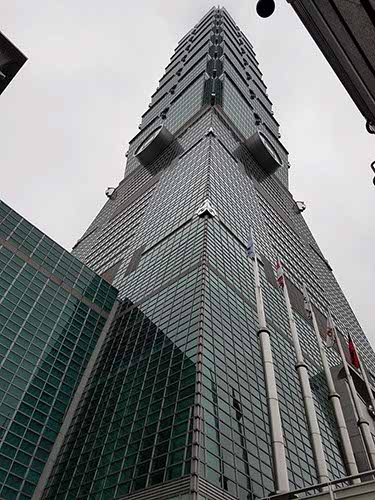 We headed to the Liberty Square... this included the National Theater (1987), National Concert Hall (1987), Freedom Park, and Chang Kai-shek memorial. We saw the changing of the guard, and wandered the gardens, by the lily ponds, waterfall, bridges, and koi.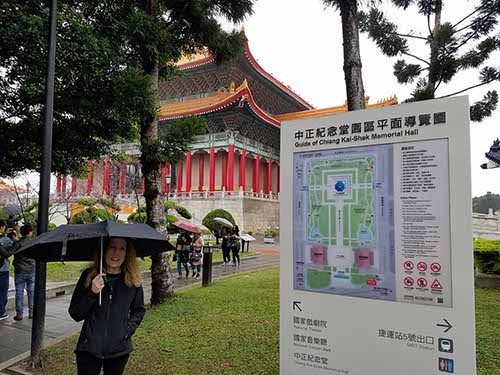 After President Chiang Kai-shek died on 5 April 1975, the Executive branch of the government established a Funeral Committee to build a memorial. The design, by architect Yang Cho-cheng, was chosen in a competition. Yang's design incorporated many elements of traditional Chinese architecture to recall the Sun Yat-sen Mausoleum in Nanjing, China. (The Kuomintang, or KMT, revered Dr. Sun as founder of the party and the government Chiang had led.) Groundbreaking for the memorial took place on 31 October 1976, the 90th anniversary of Chiang's birth. The hall officially opened on 5 April 1980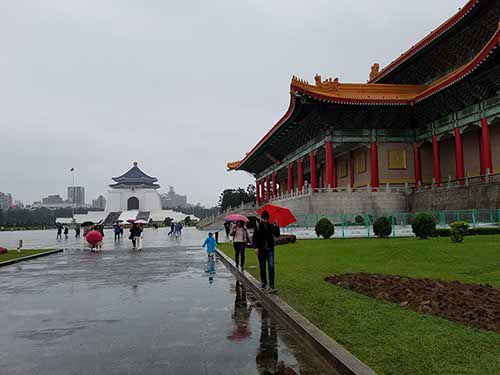 Chiang was a member of the Kuomintang and a lieutenant of Sun Yat-sen in the revolution to reunify China. Chiang organized the military for Sun Yat-sen's Canton Nationalist Government becoming the Commander in chief of the National Revolutionary Army (from which he came to be known as Generalissimo).
As leader of the Republic of China, in 1937 he mobilized China for the Second Sino-Japanese War. For eight years he led the war of resistance against a vastly superior enemy, mostly from the wartime capital Chongqing. As the leader of a major Allied power, Chiang met with Churchill and Roosevelt in the Cairo Conference to discuss terms for Japanese surrender. No sooner had the Second World War ended than the Civil War with the communists, by then led by Mao Zedong, resumed.
In 1949 Chiang's government and army retreated to Taiwan, where Chiang ruled Taiwan as President of the Republic of China and Director-General of the Kuomintang until his death in 1975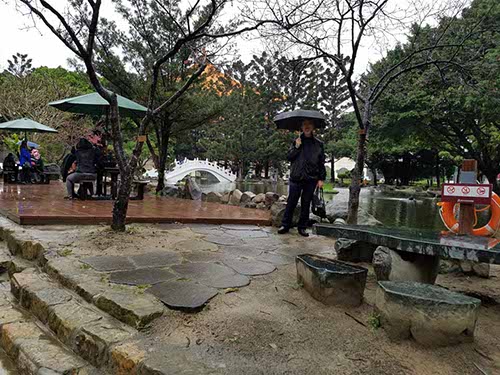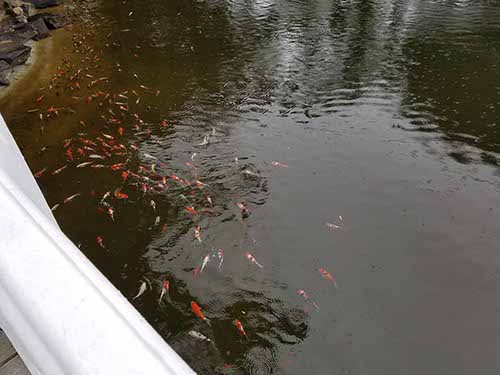 National Theatre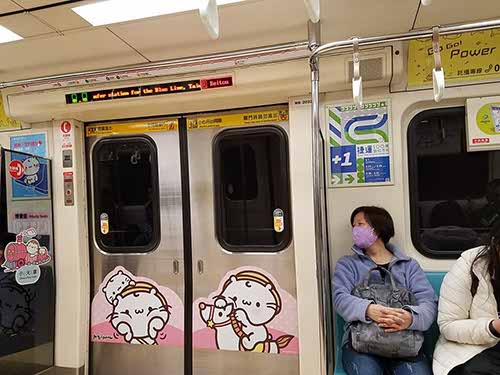 We rode back to the Main station, and ate at Dicos, Chicken omelete sandwich, fries and tea, for $298 NTD.



We then rode to Longshan temple built in Taipei in 1738, and watched a wonderful ceremony.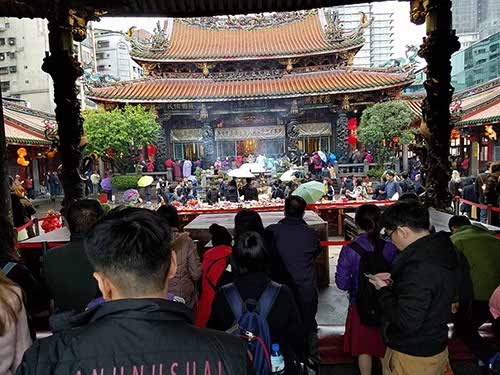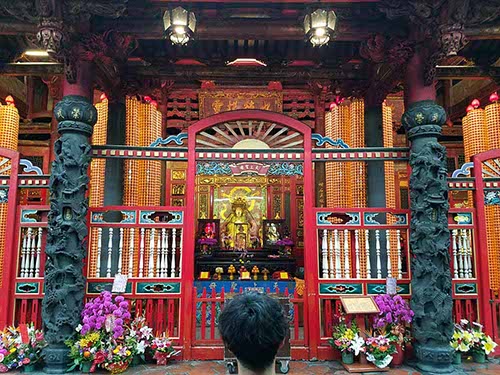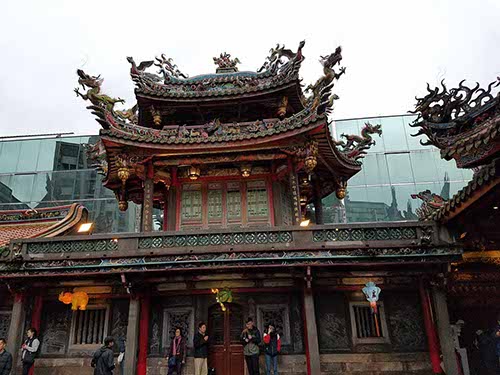 Such detail, even around the base of the trees

An old, survivor building in the middle of the growth

We also went to the 1800's Bangka Quinshan and 1787's Qingshui Temples.

Then to the Quonshui temple, and Huaxi Night Market and Snake alley.

Yes the made snake soup from the snakes in the cages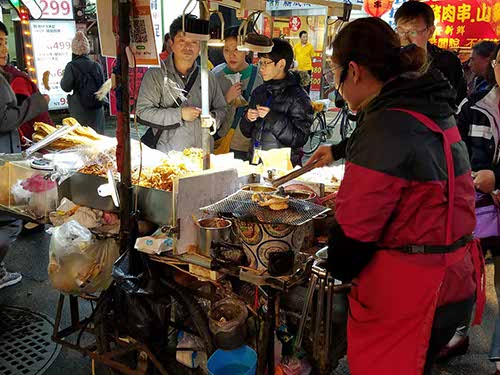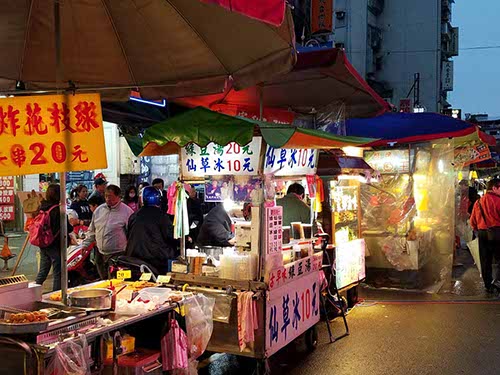 Back to past Longshan to Main Station...



... and the Red line to Shilin, and walked to the night market. They had a huge seafood area.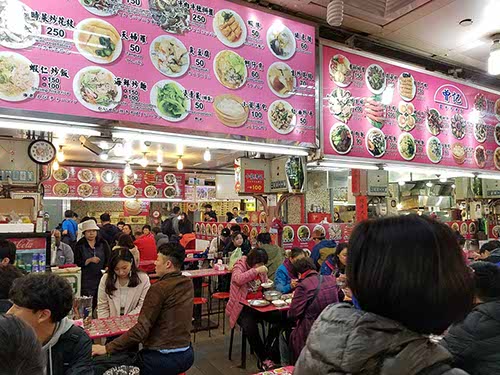 Back to Main Station where we ate at a "Classy restaurant," Ueshima Coffee... $310 NTD got us croque mosier and milk coffee.
Back to the hotel, where we grabbed some free cookies.

Breakfast: hot dogs, sausage, bean steamed bun, mini cord dog fritter, rice, noodles, fruit

Walking from Shilin to the National Palace museum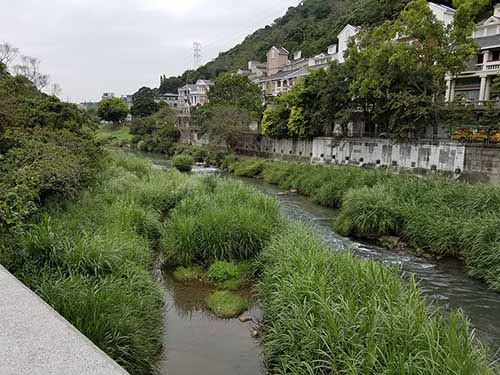 至德園, a park detour along the way

The National Palace, Calligraphy, Art, Jade, Bronze, Funiture... we got cards for $98 NTD

National Palace museum, a permanent collection of nearly 700,000 pieces of ancient Chinese imperial artifacts and artworks, making it one of the largest of its type in the world. The collection encompasses 8,000 years of history of Chinese art from the Neolithic age to the modern. Most of the collection are high quality pieces collected by China's emperors.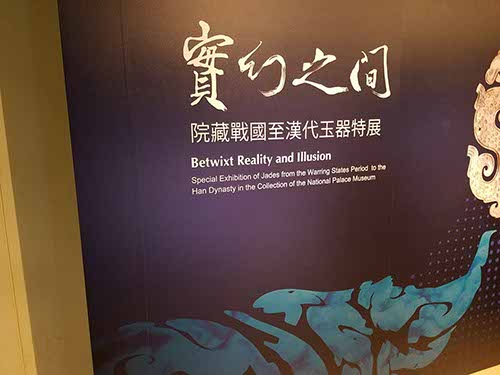 Beef Rice burger (the 'bun' was rice), Monte Christo, tea, latte $398 NTD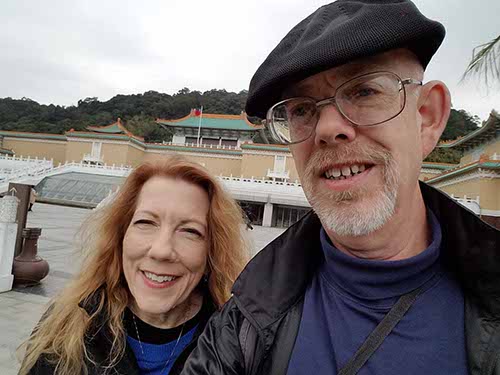 Walking back to Shilin

We went through a lot of parks along the way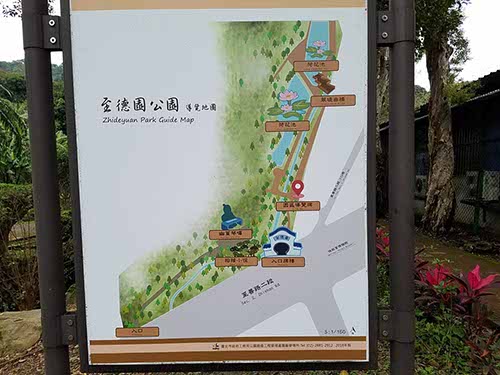 Near Chiang Kai-Shek's Shilin Residence

Statues near the station

We got on the metro, and headed back to Taipei 101, a former world's tallest building, and still a top 10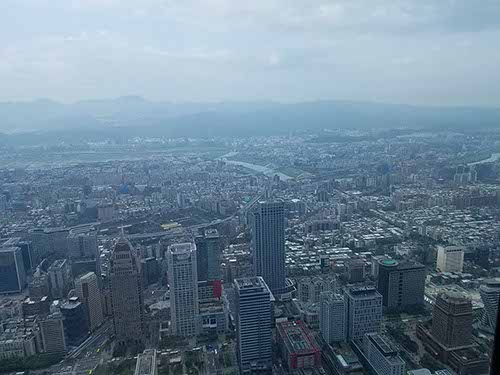 We then walked to the Sun Yat-sen Memorial

View from Sun Yat-sen Memorial to Taipei 101

Sun Yat-sen Memorial, Republic of China's National Father, was completed in 1972

Back to Main station, to get the rest of of passes

Dinner time: Matsu Ramen House... we had Kung Pao and Chiken Steak Ramen, $345 NTD

6:30pm We took the night bus tour around town



Longsham

the old Red House



Taipei 101

Grabbed some Cookies, $49 NTD, and back to the hotel.
Cheese, mango buns, etc.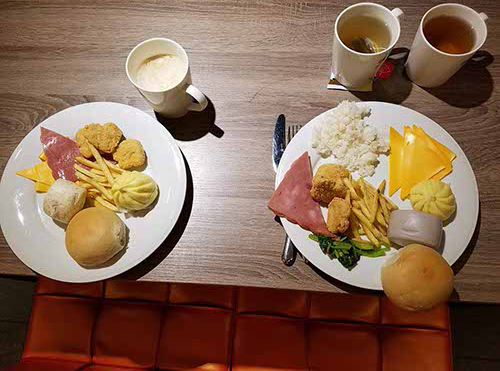 We took the Blue line to the Brown line, and headed to the Gondola to take us to Maokong Village... Taipei 101 was almost always visible, even with the mountains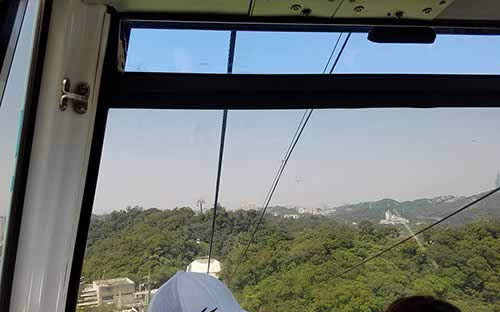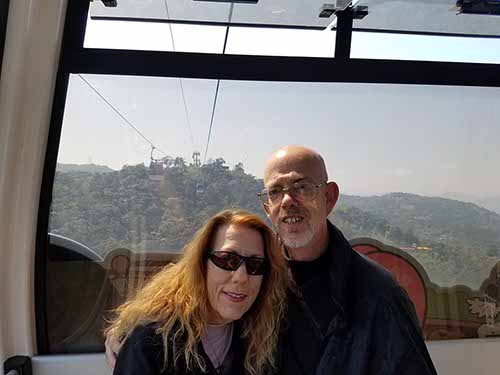 Passing Zhinan



The massive Zhinan temple, started in 1882, is famous its stairway of "1000" steps... we would return after visiting Maokong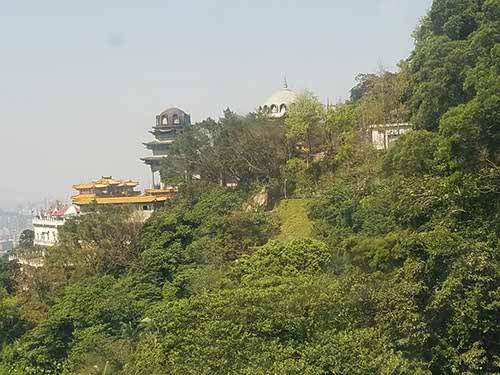 Tea plantations

Maokong

We had heard of cat cafes... this one had cats outside, too

Noon; Lunch time, so good, and so cheap...
even the smell of stinky tofu didn't spoil our braised pork with rice and fried rice noodles $90 NTD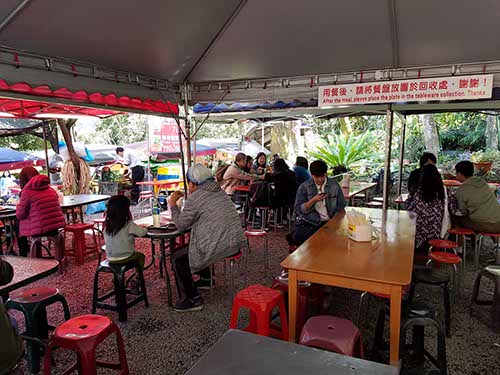 We rode the gondola back down to Zhinan... near the temple was a amusement park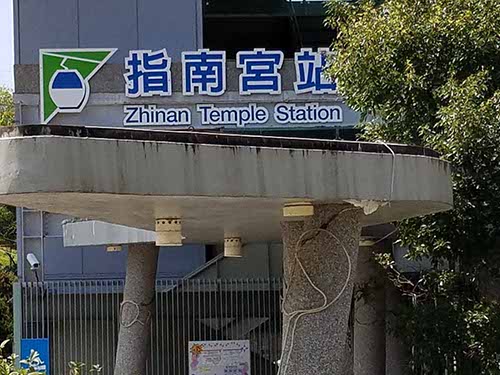 To the massive Zhinan temple, started in 1882, is famous its stairway of "1000" steps...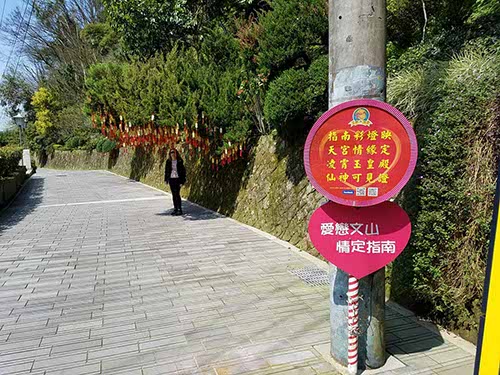 We purchased prayers that could be hung on the trees $400 NTD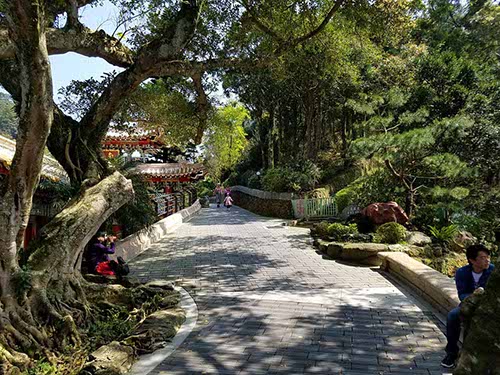 We then went to the cafe by the gondola station, and got souvenirs, tea, and a latte. $445 NTD

We had to pay to complete our gondola ride, to the zoo. $200 NTD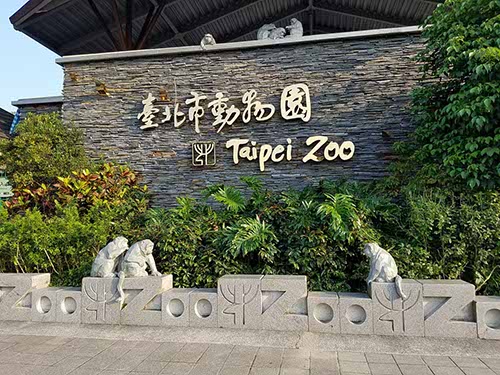 $120 for entry to the zoo, and $20 for a train ride. We spent a lot of time with the pandas, of course.

Then we rode the train around

As a prelude to our next trip, we visited the koalas... they are actually solitary, so they were kept separate from each other.

Then we went to the Formasan wildlife area, bears, hogs, etc. Of course Formosa means beautiful, and is the old name of the island.

Cards and souvenirs, $200 NTD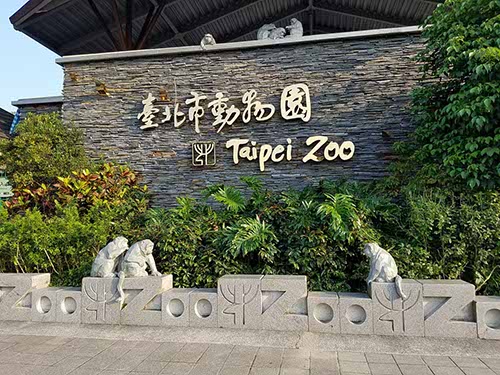 Back to Taipei, and we visited a modern temple, before heading to a huge, 7 story Carrefour.

Cookies, $89, NTD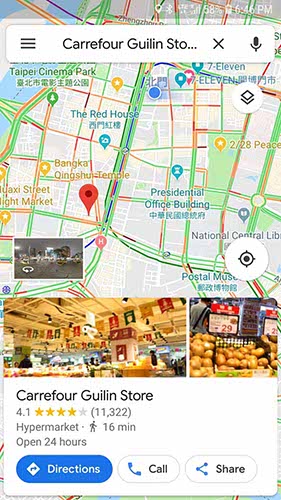 Then we walked for a bit, until we found the Mushroom forest, for dinner.

Mushroom Forest, Pizza in Taiwan, $438 NTD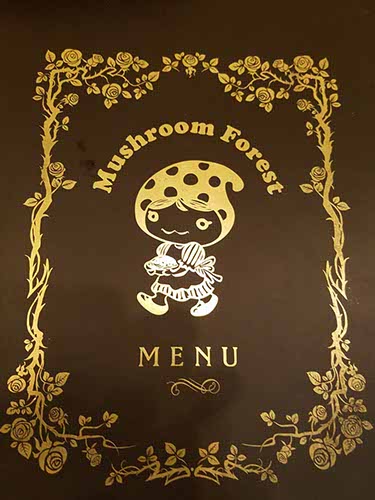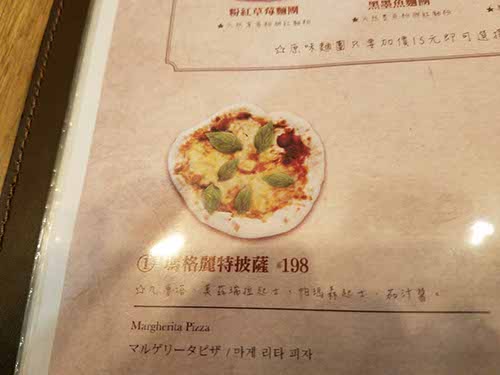 8:00, after getting my hat, it was off to ride the Ferris Wheel at Miramar, a department store.

10:10, back to the hotel to eat the Carrefour Tam Tam cookies
4:19, awoke to alarms... there was an earthquake

No major damage, so back to sleep.

Dim Sum, swirled buns, mango and red bean steamed buns, and a star shaped pastry.



We did not eat the squid chips, though

9:00, Blue to Red to Beitou, where we wandered the old part of town to the Puji Japanese Temple, where a very nice female monk told us about the place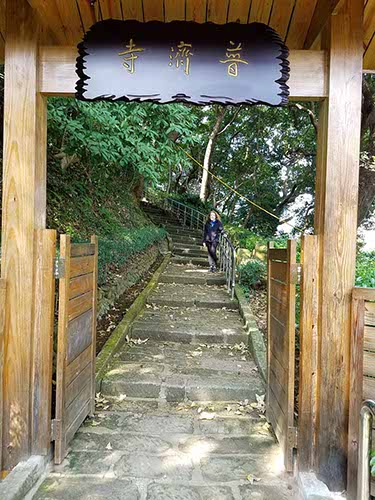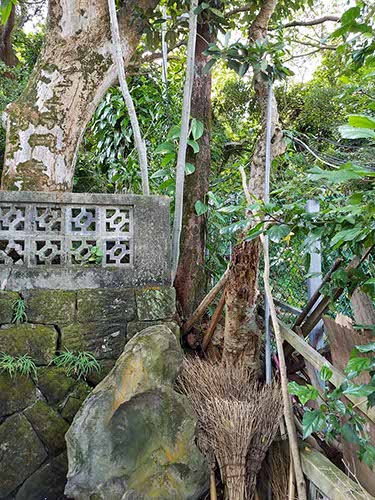 Then it was off the the Hot Springs and the Thermal Valley,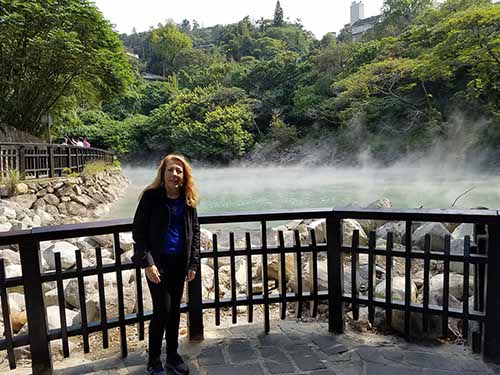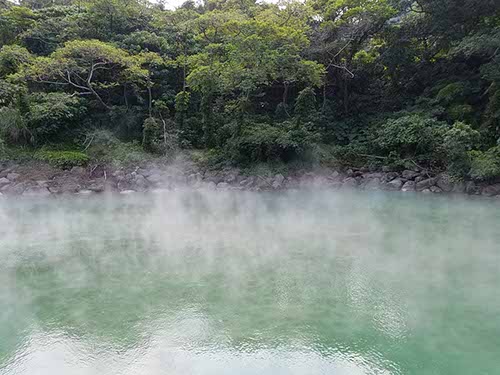 11:12 We then went to the Japanese Library

Then we headed back to the Metro station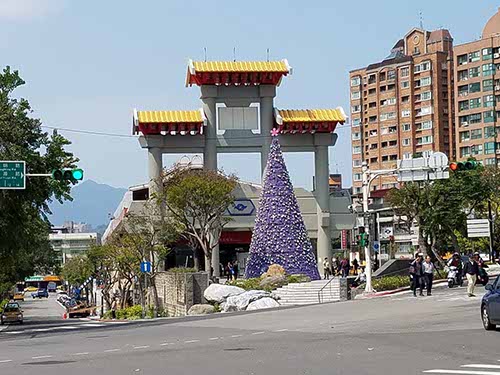 The old train station

We stopped at 85°C for bread and latte $88 NTD

We took the Metro to Tamsui, on the coast.
12:37 Fast food burger and fries with tea for $224 NTD, then off to the wharf to take a water taxi to the Love bridge.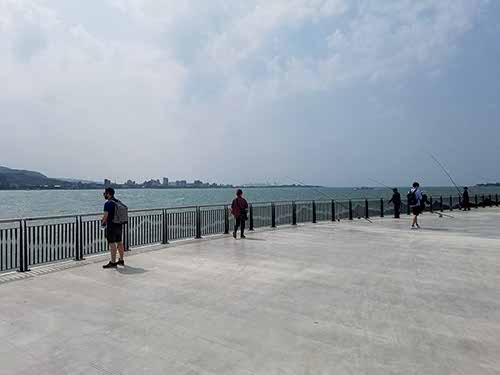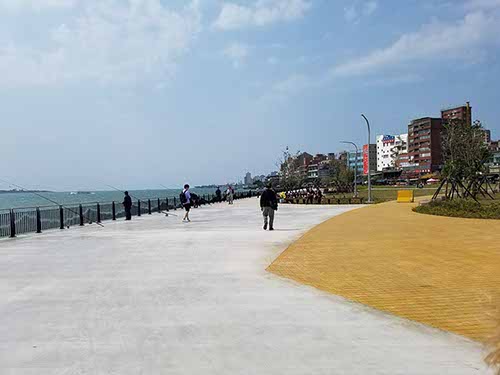 Our Water taxi

The Love bridge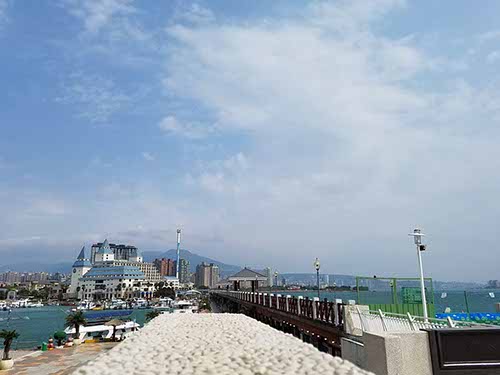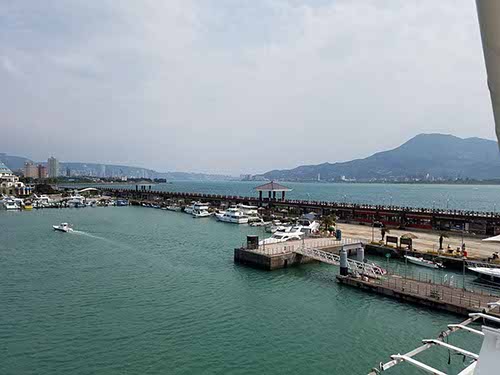 Souvenir, $60 NTD
Back to the wharf, so we could go to Fort Santo Domingo, which went from the original Spanish fort of 1628, to to Dutch in 1644, to Chinese in 1724, then leased to the English for a consulate in 1868, to Australian and American in 1972, then to the Taiwanese in 1980.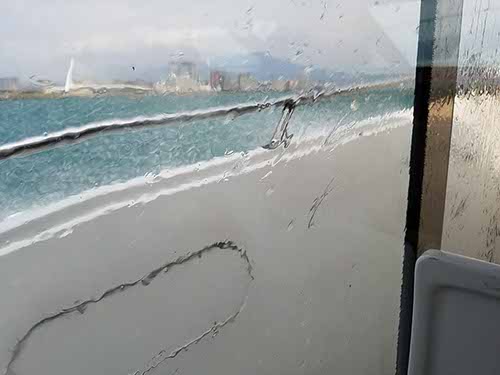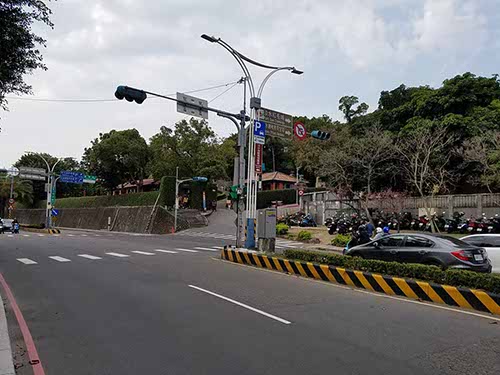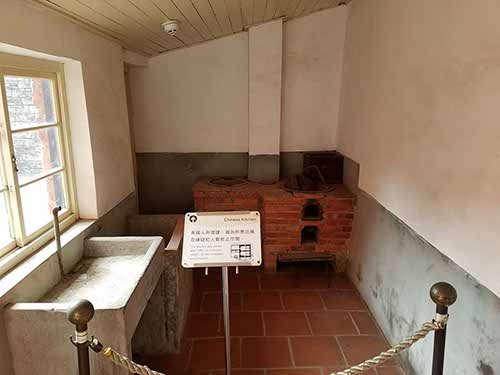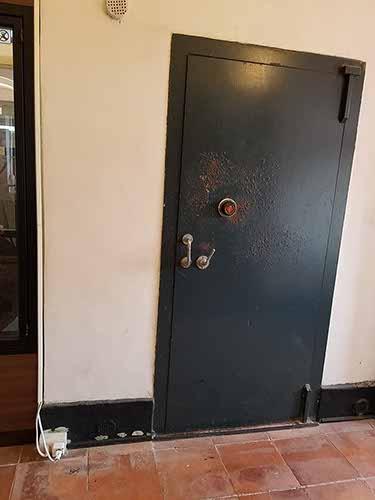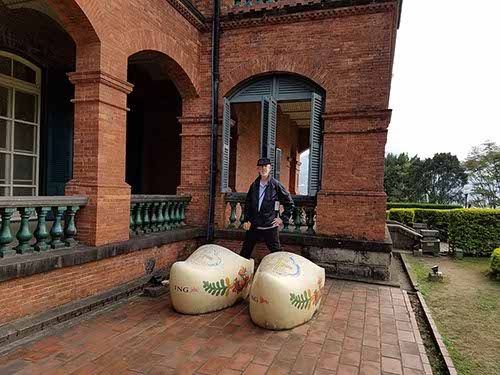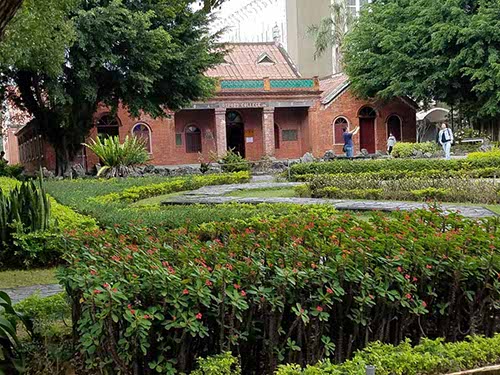 Oxford College has a beautiful building next door.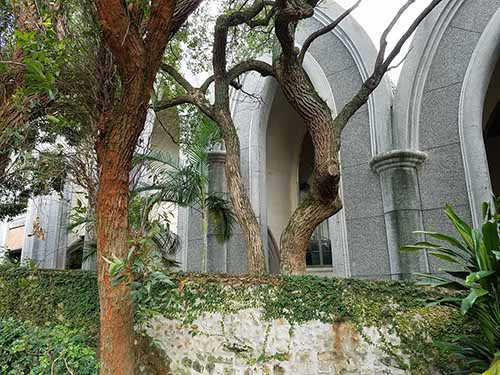 We then went through the old streets, $120 NTD

Back to Taipei, and the Confusious Temple, the Baoan Temple Garden, and the Dalongdong Baoan temple.

Confucius Temple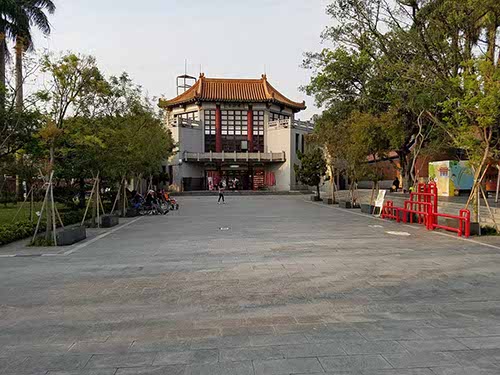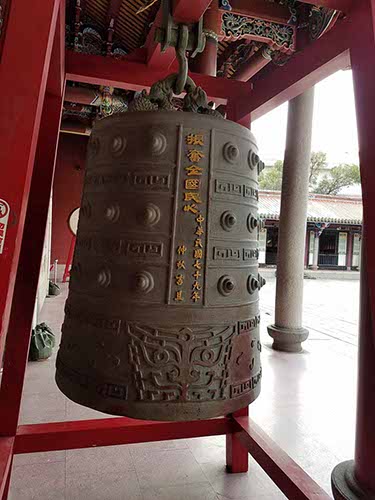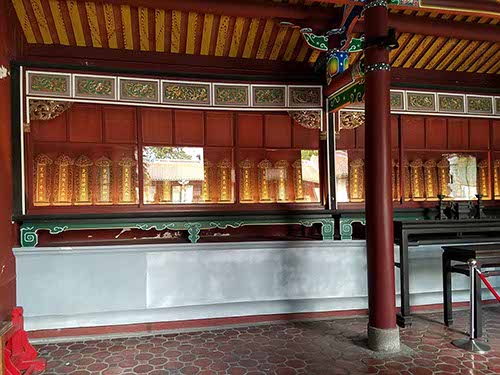 to Baoan Temple Garden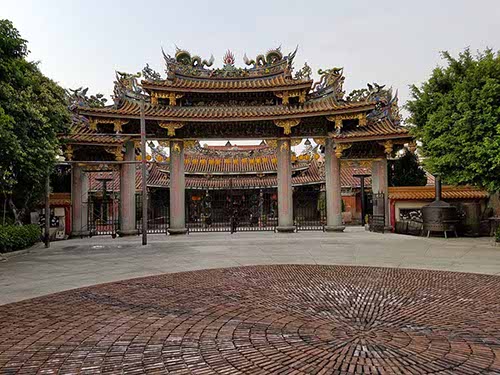 To Dalongdong Baoan temple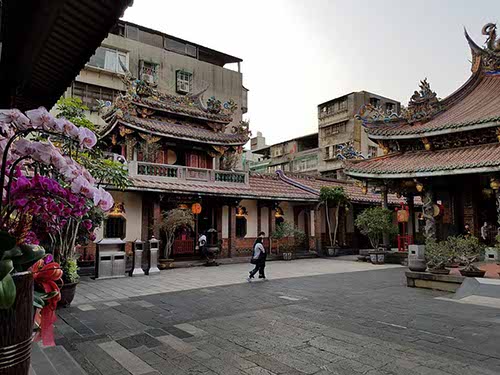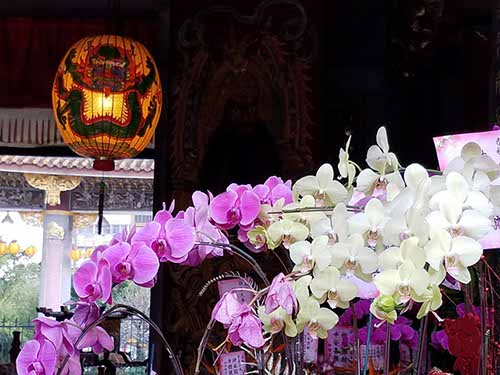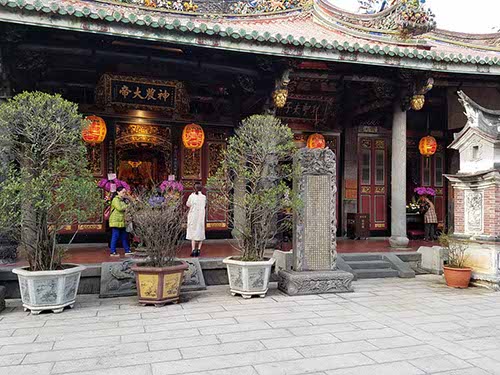 Then back to the hotel.
The elevator doors were covered with info on the local cuisine.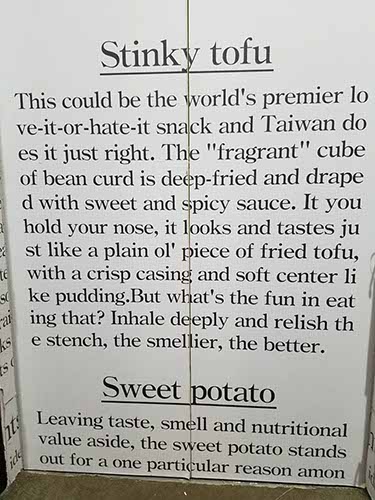 Signs outside the hotel helped us understand what was for breakfast, sort of...

7:30 Across the street was a restaurant we had been meaning to go to... below is the name of the place... good luck with that.



we had Beef stew and Fried Chicken $270 NTDW

We noticed they did not sell any drinks, nor did they have water... an older chinese custom

After dinner, we had a walk about, heading first to the National Taiwan Museum in 2/28 Peace Park.

They had some trains on display outside the museum.

The oldest was No. 9, built in England in 1871, and brought t Taiwan in 1895 after service in Japan. The first engine in Taiwan came in 1887 from Germany.



National Taiwan Museum

2/28 Peace park; The park was originally established in 1900 by Japan as Taihoku New Park (臺北新公園). It was the first European-style urban park in Taiwan. In 1947, a group of protesters, angry over a brutal police action against Taiwanese civilians, took over the park's radio station which led to a chain of events now referred to as the February 28 Incident.
As Taiwan entered its modern democracy period in the 1990s, President Lee Teng-hui offered an official apology in 1995 and for the first time the February 28 Incident of 1947 was officially acknowledged and its significance openly debated. In 1996, the Taipei City Government designated the former radio station building a historical site. Two years later, the building was made the home of the Taipei 2/28 Memorial Museum and the park was rededicated as 2/28 Peace Memorial Park.

Then we walked to the Presidential Office Building

Back to the Ximen Hedo Hotel Kaifeng

Cookie time.

Up with the sun,
8:30 breakfast of guava buns, fried noodles, etc.

We then headed to catch the Crown Northern Coast toursit shuttle bus from Tamsui.

10:00 am Boarded the little bus. They had the stops listed on the headrest, and appoximate times to get there, which was good as no one on the bus spoke English but us.
MRT Tamsui Station
Qianshui Bay
Sanzhi Visitor Center and Gallery
North Coast & Guanyinshan National Scenic Area (Baishawan Beach)
The New Temple of Eighteen Deities (Shimen Wedding Plaza)
Shimen Arch
Yun Garden
Juming Museum
Jinshan (Old Street)
Shitoushan Park (Jinbaoli Historic Trail)
Jiatouli (Hot Springs)
Yehliu Geopark
Guihou Fishing Harbor
Green Bay
Dawulun Tourism Factory
Keelung Railway Station
Qianshui Bay

Sanzhi Visitor Center and Gallery

North Coast & Guanyinshan National Scenic Area (Baishawan Beach)

The New Temple of Eighteen Deities (Shimen Wedding Plaza)


Shimen Arch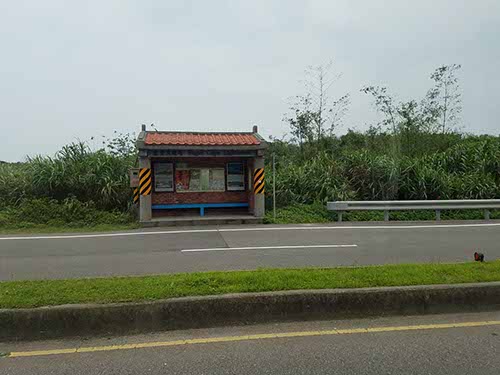 Yun Garden

Jinbao Mountain

Chin Pao San Cemetery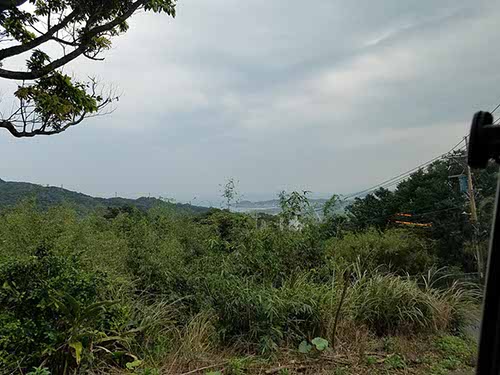 Ju Ming Museum; the museum is Ju Ming's largest artwork to date. He personally designed the architecture, landscapes, wirings and plumbing. Not only did he purchase the property to build the museum, but he also donated over 2000 pieces of his own works and personal collection to the museum for the public to view. Starting from the ground up, it took Ju Ming 12 years to finish the construction work and he had turned a vacant land into a sculpture park. The museum officially opened in 1999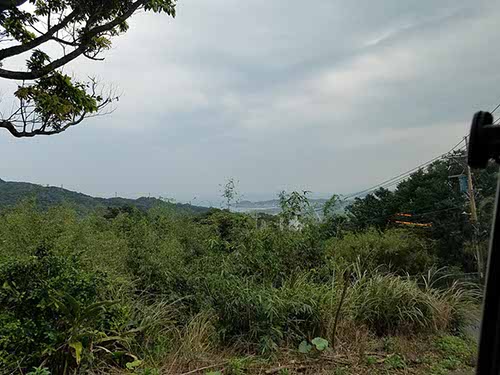 Jinshan

Jinshan (Old Street)


Shitoushan Park (Jinbaoli Historic Trail)


Jiatouli (Hot Springs)
Getting close to our stop, the Yehliu Geopark
1:00pm Yehliu Geopark, the main reason for taking this bus. The park is full of rocks eroded by the sea, into fantastical shapes, such as the Queen's Head and Dragon's Head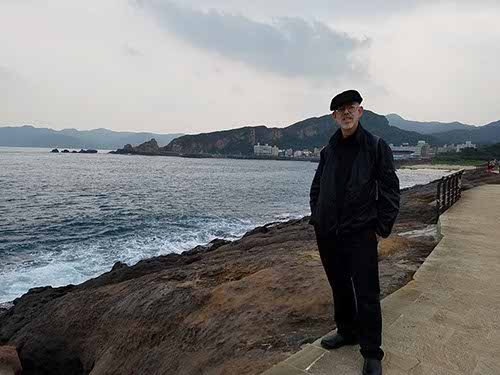 2:00 pm Heading Back to Tamsui

3:45 Tamsui, getting off our little bus

Tamsui Station

$375 NTD, latte, chai, and and turkey and cheese pastry

5:30 back at the hotel, we call to try and resolve issue with Korean Air, can't get seats until the morning.
6:30pm, Heritage, for Caramel Cheese casek latte, caramel devilsfood, and cocoa, $710 NTD
We have $9900 NTD left over, which we'll convert to Australian in the morning.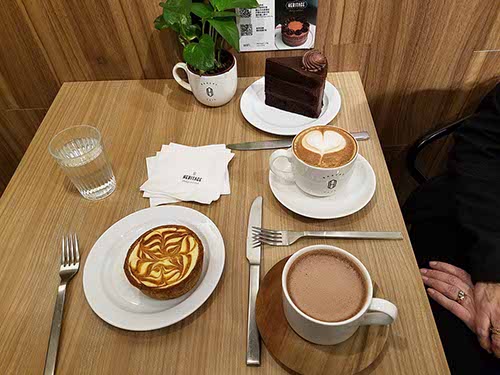 Walking around Main Station, and the North Gate.
The Qing Dynasty North Gate

During the final years of the Qing Dynasty, Taipei City had five gates – East, West, South, and North Gates, and Small South Gate. North Gate was built in 1879, and is also known as Cheng-en Gate, because above the rounded archways of the outer wall there is a horizontal panel inscribed with the words "Cheng-en", facing the north, and meaning "accepting imperial favor". In the past, local officials dispatched by the Qing Dynasty all used Cheng-en Gate to enter and exit Taipei City, differing from the practice of the general population, which entered from South Gate.
North gate, looking toward Main station

Semi with electronic billboard in front of Main Station

Notice the colored lights on Main Station keep changing

Friday, Mar 15: Travel
Last breakfast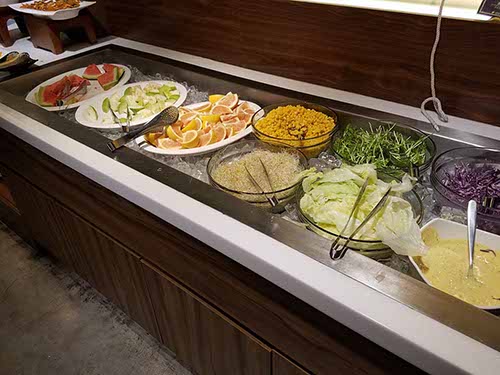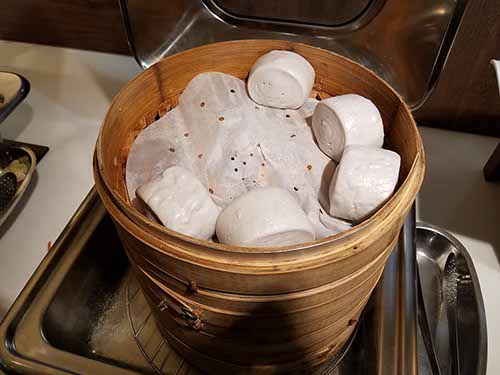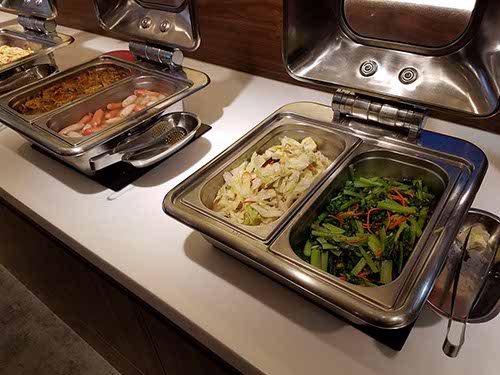 Our transfer was right on time, and we were waiting at the desk when the Korean Air staff arrived. They huddled for a bit, bowed to the clients, and we got our seats assigned on the A380... bulkhead row, score.
The A380 is the largest passenger plane in service, and is so huge it is fully double decker, and has multiple entry points, meaning it needs a special jetway system. Sorry, but the windows were tinted blue.
Our A380

Once in Seoul's Incheon Airport...


... we wandered the new facility, enjoyed some music before our long flight to Seattle, then to Austin. What a great trip.

Overview Map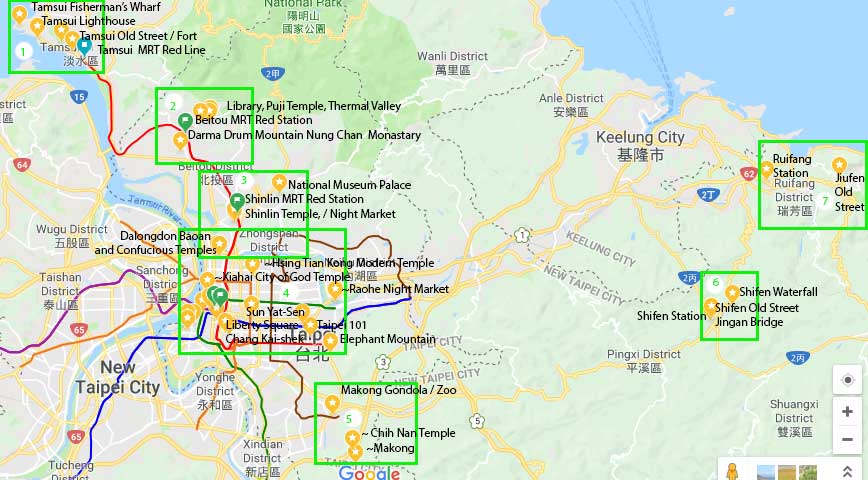 Tamsui, Map 1

Beitou, Map 2

Shinlin, National Palace, Map 3

Taipei, Map 4 Close up of Hedo hotel area below

Hotel, Metro, North Gate, Lungshan Temple 2/28 Peace park
Zoo Makong map 5

Shifen map 6

Juifen map 7, close up below

Close up of Jiufen

Sunday
Monday
Tuesday
Wednesday
Thursday
Friday
link
10
11
12
13
14
15
lunch
$ 15.00
$ 15.00
$ 15.00
$ 15.00
$ 15.00
Return
$ 75.00
Dinner
$ 20.00
$ 20.00
$ 20.00
$ 20.00
$ 20.00
$ 100.00
souvenir
$ 50.00
$ 50.00
$ 50.00
$ 50.00
$ 50.00
$ 250.00
$ 95.00
$ 96.00
$ 97.00
$ 98.00
$ 99.00
$ 425.00
Incidentals
$ 75.00
$ 500.00
15,400.00
available
6,600.00
$ 285.00
needed
8,800.00