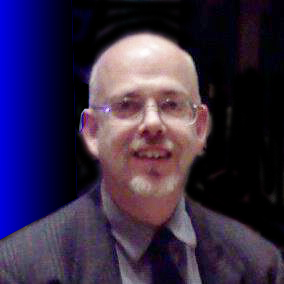 R. Craig Collins > Web Page Design > Portfolio > Mt. Rushmore
Summer 2005, Mt. Rushmore/Georgia © R. Craig Collins, 2005/6
June/July: Springfield, MO: Springfield, IL, Mt. Rushmore, SD; Denver, CO
July/August: Birmingham, AL; Atlanta, GA; Savannah, GA [skip to Georgia trip]

Springfield-Mt. Rushmore-Denver
Wednesday, June 29
After grabbing donuts, we hit the road. We actually got through Dallas with little trouble, and decided to stop for lunch at a Subway in McAlister, Oklahoma. From there, we made it into Springfield, Missouri about 4:30. After checking into the Baymont, we started exploring a bit. We found an Oriental Market, and after the girls loaded up on imported candy, we headed to Ziggies for dinner. Diane got half a fried chicken, while those of us not on a growth spurt had more reasonable portions of good diner food.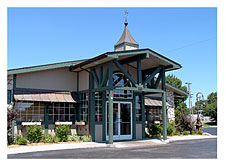 To make room for dessert, we headed to the world's largest Bass Pro Outdoor World (Bass Image Gallery), where we wandered around a couple of hundred boats, looked at huge aquariums full of huge fish, turtles (including a 150 lb. snapping turtle, and live ducks everywhere.


After our walk, we went back to Ziggies for cake and pie, then back to the hotel for the night.

Thursday, June 30
After breakfast we left Springfield about 7:00 am and headed to Meramec Caverns. The cavern was once used as a hide out for Jesse James, and while not as big as Carlsbad, had some really nice structures. The guide had a sense of humor, but failed to point out some of the structures that were on the collectible plates. But we did hear about the old moonshiner's cabin found nearby, and brought down for now apparent reason (below), the rock where loot was counted after the James boys wades 3/4 of a mile in the back door of the cave, the 3rd largest agate formation in the world, the place where a Lassie was filmed (you know, the one where Timmy gets in trouble, and Lassie saves him), the reflecting lake, and the stage curtain (below).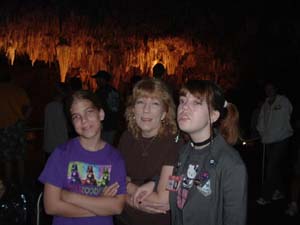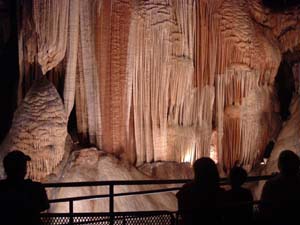 Note: Gracie is not fond of caves, but her reaction in the picture above is actually her telling me not to take a picture, right as I snapped the shutter...

We left the caverns after the obligatory visit to the gift shop and headed to St. Louis, and after crossing the Mississippi into Illinois, where ate at the Steak and Shake, in Collinsville. From hear, it was a short jump to Springfield, Illinois. We checked into our Baymont on the south side of town (well, after driving by it because the entrance was on a back street, not the freeway access road), we drove up Route 66 to Lincoln's Home, where we toured Mary and Abraham Lincoln's family home, and several neighborhood homes. That is me below, in front of the Lincoln home, and a fuzzy shot of a stovepipe hat, and shawl.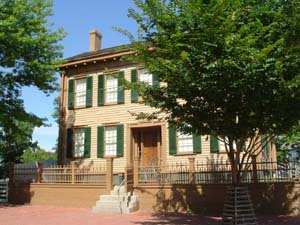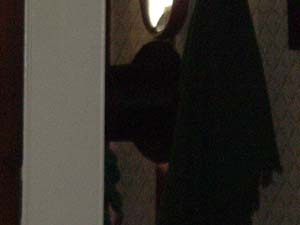 From here, we went to Lincoln's Tomb. Very moving, and very nice setting.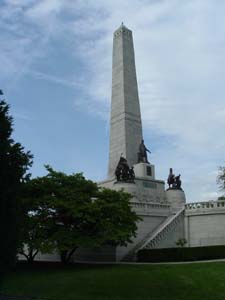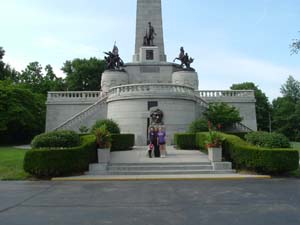 Next, we headed back into town, and wandered around Lincoln's Old State Capitol and the adjoining Lincoln's Law Office.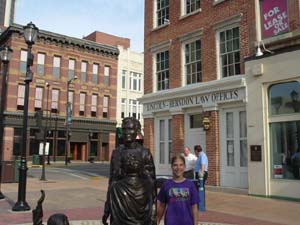 Downtown Springfield was rolling up the sidewalks, so we went back to the hotel, again read our trusty in-room area magazine for restaurant selections, and choose to get Italian at Shepardo's Italian Restaurant before settling back in the hotel for the night.
Friday, July 1
After breakfast we headed down to the Abraham Lincoln Presidential Library and Museum. It was just fantastic. We saw a great live show on preserving history, saw a great multimedia movie on Lincoln as he grew, and wandered just fantastic exhibits, including the White house, and his boyhood log cabin. There were wax figures, such as at Madame Tussaud's that were so lifelike, and a gallery of Lincoln's possessions, including the portfolio he carried the Emancipation Proclamation in, a stovepipe hat with spots worn in from holding it in the wind, and a great gallery on the assassination. Just amazing. The girls really liked the TV commercials that might have run during the election, had there been TV. Balanced historically, but very involving, and entertaining.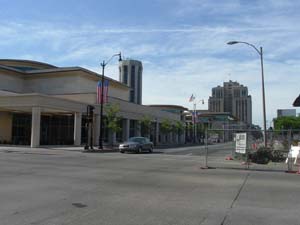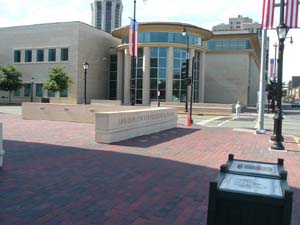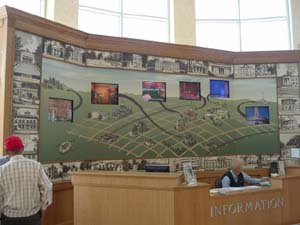 After that, we walked the square in search of lunch, and wound up at Caffe Panini, and then drove into Dubuque, Iowa. We ate sandwiches at the Shot Tower Inn, then rode the shortest, steepest, Incline Elevator in the country... up to a great view of Wisconsin, Illinois, and of course, Iowa.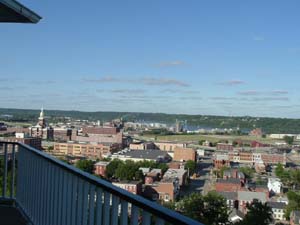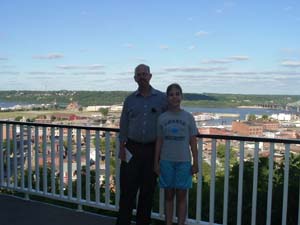 Wisconsin is on the left, and Illinois is to the right. After the ride back down, we drove to Wisconsin for jollies, then came back to Dubuque and did some site seeing.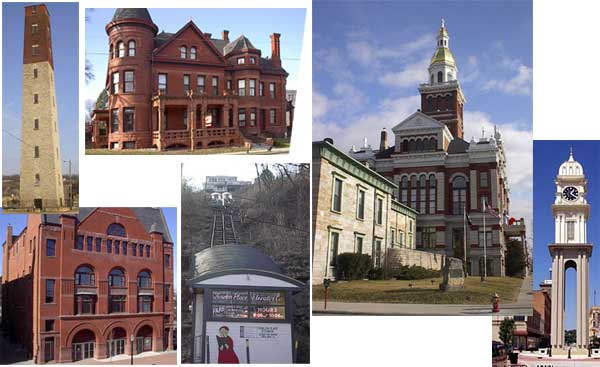 We toured around the court house, the Redstone house, the clock tower plaza, the old jail, and the grand opera house, (see Gallery for more sites we couldn't get to this time...) before stopping for dessert at Café Manna Java. Then it was off to the Comfort Inn, Waterloo, IA.
Saturday, July 2
After breakfast, it was across Iowa to return to I-35, which we left in Dallas, to head into Minnesota, where we caught I-90. We had lunch at a Perkins, in Sioux Falls, just inside the South Dakota state line. Then, on to the Badlands, and dinner at Ruby Tuesday's Rapid City. It had been ages since we had seen a gas station, so we were pleased to be able to fill all the traveler's tanks...

After dinner, it was on to Keystone, South Dakota. The town reminded us of Ruidoso or Cloudcroft, New Mexico, with the mountains, trees, and windy roads. We checked into the Super 8, Keystone, and then walked the boardwalk, bought toffee, and souvenirs, until about 8:00, when it was time to go to the big show...



Of course, the high point of the trip to me was Mount Rushmore . After arriving, we toured the Museum where they had film of the early work, and a lot of the tools actually used in forming the models before transferring the dimensions to the granite. Plus, some climbing harnesses, jackhammers, and scale models. We saw a patriotic show in the amphitheater, and then the light show started. The sculpture was especially beautiful at dusk, and after sunset, when lit.



Sunday, July 3
After a meager hotel breakfast, we shopped every Keystone shop, for fudge, and goodies. Of course we bought tons of postcards, like these: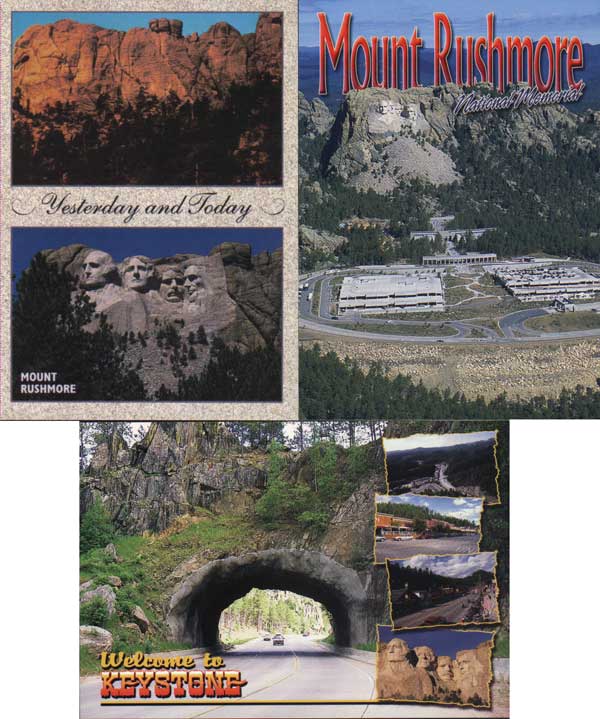 Then it was time to drive... we went past Crazy Horse Monument as we snaked around to the south...


Buffalo Gap National Grassland
Photo by Anne Lienemann
I really wanted to cut some miles off, so we decided to not use the out of the way Interstate system, so we took county roads into Nebraska, and through the Buffalo Gap National Grasslands which unfortunately included a dirt road for about 10 miles (didn't pick THAT up from my mapping software!)... but we finally got into the little berg of Lusk, got gas, and dined at a Subway, due to lack of choice and hungry stomachs. From here, we crossed into Wyoming, and picked up I-25 through Cheyenne in the rain, and made it into Denver, Colorado. We checked into the La Quinta near Cherry Creek, and then headed to dinner at Bennigan's. We had found out that there was a Gelato place near Cherry Creek, so we headed over, and stumbled into the Cherry Creek Arts Festival. We did make our way to Gelato d'Italia and had great gelato, and we remembered every night in Rome we would go to the Spanish Steps to get that delicious stuff. Made our way back to the hotel, and settled in for a big 4th.

Monday, July 4
After breakfast, we drove down to the Colorado Capitol. After we parked we were walking toward the capitol complex when a huge "BOOM" echoed through the streets, and literally shook us. Car alarms went off all around us, and I didn't know if this was an early 4th of July or a terrorist attack. We made it up to the corner, and could see the Army had a display on the grounds of the Civic Center park, and were firing a cannon. We knew what it was when it kept happening, but it was still spooky. The capitol dome is covered in gold, and when Gracie was about 6 months old, I carried her up to the top of it... but the building was closed for the holiday, so all we could do was look around. Below is a picture of Diane, just below a marker indicating 5280 feet above sea level. They have some nice displays, including a cannon Gracie wandered by that we were glad was not joining the noise making. Across from the capitol, in the Civic Center park is the City government building, and behind that is the Mint. It too was closed, but we understand they don't give out samples... the next time we are in town, we will take in these sights, and the museums (you should always leave a few things not visited; it gives you an excuse to go back.)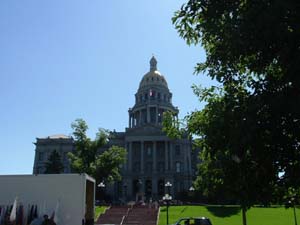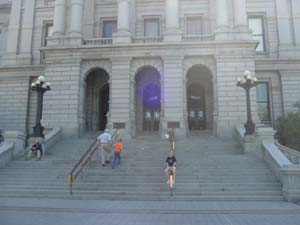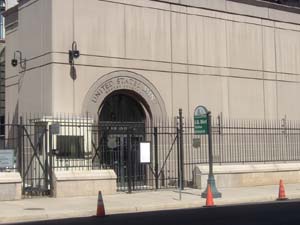 Then it was on to Casa Bonita, home of all you can eat so-so Mexican food, Gold and silver mines, Cliff Divers (yes, I said cliff diving), Caverns and caves filled with stalactites and stalagmites, Chiquita the angry Gorilla who pushed a woman off a 20 foot cliff into the pool, the Sheriff and Bad Guy Black Bart shoot-em-up where Bart goes diving into the pool, the Amusement arcade, and the Gran Vista Casa El Mercado - with Hello Kitty stuff the girls just had to buy. This was the girl's highlight, even though we missed the Strolling Mariachis, Flame jugglers, Puppets, magicians, games, etc. But 3 hours was enough! Some post card images of the exterior, the lagoon pool, and some diving are below, then a few pictures I took.



The view from our table, right next to the diving stage.



After lunch, we drove out to Golden, a neat little town in the mountains just West of Denver, and home of Coors. No brewery tour that day, though I enjoyed the tour in previous visits. From there, we went to Heritage Park as the rain came in, but still managed to ride some rides, brave the ferris wheel, and get Diane some cotton candy.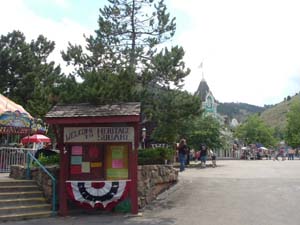 We then headed back into town, and gave in to Diane's constant request to eat at a Boston Market. Next, we tried to restock the girl's store of Oriental candies, but they ones we found had already closed by the time we got out there, so we decided Gelato would do in a pinch, and wound our way through Aurora back to Cherry Creek. The girls also managed to squeeze some shopping in at Urban Outfitters. We then headed downtown, to try and catch the fireworks show that was scheduled after the Rockies baseball game at Coors field Coors Field. We found a great spot a few blocks down, and started listening to the game on the radio; that is, until the went into extra innings, and we decided to bail. Just then, the show following a professional Lacrosse game at Mile High Stadium was starting, and I quickly jumped on Highway 6, and by shear serendipity found a great spot very close by... it was a great show, shaking the car we were so close.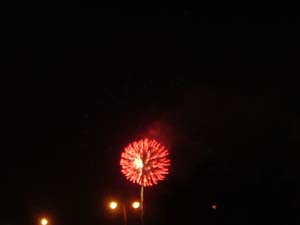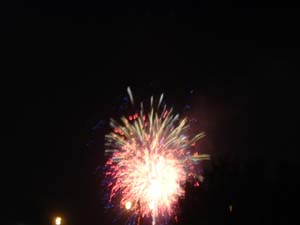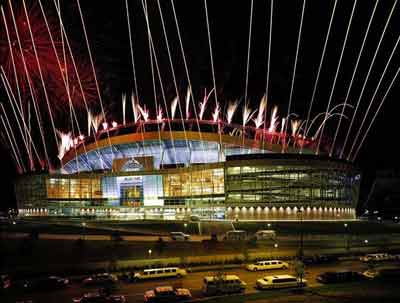 Tuesday, July 5
After breakfast it was now time to start the return trip to Texas. We headed east on I-70, stopping at a Pizza Inn in Burlington for lunch, until we again hit the southbound spur that would take us to I-35 in Kansas, to Wichita. We checked into the La Quinta near Towne East Mall, again rolled to a gas station, then had the worst meal of the trip at Carlos O'Kelly's. We wrapped the evening up by strolling the mall, where Diane made a teddy bear.
Wednesday, July 6
After breakfast, it was on the the last leg. We stopped for lunch at Joe's Crab Shack, in Oklahoma City, and made it home about 4:30. The house had not been air conditioned for a while, so we dumped the goods, headed out for dinner, and sadly, returned to the real world shortly thereafter. But the nice thing about vacations is, at least in this house, is we are already planning the next three trips!

Texas-Oklahoma-Missouri-Illinois-Iowa-Wisconsin-Minnesota-South Dakota-Nebraska-Wyoming-Colorado-Kansas-Oklahoma-Texas

---
Saturday, July 30
7:00 AM 0 miles Depart
Next leg of trip begins, as usual, with a donut stop. Today was the long drive day, just over 700 miles; this long jump enabled us to make short hops until our return.


11:13 AM 252.1 Entering Louisiana
11:34 AM 273.1 Subway Bossier City, LA 71111 [116 Benton Spur Rd, Bossier City, LA 71111]
Subway is always the safety net for lunch... and we had to play that card on the first day
2:20 PM 441.6 Entering Mississippi
4:30 PM 596.2 Entering Alabama
Our hotel is off the south loop, so we managed to avoid the heavy traffic... but did see two accidents; one car on its side on an overpass, and a collision just in front of us where the lanes narrowed at our exit. From here, we went to a neat mall on the hill, called the Summit.
7:32 PM 726.5 Arrive The Summit
7:32 PM 726.5 Arrive Zoë's Kitchen[323 Summit Blvd, Birmingham, AL 35243, (205) 967-5800]
After seeing long lines at the big restaurants, we found a great Greek inspired shop in the back. After exploring a bit, we returned to the high end of the hill and had some gelato while sitting on a fountain. Not exactly Rome's Spanish steps, but still fun.
8:32 PM 726.5 Arrive Egg-Setera Gelato
9:07 PM 729.2 Arrive Sat, Baymont, Birmingham, AL
End of day
DAY 2 Sunday, July 31
10:00 AM 729.2 Depart
11:28 AM 817.8 Entering Georgia
12:24 PM 877.7 Arrive Jimmy Carter Museum


The Museum grounds were very nice, but I found the museum a bit sparse compared to other Presidential Museums, and a bit one sided, especially when compared to the LBJ and Truman centers which brought up the pros and cons of the administrations... the exhibits were primarily of campaign material, but worth the stop. After seeing the exhibits, we wandered the Japanese garden in the back.


At the end of the walk was a small lake, with a great view of the Atlanta skyline.


2:03 PM 880.7 Arrive Underground Atlanta [50 Upper Alabama St SW, Atlanta, GA 30303, (404) 523-2311]
After circling a bit trying to find parking, we had lunch at the food court of Underground Atlanta, then headed over to the World of Coca-Cola.


3:08 PM 881.7 Arrive World of Coca-Cola [55 Martin Luther King Dr SW, Atlanta, GA 30303, (404) 676-5151]
We had a bit of a wait under the huge revolving Coke sign, but got in fairly quickly, and started wandering the exhibits, which included a giant simulated bottling operation.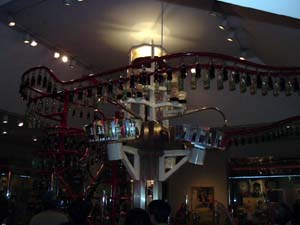 While there were some interesting movies and memorabilia, my favorite being the Coke Santas... World of Coke is basically a giant commercial you walk through, and then are paid off by having all the soda you want in two tasting rooms. Personally, I can't drink $9 worth of soda, but Diane sure tried. The first tasting room features automatic cup fillers of domestic fair, and the second room was the girl's favorite, international drinks, including the European orange Fanta, and some asian melon drinks.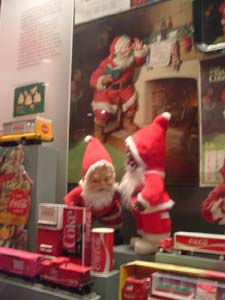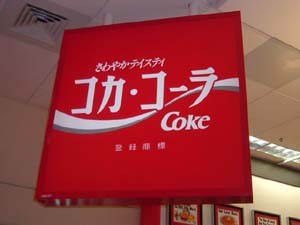 6:28 PM 891.5 Arrive Corner Bakery Cafe [3393 Peachtree Rd NE, Atlanta, GA 30326, (404) 266-8227]
We drove around Buckhead, remembering the place we stayed in '94 when I visited as a representative of the University Honor Society Alpha Chi, and as most places were pricey and packed, went for patio dining at the Corner Bakery. Then we went exploring, and found an honest to goodness 50's style drive in, and had dessert at the Varsity Jr. Visit the web site to figure out the lingo of a fast food counter worker, such as 'bag of rags.'
7:33 PM 894.1 Arrive Varsity, Jr.
8:04 PM 894.4 Arrive Sun, Baymont, Atlanta, GA
End of day
DAY 3 Monday, Aug 1
9:00 AM 894.4 Depart
Just after noon we made it in to Savannah, and just could not believe how neat the recently converted art deco Garden hotel, now a Baymont.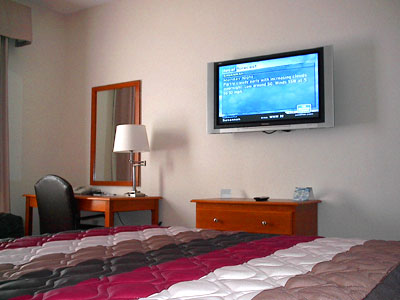 42" plasma TVs, cookies every night, great mattresses, and even a massage chair. The only downside was the intermittent Internet access. But first things first... a drive down cobble stone River Street, then jump on the Old Town Trolley for a great tour of the city. We got off for lunch/dinner at Bernie's for shrimp po' boys, then finished up our ride.
1:37 PM 1154.4 Arrive Old Town Trolley Tours [Martin Luther King Blvd, Savannah, GA 31401, (912) 233-0083]
2:50 PM 1155.4 Arrive Bernie's River Street [115 E River St, Savannah, GA 31401, (912) 236-1827]
After a stop back at the hotel, we decided to tour some more, and drove over the bridge to briefly run around South Carolina, before heading back to park near the Factor's Walk.
7:09 PM 1169.5 Entering South Carolina
Factor's Walk is on the other side of River Street, where Cotton buyers of old walked over the cotton, then had their purchases delivered to their nearby warehouse. From here we went down to River Street.
7:16 PM 1173.4 Arrive Ghost and Graveyard Tour


We wandered some souvenir shops, and a candy store making taffee the old fashioned way, that was then delivered to the display via overhead conveyor belts, and dumped. We then caught the black Trolley of the Doomed for a great tour, including lots of stories, and a visit to a graveyard encounter.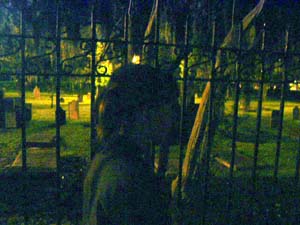 11:24 PM 1177.4 Arrive Mon, Baymont, Garden City
End of day
DAY 4 Tuesday, Aug 2
9:00 AM 1177.4 Depart
9:06 AM 1181.7 Arrive Savannah Visitors Center [301 Martin Luther King Blvd, Savannah, GA 31401, (912) 944-0455]
After a quick stop for brochures at the Visitors Center, we headed out to Tybee Island.
10:33 AM 1199.1 Arrive Tybee Lighthouse [30 Meddin Dr, Tybee Island, GA 31328, (912) 786-5801]


10:54 AM 1201.6 Arrive Tue, Pier, Tybee
After souvenir hunting, we walked out the pier on Tybee, marveled at the ocean, and then the girls and I hit the sand for a bit.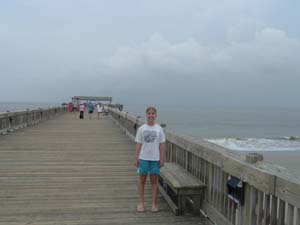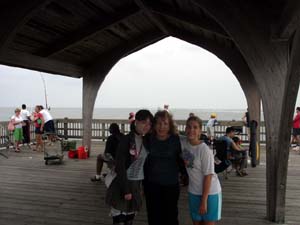 A little overcast for us to brave the water, but the beach stroll was great. Even Gracie got in the spirit, though Susann watch from the pier.


12:23 PM 1221.7 Arrive Pirate House [20 E Broad St, Savannah, GA 31401, (912) 233-5757]
We stopped at the famous (Treasure Island mentioned the place) Pirates House for a huge buffet lunch, and Diane got in the mood by dressing as a pirate.


1:25 PM 1222.1 Arrive Parking Garage
From here, it was now time to walk... no easy task as the overcast was gone, and it was getting HOT.
3:29 PM 1223.1 Wesley Monument
3:32 PM 1223.7 Arrive Owens Thomas House
We have toured a lot of great old houses, but Owens Thomas was great, and largely unchanged over the years. The balcony below is where Lafayette delivered a speech.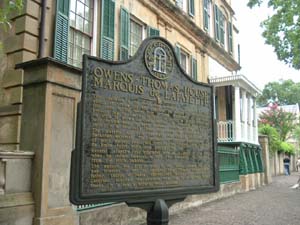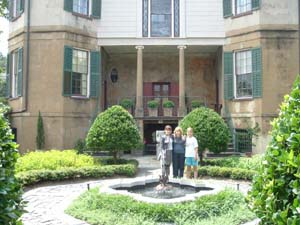 4:35 PM 1223.9 Davenport House [324 E State St, Savannah, GA 31401, (912) 236-8097]
Davenport was the first house of the effort to preserve the remaining old buildings in the area (most of the colonial building were destroyed by fire over the years).


4:37 PM 1224.3 Juliette Gordon Low Birthplace [Bull St, Savannah, GA 31401, (912) 233-4501]
JG Low was the founder of the Girl Scouts, and her family was responsible for a lot of the philanthropy of Savannah.
4:40 PM 1224.8 Olde Pink House


4:40 PM 1224.8 back to Parking Garage
We also headed down to the beautiful Forsyth park via car... this park is quite a bit larger than the 22 squares in the historical area, but nicely set up.
4:59 PM 1226.1 Arrive Forsyth Park


Before heading back to the hotel to freshen up, we did a little window shopping...
5:14 PM 1227.4 Arrive Historic City Market Square
It was now time to seek out dinner, and after a long explore, we strolled around to find some great pizza.
7:39 PM 1235.4 Factor's Walk Parking
7:42 PM 1235.9 Historic City Market Square
7:45 PM 1236.4 Arrive Rude Rudy's
8:51 PM 1240.2 Arrive Baymont, Garden City
End of day
DAY 5 Wednesday, Aug 3
9:00 AM 1240.2 Depart
1:24 PM 1497.1 Arrive Stone Mountain [Memorial Hall Circle, Stone Mountain, GA 30087, (770) 498-5600]
Just after lunch time, we got to Stone Mountain Park, and walked around the Crossroads Historical Village for a bit, then walked past the green to take the tram to the top.


This single, huge piece of granite is not Mt. Rushmore, but the Mountain itself, and the surrounding area, visible by walking around the summit, are impressive.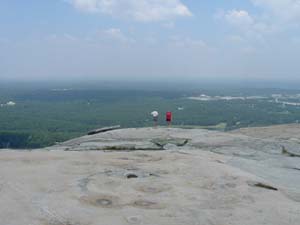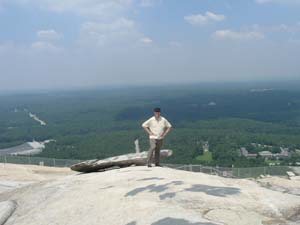 Susann and Gracie opted to stay in the air conditioned building next to the tram, but Diane and I wandered all over the place, looking for great places to see, and take pictures, before we rode back down. In the distance, a Riverboat was sailing one of the lakes.


5:02 PM 1522.1 Arrive Dante's Down the Hatch [3380 Peachtree Rd NE, Atlanta, GA 30326, (404) 266-1600]
One of my favorite restaurants is Dante's, where a huge ship, and 18th century seaport set the stage for great fondue and cheeses. The ship actually sits in water, surrounded by crocodiles.


6:27 PM 1528 Arrive Lenox Square Mall [3393 Peachtree Rd NE, Atlanta, GA 30326]
Gracie loves Hot Topic, Benetton, and Urban Outfitters... she found the latter two here.
7:32 PM 1529.7 Arrive Cheesecake Factory [3024 Peachtree Rd NE, Atlanta, GA 30305, (404) 816-2555]
Huge line of cars, but as we were willing to eat on the patio, we were seated right away, and pigged out on cheesecake.
8:52 PM 1545.7 Arrive Wed, La Quinta, Atlanta, GA
We had to stay a little further out, as there were three conventions in town, but this place had hot breakfasts... not a bad trade.
End of day
DAY 6 Thursday, Aug 4
8:00 AM 1545.7 Depart
8:20 AM 1562.7 Arrive Fox Theatre [660 Peachtree St NE, Atlanta, GA 30308, (404) 881-2100]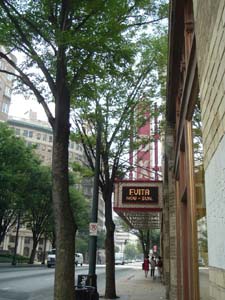 The Fox was built about 75 years ago... originally to be for the Shriners, they ran out of Money so Fox made up the rest, and stapled on a wonderful theatre, that kept with the Desert motif. Below is the arcade area.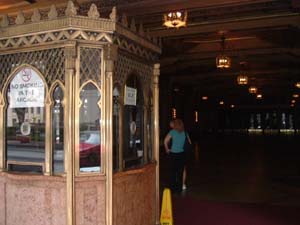 Great rooms everywhere, with intricate detail.


Even the original wooden fridge is still there, and still working.


The Egyptian Room, formerly a dance hall.


A view from the patio of some exterior details, including the dome.


When was the last time a tour included the bathrooms, because they were so ornate? Below is a sample of the ladies lounge.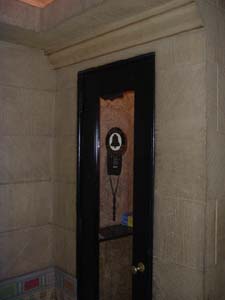 Below are from the men's room.


From the Egyptian room, you can go down to the theatre, past the desert canopy, of course. Sorry for the picture quality of some of these... low light.


What old theatre would be complete without an organ. The Fox organ is gold, and rises from the orchestra pit.


This is what the theatre looks like, a desert fortress with a sky full of stars, and moving clouds.


10:51 AM 1563.3 Arrive Margaret Mitchell House [990 Peachtree St NE, Atlanta, GA 30309, (404) 249-7015]
From here, it was a short drive to the place Gone with the Wind was written. Although she only wrote one book, she put her money to good use, granting scholarships to black medical students.


12:23 PM 1563.5 Arrive Flying Biscuit Midtown [1001 Piedmont Ave NE, Atlanta, GA 30309, (404) 874-8887]
1:30 PM 1567.1 Martin Luther King Jr. Center [449 Auburn Ave NE, Atlanta, GA 30312, (404) 524-1956]
This is one area that must be visited, even if briefly. MLK's tomb is here, also.
1:36 PM 1568.6 Arrive Cyclorama of the Battle of Atlanta [600 Cherokee Ave SE, Atlanta, GA 30312, (404) 658-7625]
The Cyclorama is a huge painting depicting the battle of Atlanta. It is circular, and the seats rotate so you can see the whole thing. In recent years, they added a diorama, to make it 3-D.
3:51 PM 1578.6 Arrive Lenox Square Mall [3393 Peachtree Rd NE, Atlanta, GA 30326]
7:25 PM 1604.5 Arrive Varsity, Jr.
Okay, the desserts at the Varsity are great, so we decided we needed to try the regular fare. Don't go if you are watching your cholesterol. PS There was a Varsity right across from the hotel, but why go there when you can drive across town? Plus Jr. is closer to Lenox Square, where we went to avoid I-85 traffic.
8:40 PM 1616.7 Arrive Thur, La Quinta, Atlanta, GA
End of day
DAY 7 Friday, Aug 5
9:00 AM 1616.7 Depart
11:41 AM 1780.6 Arrive Egg-Setera, Birmingham, AL
This was where we had dessert on the way out, this time we had brunch.
2:40 PM 1907.9 Entering Mississippi
4:47 PM 2058.4 Vicksburg N.P. Visitor Center
Though we did not stay long, mostly a drive break and snack, the area is historically significant.
4:52 PM 2063.2 Entering Louisiana
8:42 PM 2234 Arrive Monterrey Mexican Restaurant [2910 Barksdale Blvd, Bossier City, LA 71112, (318) 747-3700]
We decided to stay in Bossier, mainly because it was about 600 miles from Atlanta. Bad reason. Old hotel, and terrible service and food at the little Mexican restaurant... perhaps we should have known not to eat Mexican in Louisiana.
9:46 PM 2236.3 Arrive La Quinta Inn-Bossier City [309 Preston Blvd, Bossier City, LA 71111, (318) 747-4400]
End of day
DAY 8 Saturday, Aug 6
9:00 AM 2236.3 Depart
9:22 AM 2257.5 Entering Texas
12:16 PM 2428.3 Arrive Sat, Lunch and shopping, Mockingbird Station, Dallas, TX (Café Express/Urban Outfitters)
3:17 PM 2428.4 While there, a stop to the Angelika Cinema to see St. Ralph
7:01 PM 2527.3 Arrive Home
Not a bad little trip.
SUMMARY
Driving distance: 2527.3 miles
Trip duration: 7 days, 12 hours, 1 minute
Driving time: 43 hours, 54 minutes
Fuel .Cost: $187.23