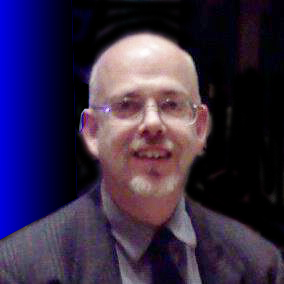 R. Craig Collins > Web Page Design > Portfolio > Sweden/Norway
December '19, Sweden/Norway © R. Craig Collins, 2019/2020
Göteborg, aka Gothenburg, Sweden and Gamlebyen/Fredrickstad, Norway
to Travelblog (and all the pictures, about 420 of them!)

to Maps
Plans are useless, but planning is indispensable
Note, to roughly calculate SEK (Swedish Krona) to USD, drop a 0, Example 600 SEK~$6
December

Sunday

Monday

Tuesday

Wednesday

Thursday

Friday

Saturday

15

16

3:30am Depart
4:45am Fast Park
5:00am Check in
8:00 DL 2774 24 DE
AUS-ATL

11:10a-3:55p ATL

Varsity for Lunch

3:55p DL 9667 24 DE
ATL-AMS


17 6:00-8:05 AMS

8:05 DL 9688 9AC

9:35 GOT Göteborg

Flygbussarna198 SEK
to Kungsportsplatsen

Buy four 72 hour travel cards @190 SEK ea

Kungsportsplatsen to Vasa Viktoriagatan Tram 3

Walk to
Hotel Vasa

Festskorka, Fish Market to River to Järntorget to Haga near Skansen Kronan

Waffles at Hotel

Vasa Bar for Dinner

18 Breakfast

St. Andrews
DomKyrkan Cathedral
City Museum-Gotenborgs Stadsmusseum
Viking ship
Open late 60 SEK

Krohnus Christmas Market

Opera House

Maritiman

Nordstan

Gustafson Adolfs square

German Church

SaluHall


Cafe Brule for Lunch



Palmhus

Central Station

Göteborgs konstmuseum Art Museum


Le Pain Français for Dinner




Skansen Kronan

19 Breakfast


Volvo museum
2 hour round trip by bus
10:00-5:00

Directions

Cost 100 SEK each

Hamburgerköket

Masthugg church

Hemköp Norstan to Jantorget


20 Breakfast

Ferry

Oscar Fredrick Church

Haga

Cafe And the Bakery for lunch


University, Vasakyrkan, over to the Avenyn

4:00-4:40 Stomma Paddan Tour to
Liseberg Christmas

Xmas Markets

Cafe Brule for Dinner

21

Gamlebyen/
Fredrickstad
7 hour round trip by train 516 SEK

R20 8:15-10:42
Car 1 seats 27 & 28
Ferry to Old Town

Ferry to City Center

R 20 3:11-5:40
Car 1 seats 31 & 32

Nordstan Kebab for Dinner

22 Breakfast
Castles

Gunnebo
Garden dawn to dusk, free
Directions

Fika

Haga Xmas Market

Cyrano Pizza for Dinner

EARLY TURN IN

23

3:00 Depart via Taxi
6:00 DL 9266 11 BC
GOT-AMS

7:35-9:35

9:35 DL 9672 24 DE
AMS-ATL

1:15p-4:06p

4:06p DL 1248 23DE
ATL-AUS

Jasmine's for Dinner

to house

24
25
26
27
28
to Travelblog (and all the pictures, about 420 of them!)
PLANNING ITEMS for Göteborg, aka Gothenburg, Sweden/Gamlebyen and Fredrickstad, Norway
Hotel Vasa
Viktoriagatan 6
411 25 Göteborg, Sweden
E info@hotelvasa.se
P+46 (0)31 17 36 30
https://www.goteborg.com/en/10-must-dos-in-gothenburg/
https://www.goteborg.com/en/christmascity/christmas-city-map/
https://www.gpsmycity.com/tours/gothenburg-introduction-walk-3991.html
https://www.gpsmycity.com/tours/gothenburg-churches-walking-tour-3777.html
https://www.solosophie.com/free-self-guided-gothenburg-walking-tour/
https://www.thecrazytourist.com/15-best-things-to-do-in-fredrikstad-norway/


Travel card $80
Meals and souvenirs in Sweden: $500
City Museum $6 x2=$12
Volvo museum $10 x2=$20
Art Museum
Liseberg Christmas $12 x2=$24 (or $27 x2 to include rides) or $46 for entrance and boat tour

Handy phrase and pronunciations: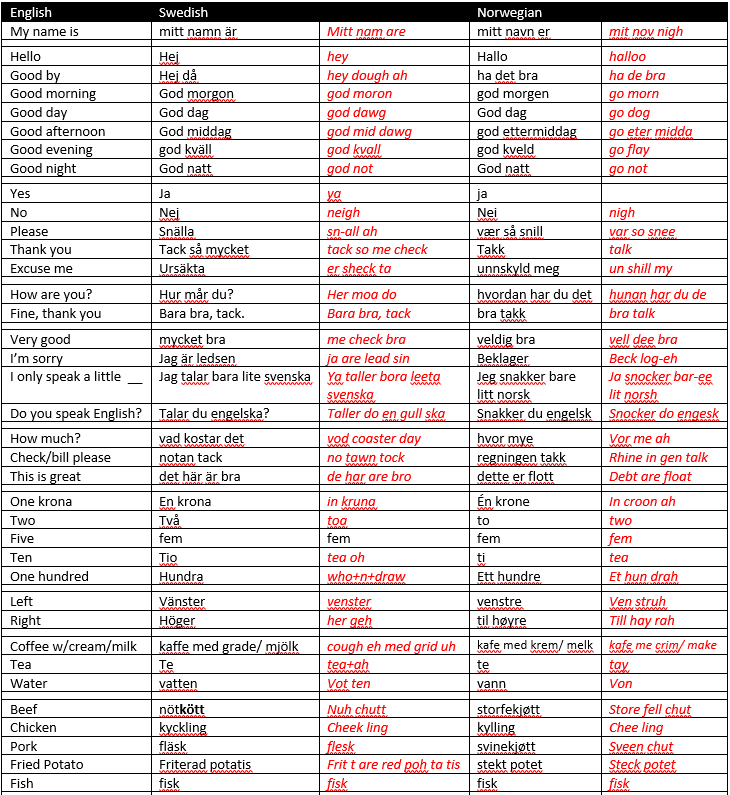 to Travelblog (and all the pictures, about 420 of them!)
https://www.goteborg.com/en/maps/
https://www.vasttrafik.se/globalassets/media/kartor/linjenatskartor/sparvagn/sparvagn-stombuss.pdf
The Trip
Göteborg, aka Gothenburg, Sweden/Gamlebyen and Fredrickstad, Norway

Göteborg, aka Gothenburg, Sweden, founded on the west coast of Sweden in 1604, and officially became a city in 1621, by King Gustavus Adolphus
Monday, Travel
Tuesday, Göteborg, aka Gothenburg, Sweden: Explore Festskorka to Järntorget to Haga near Skansen Kronan
Wednesday, Göteborg, aka Gothenburg, Sweden: Churches, City Museum Christmas markets, Art Museum, Singing Christmas Tree
Thursday, Göteborg, aka Gothenburg, Sweden: Volvo museum, Churches
Friday, Göteborg, aka Gothenburg, Sweden: Ferry, Churches, Haga, University, Boat tour to Liseberg Christmas
Saturday, Gamlebyen and Fredrickstad, Norway
Sunday, Göteborg, aka Gothenburg, Sweden: Gunnebo Slott, Haga Christmas Market
Monday, Travel

(Scroll down for A LOT OF DETAILS on places visited, and of course, about 420 pictures!)

To see larger versions of the pictures below, see my Facebook album
Sunday, we checked in, but could not print boarding passes.
Monday,
3:30am Depart
4:45am Fast Park
5:00am Check in
Still could not get boarding pass for last let, they said to check in Atlanta.
Got our zone 1 boarding for our Delta flight.
8:00 DL 2774 24 DE


AUS-ATL

11:10a-3:55p ATL
Still could not get last leg boarding passes.
Varsity in Atlanta for Lunch, $20.17
Met a gent from El Paso while we were waiting to board... we were at the front of the line for zone 5... no priority for KLM legs.
Facial recognition boarding was interesting, and fairly quick.

3:55p DL 9667 24 DE
ATL-AMS 787 Dreamliner
Animated Delft Tile Safety video was interesting.
Chicken and Mashed potatoes, brownie for dessert.
Tuesday
6:00-8:05 AMS
Arrived Amsterdam, fairly quick for Passport control. Could not get self serve machine to give boarding passes,
so went to the gate. They could not print passes either, so back all the way across the terminal to service area that just opened... they managed to release and print boarding.
Susann got coffee € 3,05.
8:05 DL 9688 9AC
Chicken sandwich in a delft box.
9:35 GOT, Göteborg, aka Gothenburg, Sweden
As we got off the plane, we were greeted by police in the jet way who were checking passports.
Found the airport bus to town, Flygbussarna (198 SEK) and rode to Kungsportsplatsen

Waited for ever to buy four 72 hour travel cards @190 SEK ea

Kungsportsplatsen to Vasa Viktoriagatan on Tram 3, then walked to Hotel Vasa

11:00 am They actually had our room ready, up one staircase to elevator then up. Last time we used the elevator, well, until we were checking out.

Room 103. Just wide enough for a bed, with a wet bath (shower was not separated so water went all over the floor).
Probably used to be two rooms, judging from the crown molding, but perfect for us. We unpacked and rested for a bit.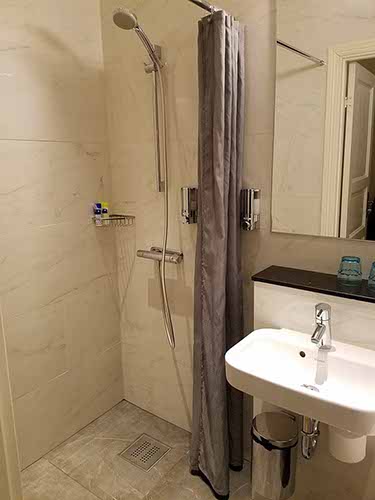 2:00pm Walk to the Festskorka Fish Market, then to Gott Alv River, then to Järntorget, then to Haga, passing near the Skansen Kronan hilltop fortress.
The Festskorka Fish market is also call the Fish church, due to it's architecture. Across the canal you can just make out Skansen Kronan hilltop fortress.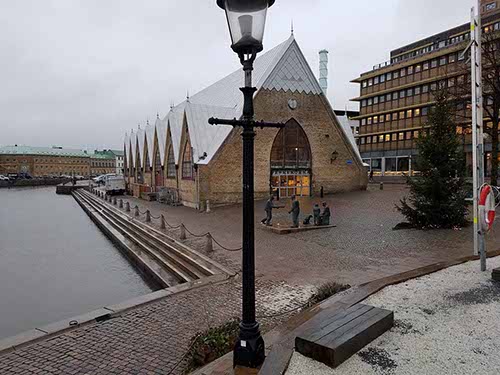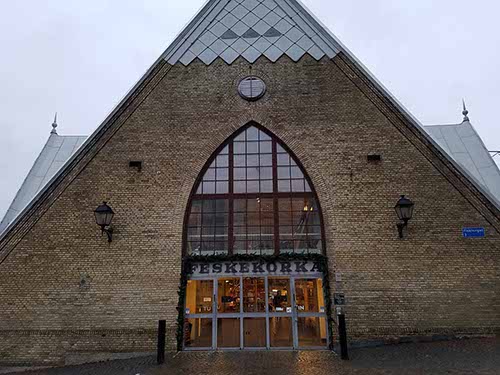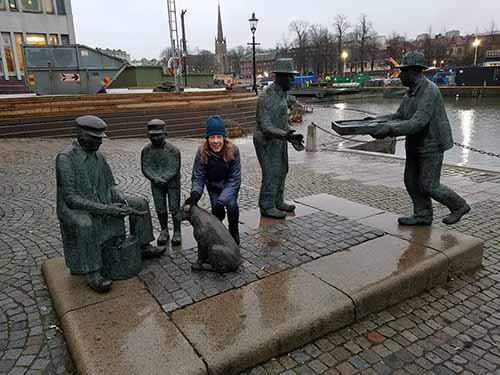 Neat statue, neat architecture, and lots of hills. The sun came out for about 10 minutes, then went away until Sunday morning.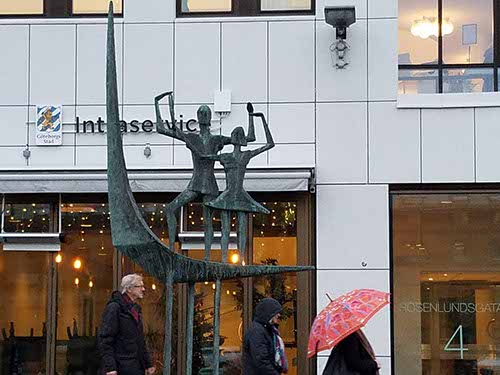 On the Gott Alv river, beer house, the Lipstick building in the distance, and ferries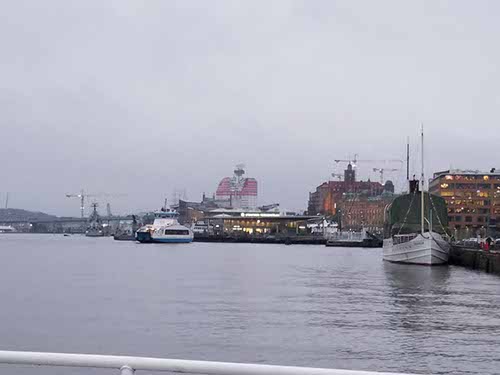 Järntorget square, and some neat architecture, as we head to the Haga, the quaint shopping district. Note they mention Fika... more on that below.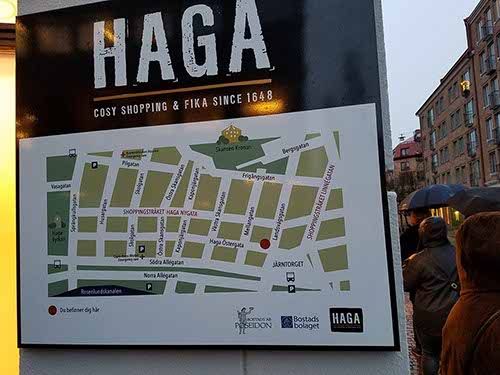 Views from the Haga side streets

3:30, sun going down as we get another view of the Skansen Kronan hilltop fortress on our way to the hotel, passing Haga Kyrkan

4:00, back at the hotel for their evening Waffle time in the breakfast area... the waffle iron make thin snow flake shaped waffles. This was our first Fika.
Fika is a concept, a state of mind, an attitude and an important part of Swedish culture. Many Swedes consider that it is almost essential to make time for Fika every day.
It means making time to share a cup of coffee (or tea) and a little something to eat.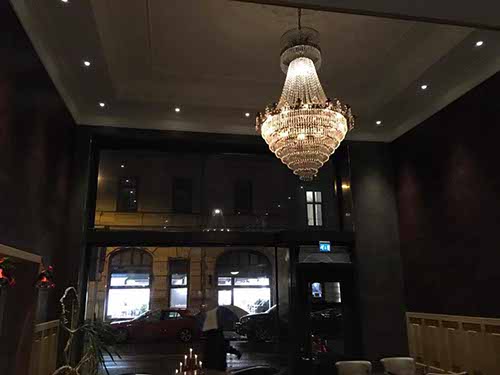 5:30 pm We then walked down the street to the Vasa Bar for Dinner... we got fish, of course, 238 SEK.

Grabbed some cookies from the breakfast room, and settled in for the night, after a very long day.


Wednesday,
8:00am Breakfast spread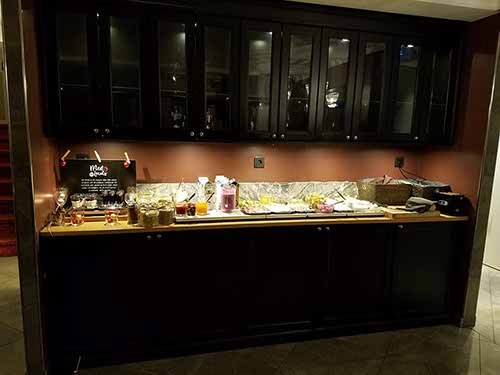 The Study, above the breakfast area



The Queen, across the street as viewed from the breakfast room, similar view from our room two flights up



Hotel Courtyard view from staircase headed up to our room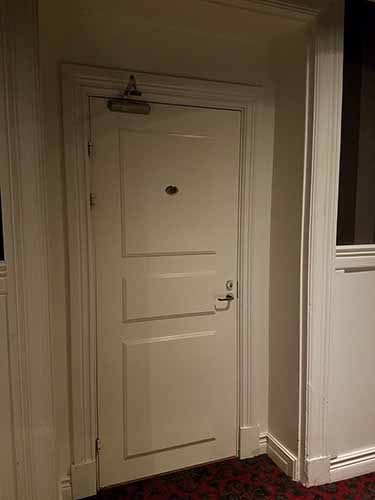 9:00 am headed out to see St. Andrew's, built 1855. It was closed... we found this to be the case A LOT.



DomKyrkan, the Cathedral started in 1633... very much like the cathedral in Helsinki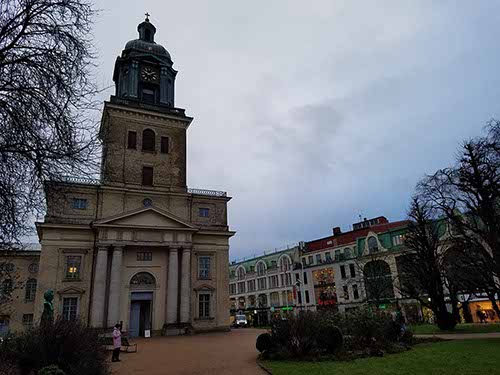 City Museum-Gotenborgs Stadsmusseum, next to the German church on one of the canals, entry 60 SEK
Museum of Gothenburg has a unique home - the Swedish East India Company building from the 1750s



The only surviving Viking ship in Sweden, found in 1933, the Äskekärr ship which is believed to be from 930 AD



Susann meets Odin, then Thor



The loom made us think of Gracie, loved the old Camera



Courtyard of museum, looking toward German church



Kronhuset, built around the 1650s, which housed a Christmas Market



Around the Opera House, with views of the river, Lipstick building, and the Hotel-ship Viking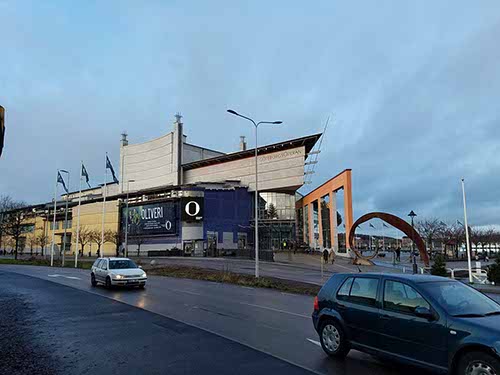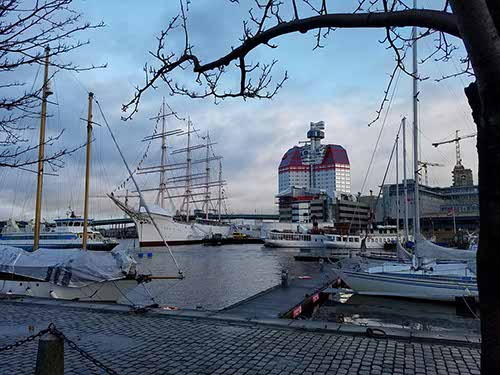 Maritiman, maritime museum



Architecture near the Maritime museum



Nordstan



Gustafson Adolfs square



The German church, also called Christinae church, is located in central Gothenburg near the moat.
The church was named after Gustav II Adolf's daughter, Queen Kristina. It was inaugurated in 1748.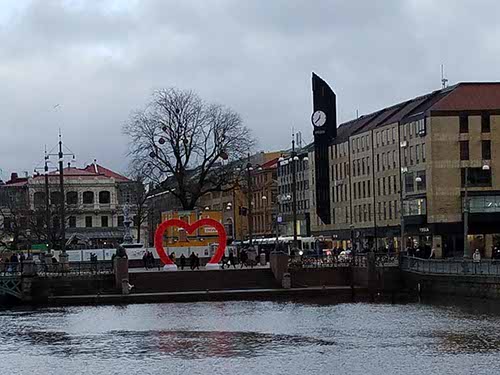 SaluHall or Saluhallen, was first opened in 1889

1:11 pm Cafe Brule for Lunch


Goulash, Swedish Meatballs, potatoes, gravy, bread. 174 SEK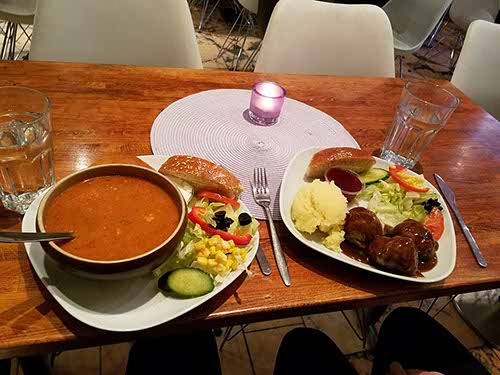 Central Station, Clarion Post Hotel, across from the Palmhus

Headed to the Palmhus, green houses and parks modeled on the Crystal Palace, built in 1878.

Clarion Post Hotel and Central Station, across from the Palmhus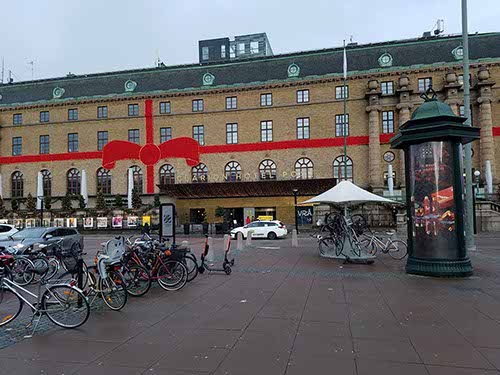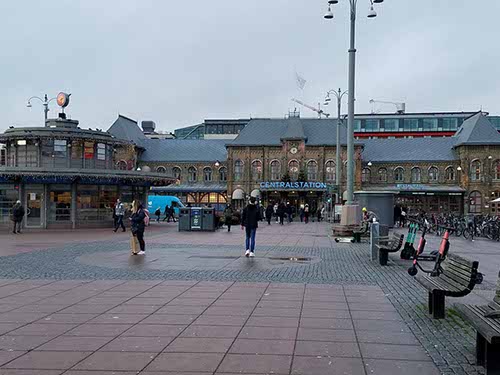 4:00 pm Waffles for Fika at the hotel.

5::05 pm Göteborgs konstmuseum Art Museum 120 SEK

Apollo 11 Camera exhibits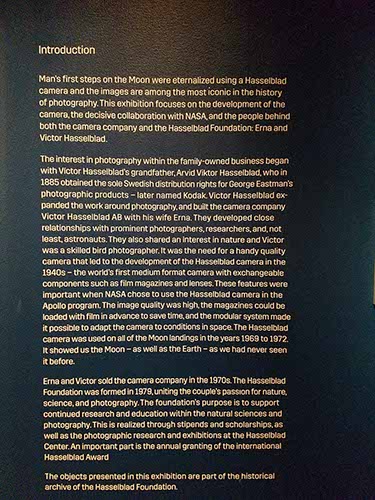 Two pieces by Picasso, spanning very different periods; Acrobat Family, 1905 and The Straw Hat which is typical for the artist's mature style of the 1930s



Van Gogh



Rembrandt

Views from the art museum, up the Avenyn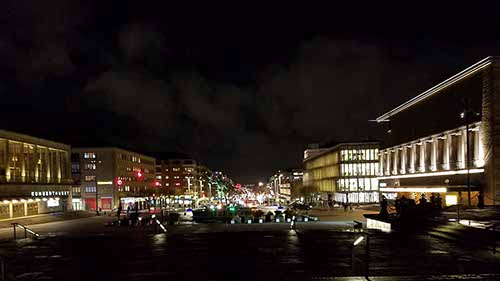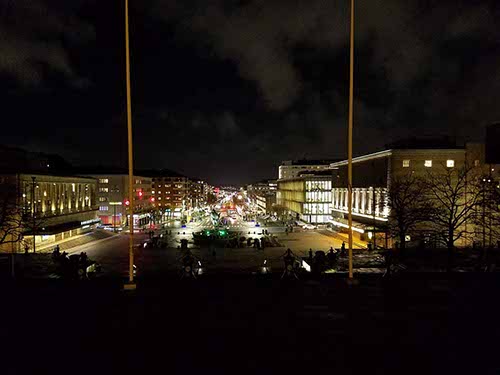 SaluHall at night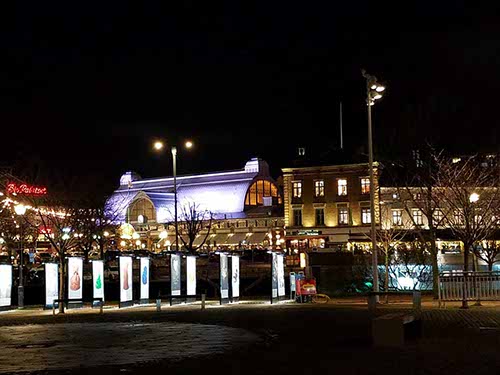 Singing Xmas tree

Click here to see Video of Singing Christmas Tree



7:08 pm Le Pain Français for Dinner


Quiche, Toast Magnifique, coffee for Susann, 196 SEK



8:00pm We walked up to the top of the hill to see the Skansen Kronan hilltop fortress; built in 1698 it once house 23 cannons to deter the Dutch.



Views from the hilltop



Looking toward Masthugg and Oscar Fredrik churches



Thursday, Volvo
8:00 am Breakfast
9:00 am Go to Eketragatan via tram, then bus 32 towards Volvo Torslanda via Arendal
Get off at Arendals Skans
10:00am Volvo museum 200 SEK

Directions

Cost 100 SEK each

Old cars (the company's first car series, the Volvo ÖV 4, came out in 14 April 1927) to new, concept cars, trucks, engines, and more... like legos.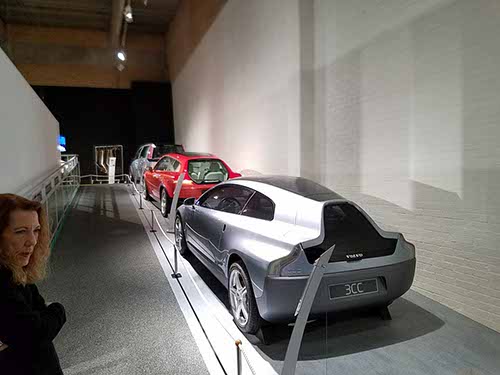 I took a LOT more pictures at the Volvo museum, about 45 total... you can look at them here, from my Facebook album
https://www.facebook.com/r.craig.collins/posts/10157774764644450
or click the Sweden-Norway link (below, next to the word Album), to see bigger images of ALL the pictures from the trip.


12:00-1:00, back to town.
1:00 Hamburgerköket for pizza, coffee, and Fanta 79 SEK

Area near Haga Kyrkan (1856)



Masthugg church: lots of steps up to the hilltop home of a huge, but fairly new (1914) church. The twower is about 200 feet high.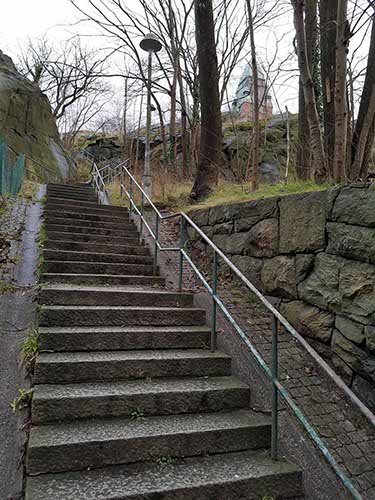 Interior, and a model



Views from the church



Steps going down

Hemköp grocery store, for a little shopping; got hot chocolate and Swedish candy bars for gifts. 91 SEK Cash.



4:00pm Fika at the hotel.
5:00 pm, off to the Clarion Post hotel, and Central Station to scope out where our train will be.



Nordstan, jazz performance. Did some shopping at Pralinehuset. 107 SEK.
Discovered you can't buy cold medicine in Sweden....




There were lots of shops selling greenery and plants when we walked, along with great architecture; these were taken on the way to John Scott's pub, for dinner

John Scott's pub, for dinner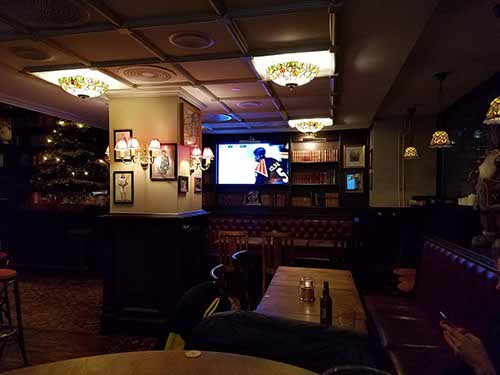 Burgers 198 SEK


Retire the first two 3 day tram passes.

Friday,
8:00am Breakfast
9:50 am Tram 6 to Nordstan, 2 SEK for WC
We decided to take the Ferry to get to the Oscar Fredrik Church, while waiting we got a good look around Lilla Bommens Hamn Ferry Terminal,
including the Hotel-ship Viking, the Opera house, and a pig




Opera House, and our Ferry, as it approached



10:35 Klipping to Jaegerdorffsplatsen on Our Ferry



Views from the Ferry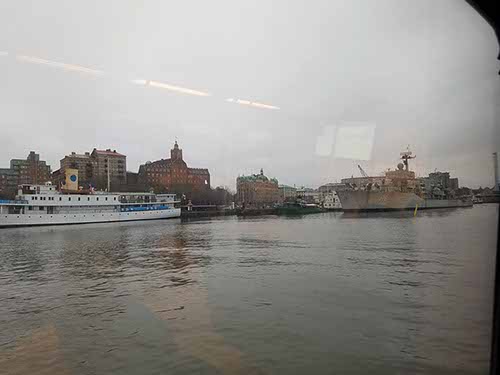 A very cool Dutch East India ship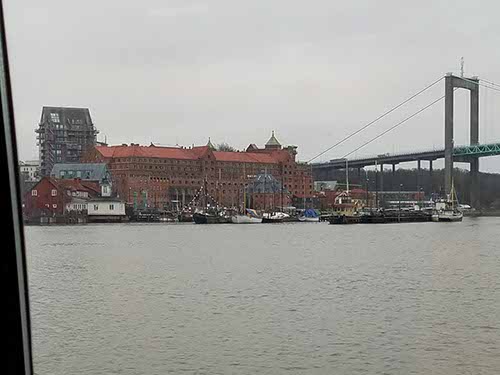 Walked to Masthuggstorget, then on to Oscar Fredrik Church, a very beautiful church from 1890.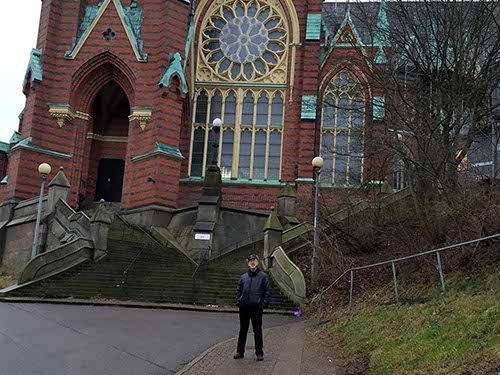 Walking back to Vasa, through the Haga spent 95 SEK.

12:12 pm Cafe: And the Bakery, for lunch


Lasagna, salad, latte, 179 SEK



Across the street from the cafe

Walked around the University, which was founded as Göteborgs högskola (Gothenburg University College) in 1891. In 1907 it was granted the same status as Uppsala University and Lund University by the Swedish government, thus creating Sweden's third university.
We visited Lund in 2007.
From there we went to Vasakyrkan (1909), and over to the Avenyn



VasaKyrkan


Back to the hotel for Fika, cookies today.

3:15, Avenyn lights, as the sun set, heading to Kungsportsplatsen, to take our tour to Liseberg.



4:00-4:40 Stomma Paddan Tour to Liseberg Christmas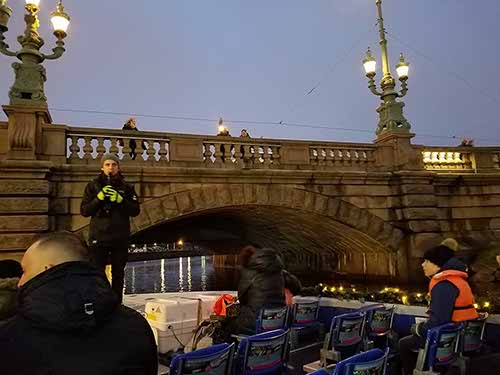 The Locks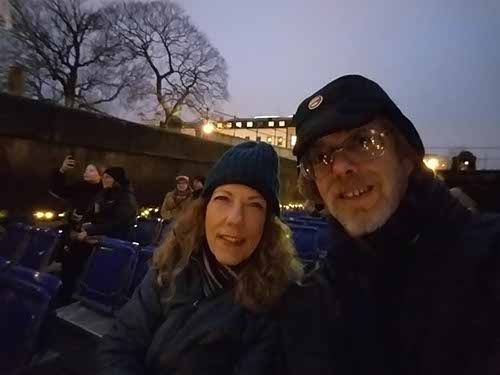 Approaching Liseberg Amusement Park, home of a great Xmas Markets.
Liseberg was built on land first owned in 1752, and means Lisa's mountain. The park was built in 1923 to celebrate the cities 300 birthday (the city is coming up on 400 now.)



Low bridges along the way... you can see the people in front of us all by laying down sideways in the boat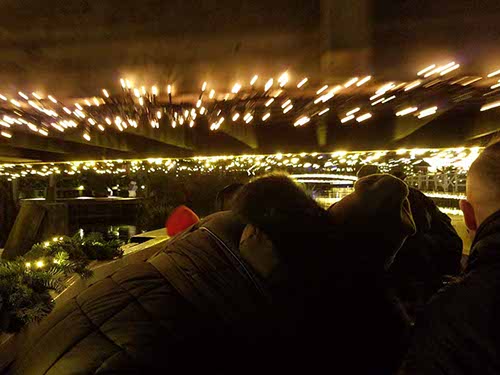 Liseberg Christmas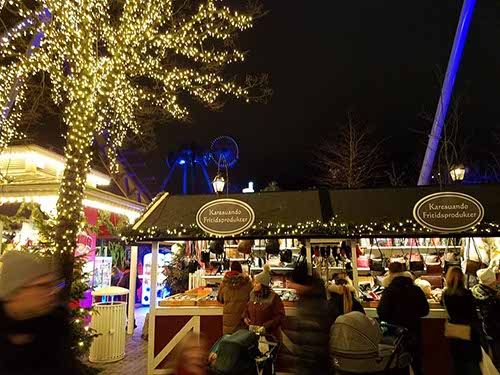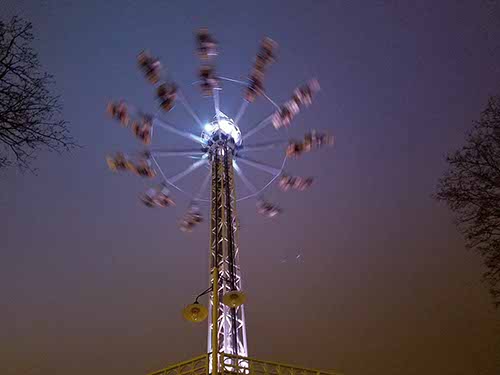 The park is on three levels, we had to take metro length escalators to move up levels, but the view down to the park and the city was great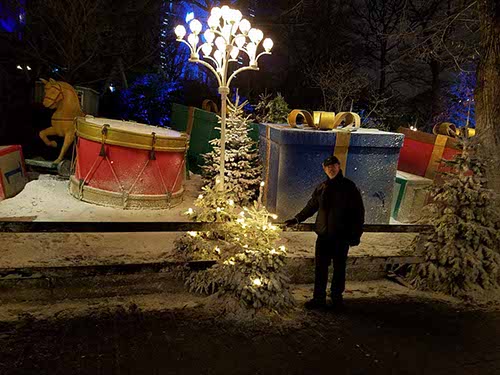 Exiting the park, through the main entrance



Back near the Avenyn

6:10 pm Cafe Brule for Dinner, meatballs and a baked potato with chicken salad, 174 SEK



Sites on the way to the hotel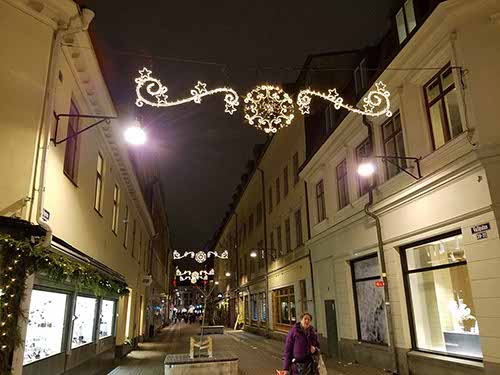 SaluHall again, and nearer to our hotel, a University library that was horse shoe shaped.

7:30pm Coffee, hot chocolate, waffles.

Saturday, to Fredrickstad Norway
It was the solstice, in Norway... the shortest day of the year... 6 1/2 hours of light, though we only saw the sun twice.

7:00 Breakfast in room
7:20 head to Central Station
7 hour round trip by train vy.no
8:00am board train
R20 8:15-10:42
Car 1 seats 27 & 28

10:45 am The train station in Fredrikstad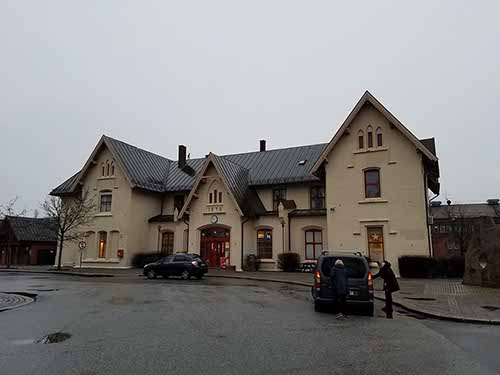 11:00am Ferry to Old Town, from 1567.
https://www.lifeinnorway.net/oslo-fredrikstad/
We exited the station using the main entrance and followed the road (Jernbanegata) around the left of the small park, at T-junction, turned left onto Ferjestedsveien and followed the road down to the water to the small pier. The boat across to the old town is free and fairly regular throughout the day, as it's an important transport link for residents and workers, not just tourists.
Looking across to the Old Town (Gamlebyen), and our ferry.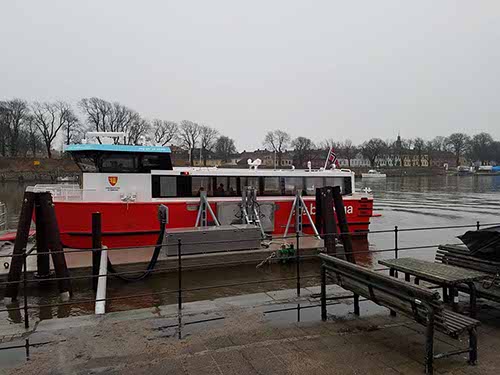 Old Town (Gamlebyen); Fredrikstad, Norway


The tourist office was closed, but they had a box with maps and so on, so we started exploring, with many buildings from 1640..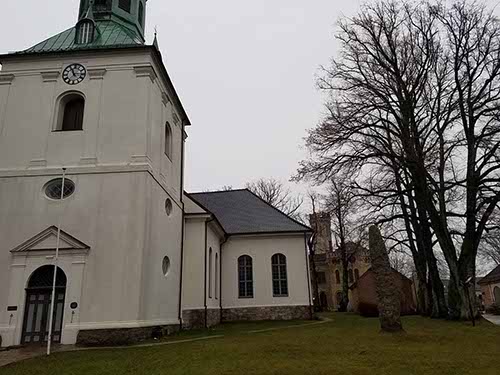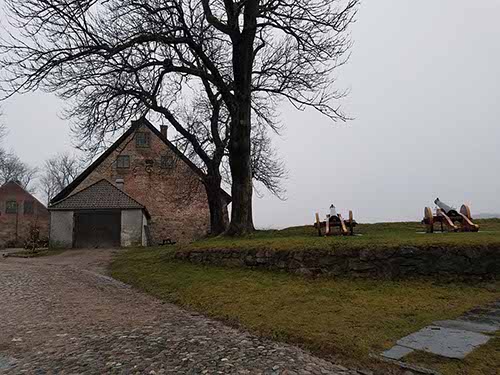 12:00pm The Magenta café



Fish and salad, and smørbrød (a hearty, open-faced sandwich on rugbrod rye bread, this one had an egg on it as well.
The dish, a Scandinavian tradition, is topped with savory flavors; Susann also had a latte, 376 NOK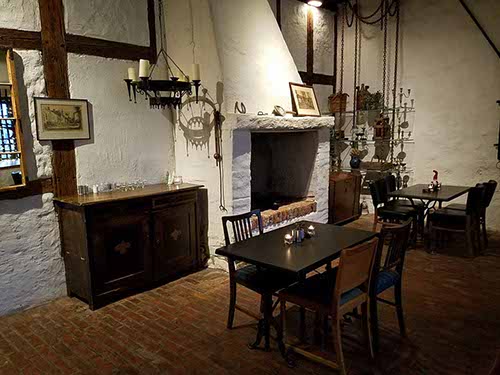 Views from the old town of the fortress island, fortifications, and across to Fredrikstad

Looking toward the road to Østre Gravlund and Kongsten fort, note: just like Göteborg originally did, the old town had defensive moats/canals with fortified walls.
We walked down all the streets of Gamlebyen.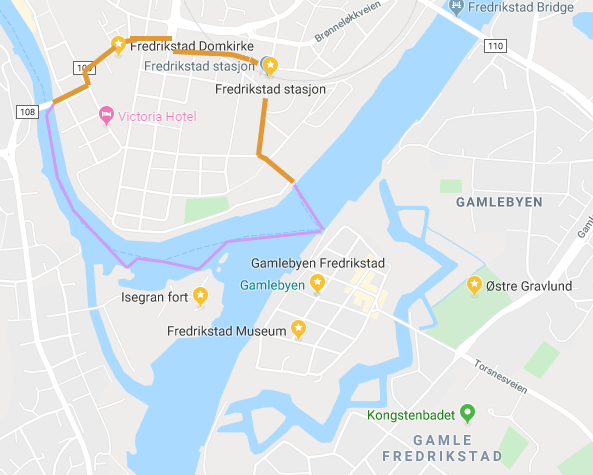 Walking around, back to the town square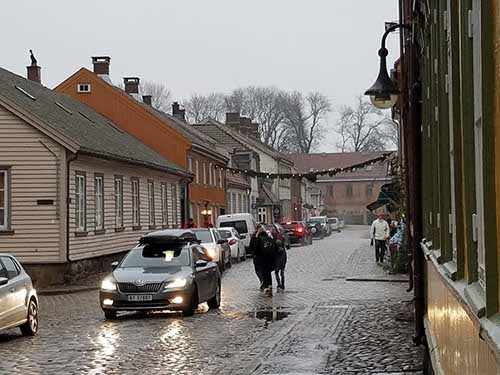 We decided to take another ferry to Fredrickstad city center



We stopped at the fortress island along the way



Fredrickstad, Norway, the city center, from her we walked to the Cathedral, bought Norwegian candy as gifts, and then on back to the station. 78 NOK


Near the cathedral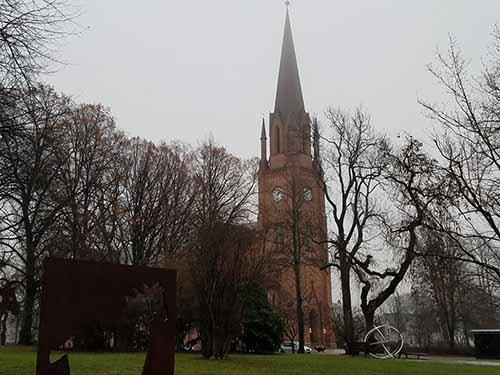 3:11 pm Back to Göteborg, Sweden



R 20 3:11-5:40
Car 1 seats 31 & 32
6:00 pm Nordstan Kebab for Dinner 170 SEK



Found some decongestant in my medicine bag for Susann.
Sunday, to Gunnebo Slott
8:00 am Check in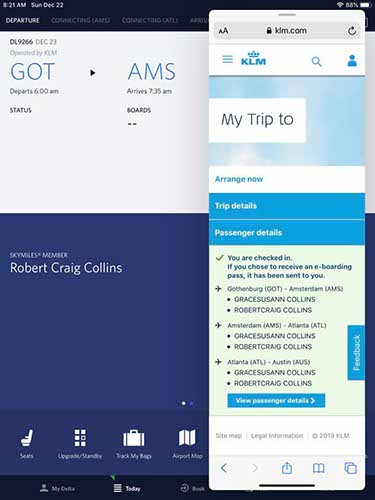 9:00am Breakfast
10:00 head to the bus in central Gothenburg , rode to the Gunnebo stop called Kristinedal (Mölndal), from where walked about 1 km through the cultural reserve to Gunnebo.
– Bus 753 Heden-Mölndal via Helenedal, ca 15 minutes, every 30 minutes.



We actually saw the sun for about an hour!

Stensjön lake; we would walk along way down the lake from near Sensjö to Gunnebo house, which was not open yet. So we walked around the grounds, then into the woods to Herkulesgården, and back.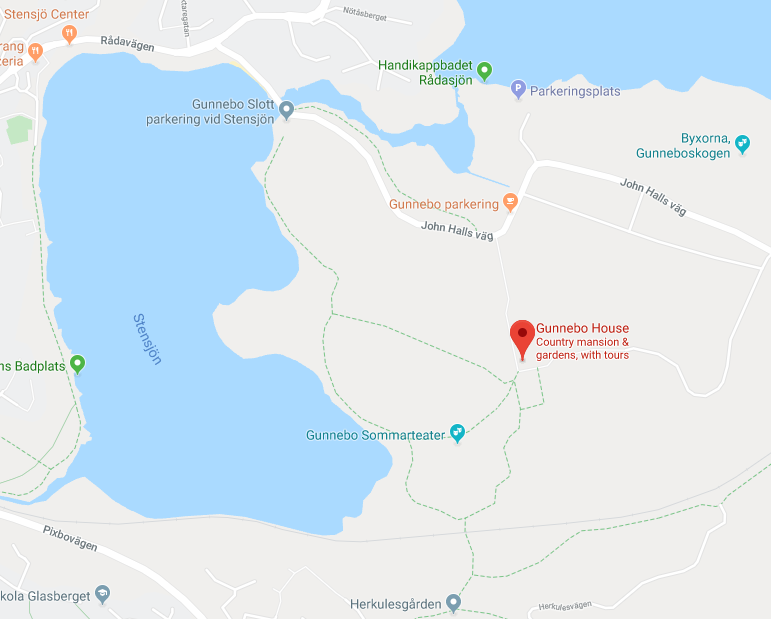 Gunnebo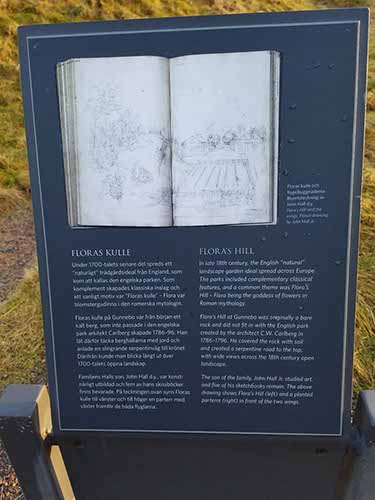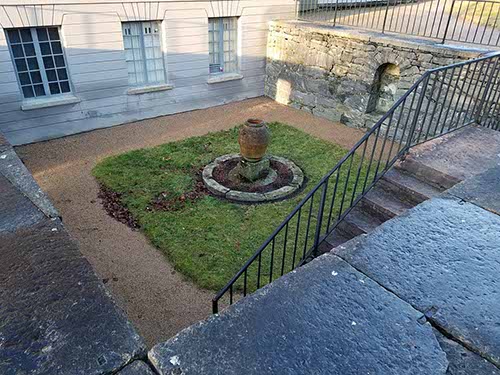 Long shadows as the clouds came back in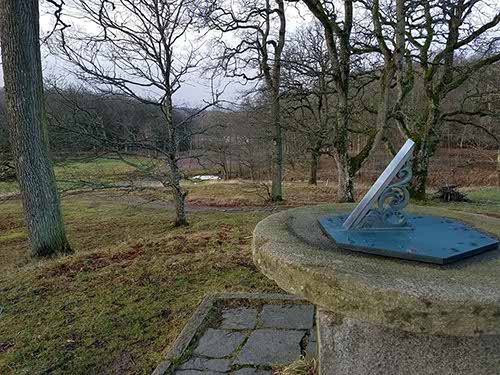 Off to the woods to Herkulesgården, and back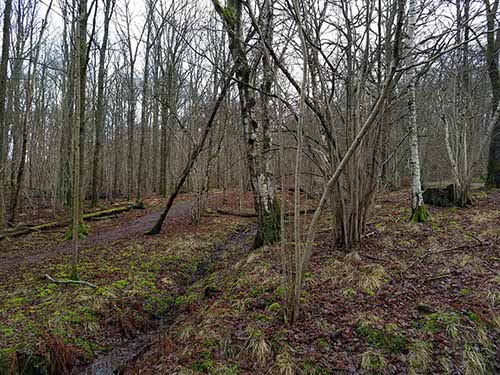 We headed to the working part of the estate... gift shop, cafe, kids area, gardens, and livestock.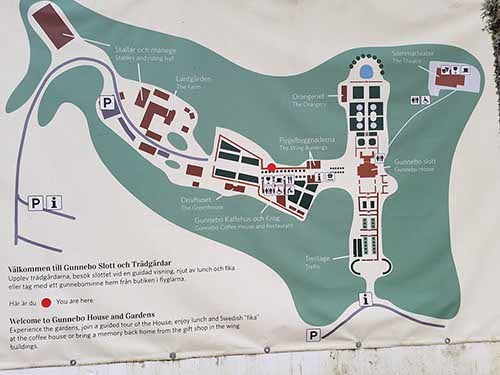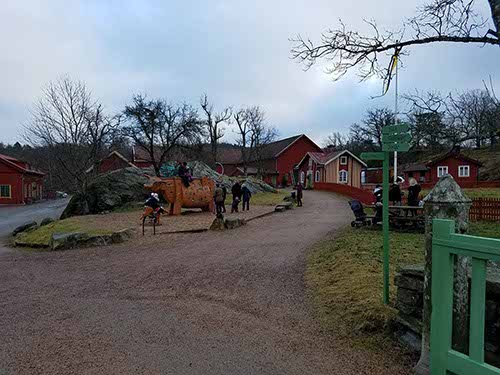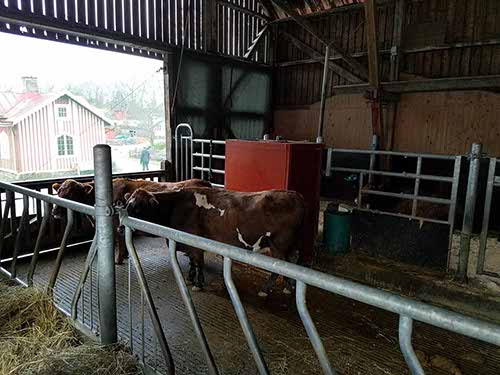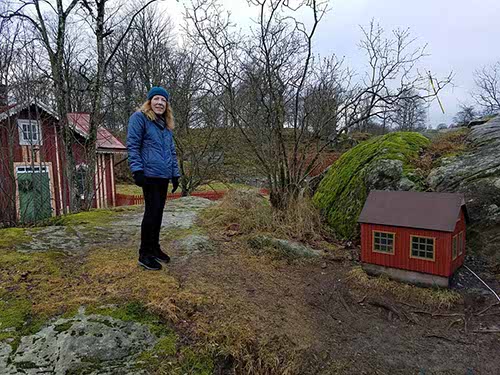 Gunnebo House restaurant- Kaffehus och Krog, which is located in the the servants' building at Gunnebo House... 113 SEK
At Gunnebo Kaffehus and Krog they offer lots of delicious looking gourmet cakes and desserts baked in their own award-winning bakery. Instead of lunch, we had Fika.
Just like the Swedes, we considered it almost essential to make time for Fika every day, coffee (or tea) and a little something to eat.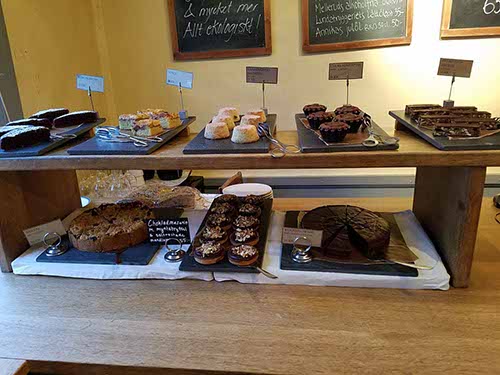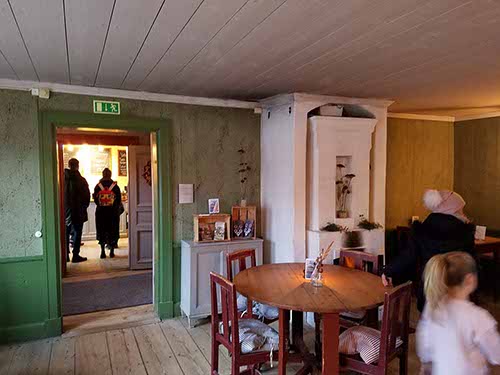 2:11 The walk back to the bus stop, using a different path.

Back in Göteborg. we came across an odd restaurant

More of the University, and our go-to tram stop, Vasa Viktoriagartan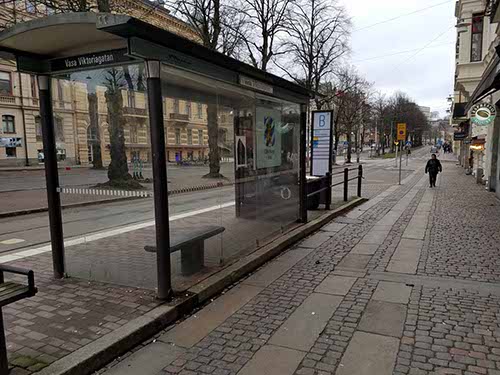 Time to arrange a taxi at the front desk, and discussed politics.



On our way to the Haga Xmas Market, we finally caught the HagaKyrkan open



The sun was setting, I wish you could see the twinkling lights in the decorations, and smell the wonderful Cinnamon rolls, etc.
The Haga Christmas market was only a week end event, I was glad we had the time to squeeze it in, as the shopping street got even more interesting.


367 SEK for gifts.

Back at the hotel, in the lobby.



Cyrano, our last dinner in Sweden, Cyrano... a French pizza place, 134 SEK

4:30 Waffles and an early turn in
Monday, travel

1:00am up
3:00am grab our take away sandwich bag at the desk, and depart via Taxi 450 SEK

Got to the airport before security; printed our boarding passes, then went to the gate.
6:00 DL 9266 11 BC

We only spent 100 SEK, so we exchanged the rest for Euros for our next adventure, and got on out flight to Amsterdam, cattle call boarding but we were the first after Priority.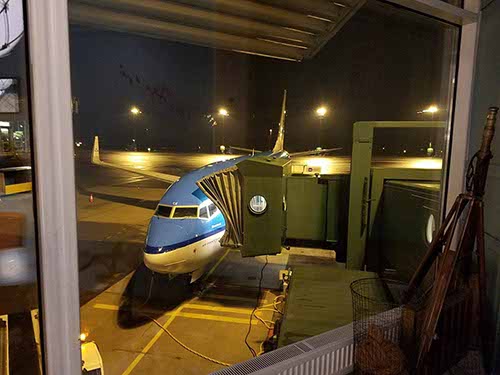 GOT-AMS
7:35-9:35

Passport control was not too bad. Check why there was no boarding zone, they said KLM does not do boarding zones here. Cattle call boarding, but we were the first after Priority.
9:35 DL 9672 24 DE
AMS-ATL
1:15p-4:06p
Used our Global Entry in Atlanta, grabbed TSA PreCheck boarding passes, and to to our gate for our last flight, this one on Delta.
4:06p DL 1248 23DE
ATL-AUS
Stopped to see Gracie, who was working the counter in Austin.
6:00 pm Jasmine's for Dinner $23.46 for Mexican Combination plates.
8:00pm, home... what a great trip.
To see larger versions of the pictures below, see my Facebook album



Hotel Vasa, in relation to transportation



Gamlebyen, old town, and Fredrikstad, Norway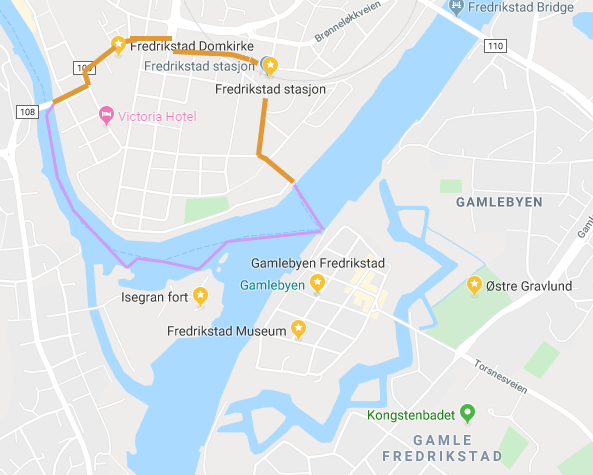 Gunnebo Slott