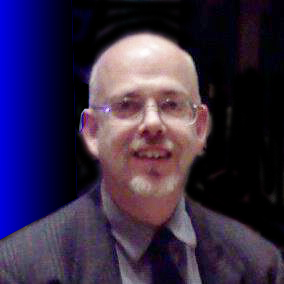 R. Craig Collins > Web Page Design > Portfolio > New England
Fall 2019, New England © R. Craig Collins, 2019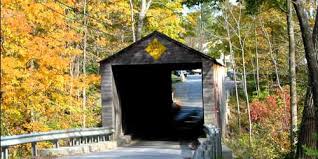 to Travelblog (My planning details for now)

to Maps
Under Construction: Plans are useless, but planning is indispensable
To the travel blog, and of course the pictures, when we get back
October

October

November

November

Sunday

Monday

Tuesday

Wednesday

Thursday

Friday

Saturday

27

28




29

30


31
3:45-5:00am Depart for Austin
5:00am Check in
7:00 -11:53am DL 2997 20 BC
AUS-BOS 3 hr 53 A320
Enterprise Rental Car
to Hartford 103 miles, 2 hr 6
Lunch
Nipmuck State Forest, I 84
Hartford, CT

Mark Twain House & Museum
Harriet Beecher Stowe Ctr

Bushnell Park Carousel
State Capitol

Old State House

to Manchester Inn and Suites hotel
Dinner
01
9:30 leave hotel

to Brattleboro 84 miles, 1 hr 22
Fort Dummer State Park, Guilford, VT
Covered Bridge
Brattleboro, VT
Lunch
New Hampshire

to Boston 108 miles, 2 hr 12

to Bedford Plaza Hotel
Dinner

02
Check out of hotel
Walden Pond
Concord, MA
Depart for Boston
turn in car
3:00pm Check in
4:59 -7:16pm DL 2163 24 DE
BOS to DTW 2 hr 17 A321
Layover 1 hr 9 min
8:25-10:27pm DL 2311 24 DE
DTW to AUS 3 hr 2 min A320
11:00 head home


More Maps Below
Thursday, Fly to Boston, MA; Drive to Hartford, CT; Hartford sites
Friday, drive to Vermont, Guilford, Brattleboro sites, return to Boston via New Hampshire
Saturday, Walden Pond, Concord, MA; fly to Detroit; Fly to Austin; drive home

(Scroll down for A LOT OF DETAILS on places visited, and of course, the pictures)

Thursday, 10/31/2019


3:45-5:00am Depart for Austin
5:00 Check in
6:40-7:00 -11:53 DL 2997 20 BC AUS to BOS 3 hr 53 minutes A320


Bus to Rental Car Center
12:00 Enterprise Rental Car CONFIRMATION#: 1508803127
Picked up a NY registered Nissan Rouge



1:00 to Hartford 103 miles, 2 hr 6 minutes
It was raining, and VERY windy... on the radio, we actually hear the song Autumn Leaves

Our timing was a bit off for optimum foliage, the colors were just a bit past, and the wind had taken a lot of leaves, but it was still wonderful.

Drove past Nipmuck State Forest, Near Union, CT on I 84
1:30 Stopped for lunch at Country Pride, near Willington CT,
Pretty poor Chicken strips, and fried fish $29.52 AMEX


3:00 We stopped by the Manchester hotel, but it was too early to check in
In Hartford, we walked around the
Mark Twain House & Museum and Harriet Beecher Stowe Center.



Mark Twain House


Harriet Beecher Stowe Center

A hungry squirrel

4:25 Arrived at Bushnell Park, and found a metered parking spot, $1 parking AMEX



We wandered around the park, and saw the Carousel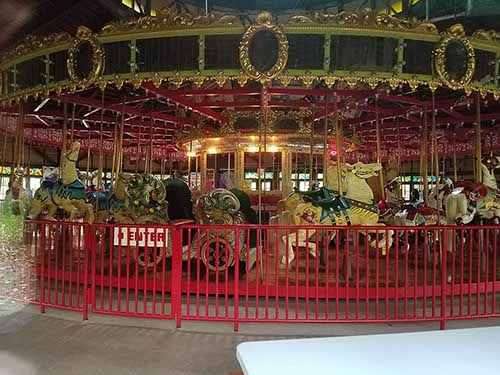 We then walked up to the State Capitol.



We had seen the old State House on the way in, and drove up by UCONN and parked to get a better view
Old State House



5:00 Terrible TRAFFIC, and had to loop around downtown to get back on the road
to Manchester Inn and Suites Room 204 CONFIRMATION#: 8115475060552



6:30 Dinner time, we drove though a lot of windy neighborhoods to Shady Glenn


Minestrone, Grilled Cheese, Burger, slaw $20 cash

7:18 Stopped by the Big Y Market near the hotel for Cookies $3.49 AMEX
Friday, 11/01/2019


Overnight winds, trees down, power outages, schools delayed, but we had a calm night... the view from our room



8:00 headed for breakfast Egg Muffin, hash browns waffle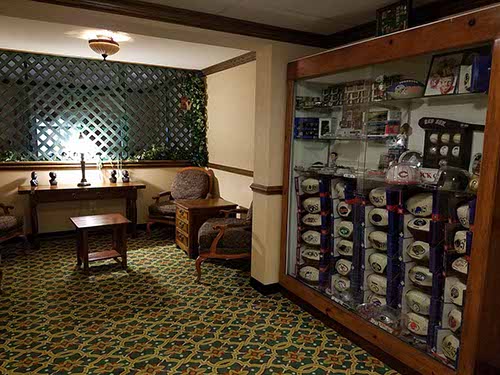 Egg Muffin, hash browns waffle



9:00 leave hotel
We encountered a ton of detours, but pretty views

to Brattleboro 84 miles, 1 hr 22
11:00 Fort Dummer State Park near Guilford, VT visitor center




11:30 We had to see a covered bridge, this is the Creamery Covered Bridge



We then headed into Brattleboro, where there were some neat New England houses



Views from, and of, Brattleboro Common



We drove over to the Hogle Wildlife Sanctuary Trail



The whole town had a Power Outage, no traffic lights working, and no restaurants open... so we headed across the bridge to New Hampshire, to get back to Boston.
But the views from the bridge were fantastic.


Hinsdale, NH



A1 pizza $25.71 AMEX



12:40 headed to Mass 2, we went past lots of rocky outcrops over the last few days, but I finally got some pictures, and we even saw a few barns on our way to Boston 108 miles, 2 hr 12 minutes



3:30 Bedford Plaza Hotel room 114- Confirmation#:l8006008413426
We call this a Midland style hotel... underground parking, triangular with a covered pool and breakfast area in the middle.
The room was big, but tired: it had a table, fridge, microwave and a table in a small alcove around from the bed, and a big bathroom behind the bed...
but maintenance was not good. Okay for us for a night, but we usually get better for less in Europe ;)


4:00 Filled up with Gas, 12 Gal, just around the corner from the hotel.
We then went from Bedford to Burlington Mall, and walked for a bit to stretch our legs on this blustery evening before heading for
Dinner at Tavern on the square; Cajun pasta, corn flake chicken, $41.91 AMEX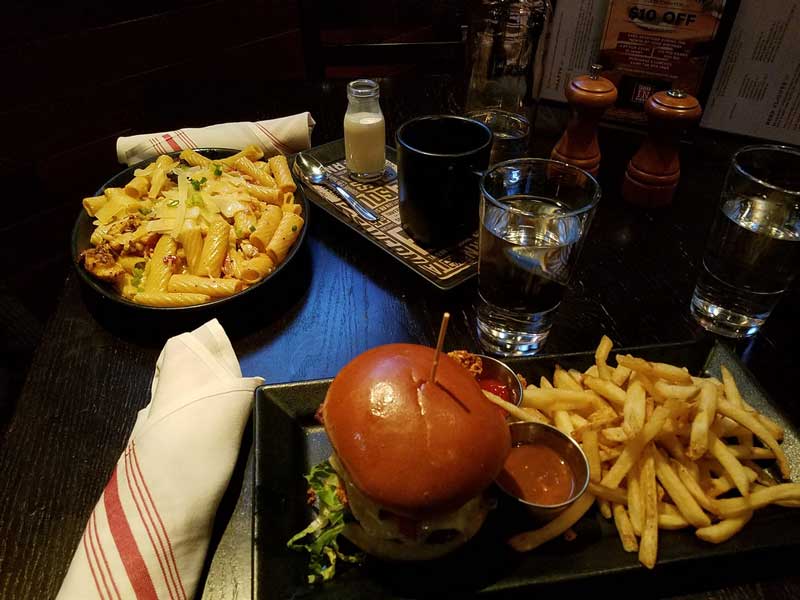 Wrapped up the evening at the Hotel with left over cookies and bear claws
Saturday, 11/02/2019


8:30 breakfast, cereal, waffles, then loaded up to go to Walden Pond.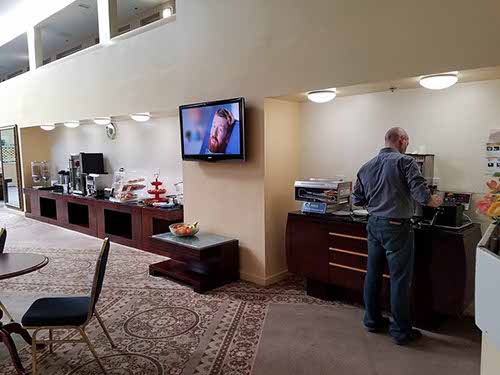 10:00 arrived at Walden Pond, and paid $15 parking Bank card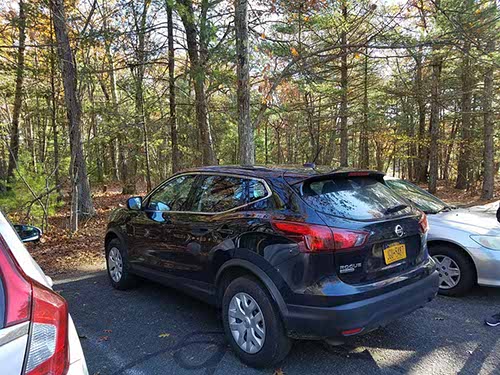 The visitor center had an interesting Movie, then we walked around the pond (actually the deepest lake in the state) to the former Thoreau cabin site.
Lunch time, we took the short drive to beautiful Concord, with wonderful churches, and foliage




Helen's Chicken Orzo soup, sandwich $26.00 cash

Our parting shots of the beautiful colors



Depart for Boston
1:30 turn in car $150.22 AMEX (noticed some small dents on the roof)
2:00 Check in
2:15 Dunkin' $5.34 AMEX
4:59 -7:16 DL 2163 24 DE BOS to DTW 2 hr 17 minutes A321
Layover 1 hr 9 min, but not enough time to get food before boarding
We had the same crew as on the first flight... they gave us double snacks

8:25-10:27 DL 2311 24 DE DTW to AUS 3 hr 2 min A320
Back in Austin, no food in the airport, so grabbed the shuttle
11:00 Picked up the car from FastPark & Relax parking, $33.00 AMEX
11:30 Brand new Jack in the Box a block away, so grabbed some tacos to eat on the way $8.30 AMEX
and then we headed home

What a great trip