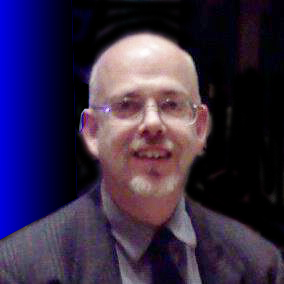 R. Craig Collins > Web Page Design > Portfolio > Kraków, Poland
March 2018, Kraków, Poland © R. Craig Collins, 2018
to my planning notes Plans are useless, but planning is indispensable
to Travelblog (My planning details for now)

Maps
To the COMPLETED travel blog, and of course the pictures!
March 09-16

Friday 09


1:15pm head to AUS

Park AUS 2:30pm
Check in 2:43pm

DL 156
AUS-AMS
5:43pm -10:50am
10 Hr 07 Min
Seats 34 A, 34B
767-300



Saturday 10

DL 156
AUS-AMS
5:43pm -10:50am

DL 9651 KLM 1997 City Hopper
AMS-KRK
2:15pm - 4:05pm
Seats 06D, 06F
Embraer 190


4:05 pm arrive Kraków
Security 4:05-4:30pm
Pick up KrakowCards

5:15 took the train
5:45 walked to hotel

Guest Rooms Kosmopolita

Explore Old Town



Sunday 11

Old Town
Barbican
St. Florian's Gate
Czartoryski Museum
Jan Matejko House
Rynek Główny Town Square
Cloth Hall
Wawel
Wawel Castle
Wawel Dragon's Den
Wawel Cathedral
Old Town
Diocese museum
Bishop's Palace
Hipolit House
Krzysztofory Palace
St. Mary's
Wawel Dragon

Monday 12

Jewish Quarter
Old Synagogue
Galacja Museum
Remu Synagogue

Wawel
Cathedral museums

Old Town
Town Hall Tower

Central Kraków
Galeria

Tuesday 13

Tour
Ojcow Nat'l Park
Pieskowa Skała Castle
Chapel on Water
Ojcow Castle Ruins


West of Old Town
Gestapo Museum National Museum


West of Krakow
Tyniec Abbey

Wednesday 14

East of Krakow
Aviation Museum

West of Krakow
Kościuszko Mound

Old Town
Sukiennice Museum
Europeum


Thursday 15

Kraków Główny - Wieliczka Rynek Kopalnia Salt Mines

Old Town
Underground

Friday 16

3:00am Talixo API via Holiday Taxi
for private transfer to Kraków Airport

3:35 arrive KRK

DL 9631 KLM 1992 City Hopper KRK-AMS
6:00am-8:00am 2 Hr
06D, 06F Embraer 190

Layover AMS
8:00am - 1:25pm
5 Hr 25 Min

Friday 16 continued
DL 163
AMS-MSP
1:25pm-4:15pm
8 Hr 50 Min
43 D, 43E 777

Layover MSP
4:15pm - 5:55pm
1 Hr 40 Min

DL 1825
MSP-AUS
5:55pm-9:01pm
Delayed 6:45-9:35
3 Hr 06 Min
22A, 22B 717-200

to House
PLANNING ITEMS

Polish
My list of phonetic phrases, coming soon
https://en.wikibooks.org/wiki/Polish/Some_useful_expressions
https://www.omniglot.com/language/phrases/polish.php
Tram info
Krakow Card, admission to 40 museums plus includes tram/bus travel https://krakowcard.com/
Route Planner https://jakdojade.pl/krakow/trasa/
Official Tram Map (http://kmkrakow.atlaskolejowy.net/)
Info on individual Tram/Bus Lines http://rozklady.mpk.krakow.pl/?lang=EN&rozklad=20180115&linia=10
Great Map with Stops below, Click to right for zoom version http://kmkrakow.pl/schemat_sieci/download.php?file=img/t180108r.png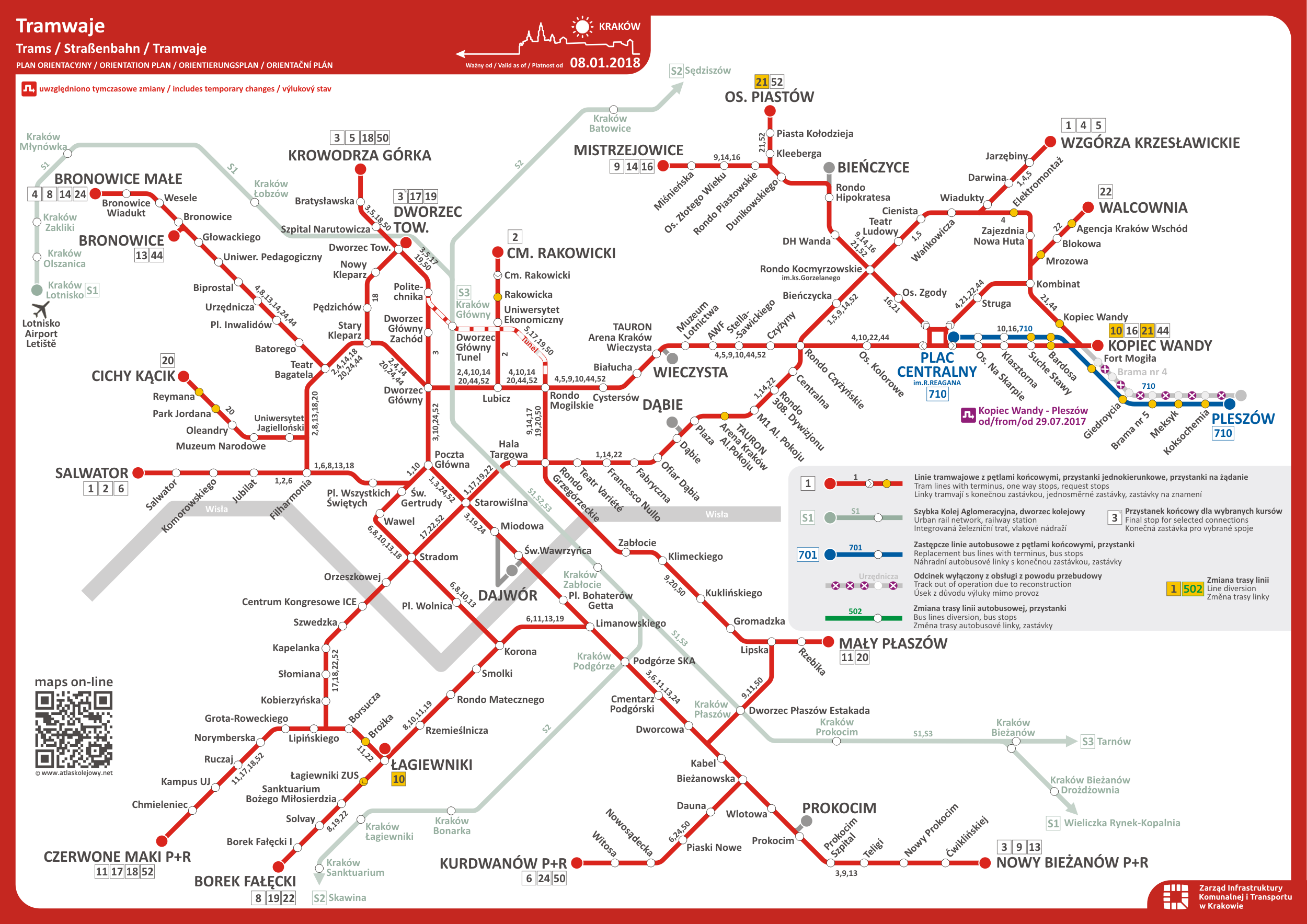 Planning items, some of the things we did
Krakow Card, admission to 40 museums plus includes tram/bus travel https://krakowcard.com/
Follow suggestions at https://www.visitacity.com/en/krakow/itineraries/krakow-in-three-days-packed-itinerary-day-1https://www.inyourpocket.com/krakow Local Copy
Google Destinations, Kraków https://www.google.com/maps/
Hotel
Guest Rooms Kosmopolita, via Cheap Tickets 7293333952732
Nocleg Centrum Pokoje Gościnne Rooms Kosmopolita
Długa 29, 31-147 Kraków, Poland
kosmopolita.com.pl

Click map for larger map, hotel is the
near the top, a 5 minute walk to the old town.
In Old City Center, Krakow: (My Spreadsheet of Krakow Card sites)
Barbican, St. Florian's Gate, Czartoryski Museum and Library, Lost Souls Alley
Historical Museum of Krakow, Main Square, Cloth Hall, Town Hall Tower, Rynek Underground permanent exhibition, St. Mary's Basilica
Church of St. Francis of Assisi, Archaeological Museum, Saints Peter and Paul Church, Muzeum Archidiecezjalne
Wawel Cathedral, Wawel Dragon, Smocza Jama limestone cave in the Wawel Hill
Southeast of Old City Center:
Old Synagogue
Oskar Schindler's Enamel Factory
Further Afield

South West Kościuszko Mound, Benedictine Abbey in Tyniec
South East Train: Kraków Główny - Wieliczka Rynek Kopalnia Salt Mines
Some Maps
Old Town

Further Afield

The Trip
Friday, Travel
Saturday, Travel
Sunday,
Monday,
Tuesday,
Wednesday,
Thursday,
Friday, Travel
(Scroll down for A LOT OF DETAILS on places visited, and of course, the pictures once we return)


Under construction, later scroll down for TONS of info... travel blog will be finished shortly... honest.
Very odd to have the morning available before a trip, took advantage of the time and had some fun
1:15pm head to AUS
Park AUS 2:30pm $2.00 tip for Driver
Check in 2:43pm
We had tacos from Ray Benson $17.30
Gate 3 DL 156
AUS-AMS
5:43pm -10:50am
10 Hr 07 Min
Seats 34 A, 34B
767-300
Very nice flight attendants, they seemed thrilled to get our gift of M&Ms
DL 156
AUS-AMS
5:43pm -10:50am
10 Hr 07 Min
Seats 34 A, 34B
767-300
Arrived Terminal D, cleared Passport control and made our way to Terminal B

Layover AMS
10:50-2:15
3Hr 25 Min
Cattle Call boarding to a bus, which took us to the plane. We had another nice flight attendant.

DL 9651 KLM 1997 City Hopper
AMS-KRK
2:15pm - 4:05pm
1 Hr 50 Min
Seats 06D, 06F
Embraer 190

Total Time AUS-KRK
15 Hr 22 Min
4:05 pm arrive Kraków Airport
Security 4:05-4:30pm
Pick up KrakowCards
16:35
Talixo API via Holiday Taxi for private transfer from airport to Guest Rooms Kosmopolita was a no-show
After trying to call, we contacted Emergency number... the wrong flight information was given to driver and they could not pick us up.
Bought Train tickets for 9 Złoty each.
While we were there the you could buy about 3 Złoty for $1, so divide Złoty by 3 for a rough US price.
PS the ł is pronounced like a 'w' so it is pronounced zwoty.
17:40 Train to the station, which is adjacent to the Galeria
18:00 Walked from the Galeria to the Hotel.
Upstairs to the reception where we were congratulated on taking the direct walking route, and got our key to room #207
Guest Rooms Kosmopolita and many of the old town sites.

Guest Rooms Kosmopolita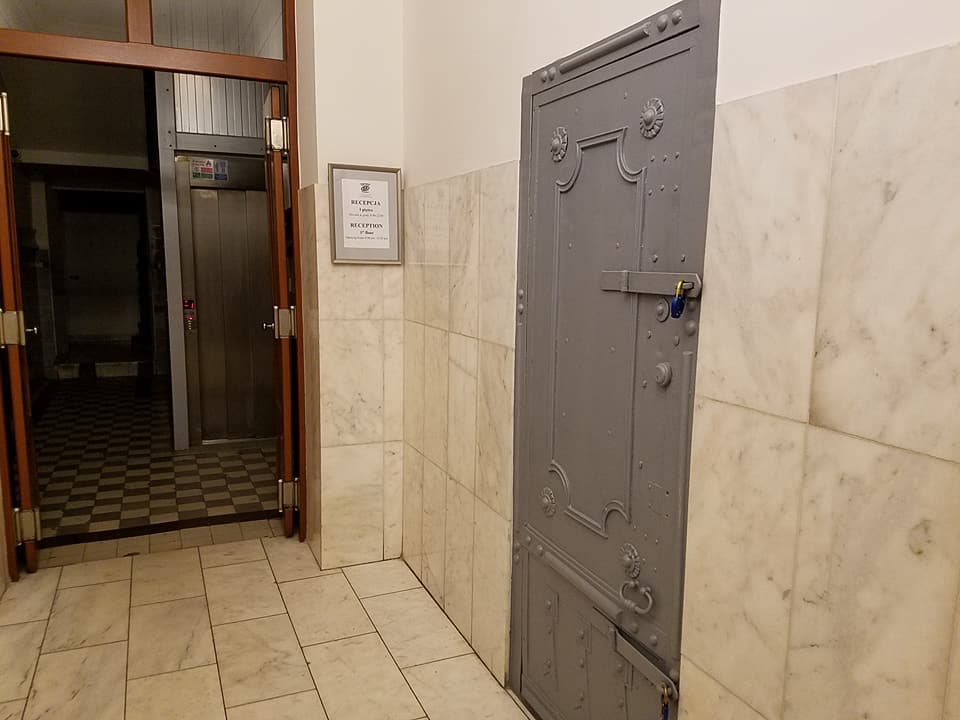 Guest Rooms Kosmopolita, Room 207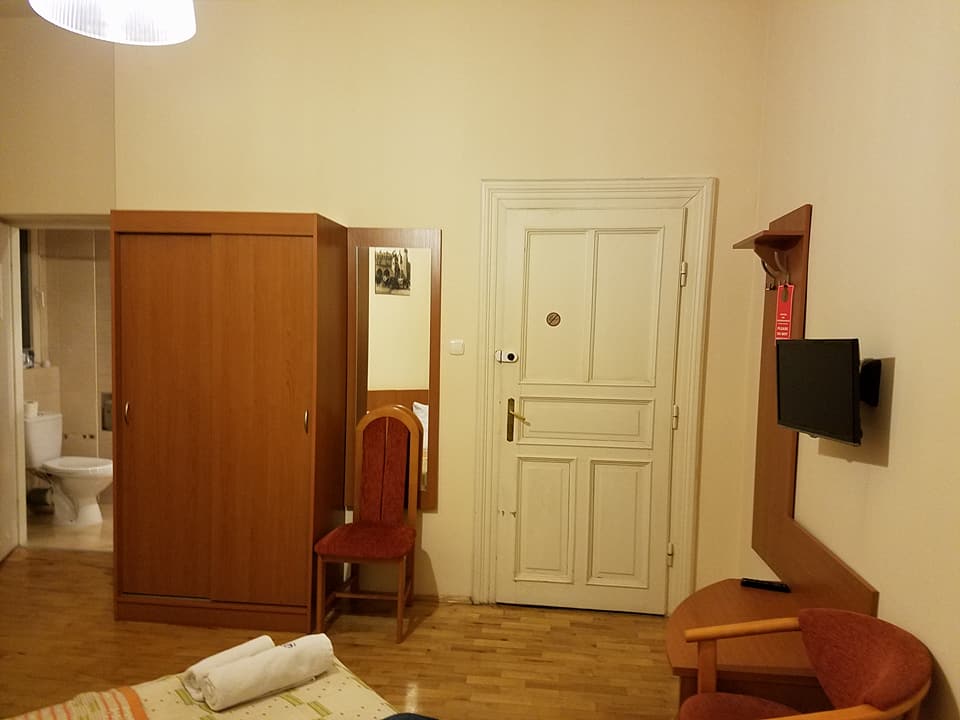 19:00 After unpacking, we headed out to explore and grab a quick bite.
Approaching the Barbican.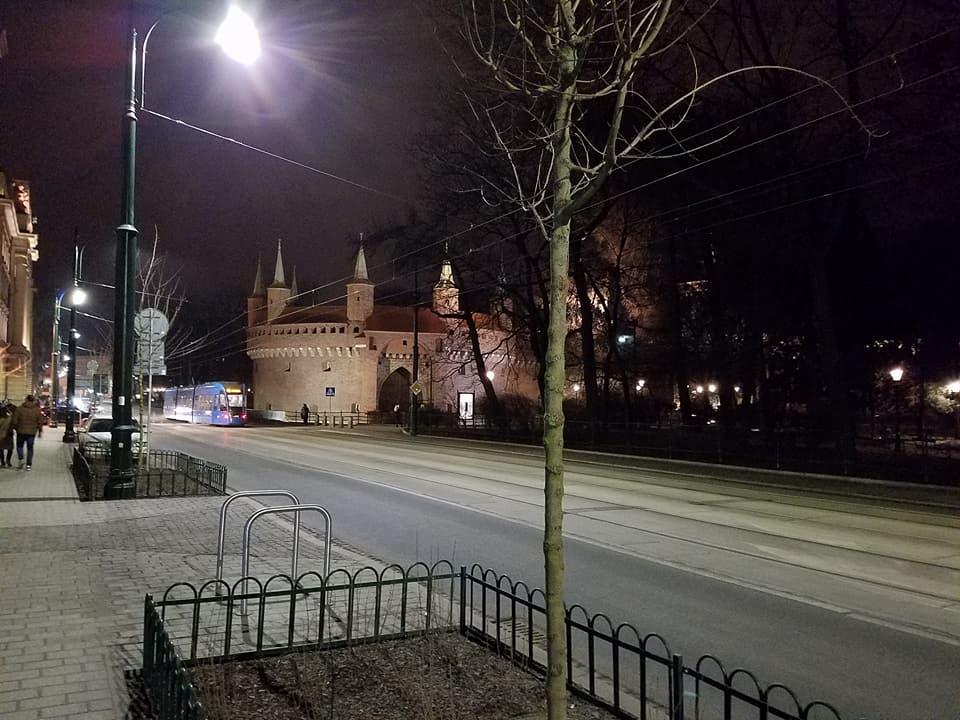 The Barbican, and St. Florian's Gate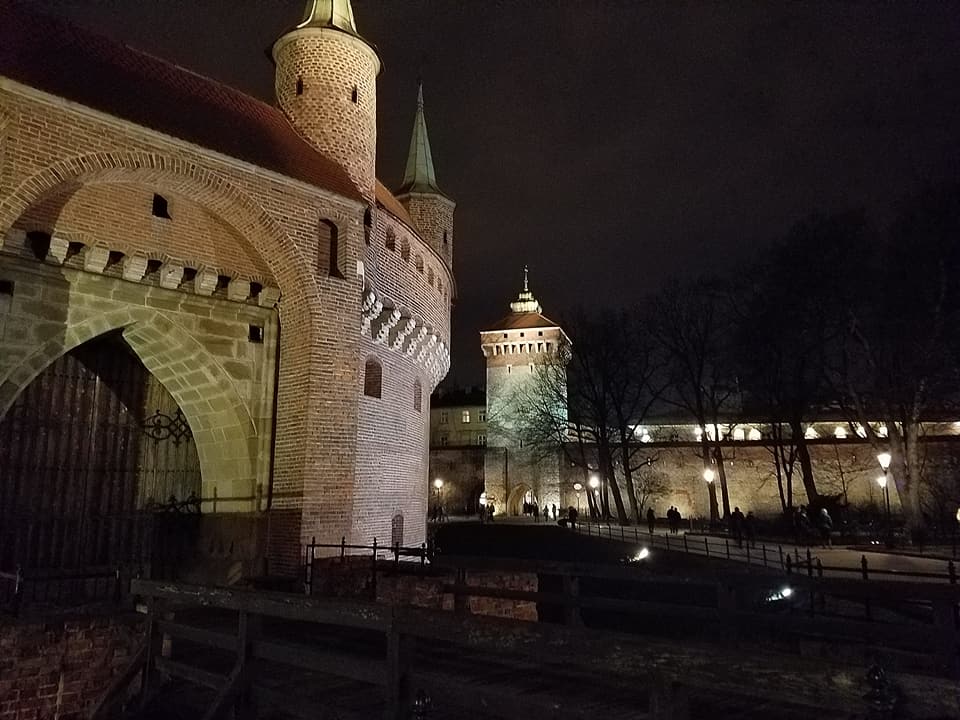 Inside the gate looking toward the Czartoryski Museum. We would come back here in the morning.

Approaching St. Mary's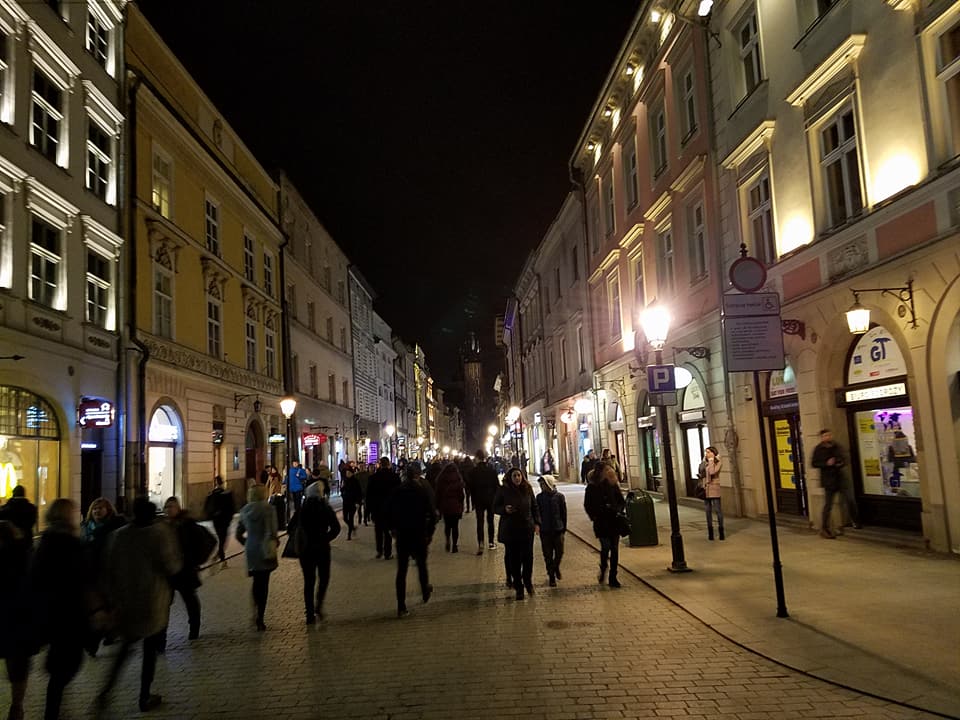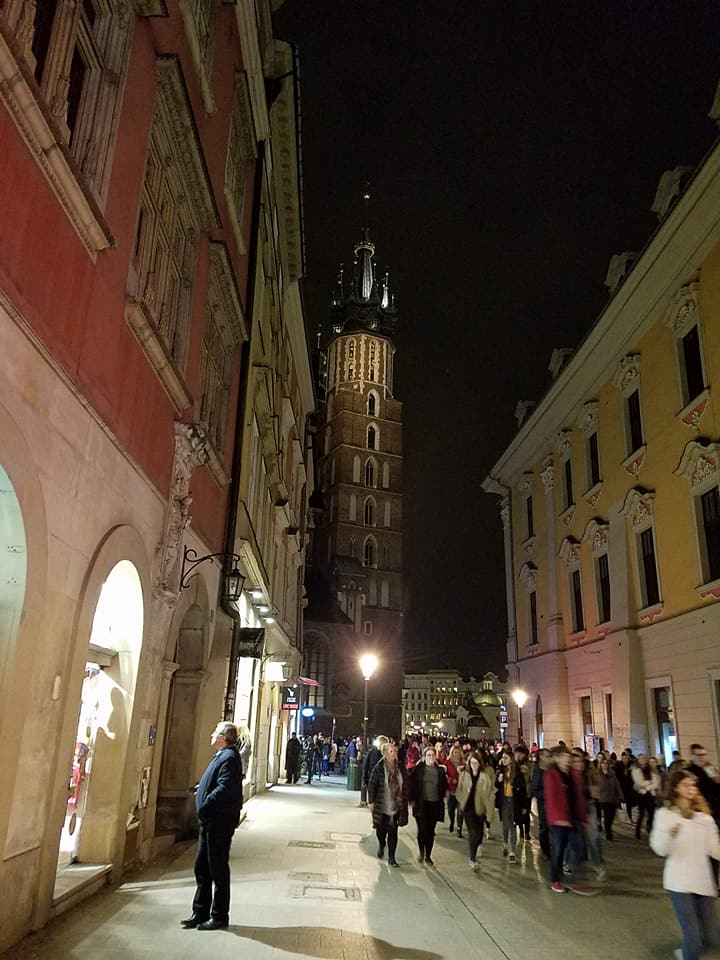 The Cloth Hall, and Town Hall Tower behind... this area was one of the first UNESCO World Heritage sites.
In 1959, the governments of Egypt and Sudan requested UNESCO to assist their countries to protect and rescue the endangered monuments and sites. Later, a "Convention Concerning the Protection of the World Cultural and Natural Heritage" was adopted by the General Conference of UNESCO in 1972. The Convention came into force in 1975, and a dozen sites were added... two were in Poland: the Old Town in Kraków and the Wieliczka Rynek Kopalnia Salt Mines that we would visit at the end of the week.

Church of St. Wojciech, Romanesque church dating from the 11th century, featuring a Baroque dome, and the Cloth Hall and Town Hall Tower behind.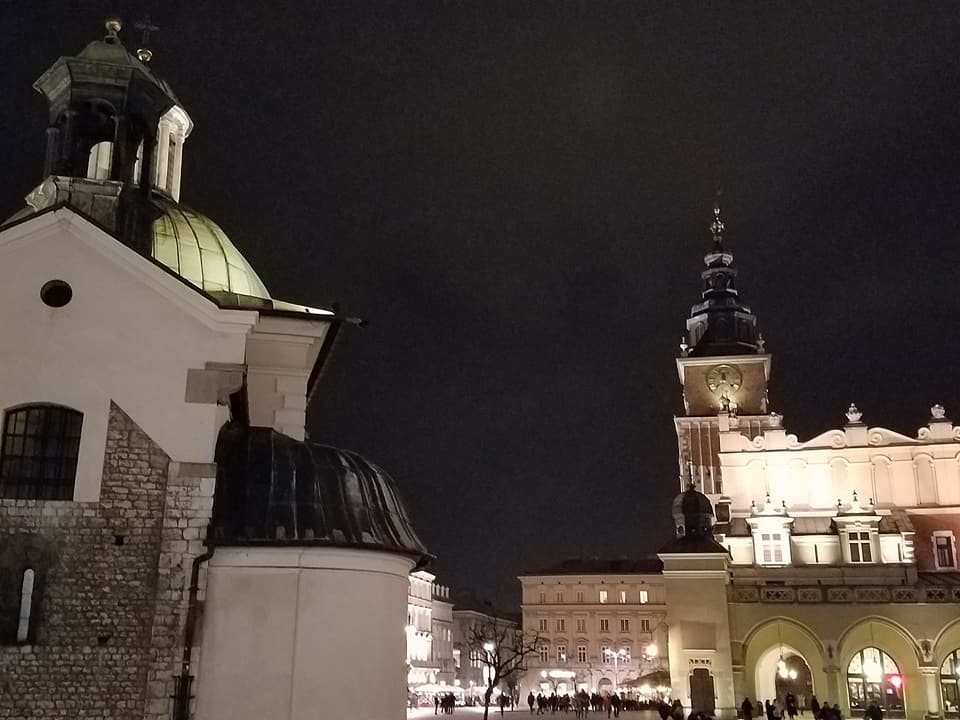 A better view of the Town Hall Tower

We were tired, so instead of Polish fare we grabbed some fast food, ordered via a kiosk that had English. 32 Złoty
Stopped at a Carrifour grocery store to get cookies, 4,95 Złoty
Sunday, March 11:
7:00 View from our room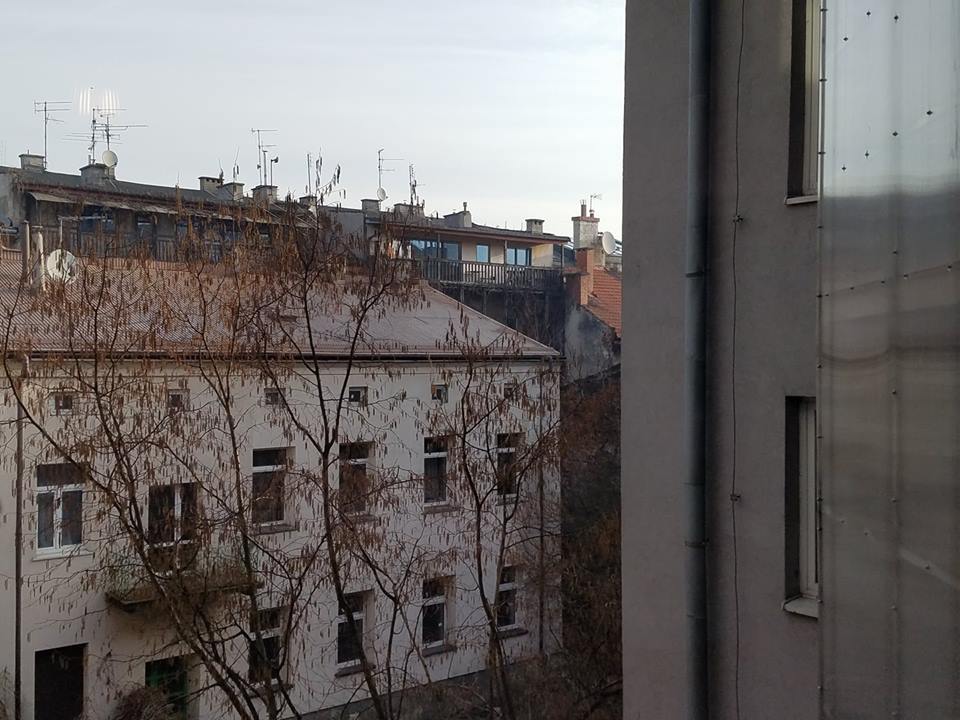 8:30 Breakfast area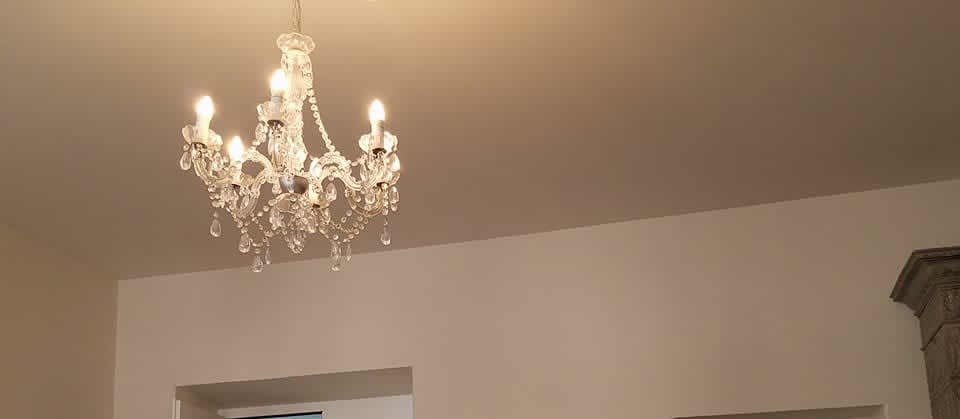 Note the Espresso/Latte machine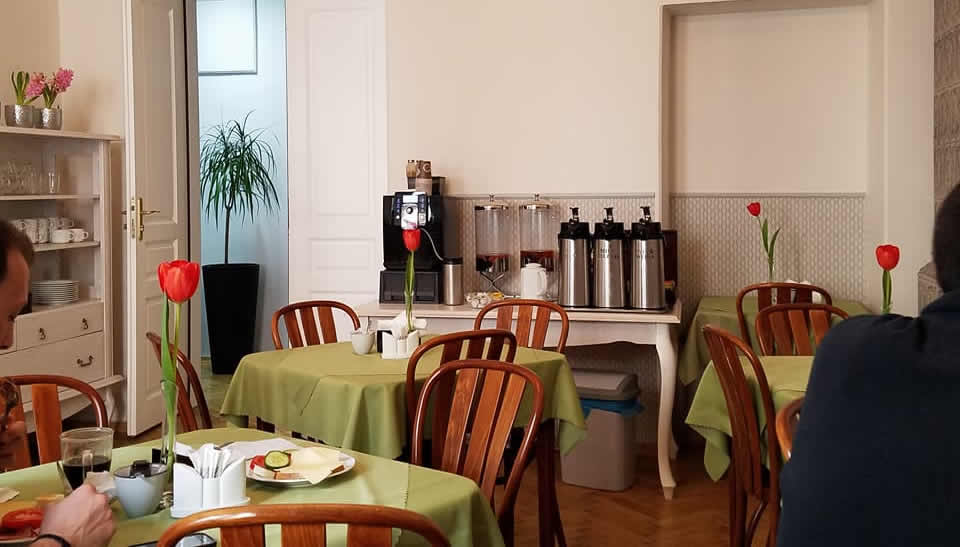 We had eggs, crepes, meats, cheese, bread, juice, and a latte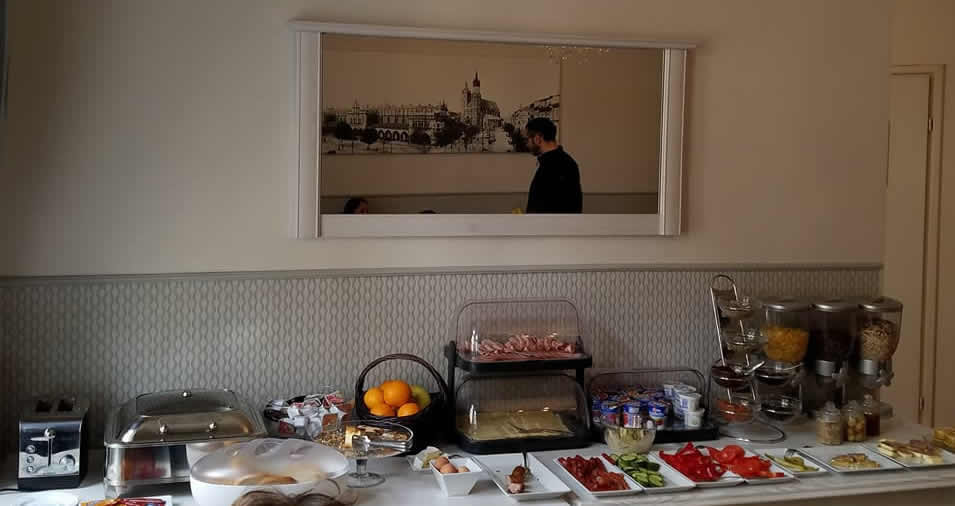 Architecture on the way to Old Town, right at the corner of the street the hotel was on, and the green space around the old fortifications.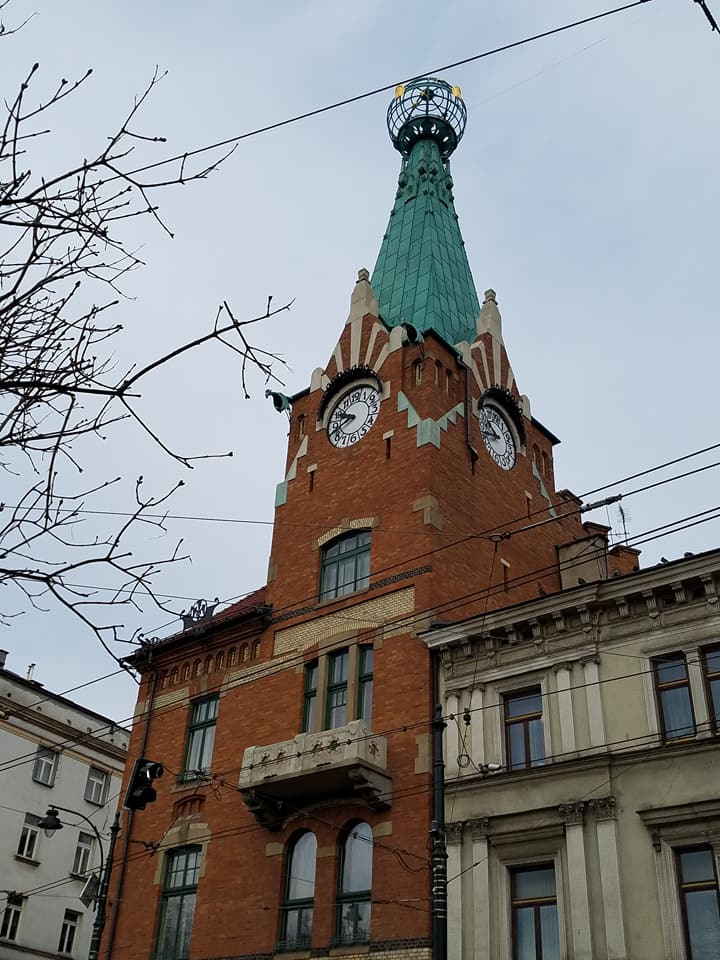 and a store we would use to some cookies during our visit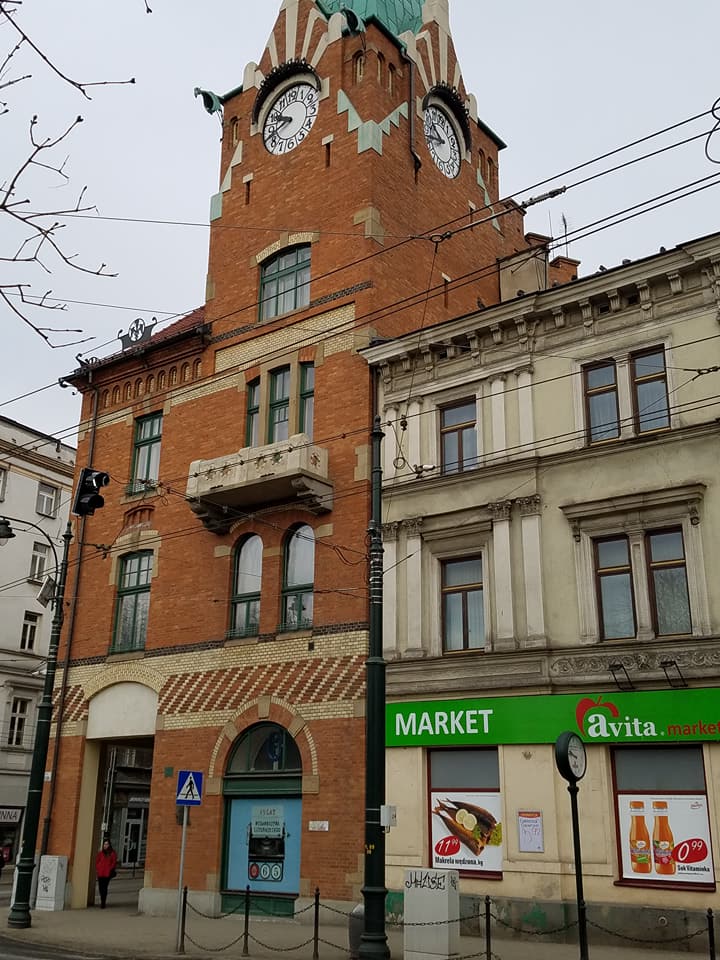 Old Town, Krakow
The Barbican, built in 1498 is a fortified outpost that was once connected to the city walls. The Barbican is one of the few remaining relics of the complex network of fortifications and defensive barriers that once encircled the royal city of Kraków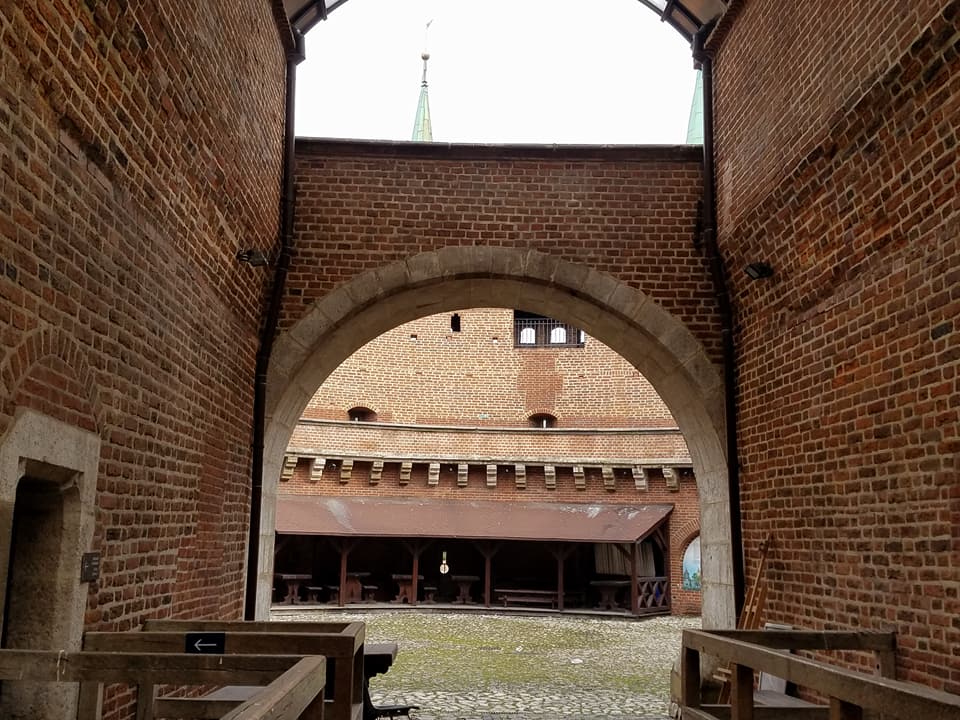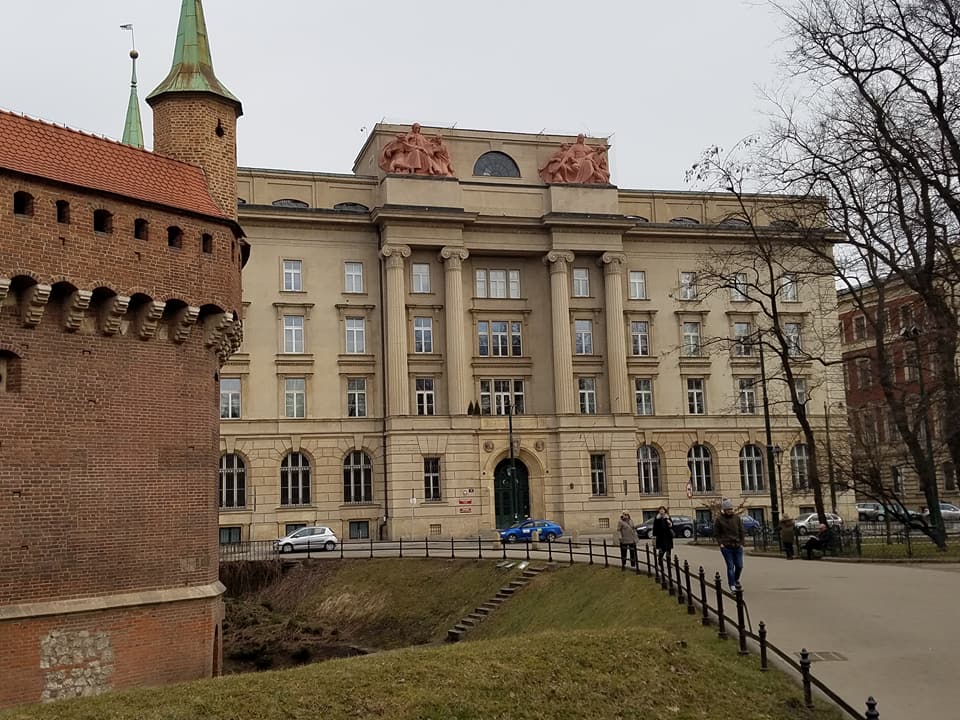 St. Florian's Gate looking in to Old Town. The gate was built as part of a protective rampart around Kraków after the Tatar attack of 1241 which destroyed most of the city. The permit for the construction of new city defenses featuring stone watchtowers, fortified gates and a moat was issued by Prince Leszek II the Black in 1285. The gate became the main entryway to the Old Town. and was connected by a long bridge to the circular Barbican on the other side of the former moat.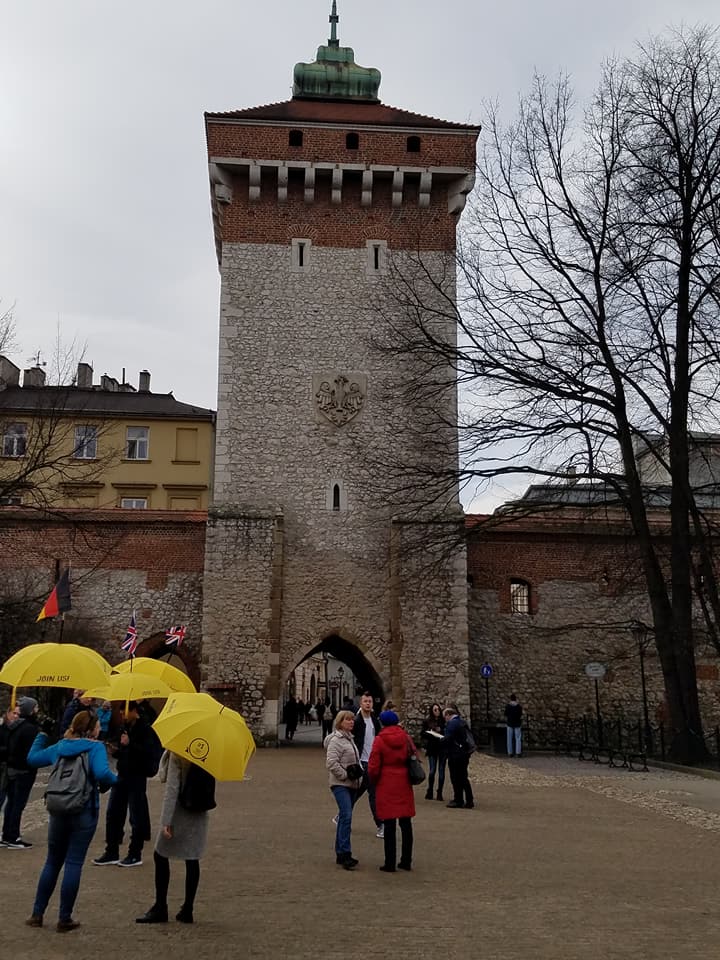 Old Town view of St. Florian's gate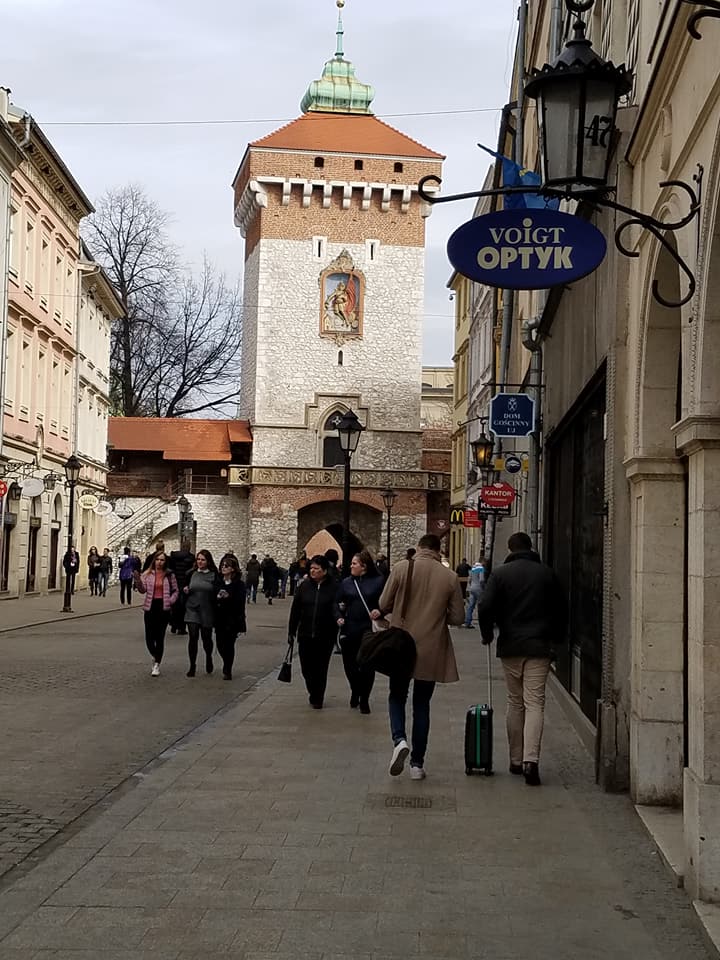 We first tried to visit Czartoryski Museum, but it was closed, so we then went to the home and museum of Polish artist Jan Matekjko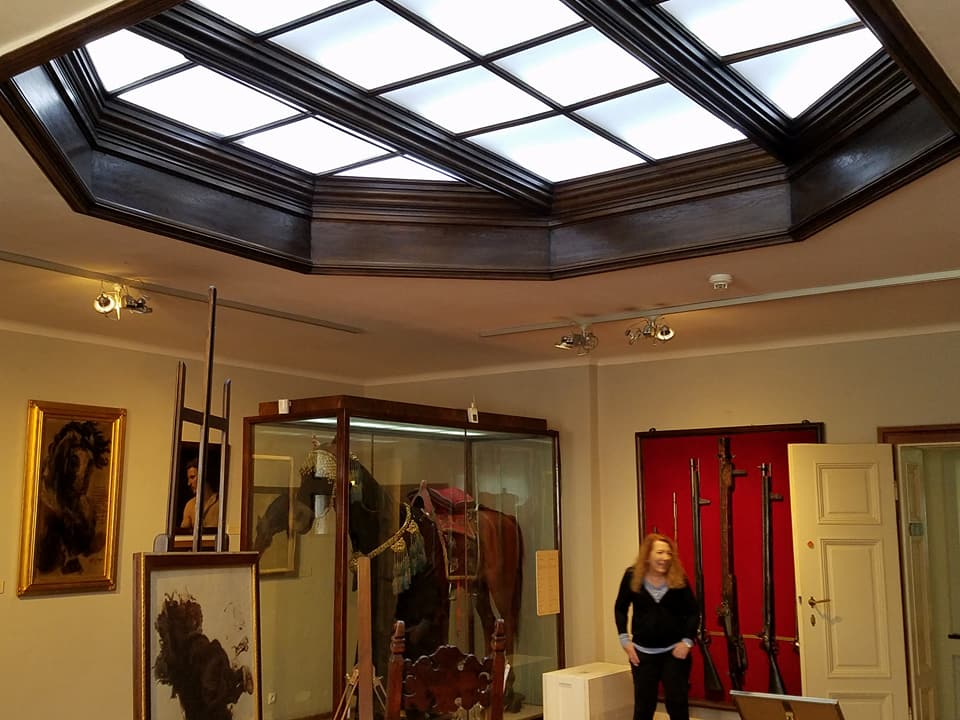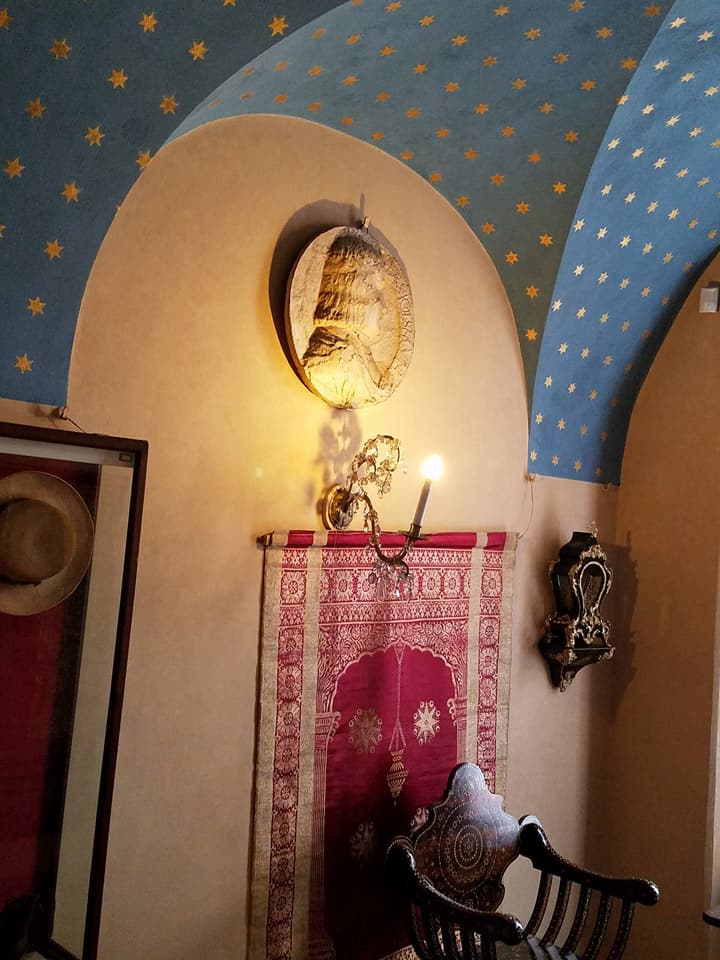 Off to the Kraków Cloth Hall (Polish: Sukiennice), which dates to the Renaissance, where we got souvenirs, 29 Złoty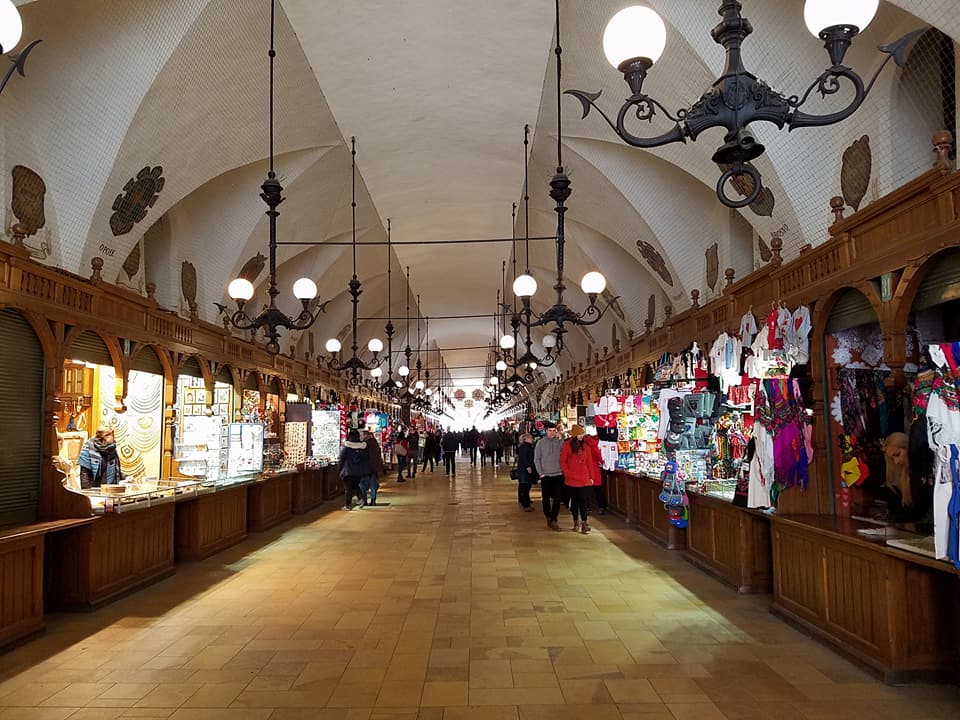 Activities outside the Cloth Hall included giant bubbles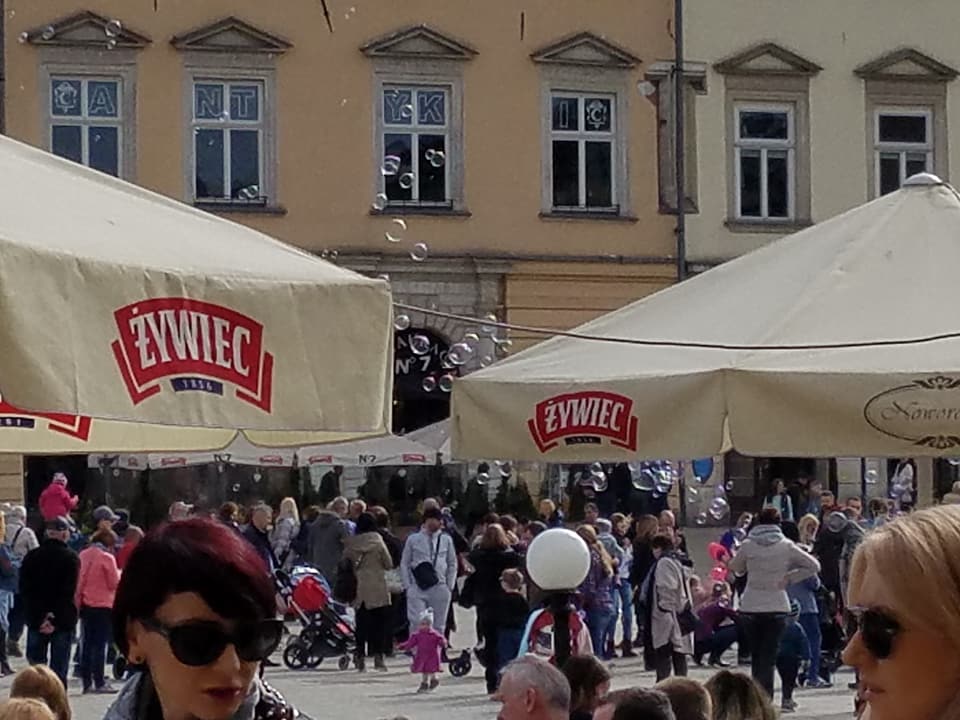 Walking down Gradzka, we passed an interesting Tourist Information building.
A bit further down, we passed two old churches on the way to the Wawel Castle;
the baroque St. Peter and Paul is on the left, and St. Andrew's from 1079 is on the right.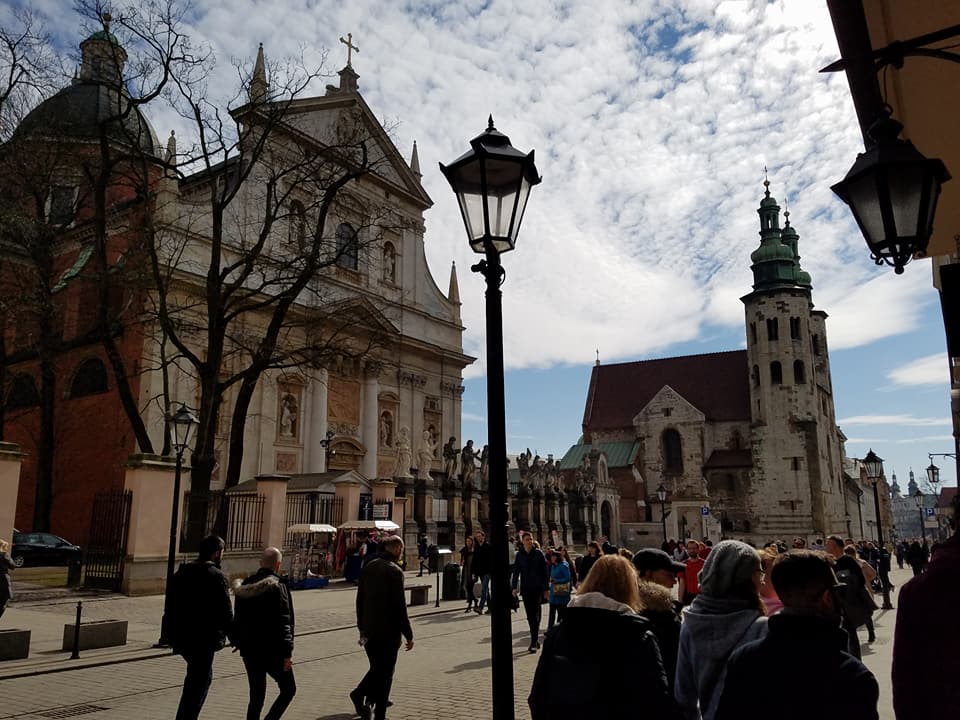 Our first view of the Wawel Castle and walls.
Built at the behest of King Casimir III the Great, the beginnings of the residence of Polish rulers on Wawel hill go back to an early Romanesque stone building from mid 11th century, called the palatium, whose remains are located in the northern wing of the present-day Castle. Wawel was rebuilt by King Sigismund I the Old in the early 1500s into a splendid Renaissance palace with an Italian-styled main courtyard. The castle, being one of the largest in Poland, now represents nearly all European architectural styles of medieval, renaissance and baroque periods.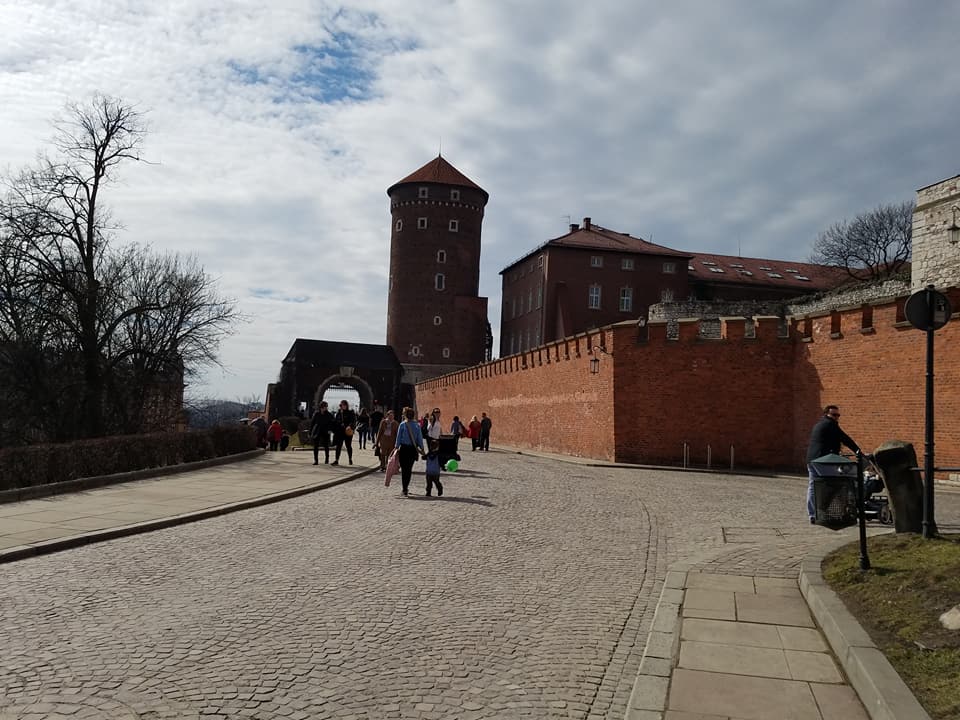 Inside the Castle walls toward the Wawel Cathedral
Pope John Paul, near the Cathedral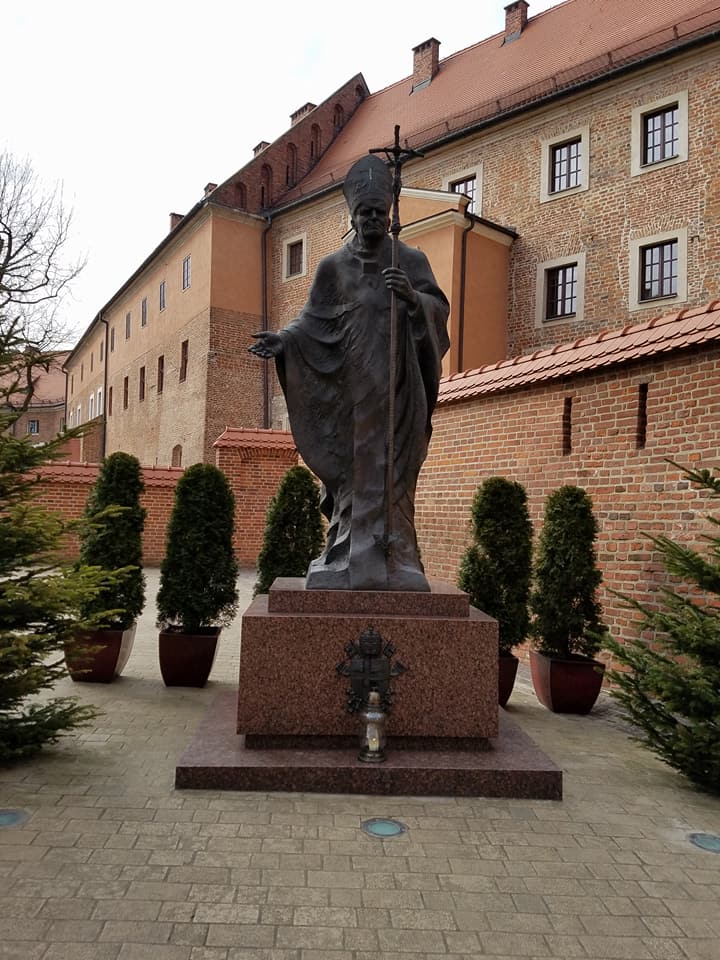 Entrance of Wawel Cathedral. The current, Gothic cathedral, is the third church on this site: the first was constructed and destroyed in the 11th century; the second one, constructed in the 12th century, was destroyed by a fire in 1305. The construction of the current structures was begun shortly after the fire.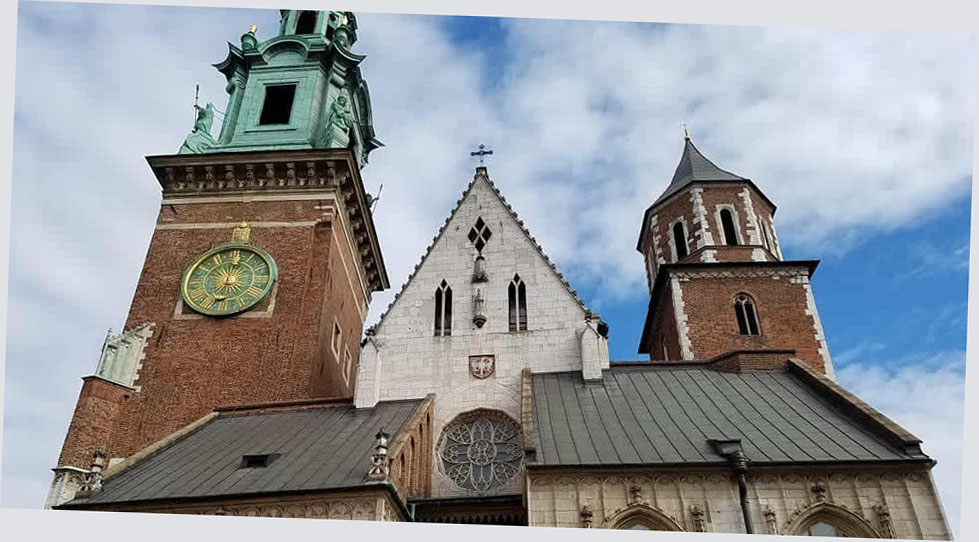 This was a short visit, we would return when the Cathedral Museum was open
The trouble with traveling during shoulder season is that some places are closed, such as the Dragon's den a Wawel.
The Wawel Dragon Smok supposedly has his lair in a cave at the foot of Wawel Hill on the bank of the Vistula River. The story from the 1200s says the Dragon Smok was defeated during the rule of Krakus.

Over the Dragon's Den, looking across the Vistula River. Look near the bottom of the wall to see a metal version on Smok.
The Smok sculpture was created in 1970 by Bronisław Chromy. The dragon has seven heads, but frequently people think that he has one head and six legs. Smok noisily breathes fire every few minutes, thanks to a natural gas nozzle installed in the sculpture's mouth; we'd return to see him breath fire later when it was darker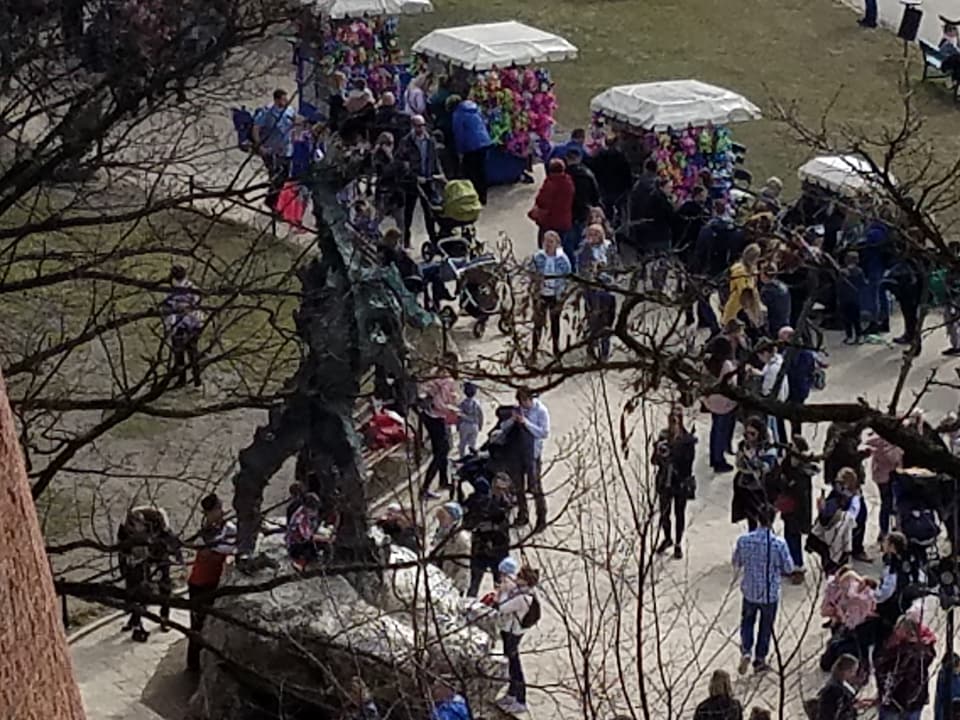 13:00 Lunch Time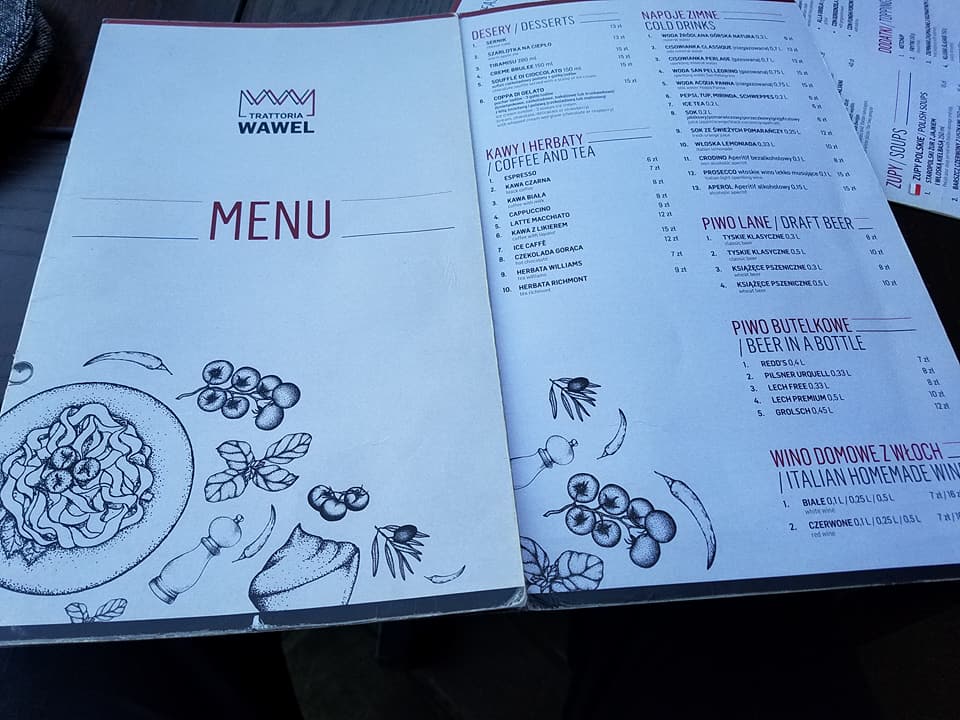 Our view from the patio for lunch
Pizza, tea, and Susann's latte... okay, so not so Polish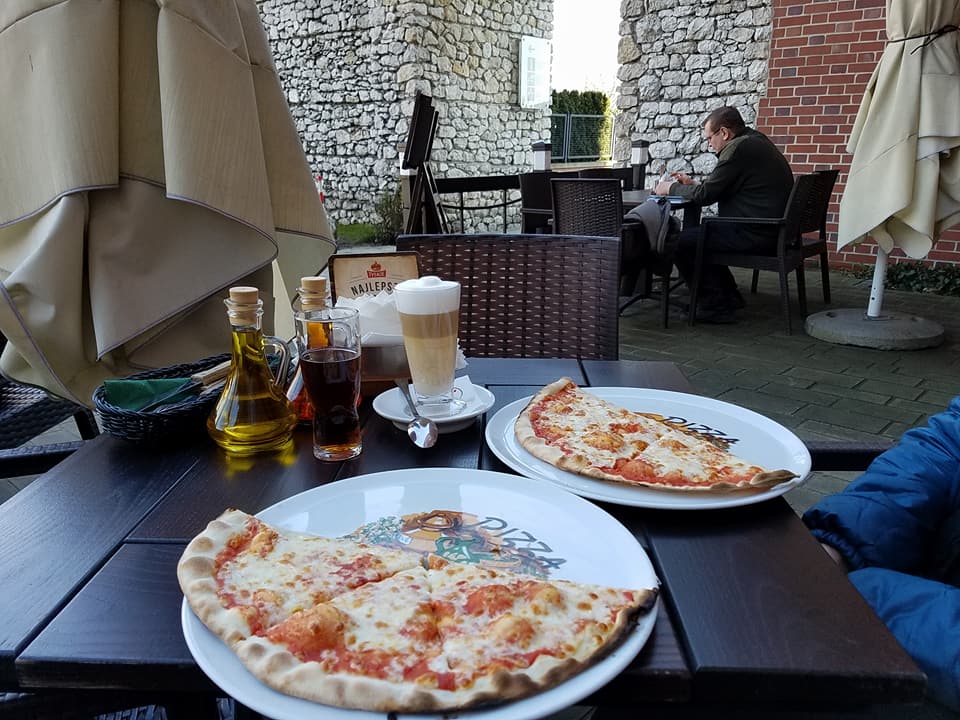 Dessert, Apple pie, total 45 Złoty +5 Złoty tip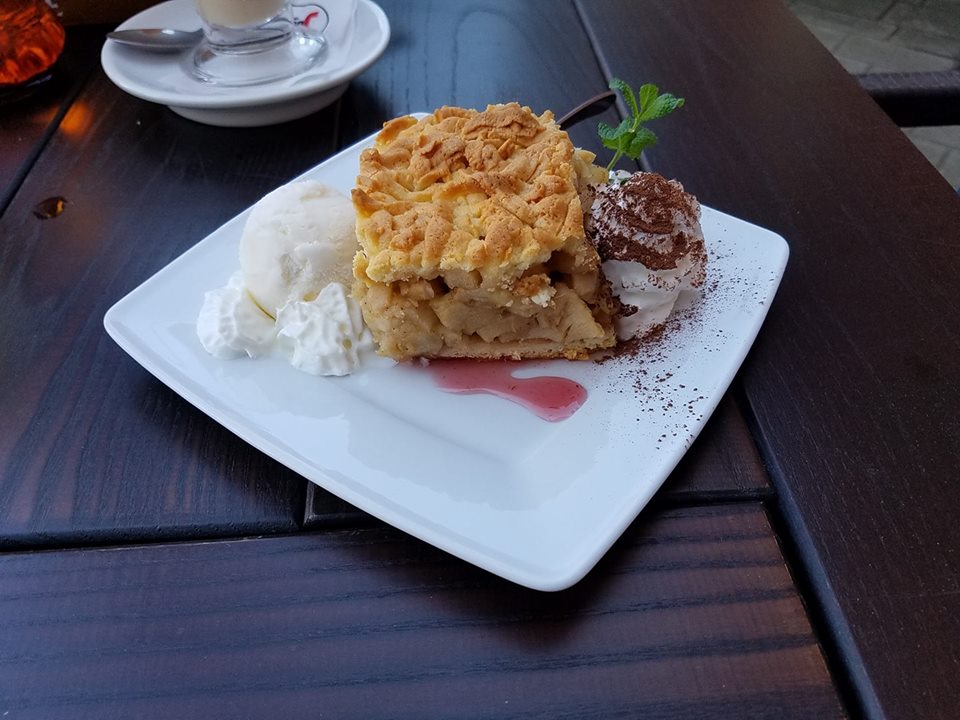 13:50 To the Oriental Museum within Wawel, where trophies and artifacts connected with primarily with trade are displayed; some artifacts were collected after defeating the Turkish army in 1683 as part of the Vienna campaign.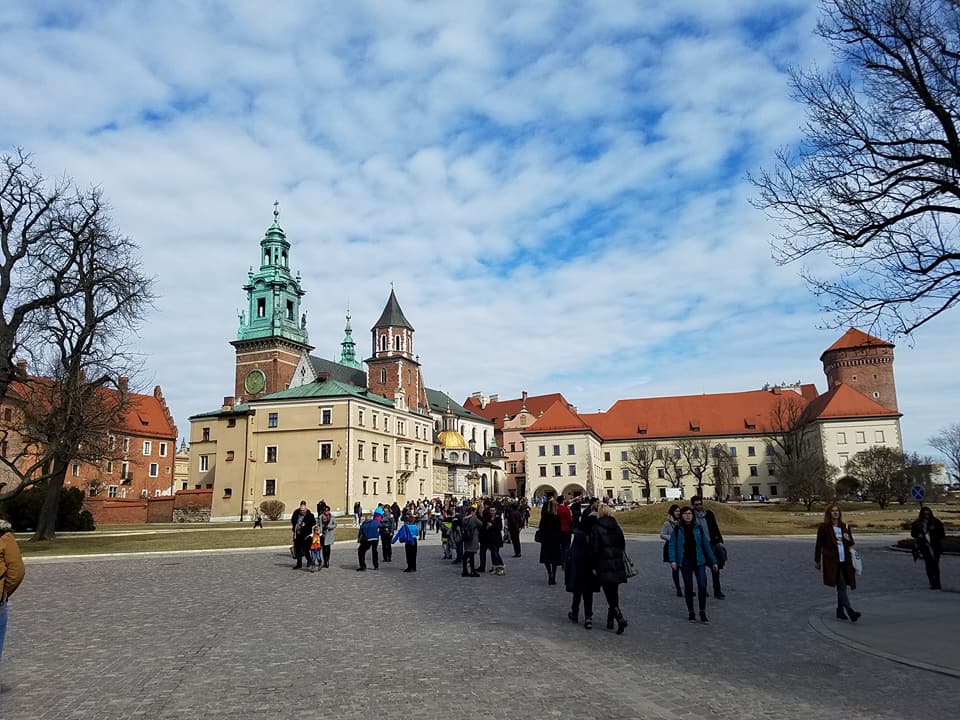 No pictures allowed, but these images, from the Wawel web site, show how the artifacts were laid out... banners, and vases, etc.
The artifacts exhibited present a particular aspect of Polish heritage and artistic taste, shaped as a result of military and trade contacts with Near East countries. Thanks to these contacts, Poland was permeated by art works from Turkey, the Crimea, the Caucasus and Iran - carpets, silks, tapestries, weapons and armoury, ceremonial horse saddles and equestrian equipment which eventually became items of everyday and ceremonial use by noblemen and the royal court.
More walking around the outside of the Wawel castle and towers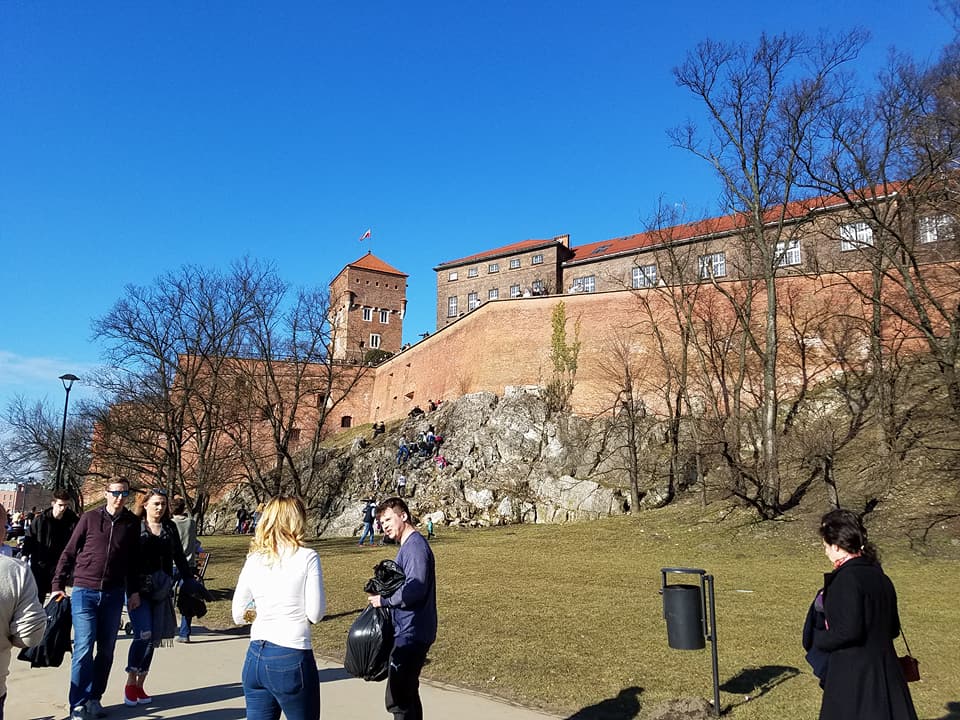 Smok the Dragon... hard to photograph fire breathing during the date, so we knew we'd be back after dark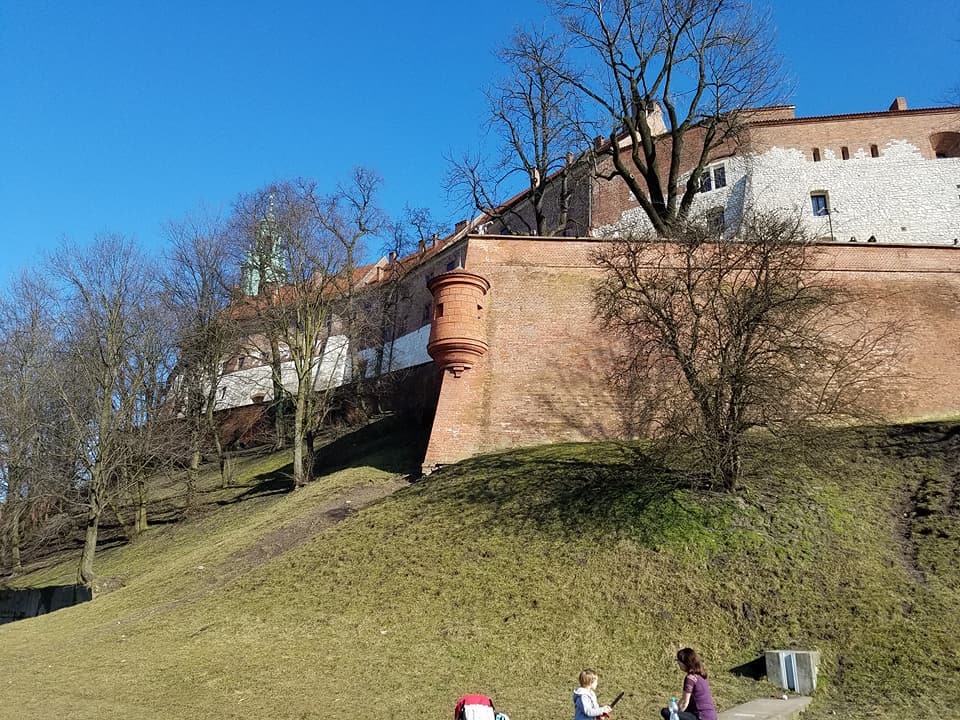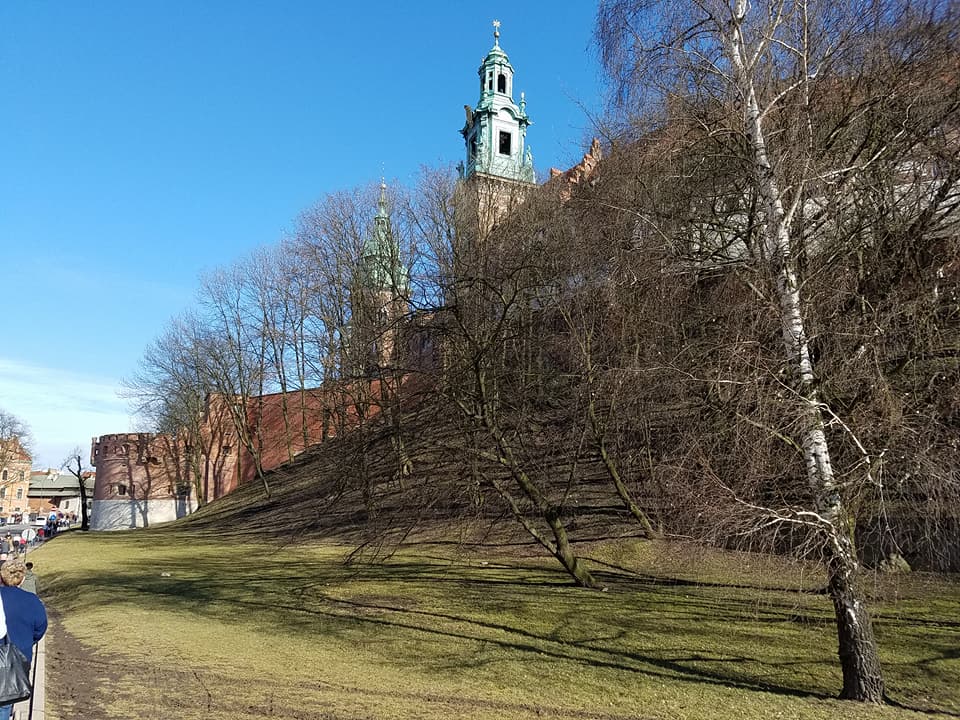 We stopped by the Archdiocesan Museum ( Muzeum Archidiecezjalne), the former residence of Pope John Paul, and down the street to the Bishop's Palace Museum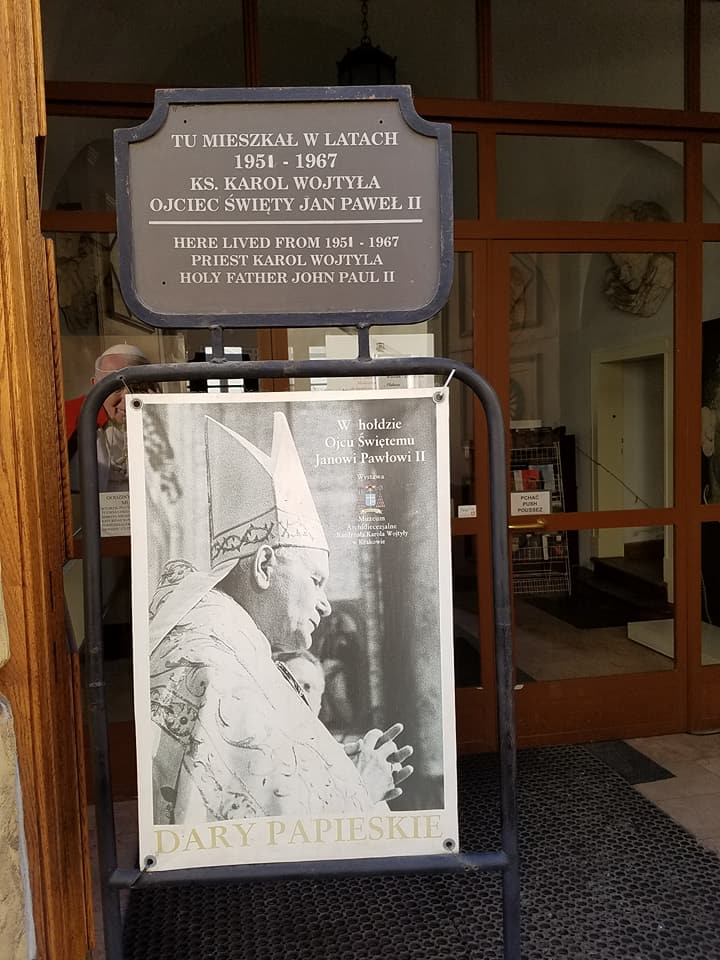 Bishop's Palace Museum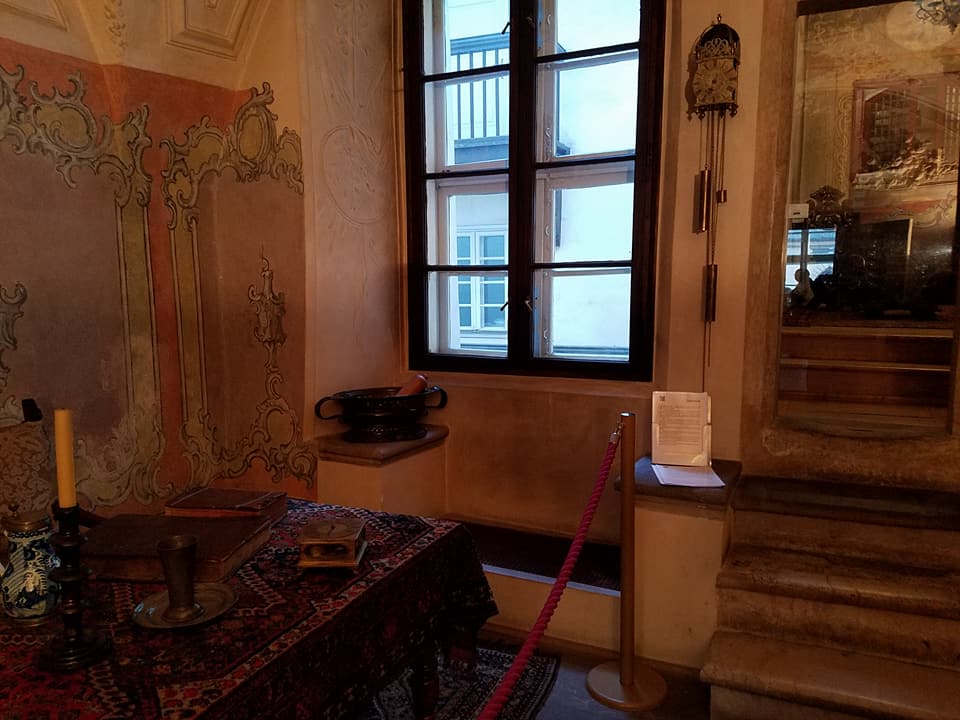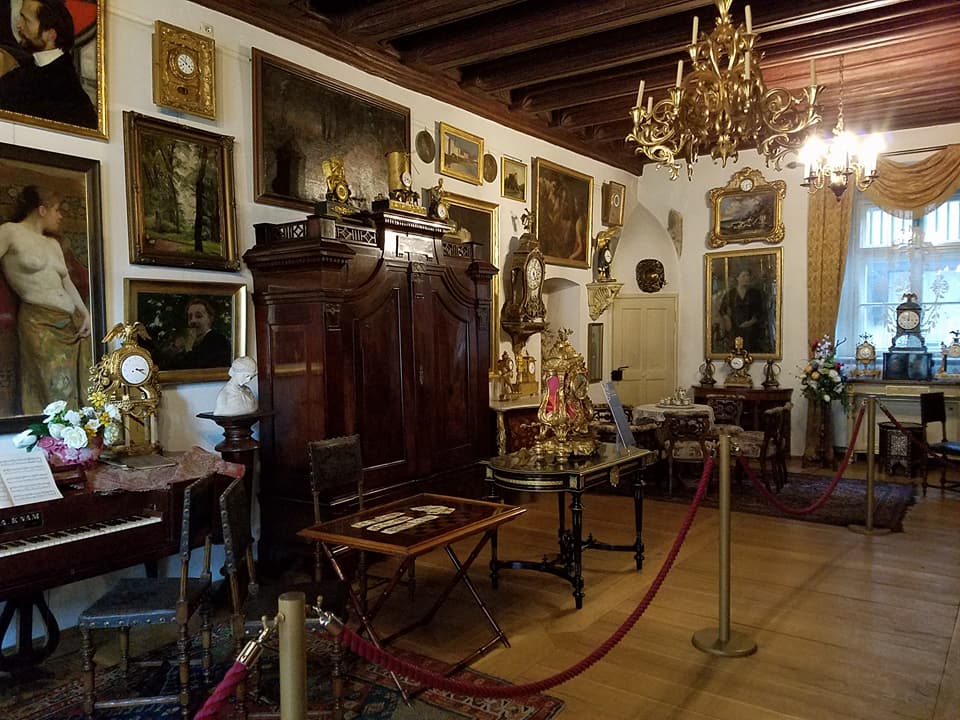 Off to the Hipolit House, a collection showing a middle class house of the past.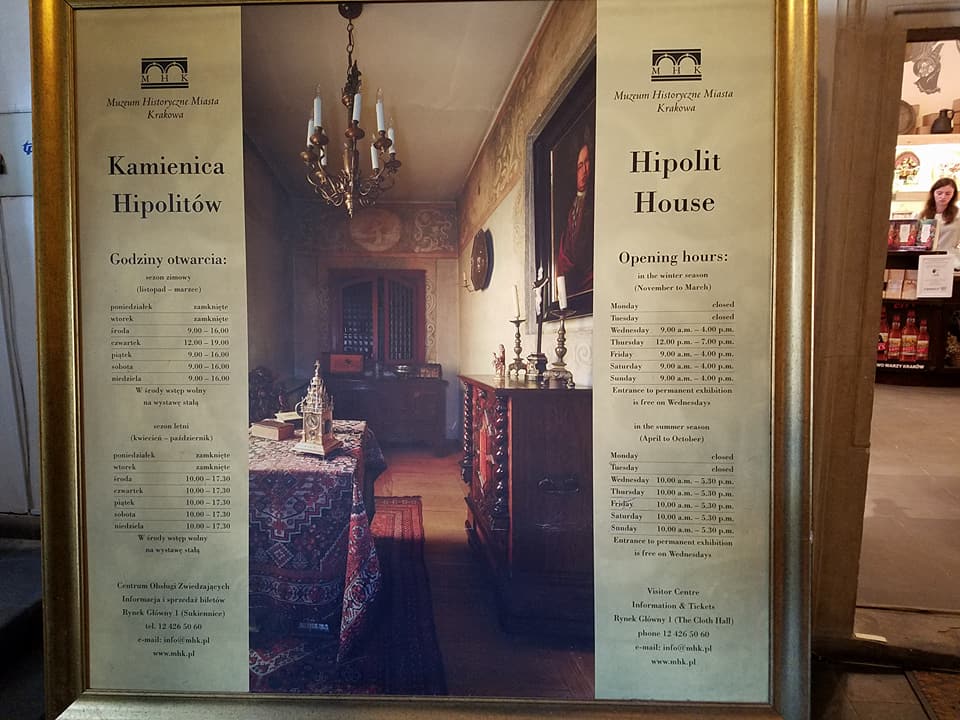 Krzysztofory Palace is a small, baroque 1600s palace located on the main square which is now part of the City Historical museums. when we were there they had the Cyberteka exhibition, which presents the spatial and urban development of Kraków from pre-incorporation times to 1909−1915.
17:00 We then headed across the Old Town Square, to St. Mary's Basilica, whose foundations date back to the early 13th century. One of the best examples of Polish Gothic architecture, St. Mary's is 80 m (262 ft) tall, and is particularly famous for its wooden altarpiece carved by Veit Stoss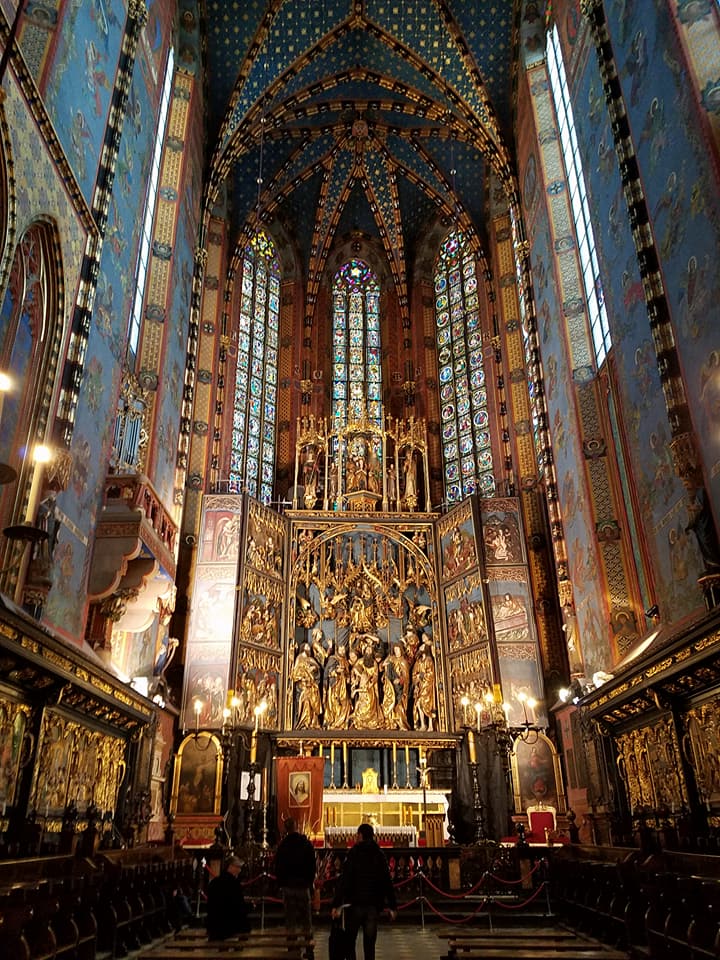 Jan Matejko statue that looks like a portrait, just outside the city walls
We also saw a wonderful dog playing with a huge branch, trying to get through a wooden fence. We made a stop at the hotel, then walked to the Galeria to explore for a bit, then headed back to Old Town.
We had two different kinds of Perogies, Ruskie (potato and cheese) and Chłopskie (bacon and cheese) 36 Złoty + 2 Złoty tip

19:15 We then headed to Wawel, and stopped to listen to several great buskers during the evening.
Back to Wawel, passing the Cloth Hall and a better view of the oldest church in town, Church of St. Wojciech, dating from the 11th century
That interesting looking Tourist Office was even neater at night
St. Peter and Paul at night is on the left, and St. Andrew's is on the right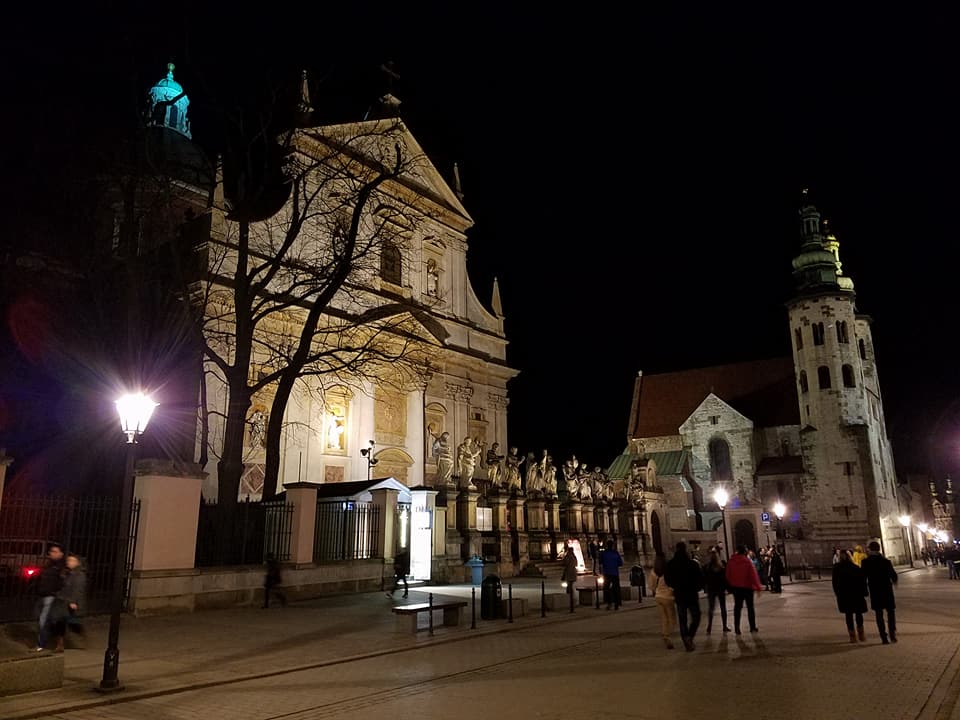 Wawel at night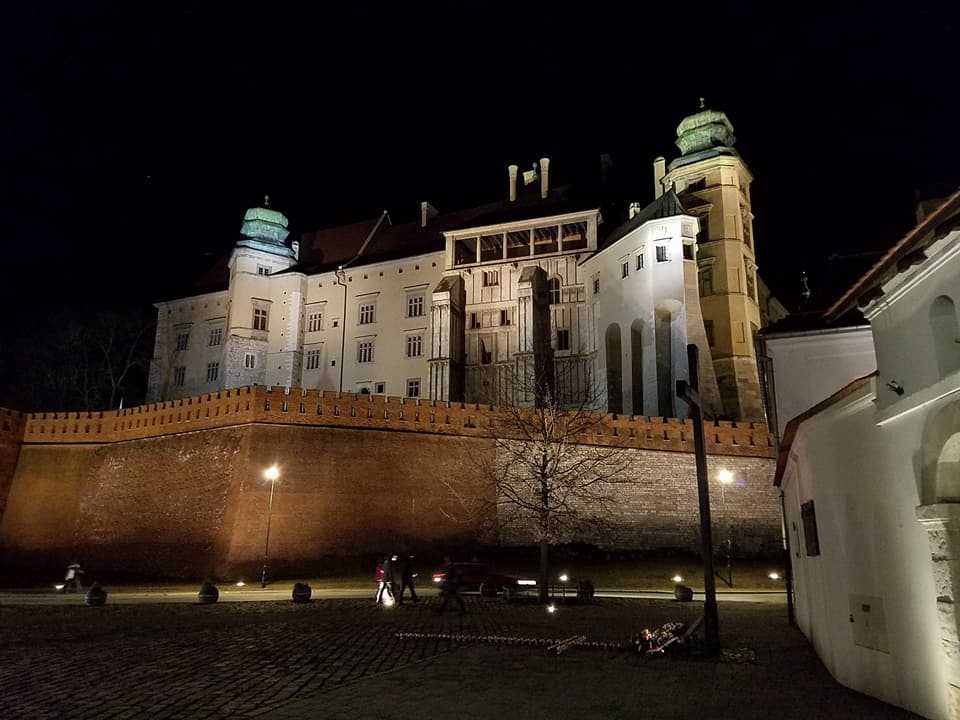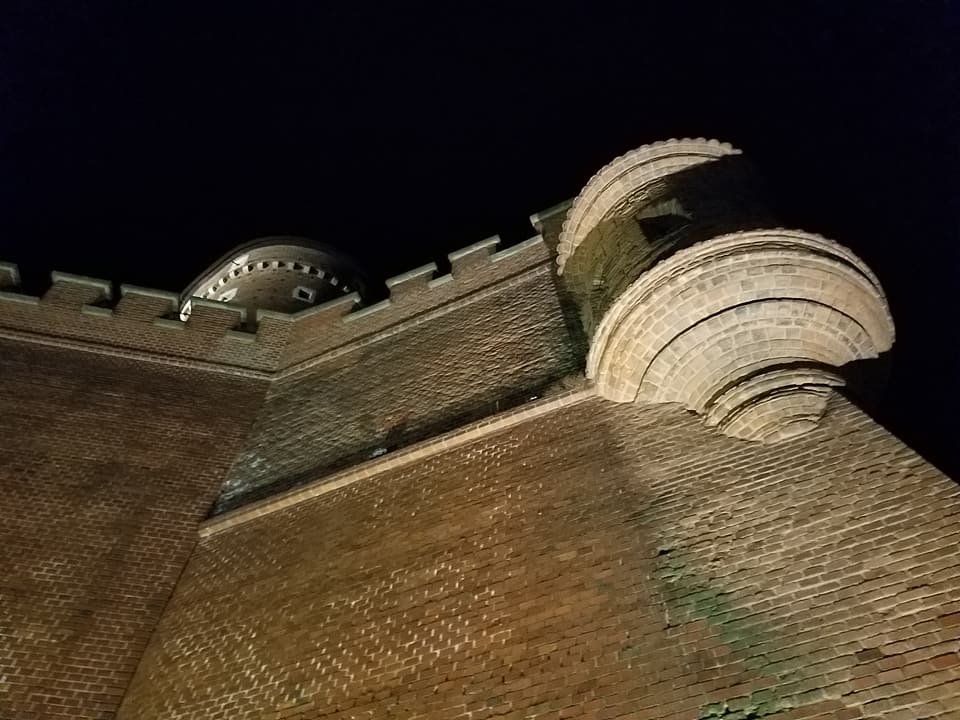 Vistula River view

Smok!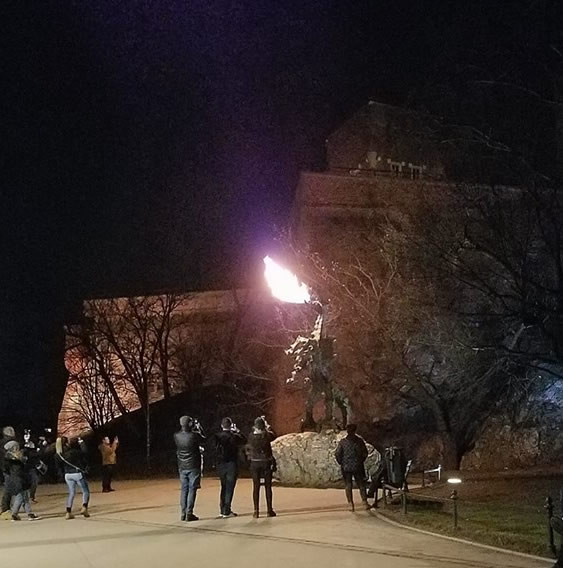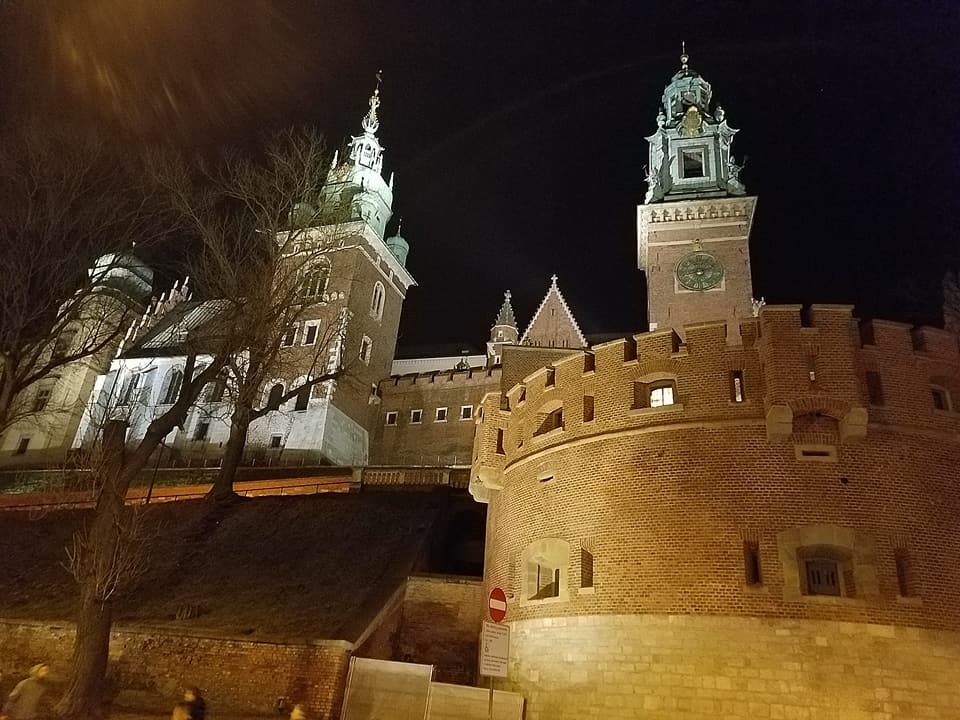 20:15 Dessert: Pączki a Polish filled dough nut, and an eclair, 13 Złoty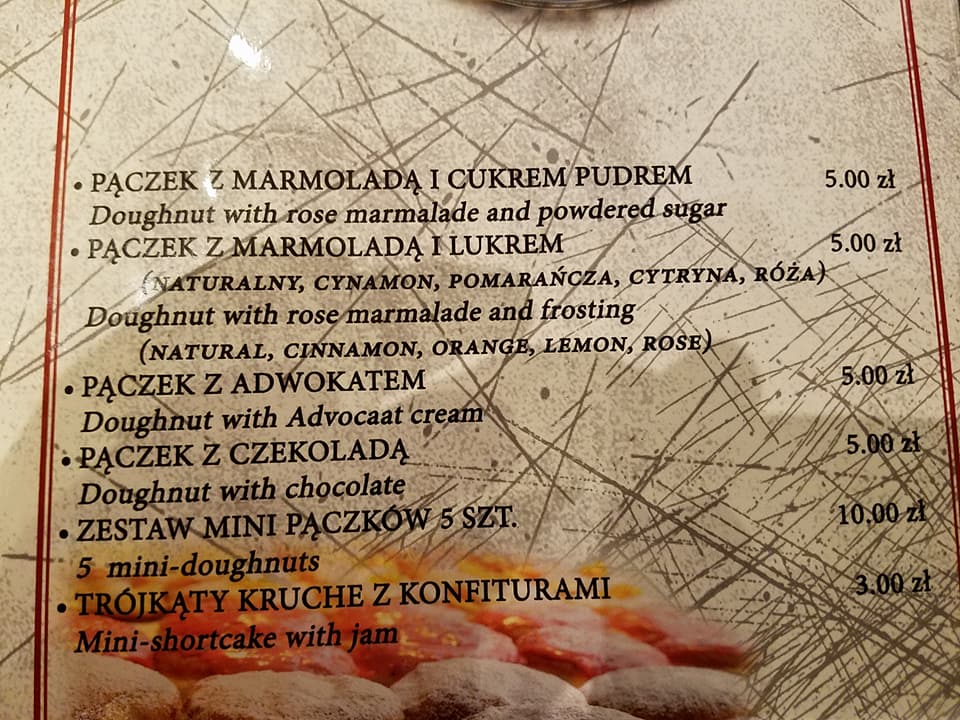 21:00 back at the hotel.
8:00 Breakfast this morning included ot dog looking sausage
9:00 to Tram 24, to the Jewish Quarter in the historic Jewish neighborhood of Kazimierz; we walked by the Old Synagogue, some interesting art, and the Galacia museum to get to the "New" Jewish Cemetary.
The New Jewish Cemetery was founded in 1800, was bulldozed by the Nazis; they sold the most valuable stonework to local masons, and other headstones, as well as slabs, were turned into construction material and used for paving the supply road to the camp of commandant Amon Göth, who is known for having insisted that the Jews pay for their own executions. Meanwhile, the old bones at the cemetery were often left uncovered and scattered around in what looked like an open-pit mine.
Soon after the war ended, a local civil engineer recovered many tombstones from the Płaszów camp site, and arranged to have them reinstalled at the New Cemetery.
In 1957, the grounds were renovated... the fragments that we left were often re-purposed as part of the remembrance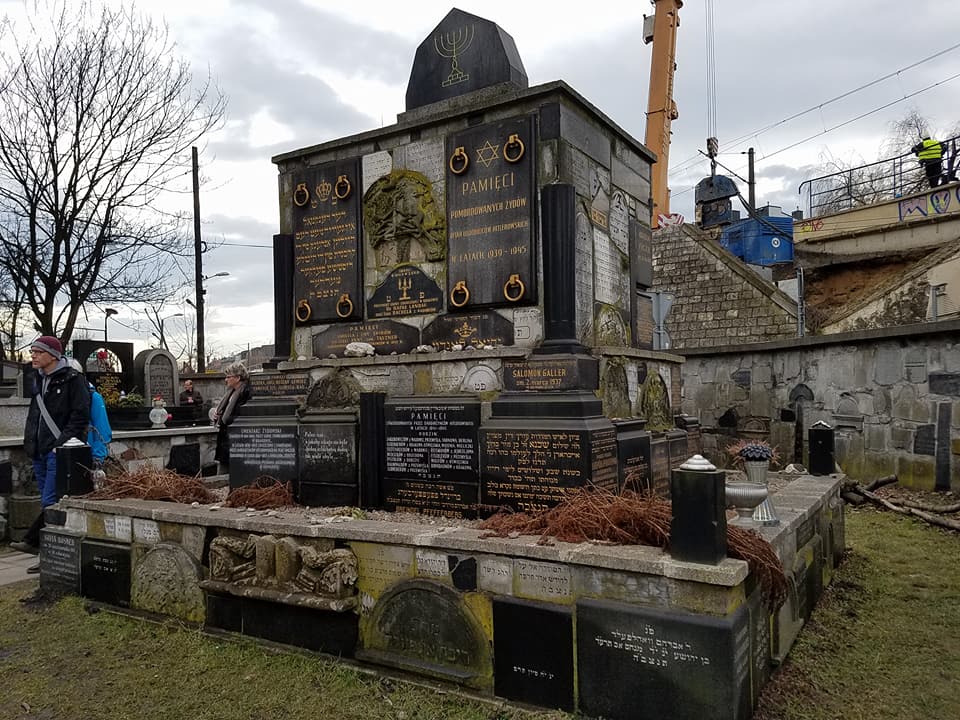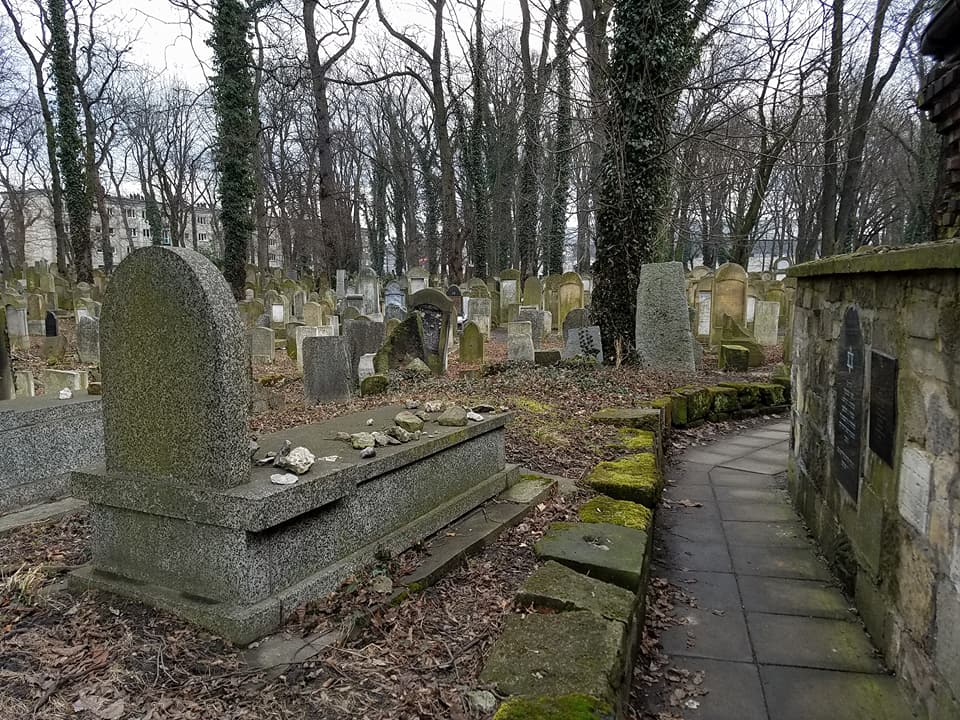 The Galicia museum had an exhibit on a diary of a girl living in the ghetto before being sent to a death camp. Other exhibits included photos of Jewish sites. The name of the museum comes from the name of the region before WWI reset borders.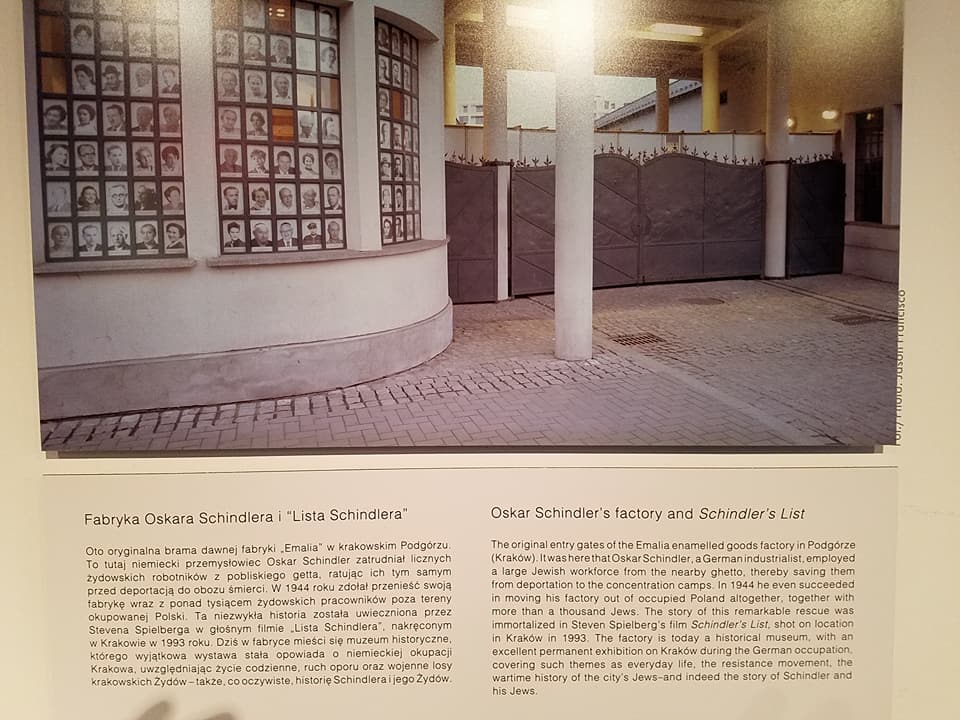 The Old Synagogue was built in the 1400s, but was completely devastated and ransacked by the Germans during World War II. Its artwork and Jewish relics were looted. and in 1943, 30 Polish hostages were executed at its wall. The Old Synagogue was renovated from 1956 to 1959 and currently operates as a Division of the Historical Museum of Kraków, with particular focus on Kraków's Jews.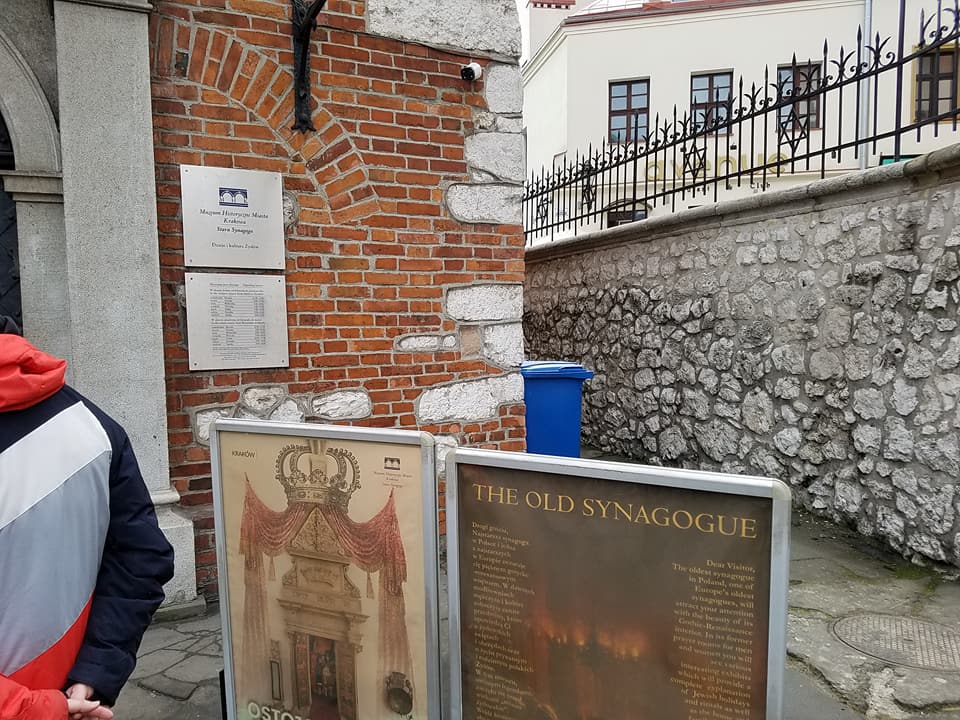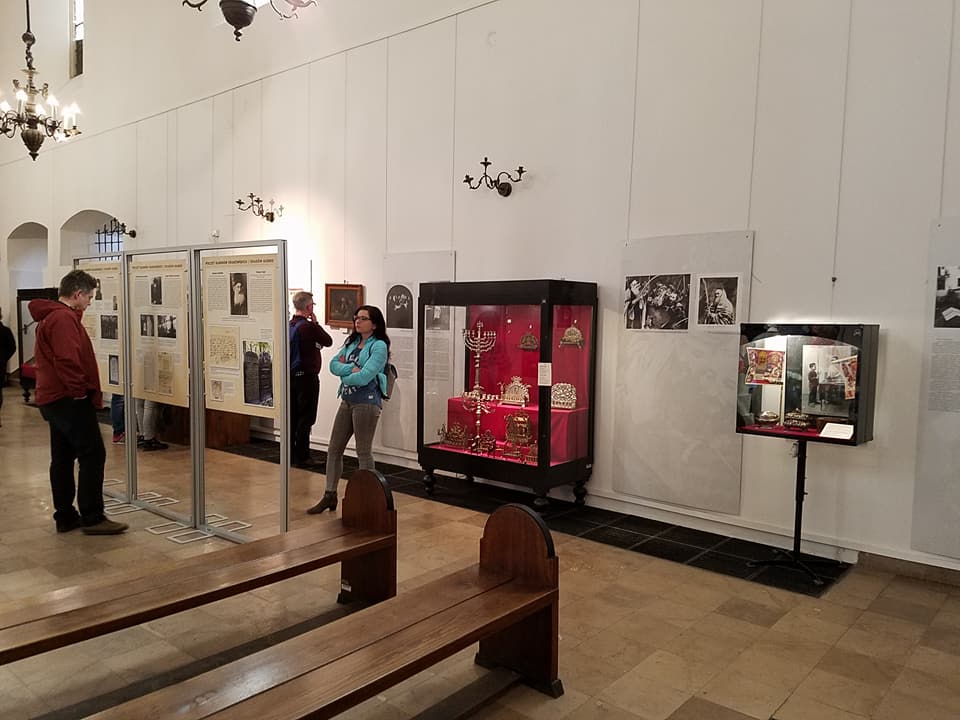 A lot of school children were here on a field trip.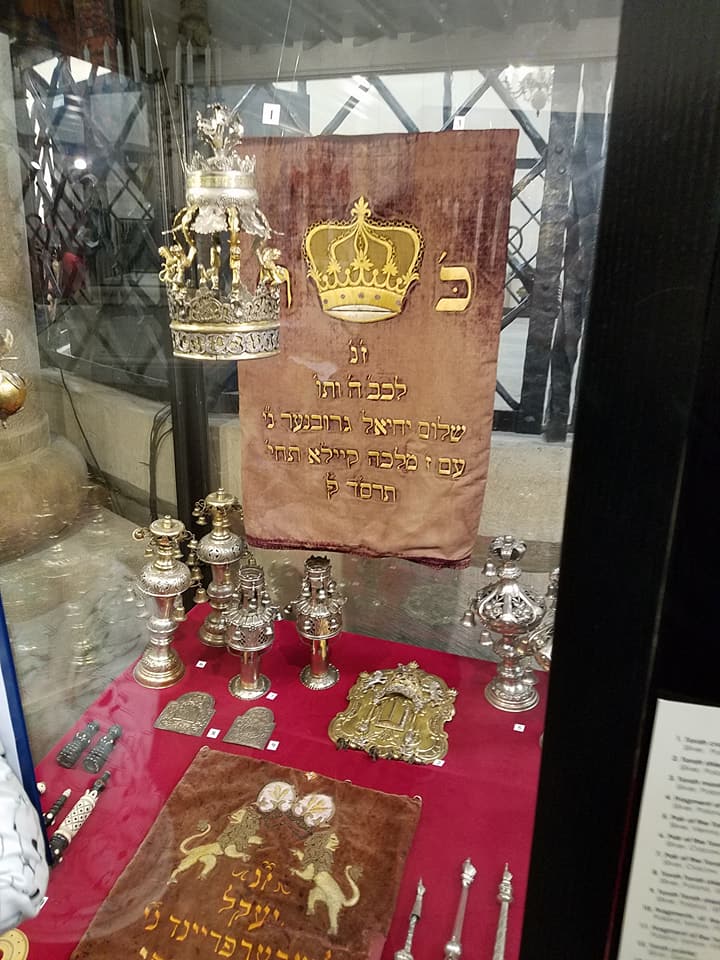 Jewish Quarter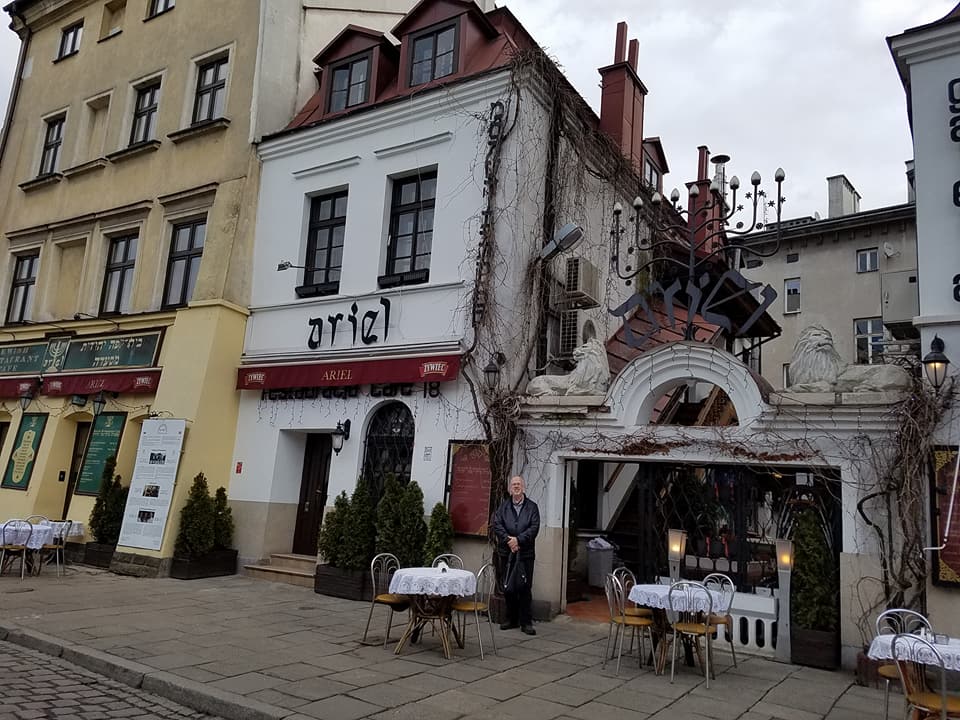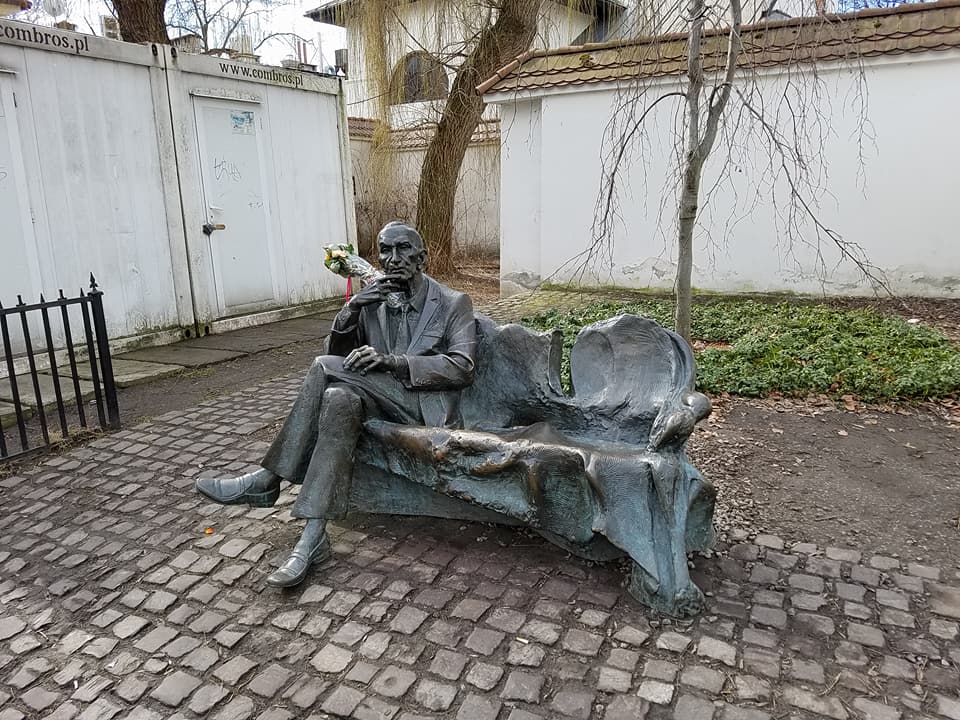 We then visited the Remuh Synagogue and Cemetary, the oldest working Synagogue in the city. 29 Złoty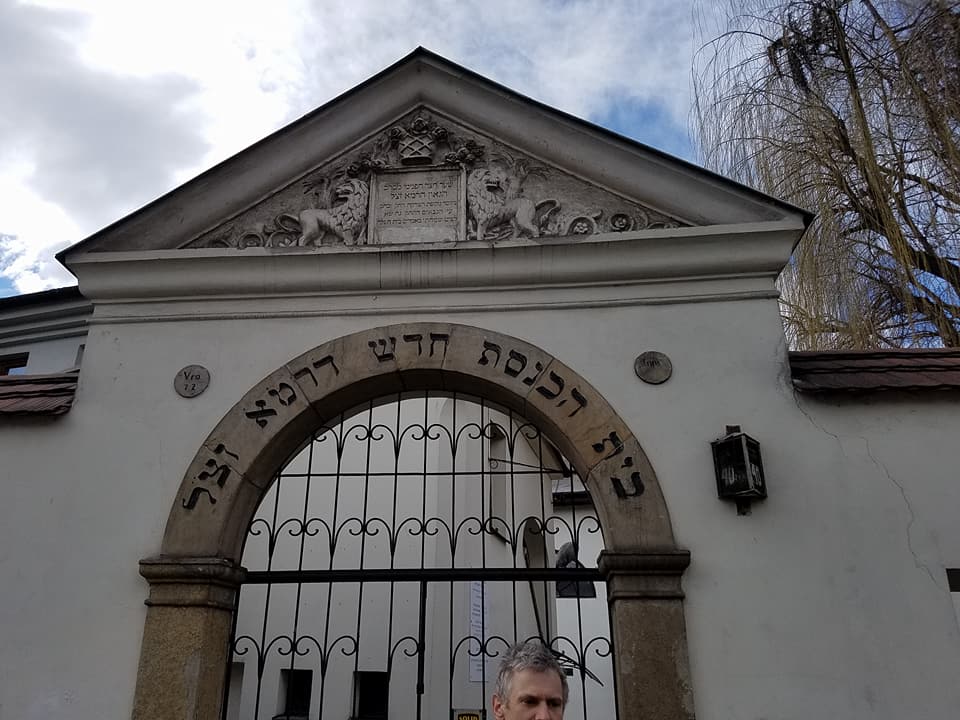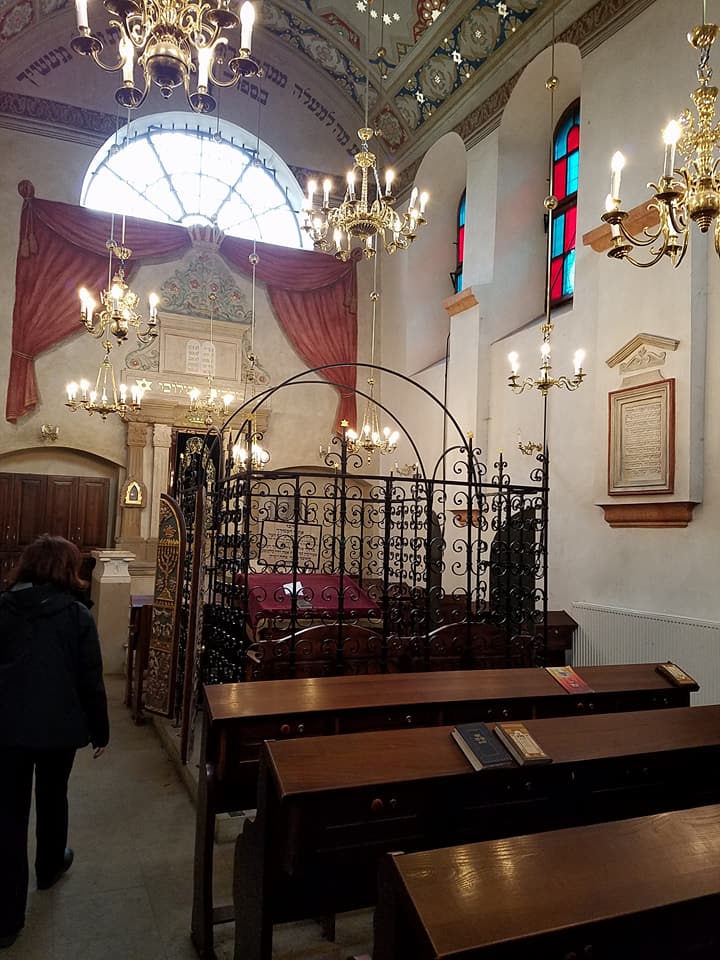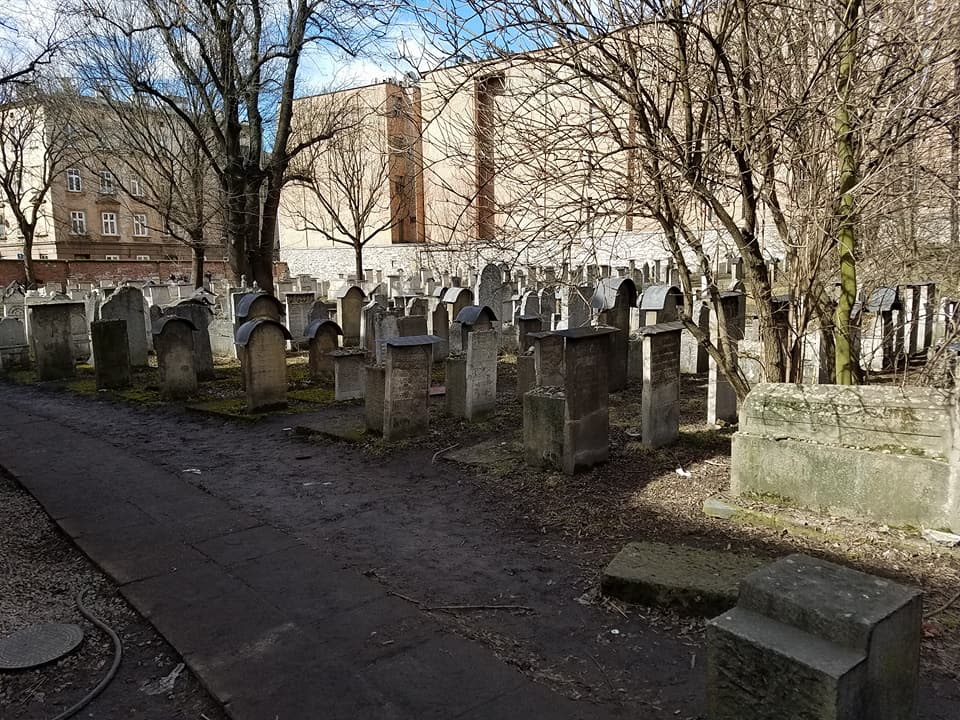 Cytat (Quote) Café, where we had Vanilla and Marzipan drinks while surrounded by books and quotes. 29 Złoty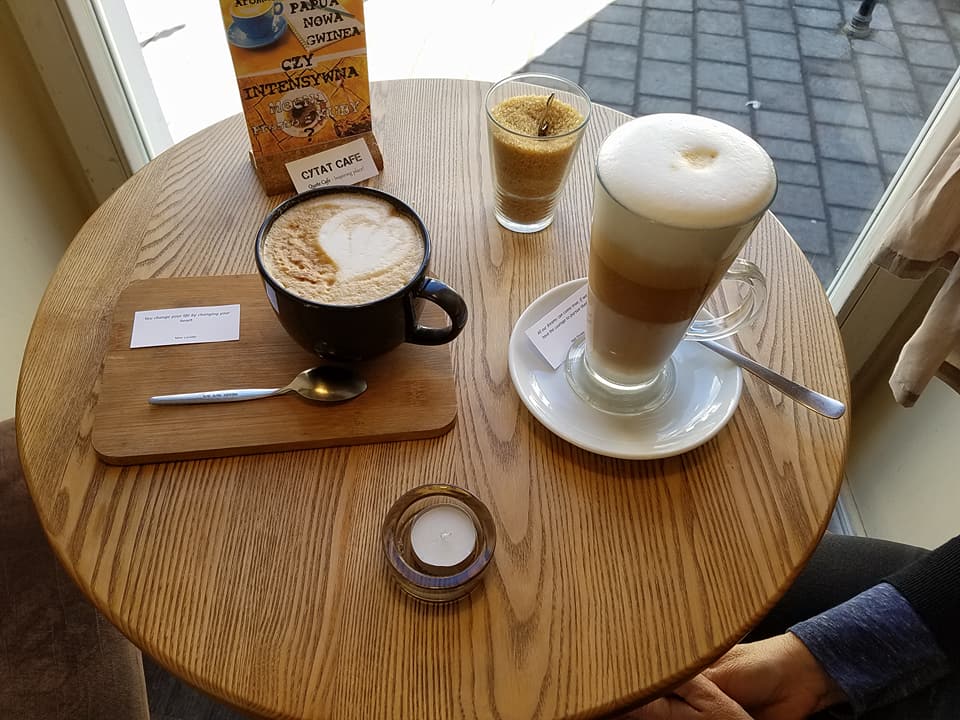 Opera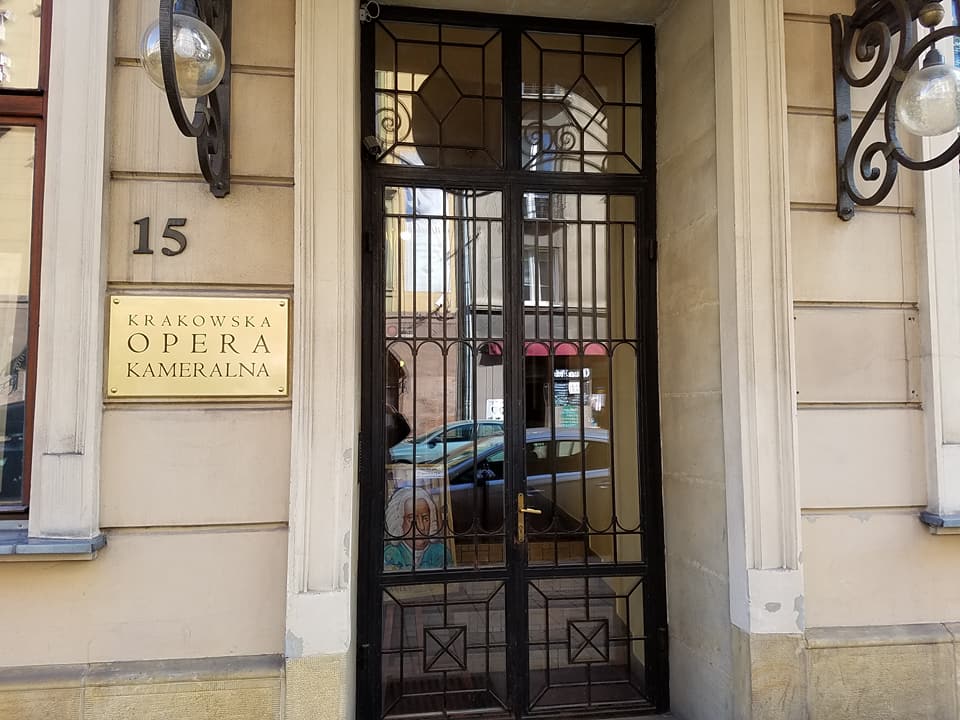 Bank of Poland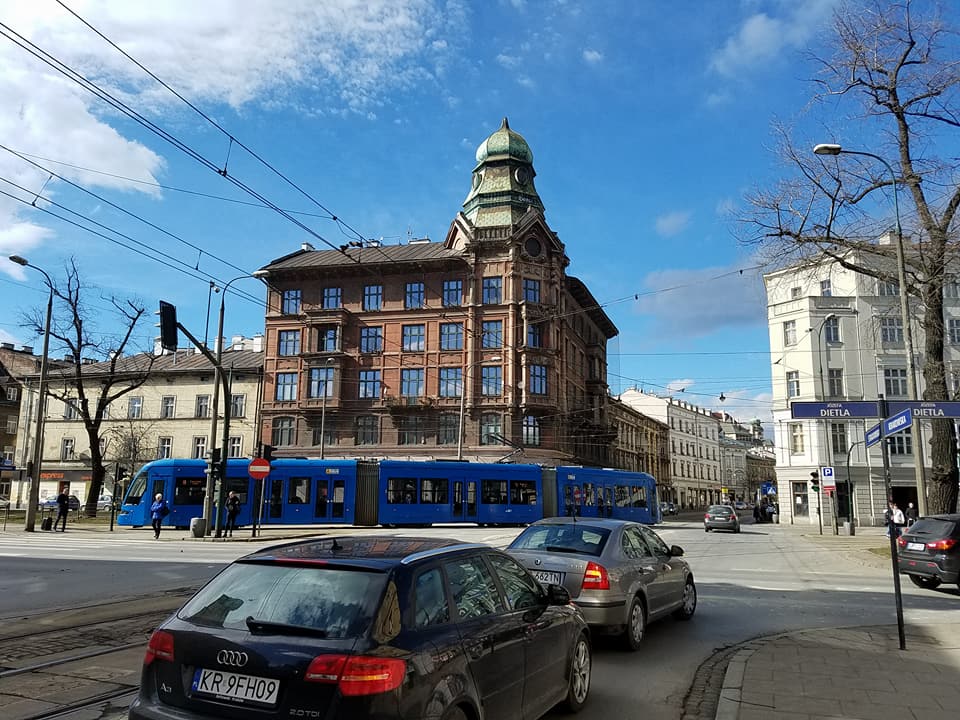 Back to Wawel, to visit the Wawel Cathedral museums and bell towers of the Cathedral, 24 Złoty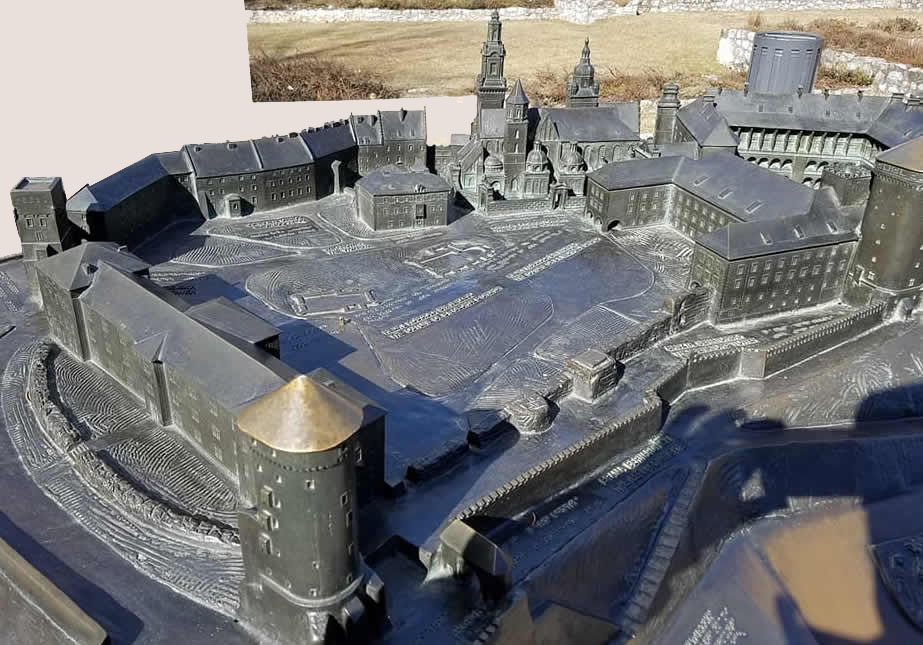 No pictures allowed, so I suggest you jump over to the Wawel Cathedral site to read about the Treasury and Armoury.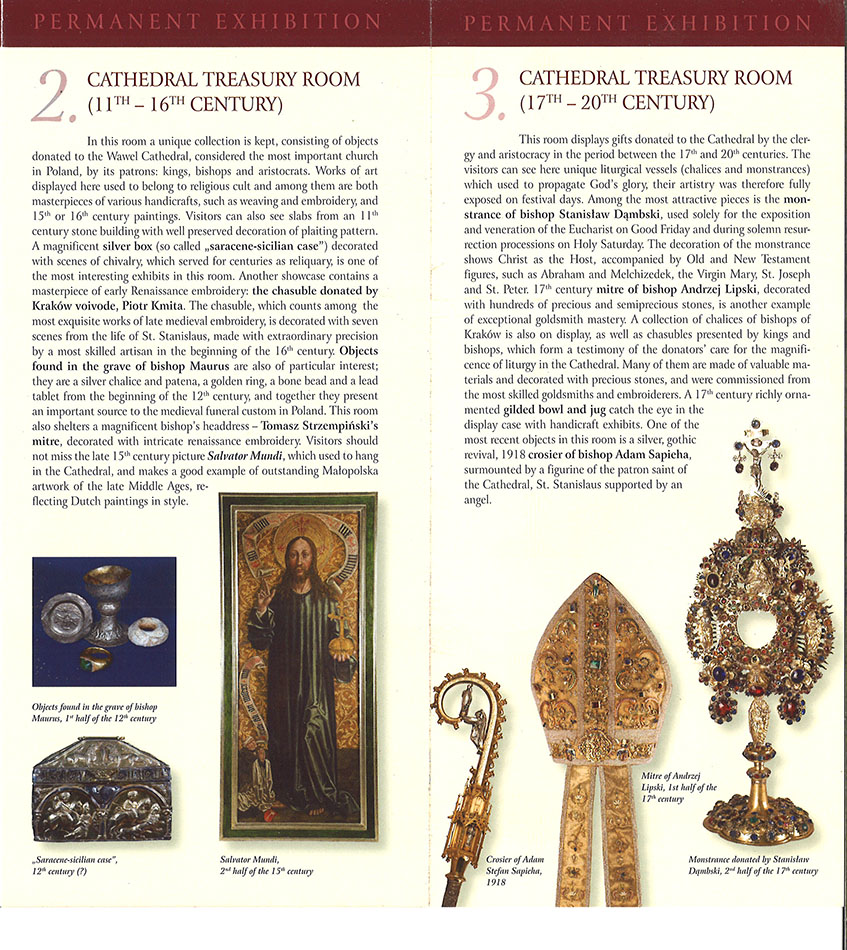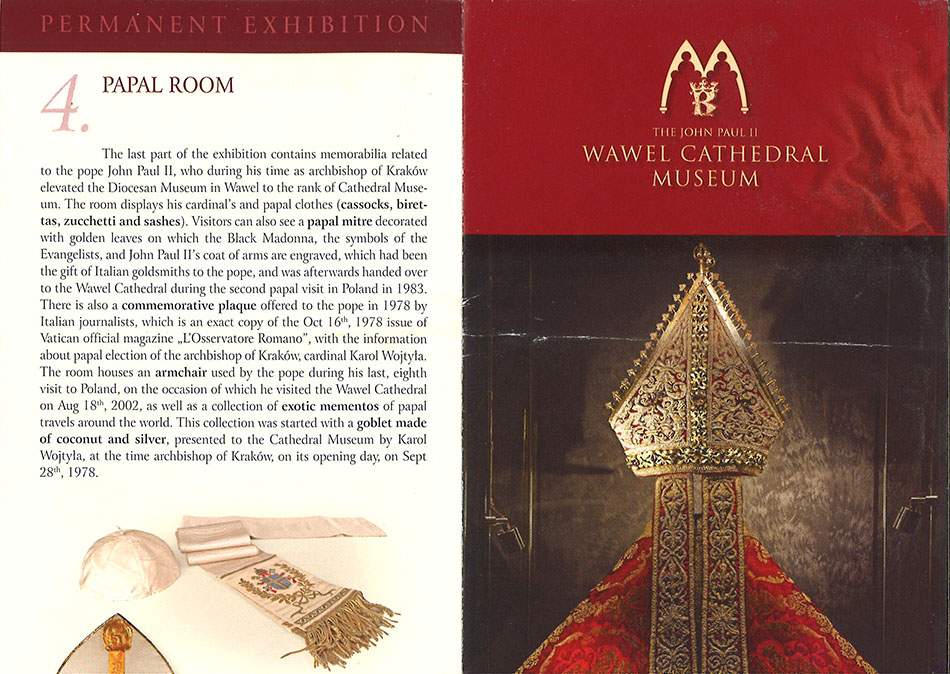 Of course, no trip to Europe is complete unless we climb several ridiculously narrow and steep staircases while avoiding school kids...
this is ridiculously narrow and steep staircases in the bell tower of the Cathedral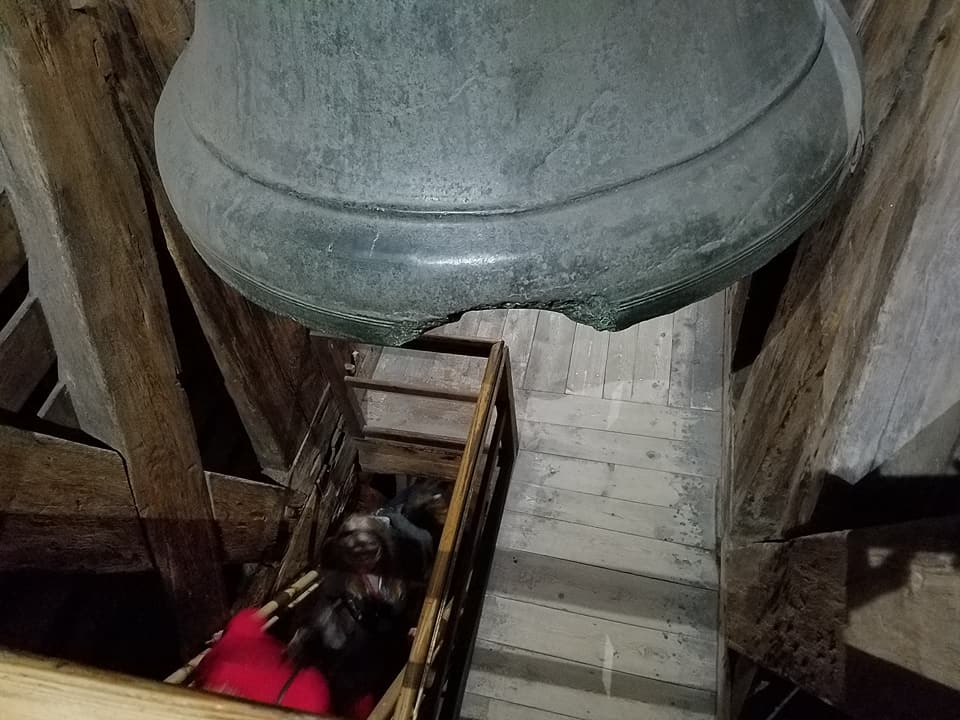 Views from the Bell Tower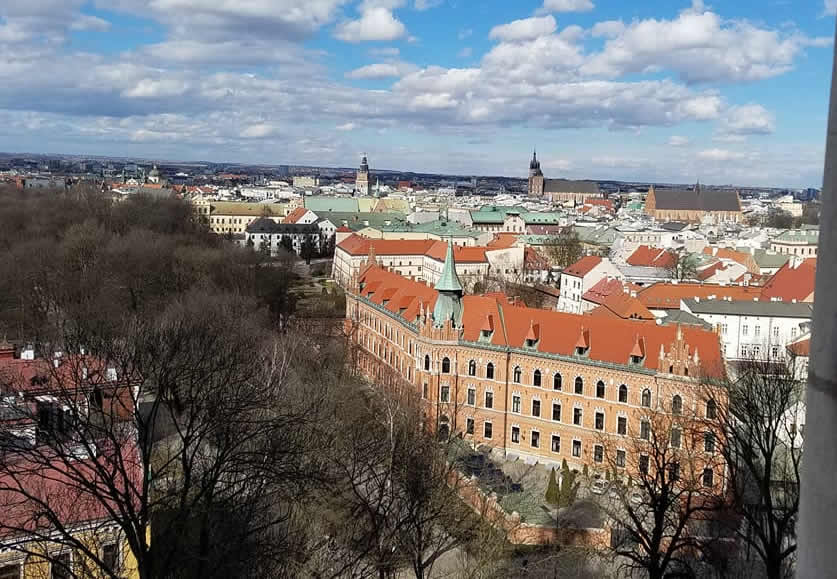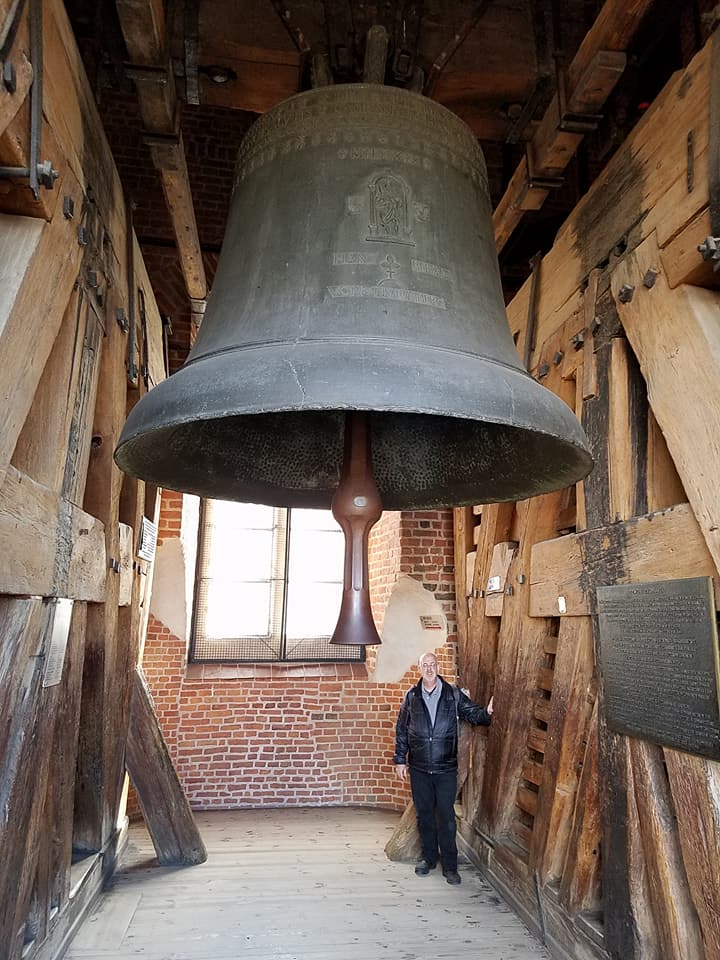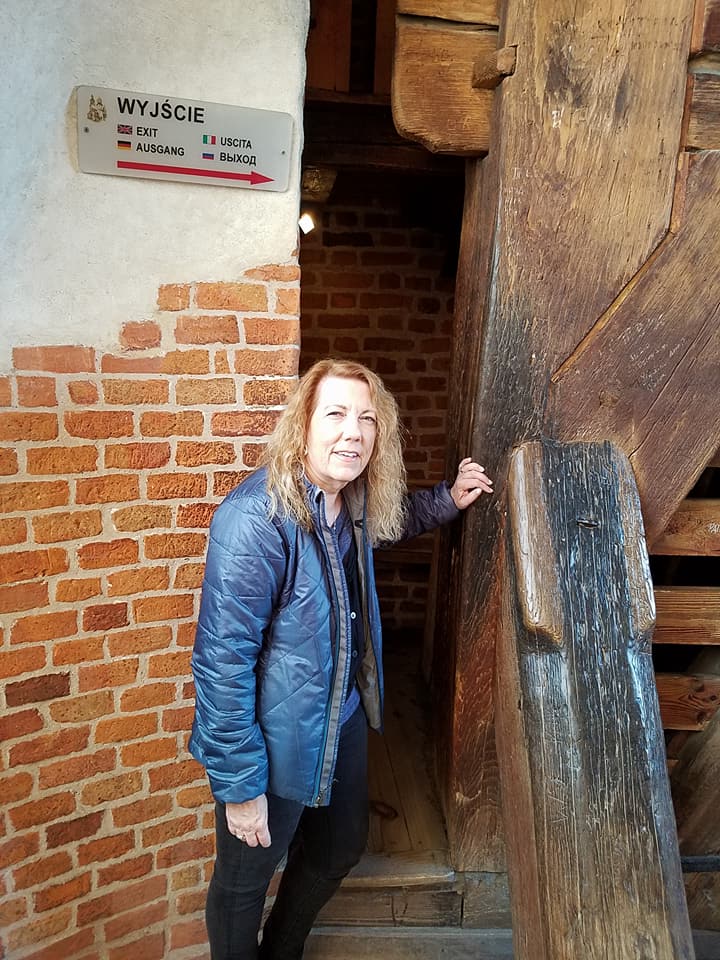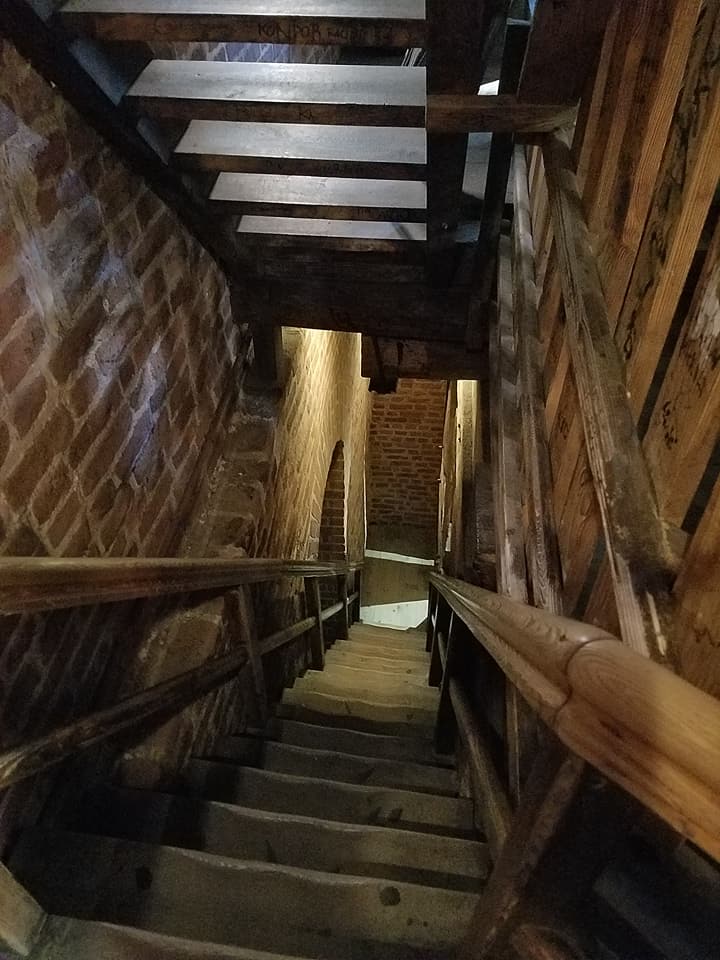 Back on the ground, looking up to the tower we just visited

The Arcades of the Castle were getting a refresh, not too much to see here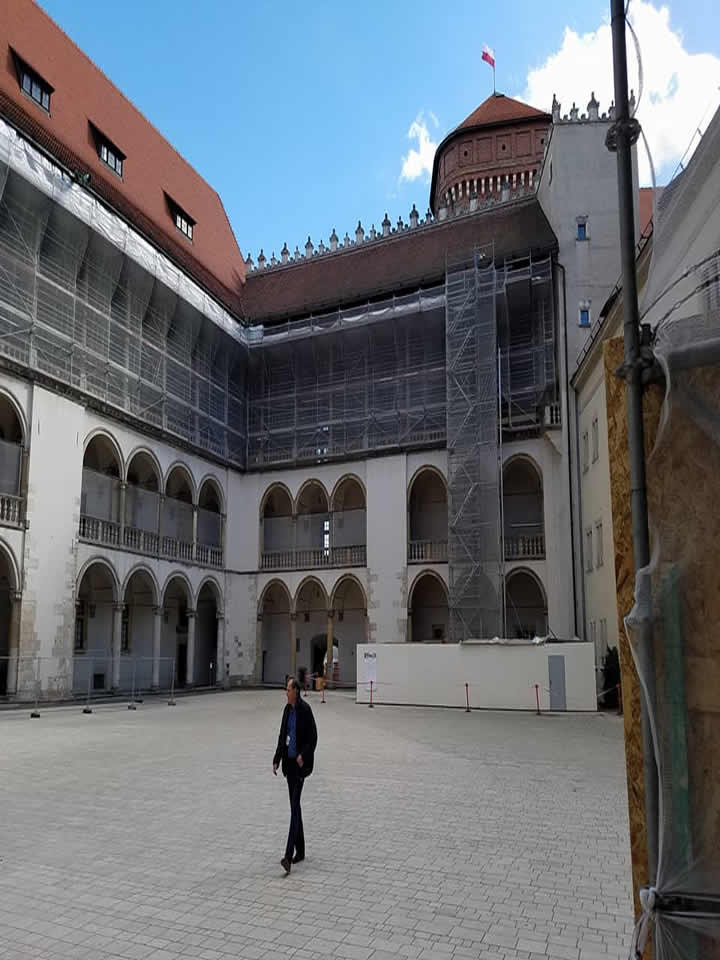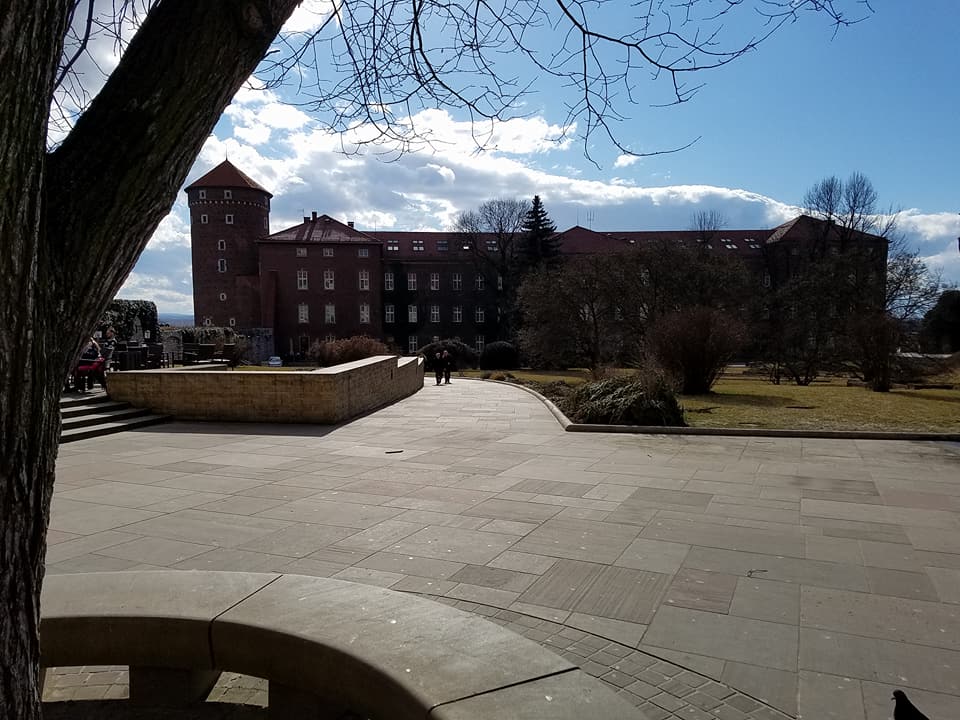 Lunch time, Tomato soup and Sour Egg and sausage soup, with a Chocolate Souffle and ice cream for dessert. 60 Złoty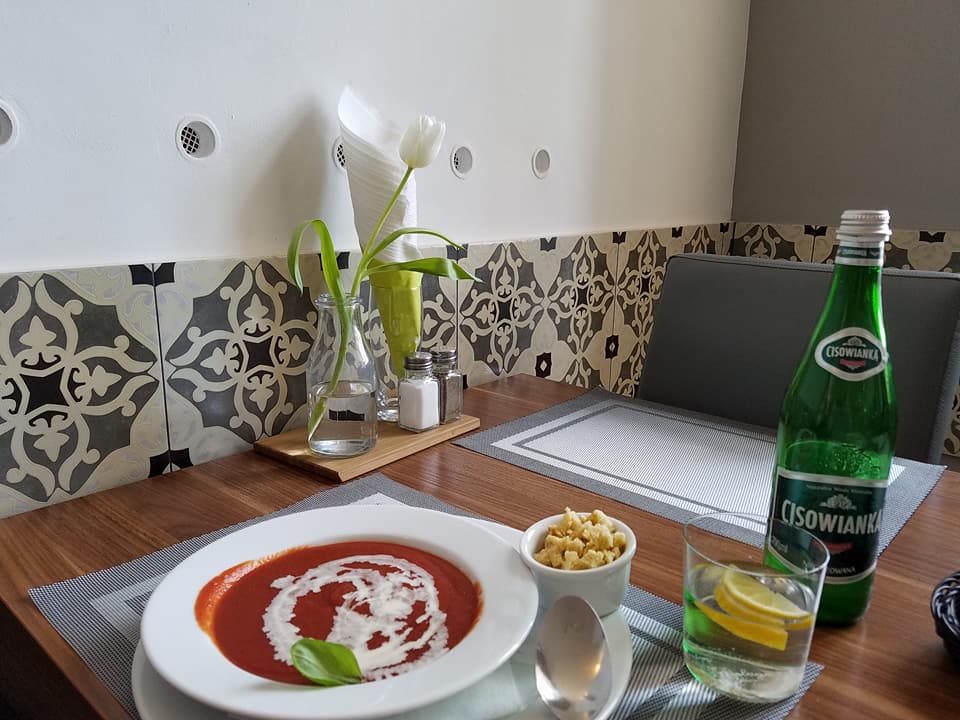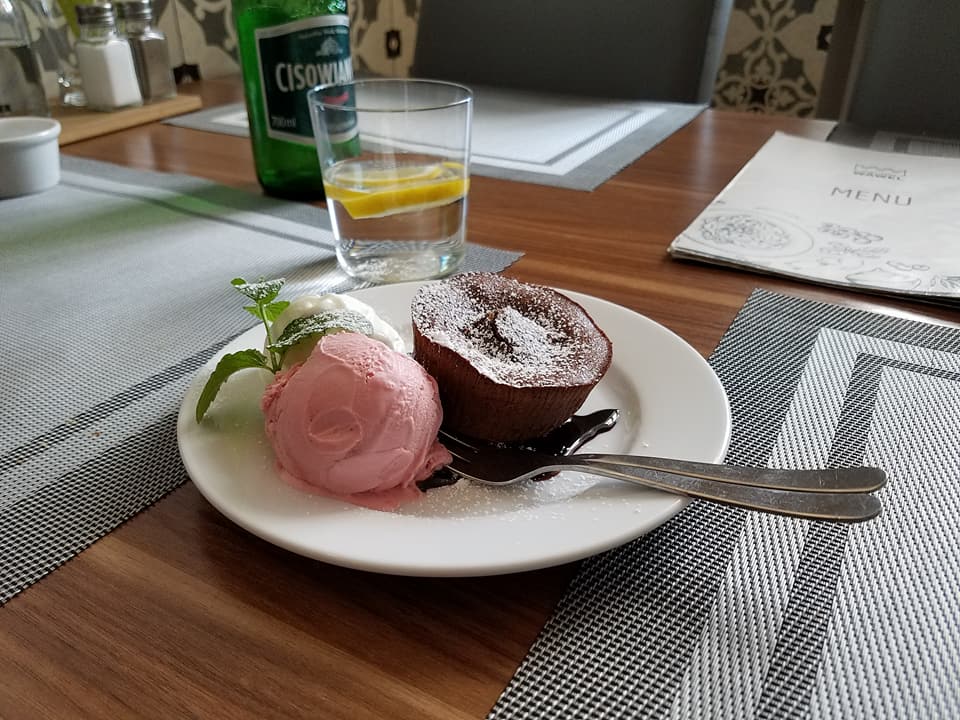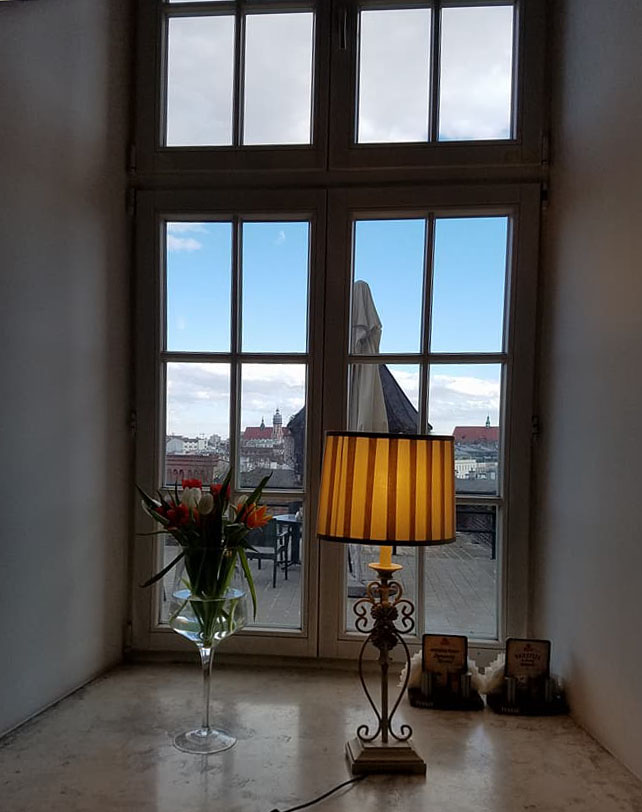 So many musuems...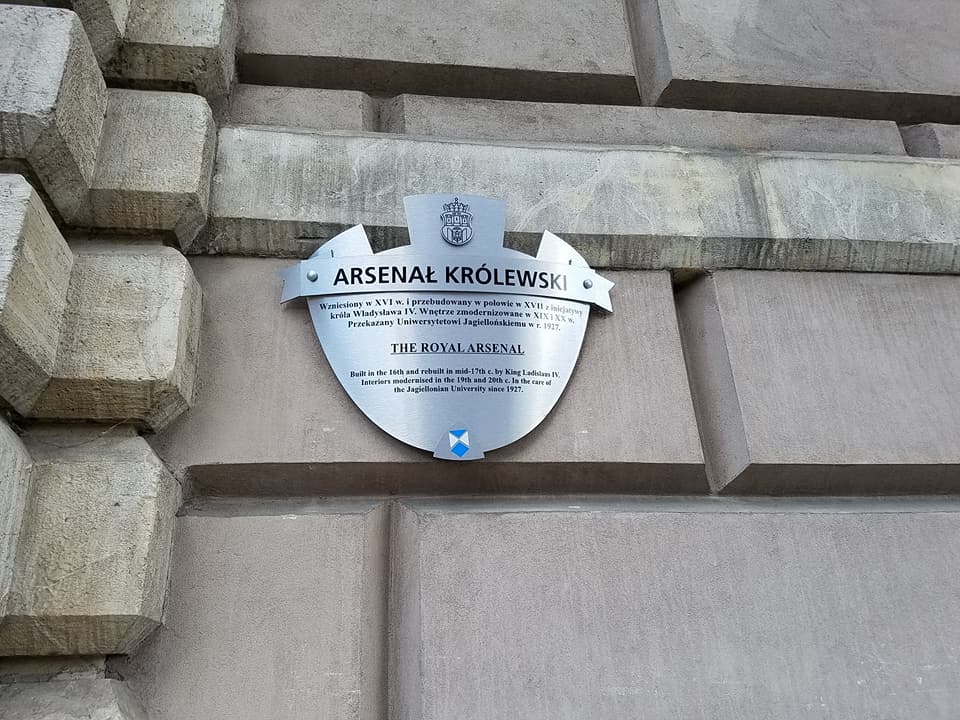 To the Old Town Underground exhibit, but it was closed for a few days... so on to the Town Hall tower
More ridiculously narrow and steep staircases in an ancient building in Europe? Of course...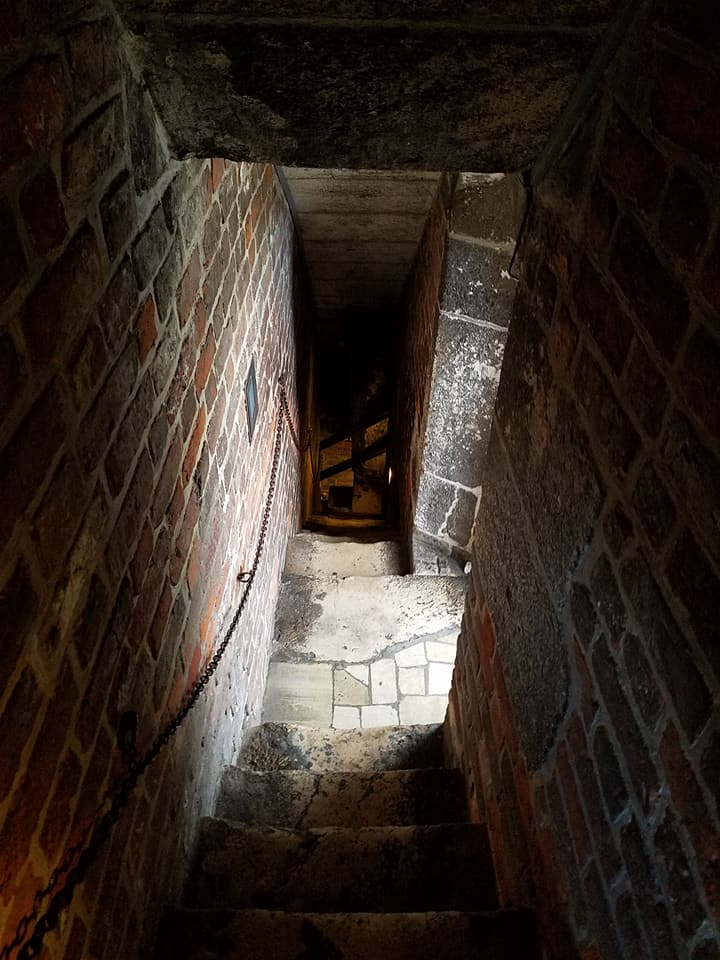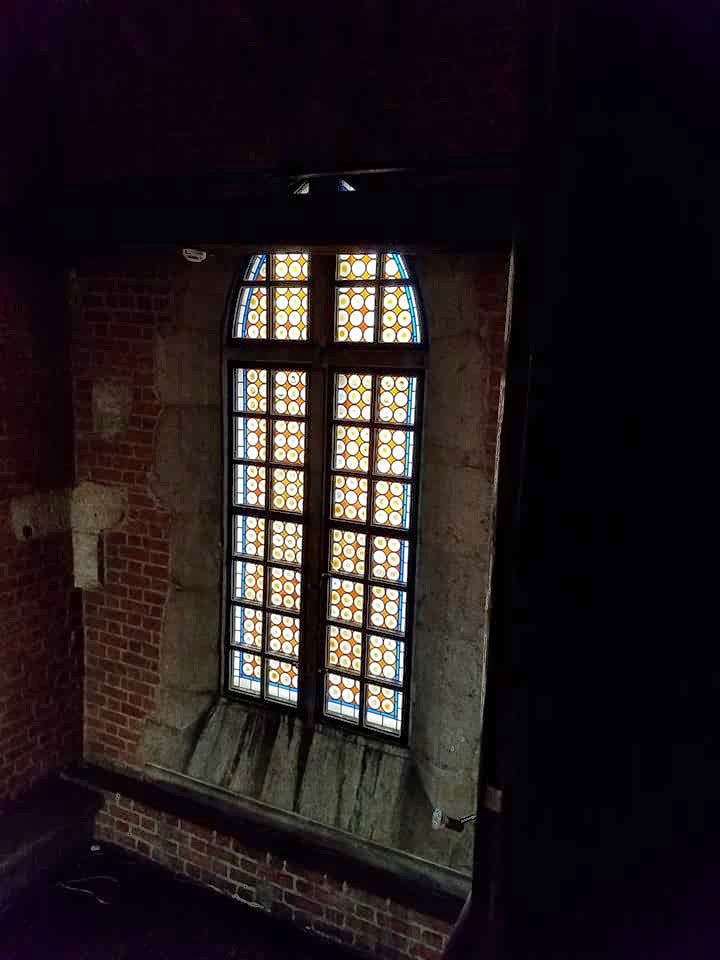 Views from about 1/2 way up

View of St. Mary's and the Cloth Hall

At the clock level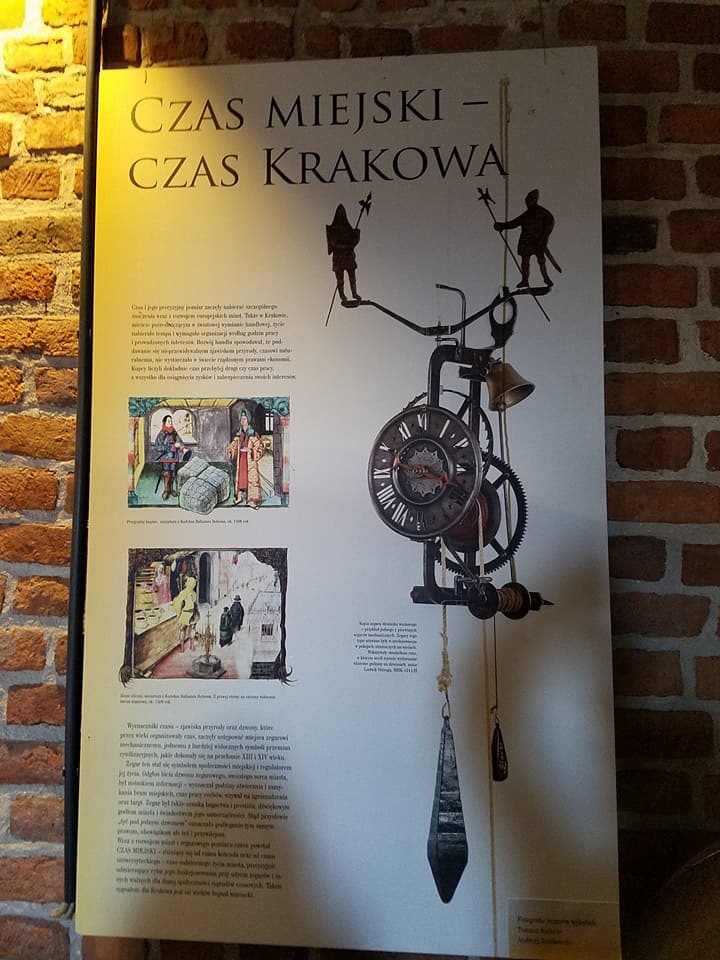 Views from the clock level: St. Mary's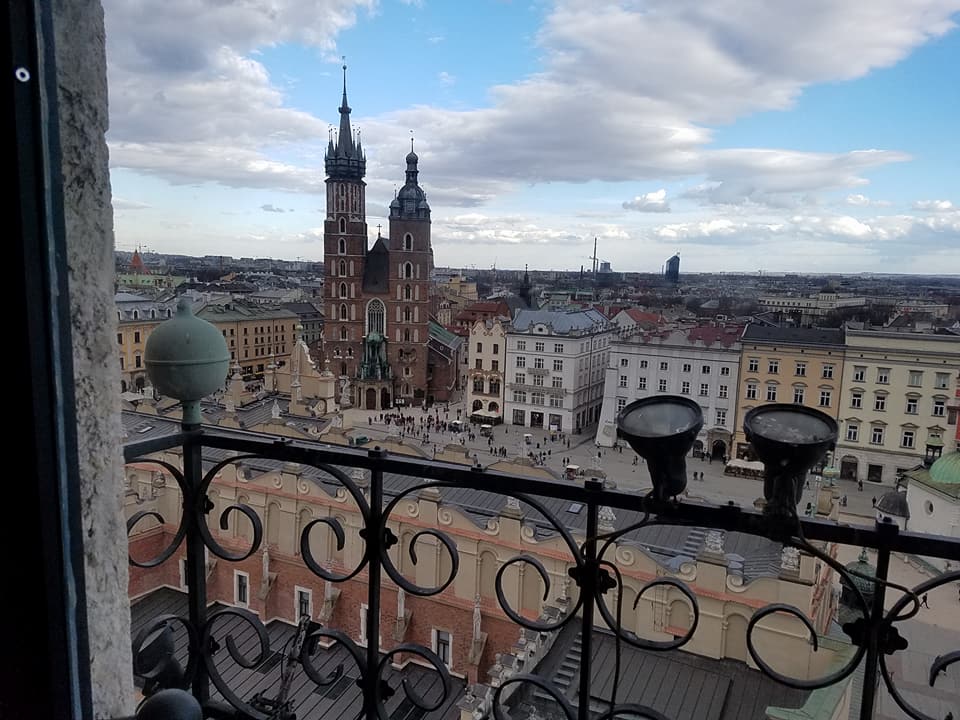 Wawel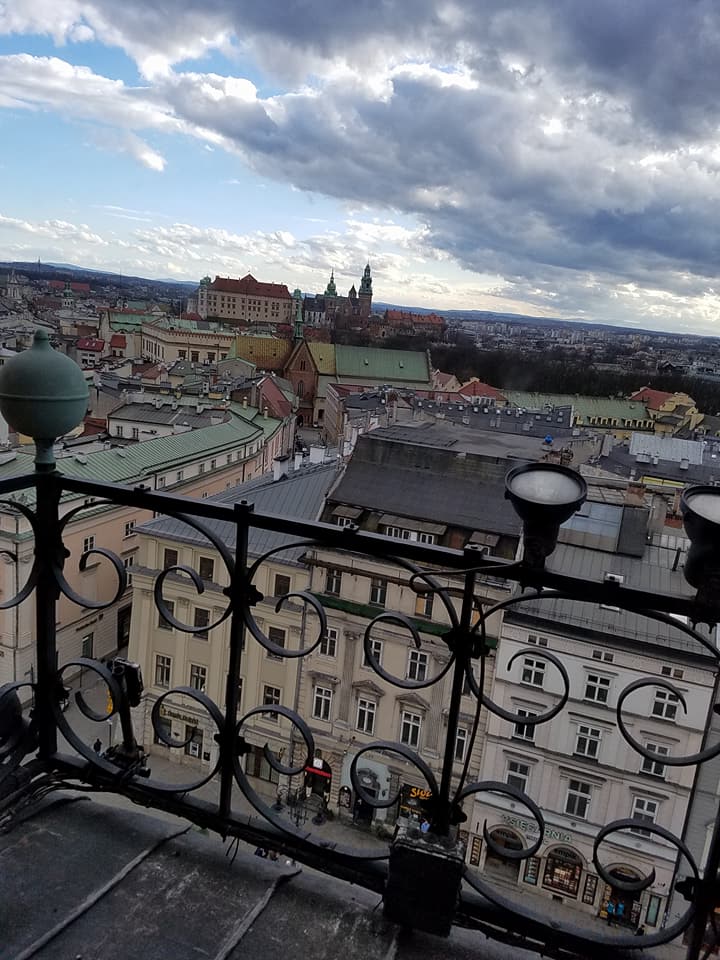 You may have noticed that the weather started changing a bit...
Took a little break to see some modern Krakow, and check out the shoes, and such.
(PS The train station is attached to the Galeria, but we didn't see much of it when we headed to the hotel the first time...)
Dinner was North Fish, a Polish Fish and Chips place, Cod (Dorsz), Roast potatoes, and Slaw; 41,45 Złoty
On the walk back to the hotel we passed bakeries, great architecture, and the Old market. The bakery was closing, so we found a convenience store and got some Milka caramel cookies 4,99 Złoty.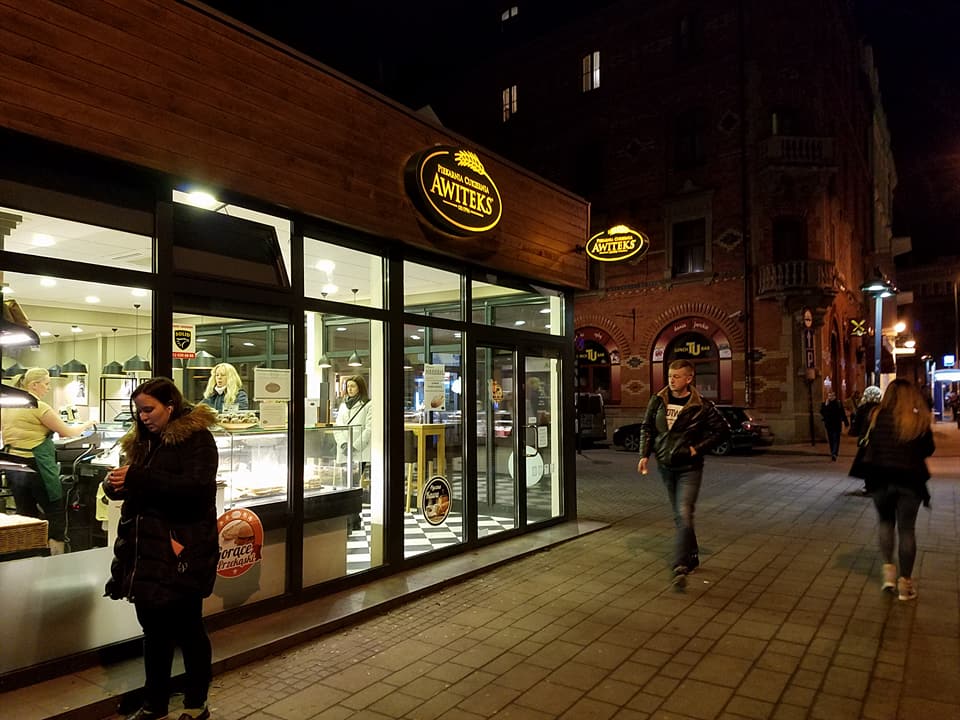 Love the architeture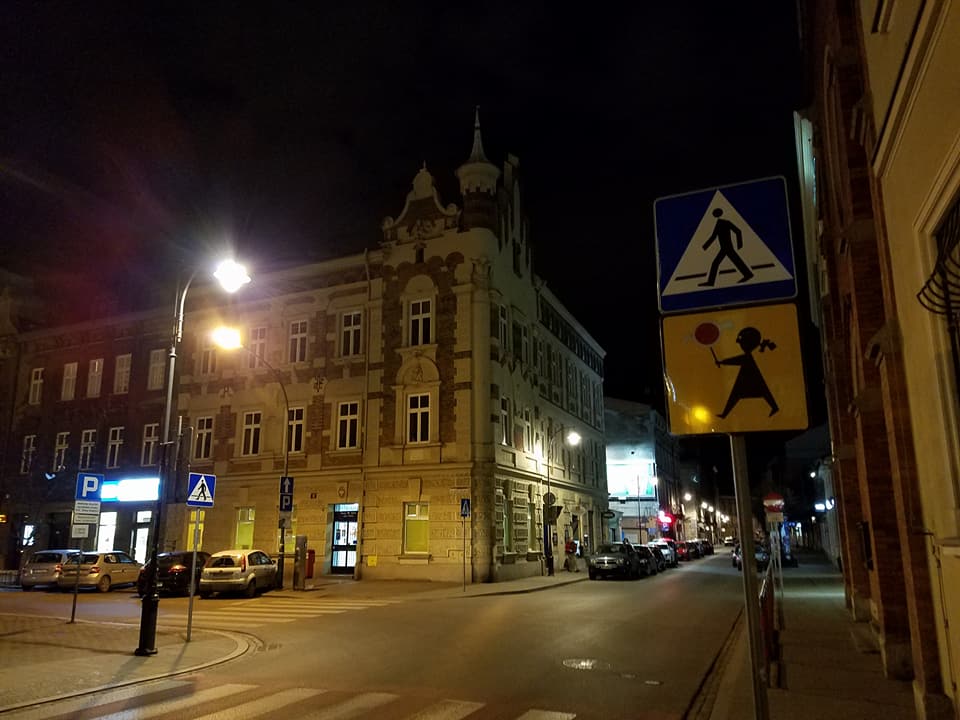 Stary Kleparz, The Old Market was closed... we'd be back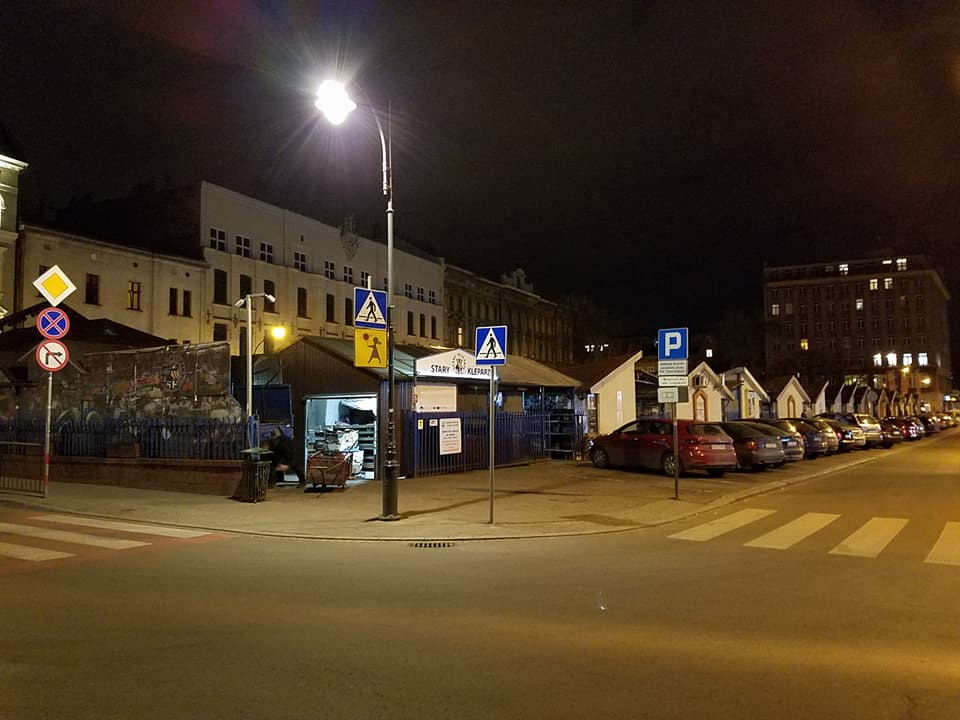 6:30 Time to get up.
7:45 Time for breakfast
8:15, we had some time to kill before we headed out, so we watched a Polish version of the Nanny.
9:00 Christopher with Krakow Shuttle picked us up for our visit to the Ojców National Park, 27 km north of Kraków. It turned out, we were the only people to sign up for that day, so it was like a private tour.
10:00 Our first stop was Pieskowa Skała, a Renaissance castle set on a limestone cliff in the valley of river Prądnik. It is located within the boundaries of the Ojców National Park near the village of Sułoszowa. Christopher dropped us off and waited in the parking lot.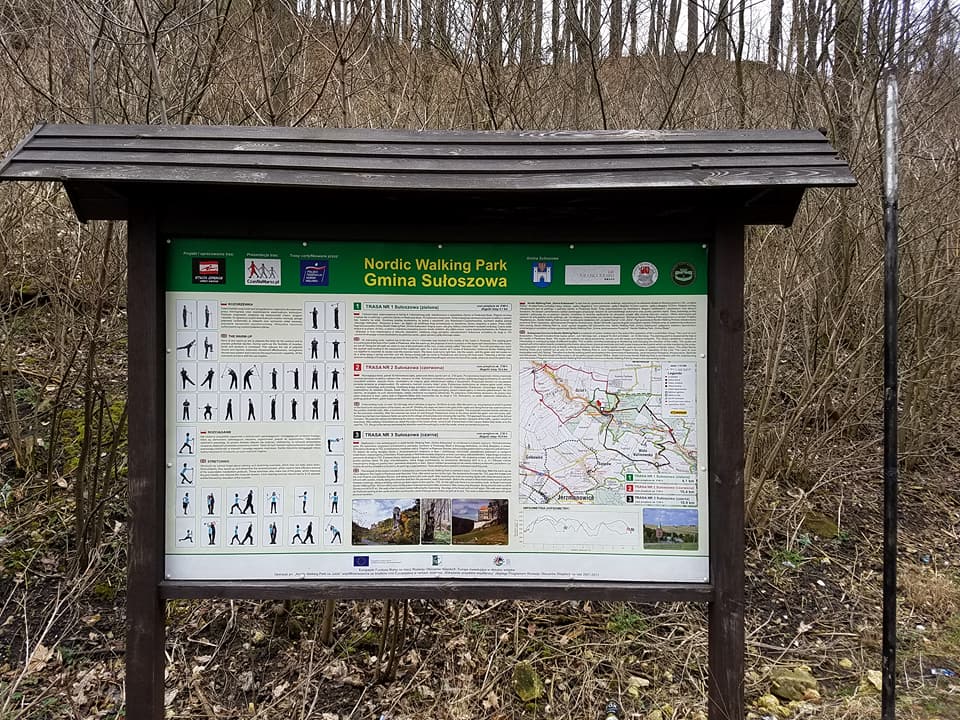 Pretty good hike to the castle.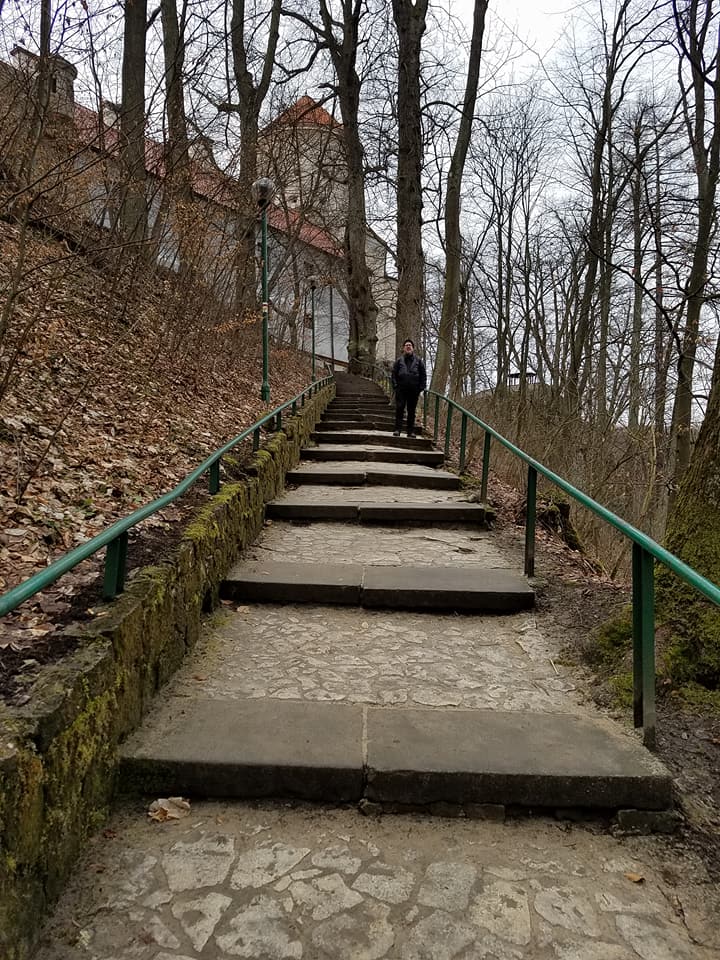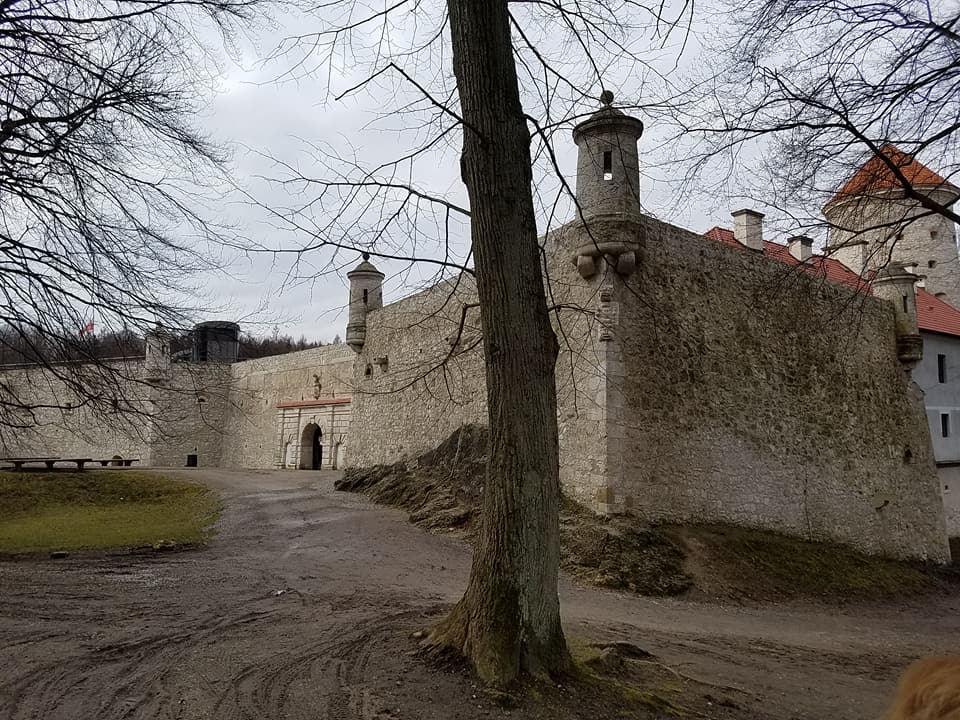 The castle itself was closed, but we were able to walk the grounds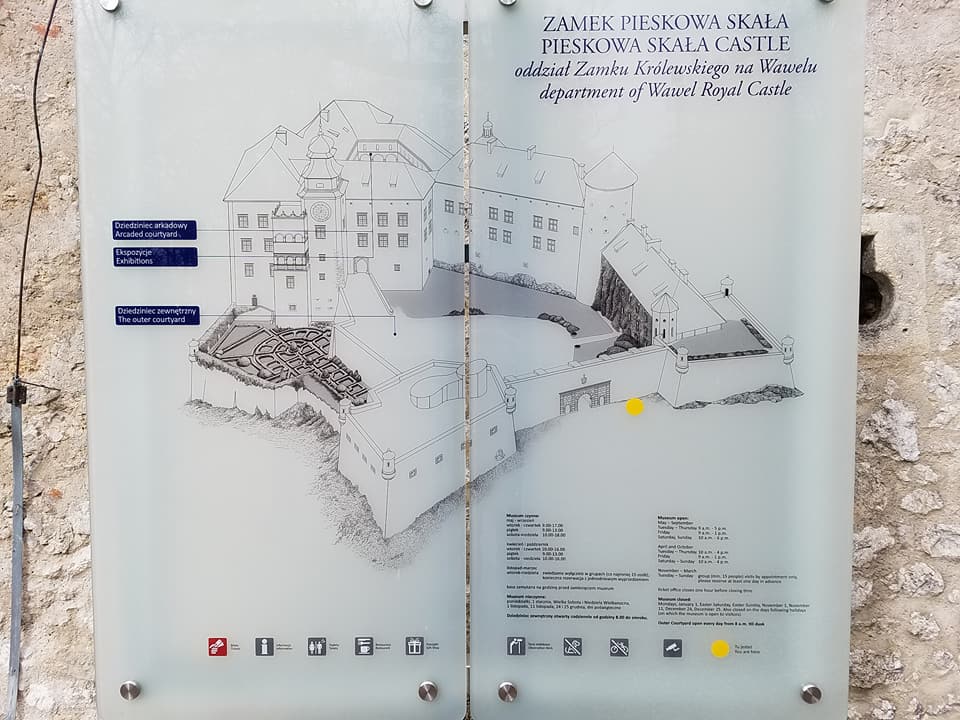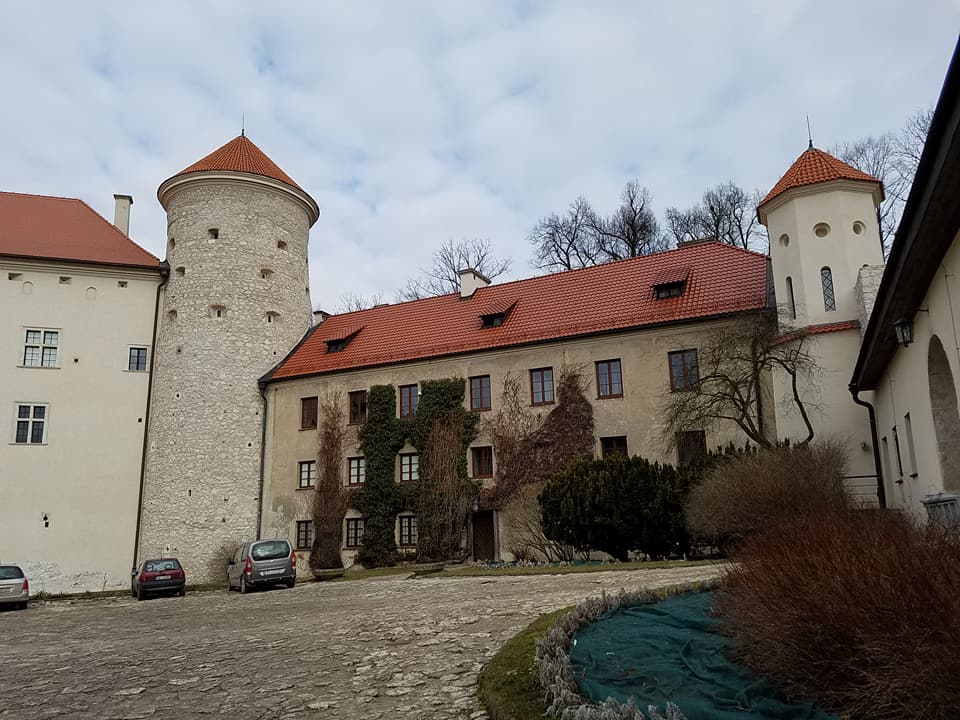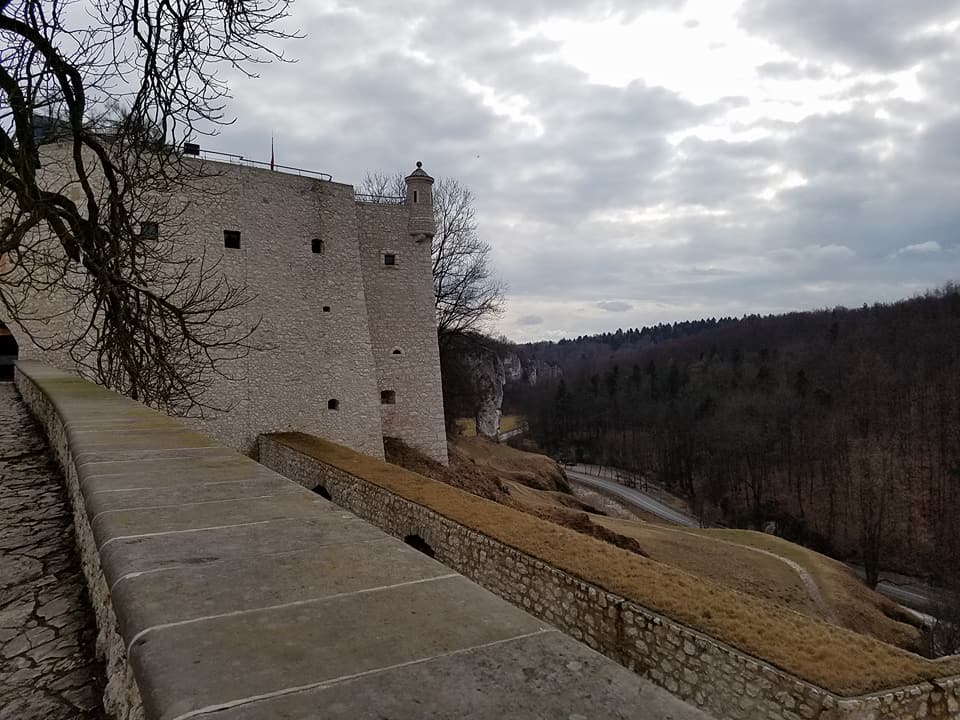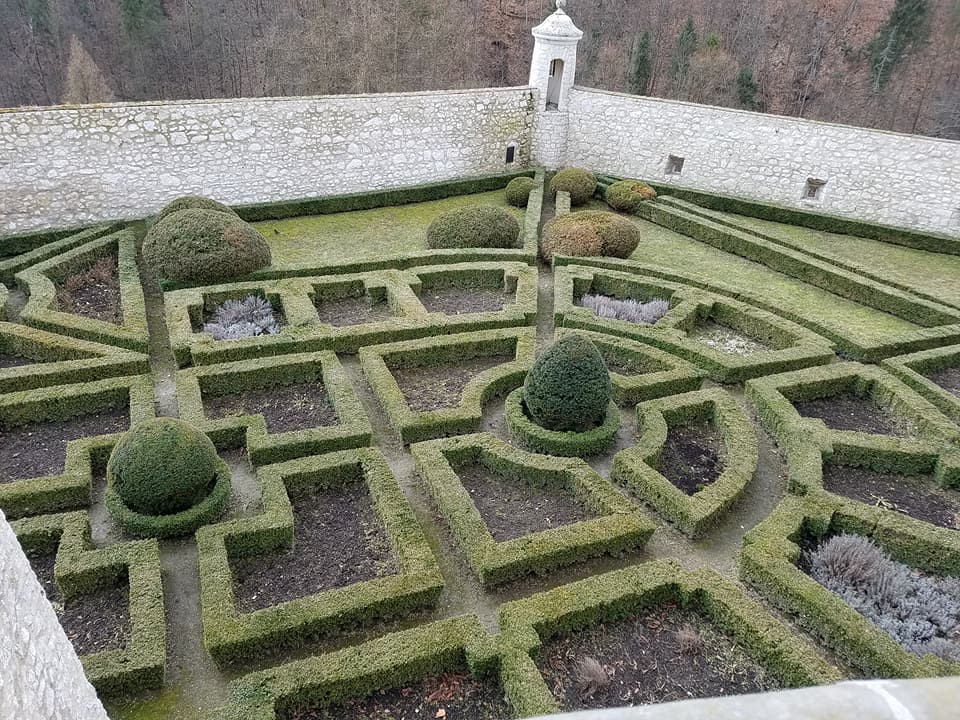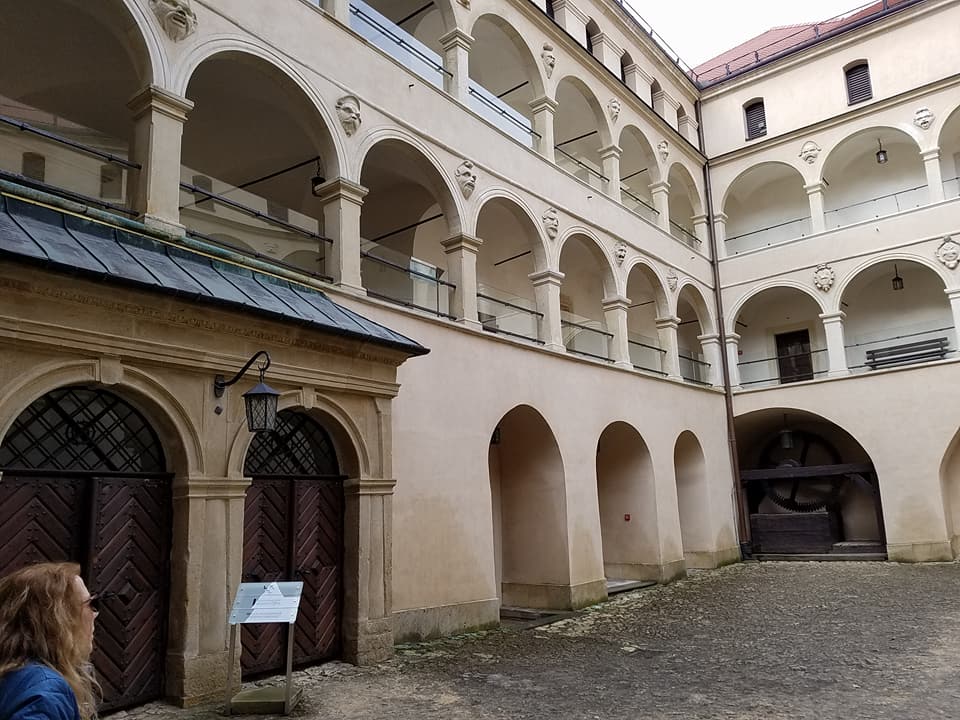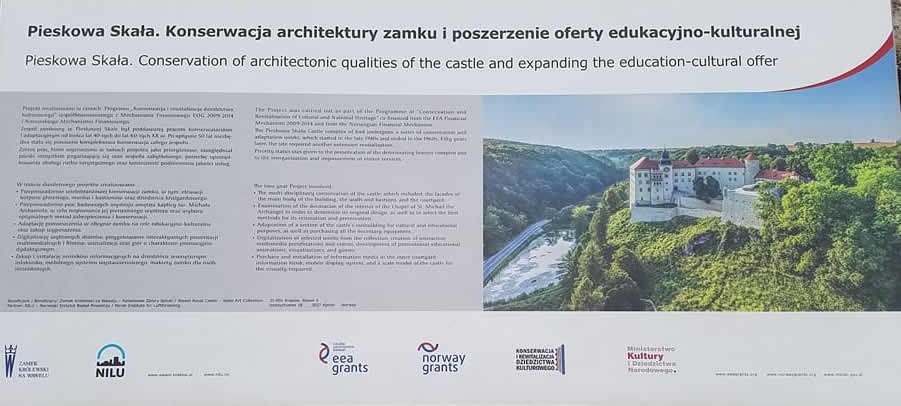 After visiting the castle, we took a hike in the woods, and came upon this limestone column.
During the day we passed many breathtaking Jurassic rock formations and caves, such as the"Cracovian Gate;" but the "Club of Hercules" was probably our favorite of the limestone columns and outcroppings in the area.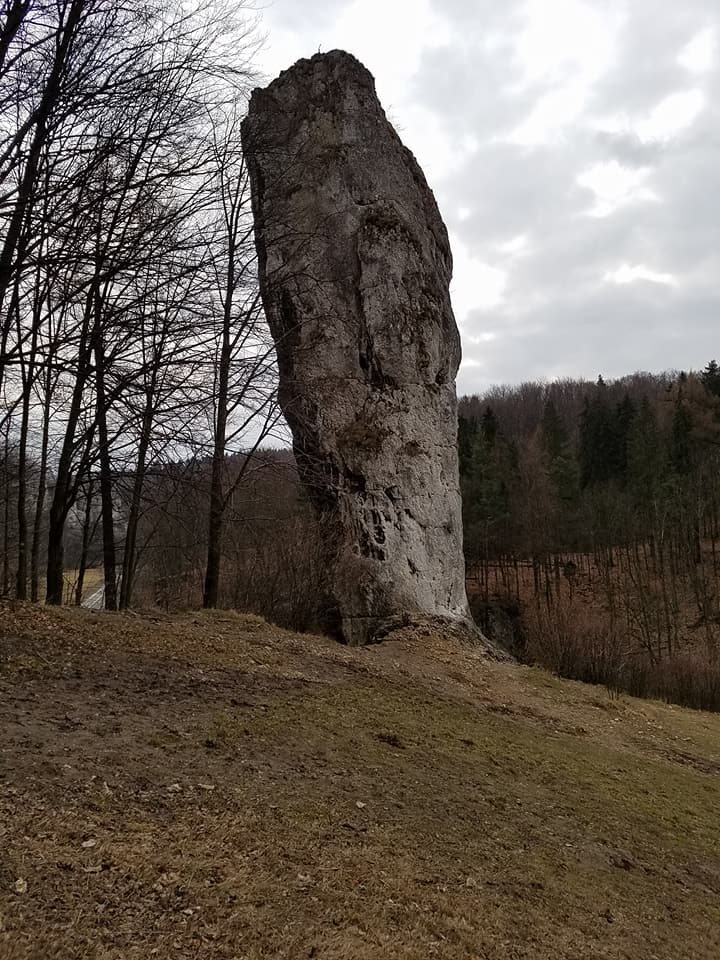 Icy ponds on the roadside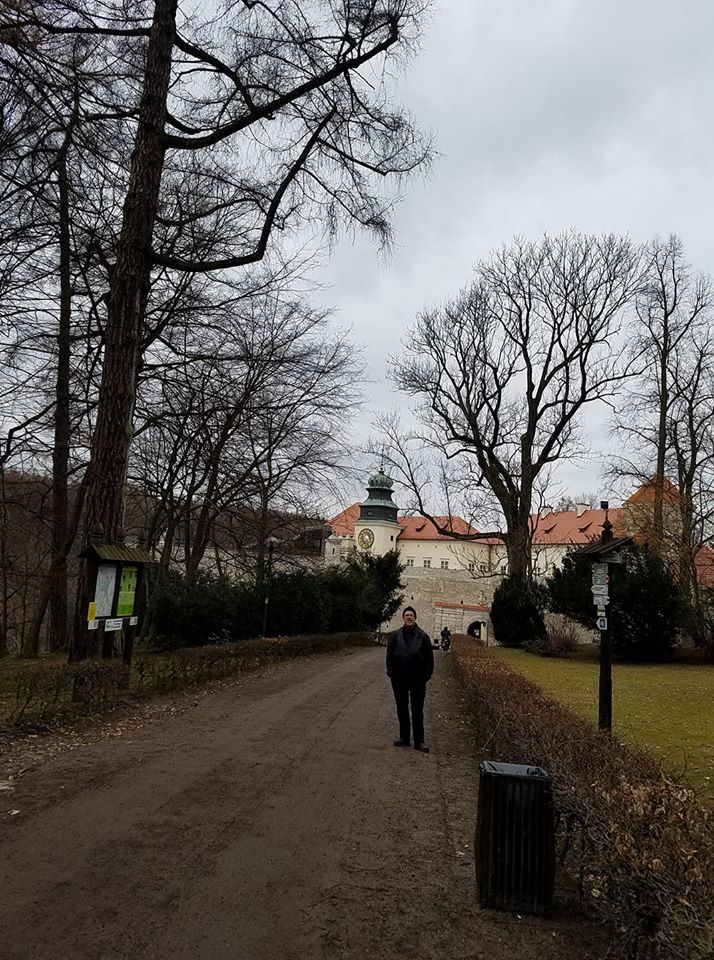 11:00 It was back to the van, and off to the Chapel of St. Joseph; the Czar degreed no churches could be built on the grounds of the National Forest, so they built the chapel over water instead, to tick off the Czar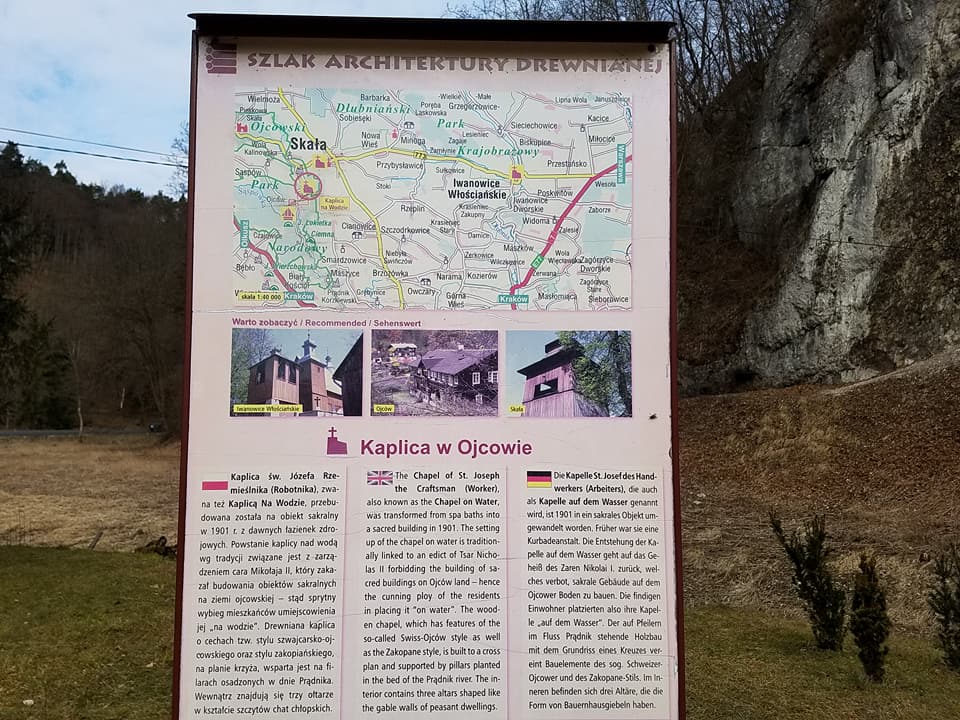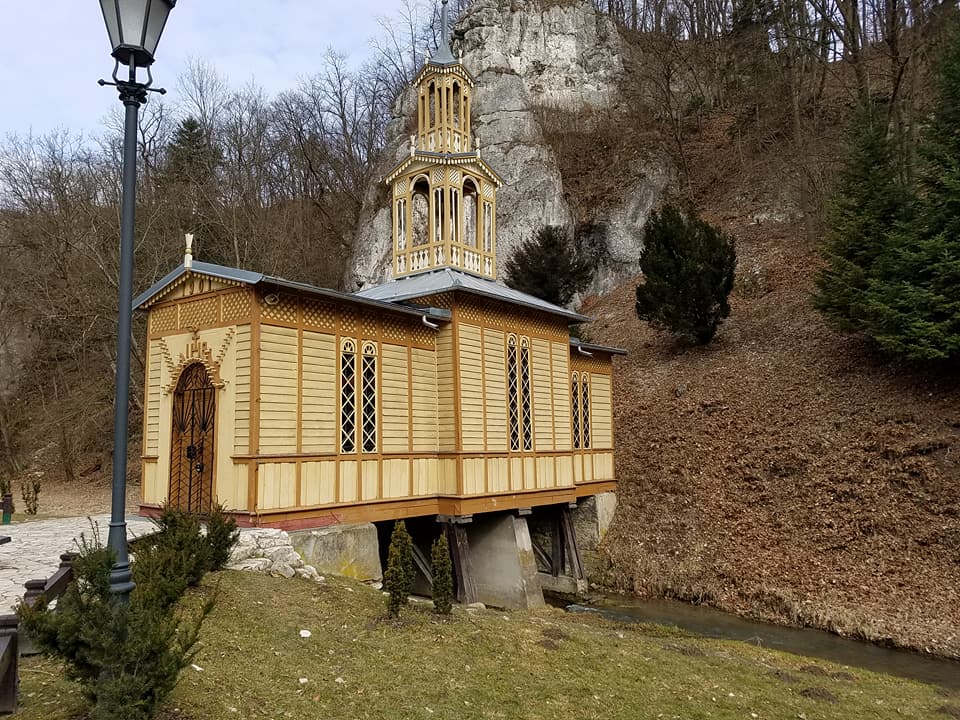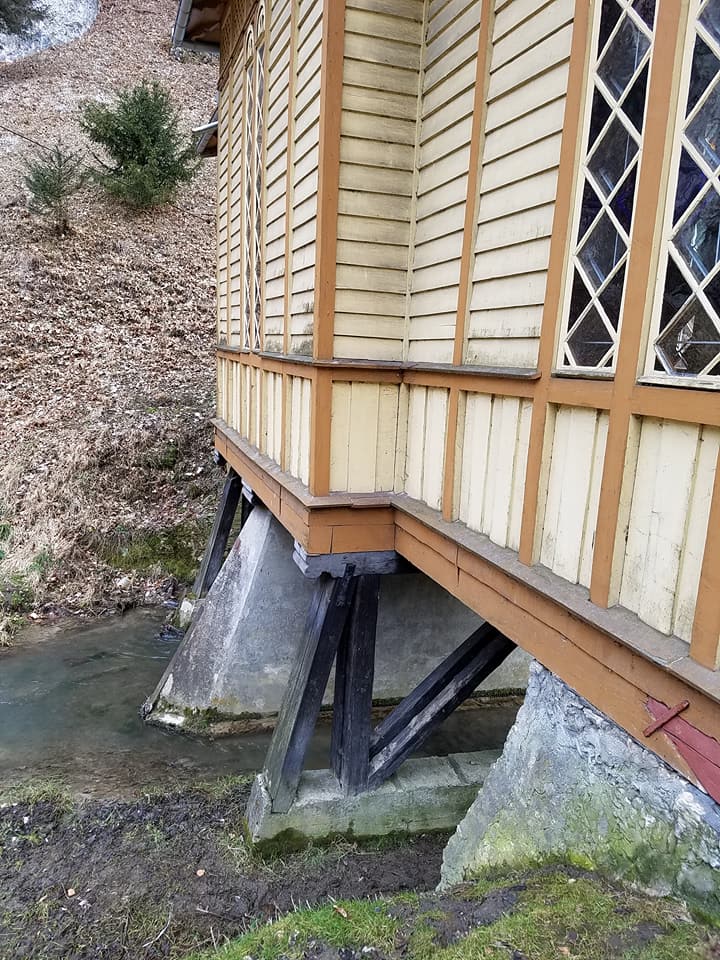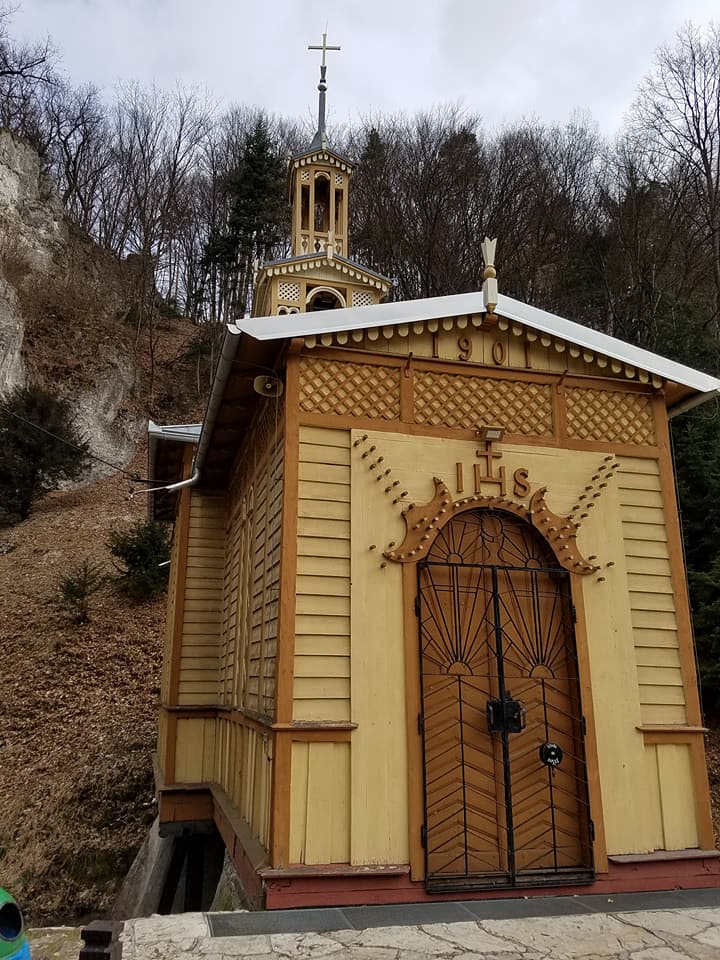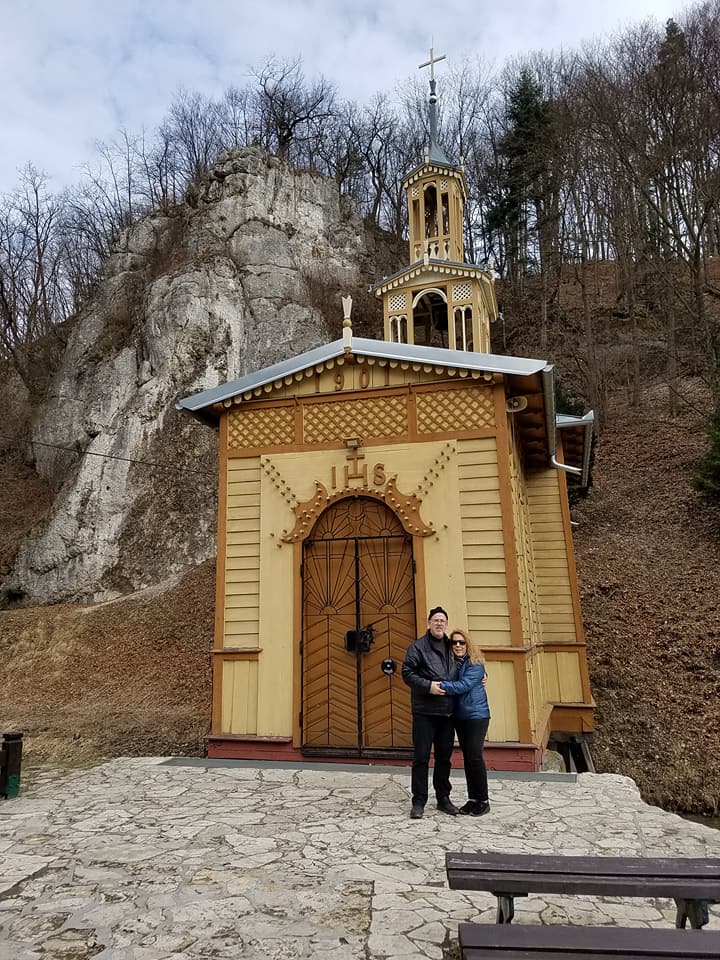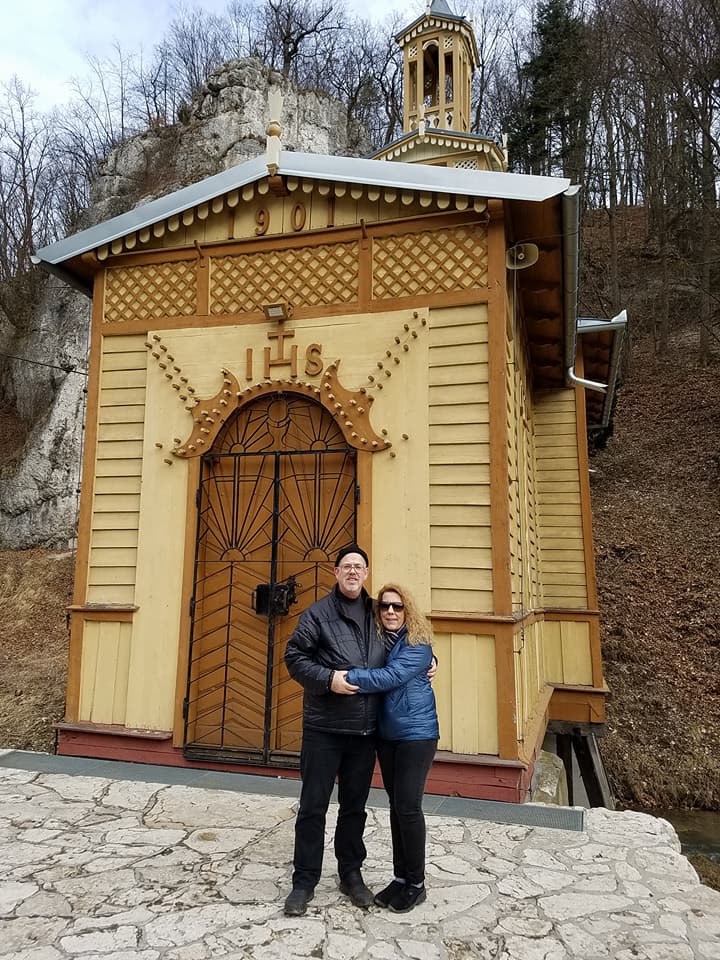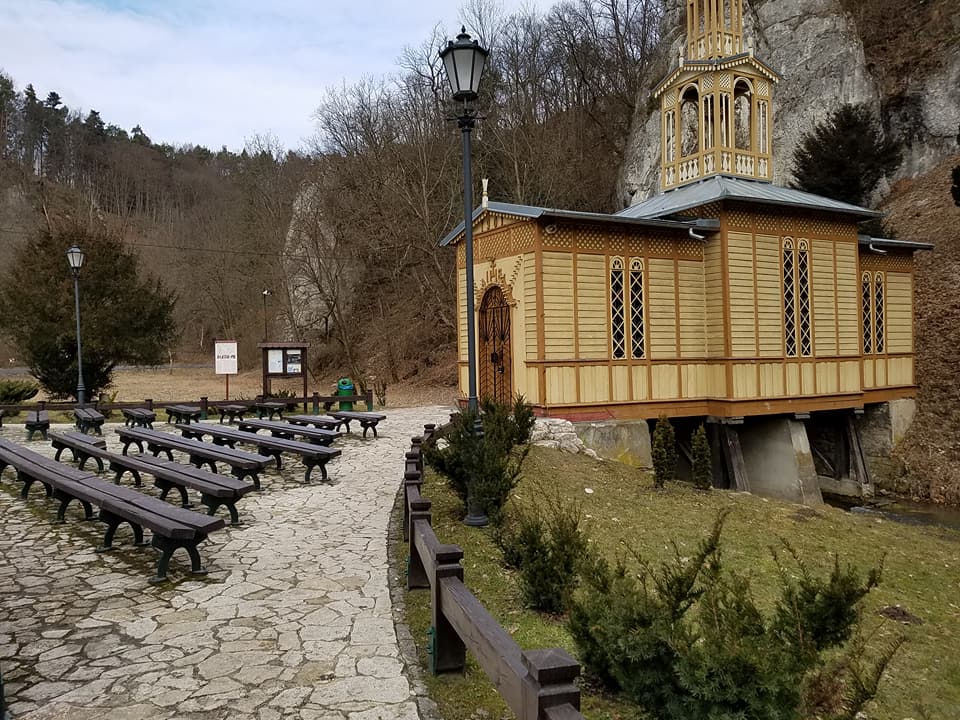 11:15 As we drove we saw hundreds of mole hills, especially on the way to the Ruins of Ojcow Castle (Zamek). All that is left is basically some columns that used to be part of the walls, a part of a tower and the main gate. But we hiked up to see what we could see.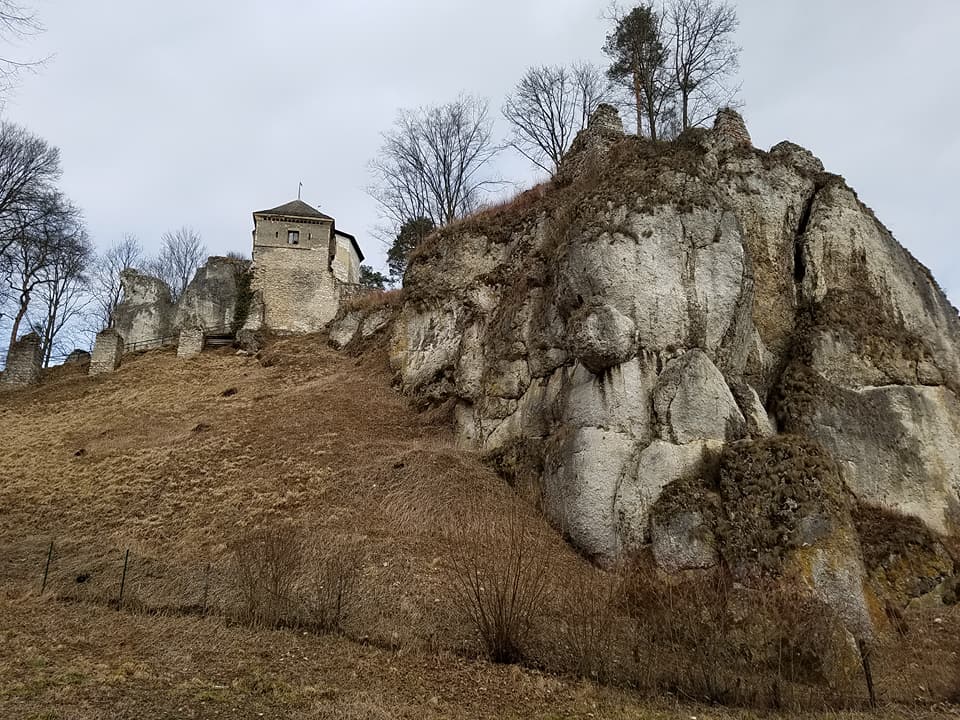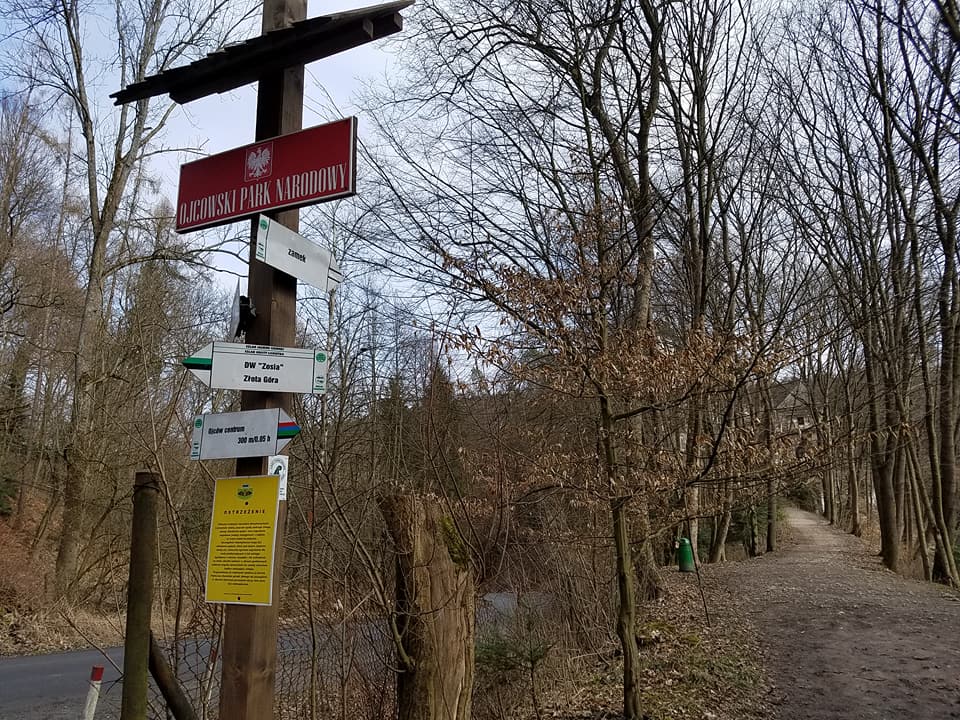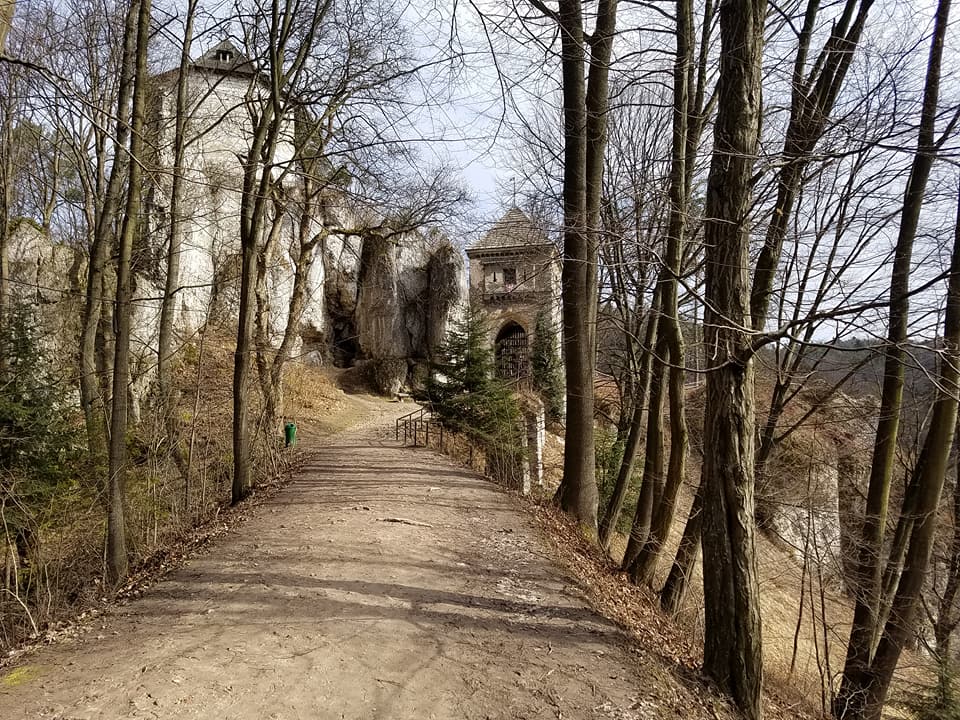 The tower, a cave, and the main gate of the Zamec.
The ruins were closed, but there wasn't really anything inside worth seeing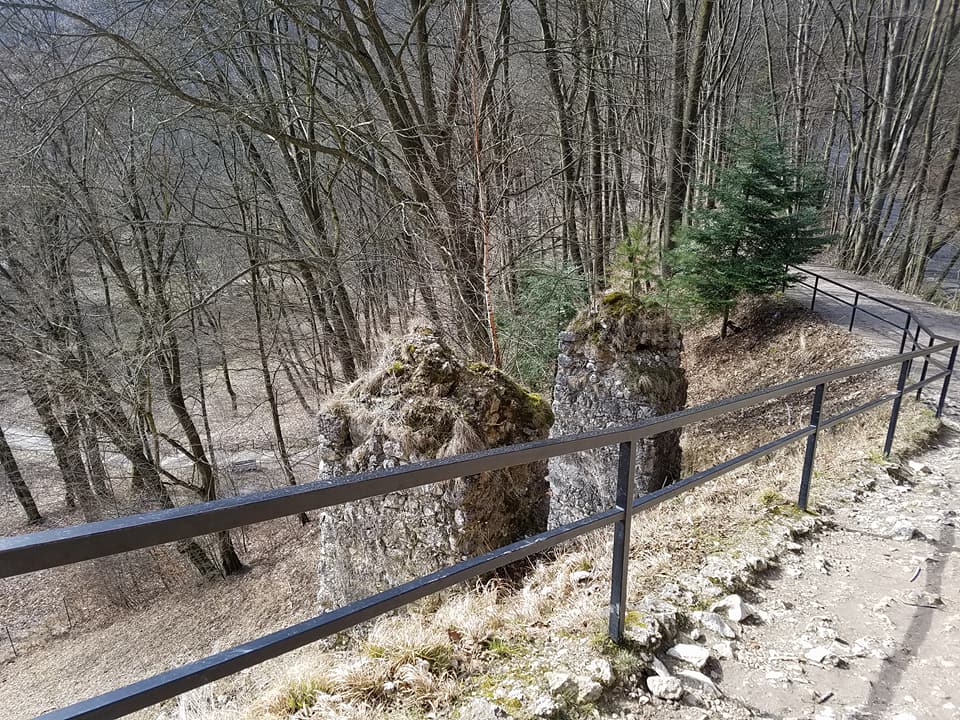 The cave near the entry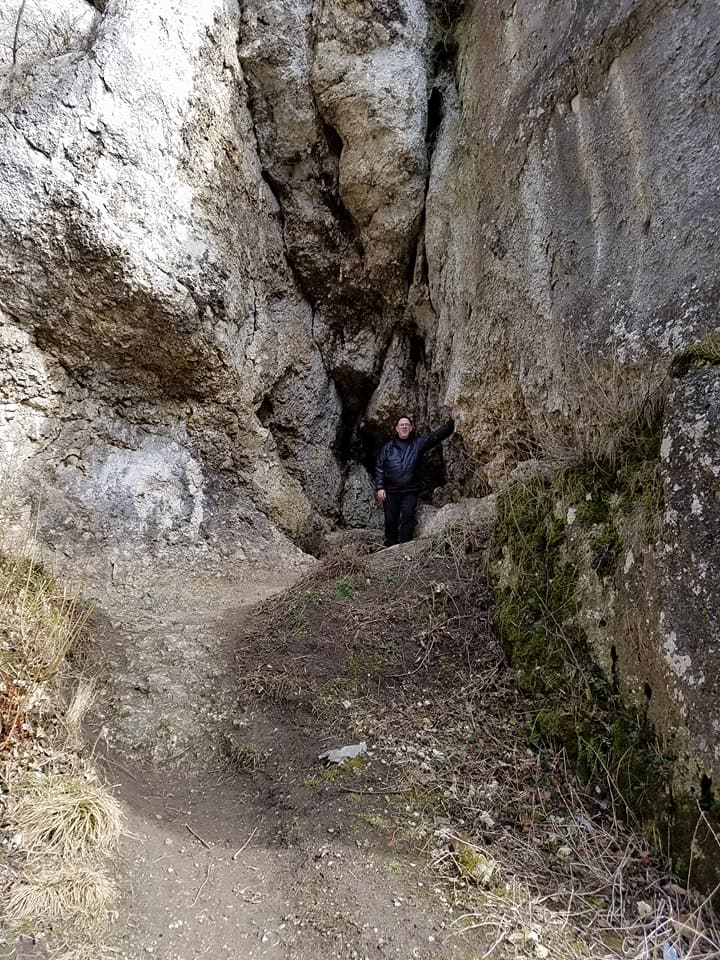 12:00 We stopped at a 'biker' hotel and restaurant for lunch... mostly log cabin feel with one or two bikes parked nearby.
Chochołowy Dwór is located on the Ojcow to Krakow - Olkusz route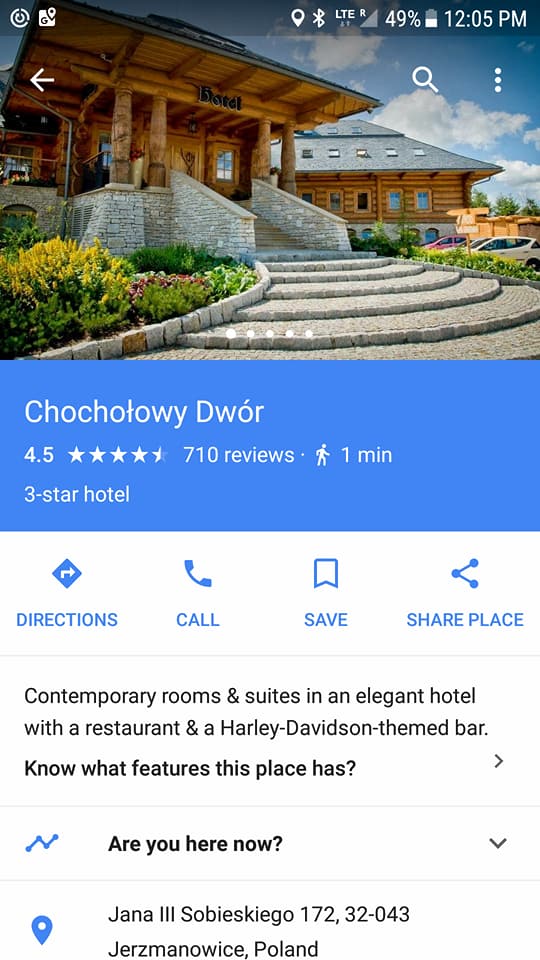 Gnocchi with leek, pumpkin, bacon and arugula for me, a latte and sour soup for Susann, and bread.

Gnocchi with leek, pumpkin, bacon and arugula for me, and sour soup for Susann, and bread.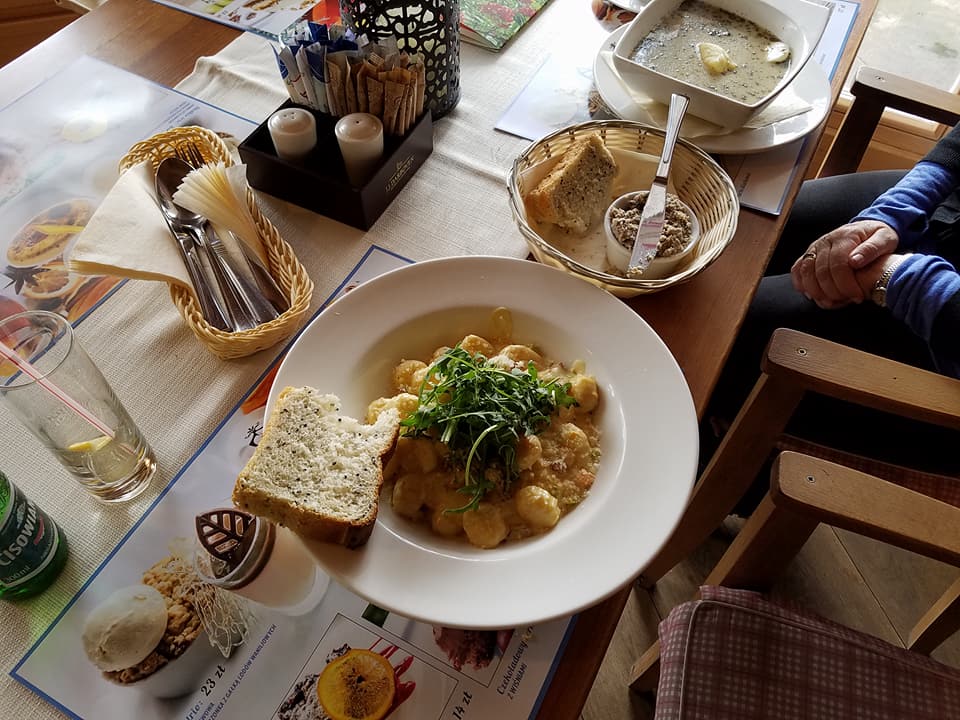 1:20 Back at the hotel.
After getting back to the hotel, we walked to the former Nazi Gestapo headquarters Pomorska 2 / Muzeum Historyczne Miasta Krakowa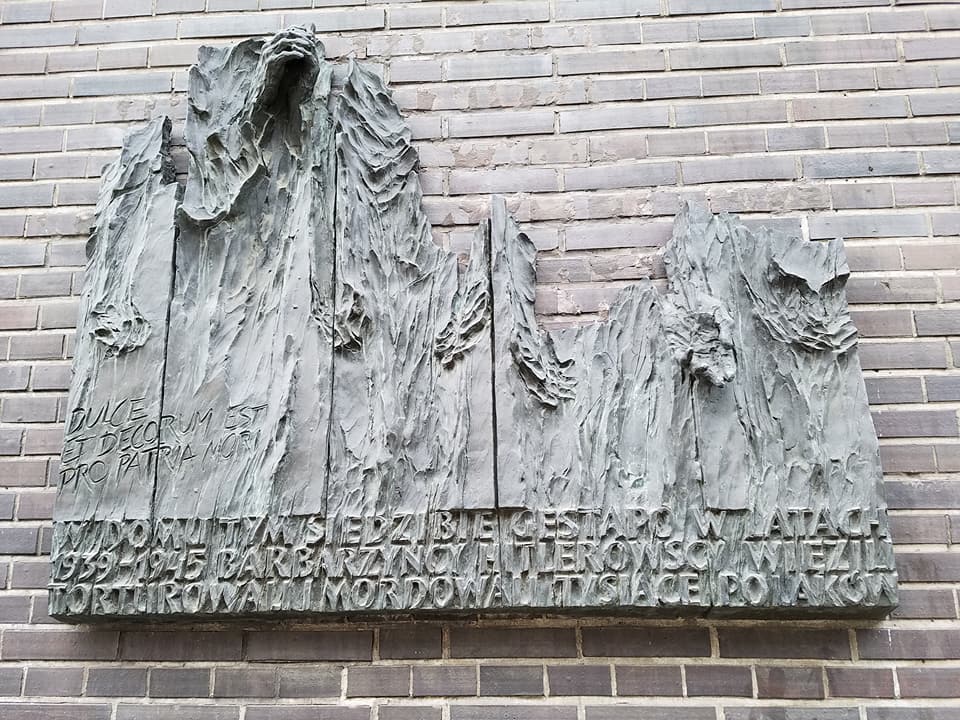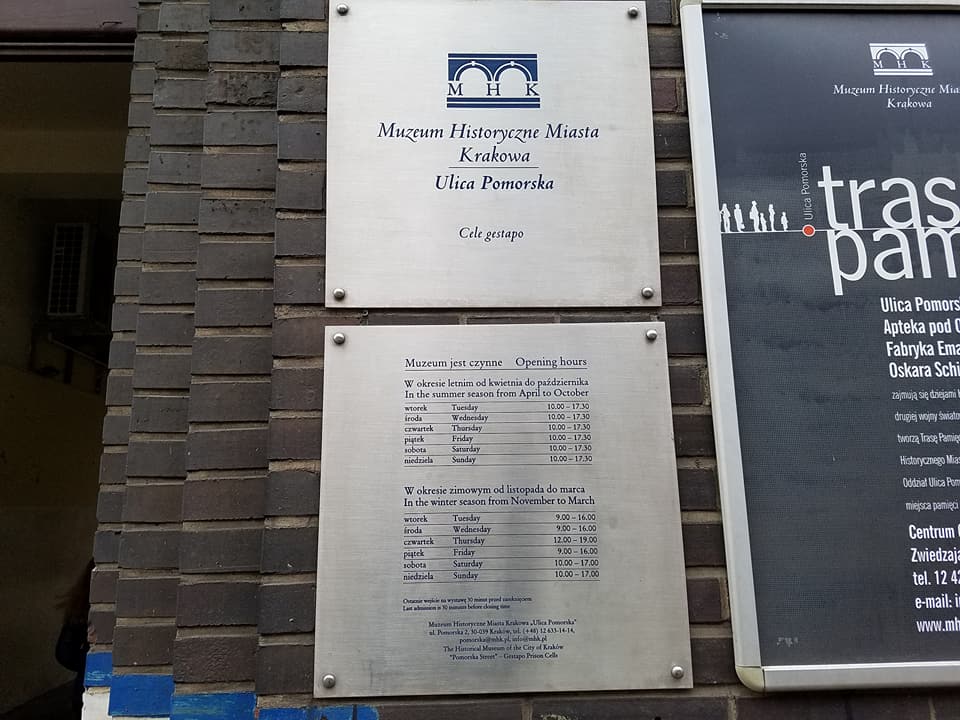 The building was used as offices during the occupation of Kraków by Nazi Germany's SS during World War II, and there is evidence of subsequent usage by the NKVD (the Soviet Union's People's Commissariat for Internal Affairs, the law enforcement wing which oversaw political repression in the 1940s and early 1950s.)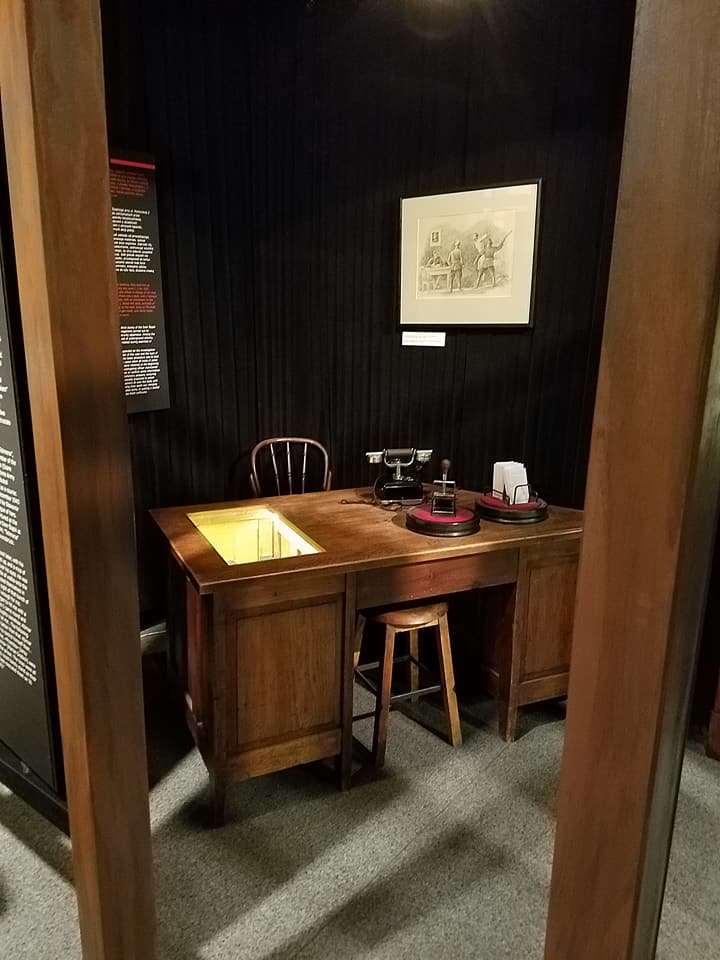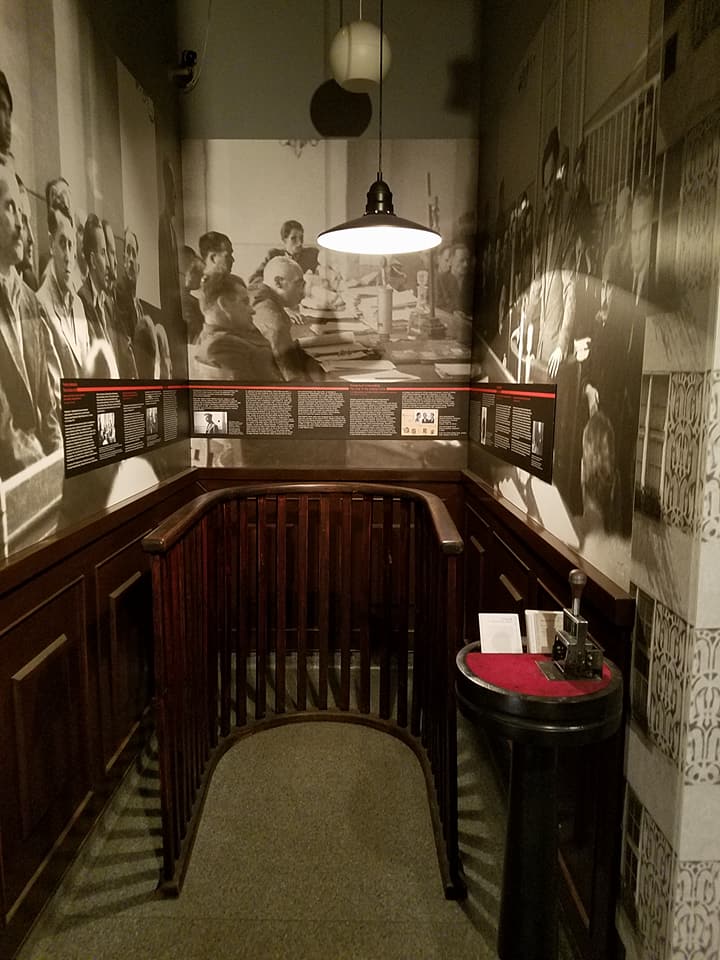 We then walked to the National Museum. There was an exhibit on Cartoon art, furniture and art used for a church by Stanisław Wyspiański, and ONE Leonardo

(No pictures allowed of the Leonardo, but they didn't say anything about taking a picture of the ticket...)

17:20 We then used the Jakdojade app to get us to the bus stop with almost perfect timing... to take us to the Abbey in Tyniec, which is on a cliff over the Vistula River

Our dinner was at a very rustic place, Chata polskakuchnia, near the hotel complete with sheepskins... the pork chop was HUGE and the goulash was great.
51,40 Złoty + 7,60 Złoty tip

Then to Awiteks bakery for, of course, Pączki for dessert, 3,98 Złoty
7:30 Up
8:45 Breakfast
9:30 Tram to the Polish Aviation Museum.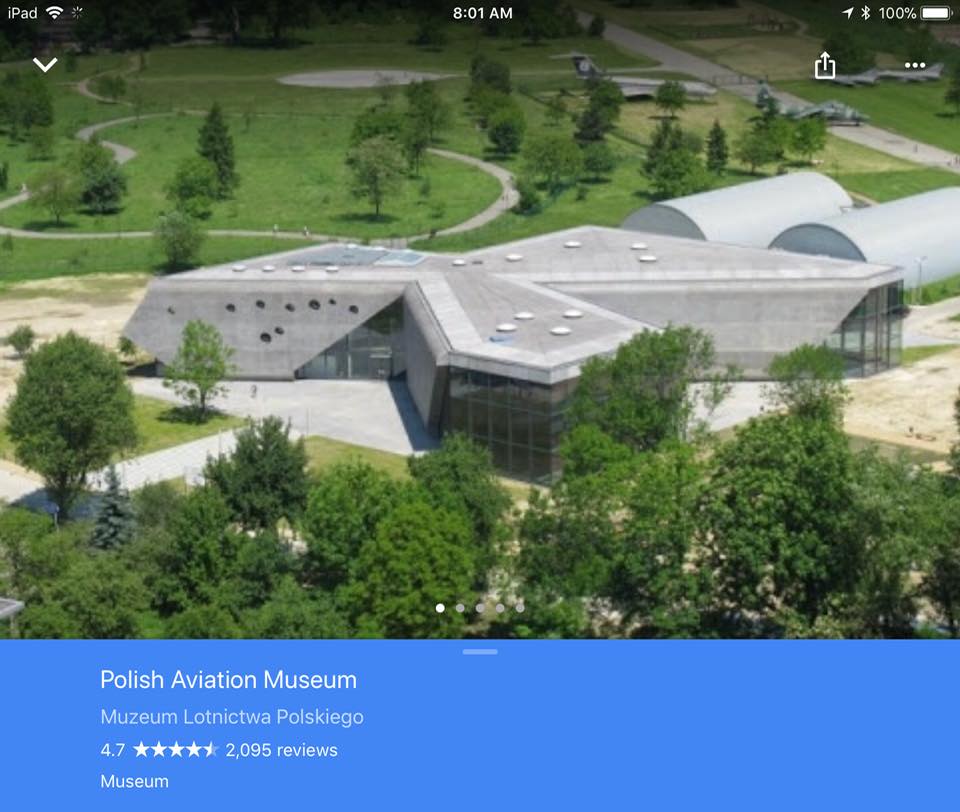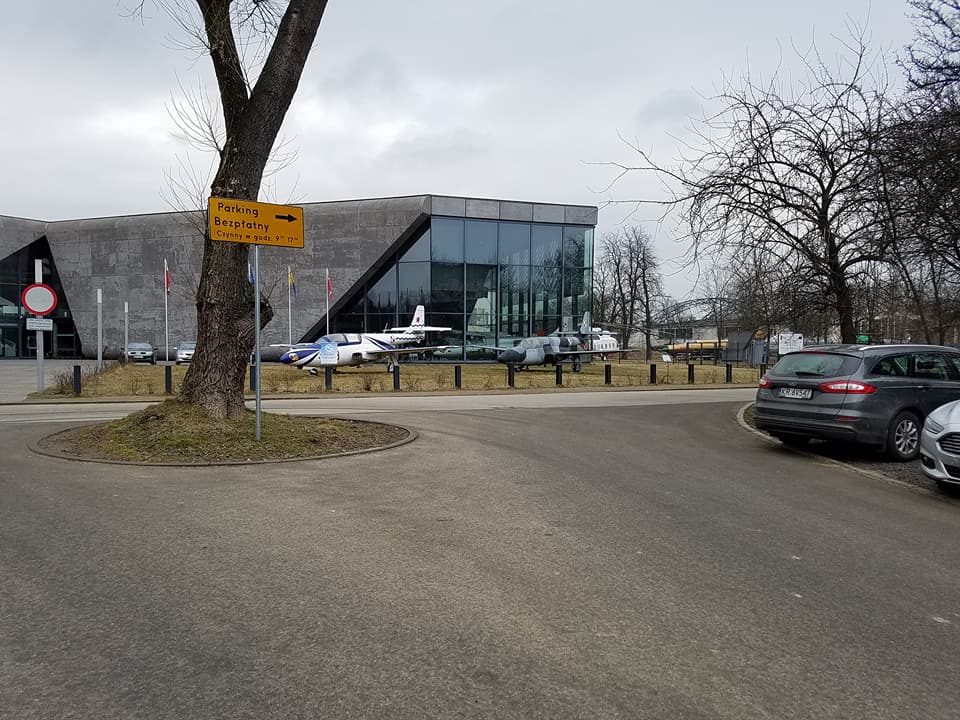 Reminds me of when I used to fly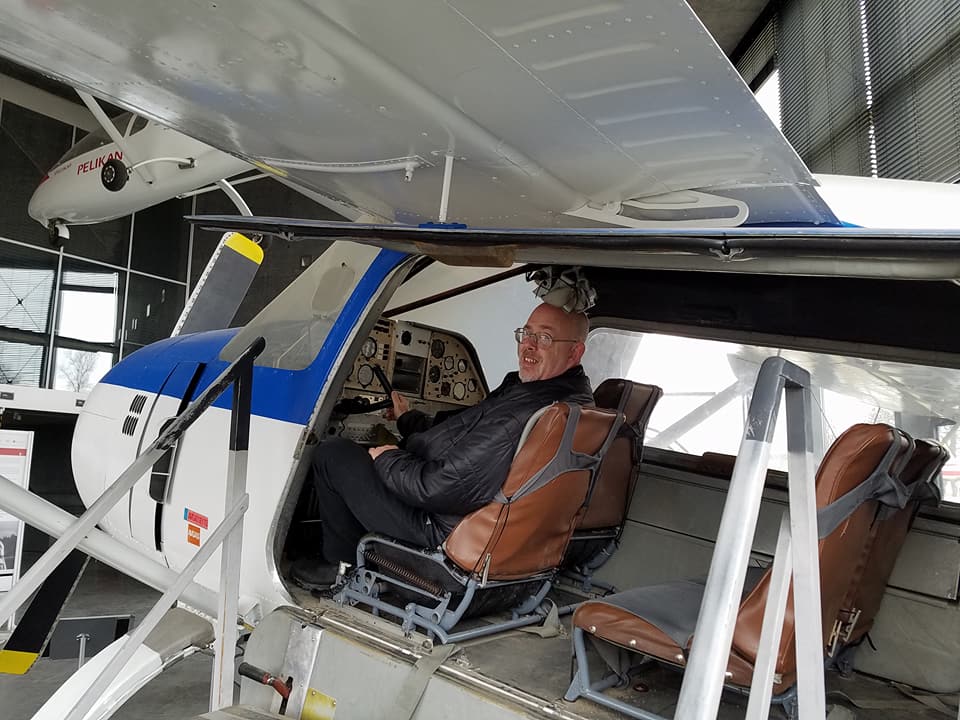 Old Airport equipment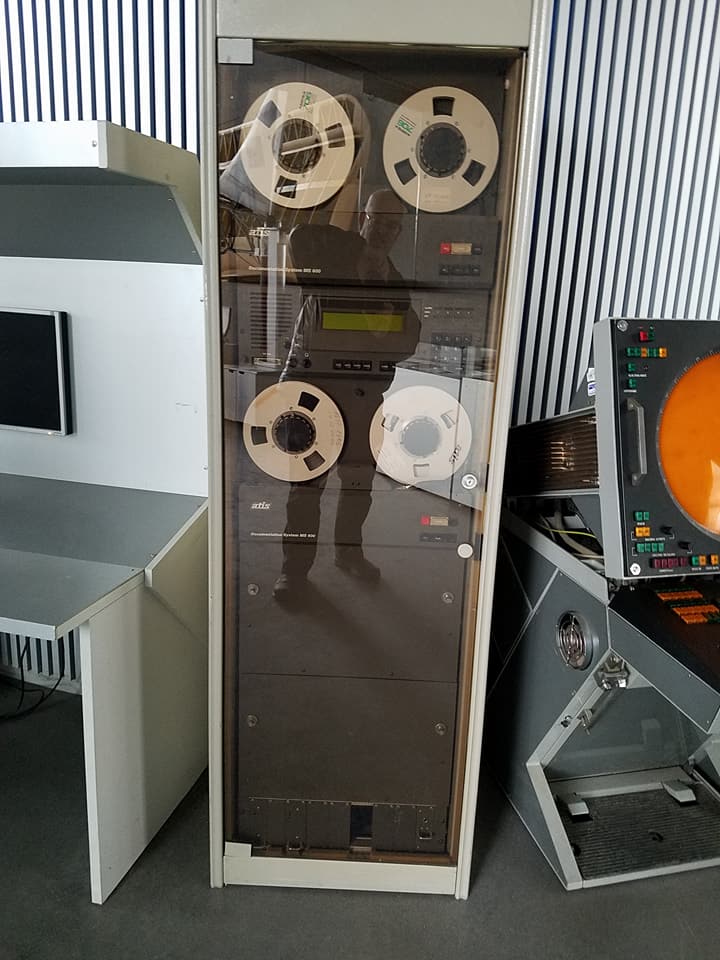 Mil Mi-8 helicopter used by Pope John Paul II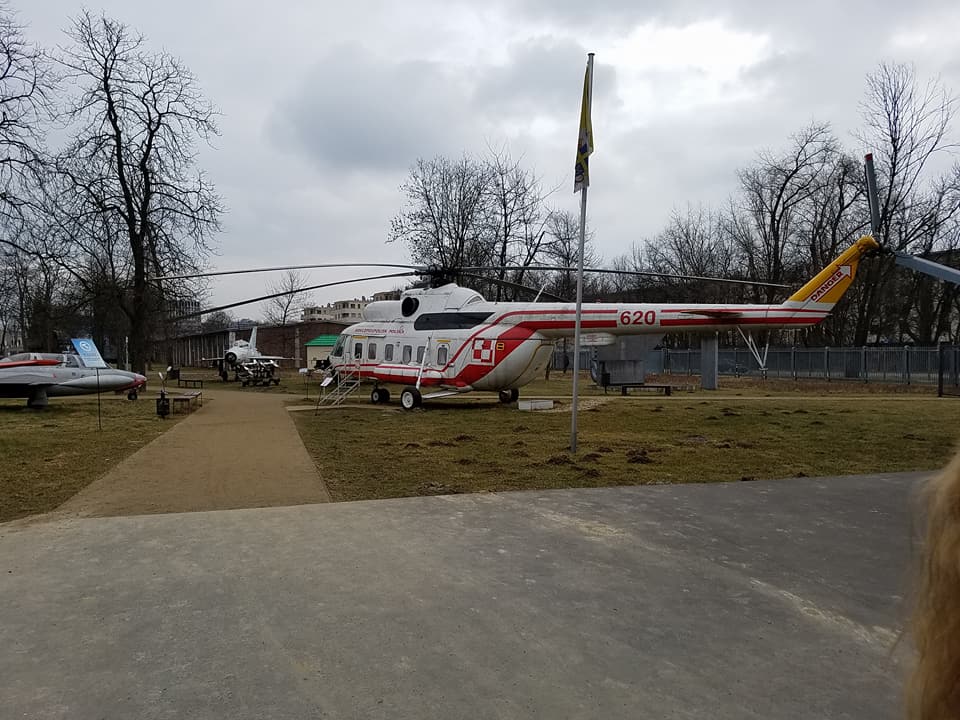 See https://en.wikipedia.org/wiki/Polish_Aviation_Museum#Fixed-wing_motorized_aircraft for all aircraft details
Lots of Sukhois and Mikoyan-Gurevichs, like this MiG 21

Yakovlev Yak17

Lots of WWI aircraft, like this Sopwith Camel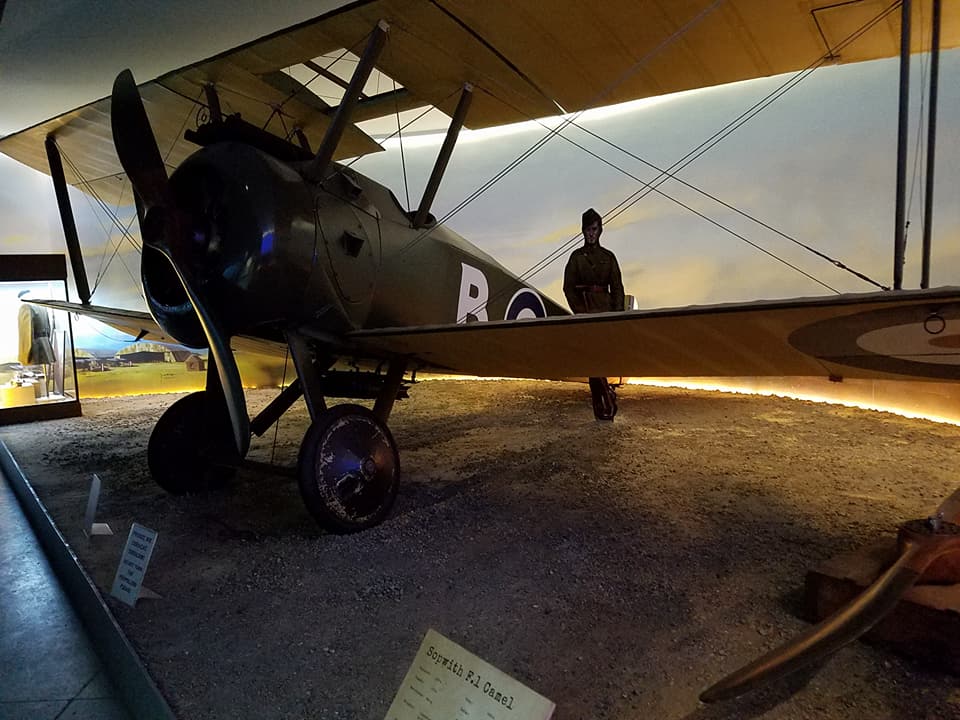 Russian flying boat, the Grigorovich M.15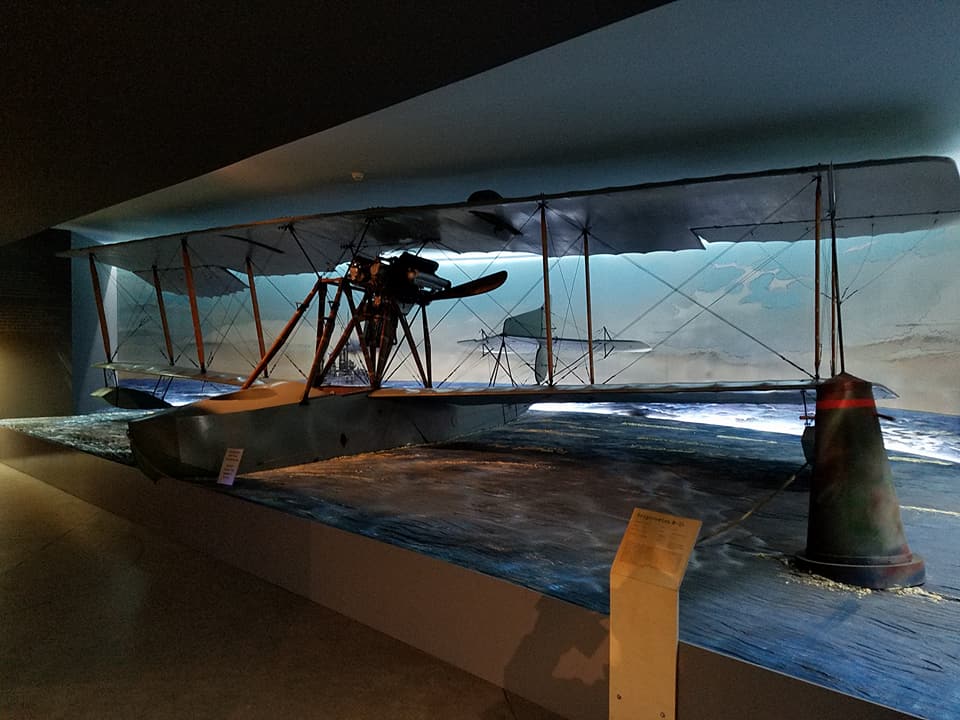 Albatross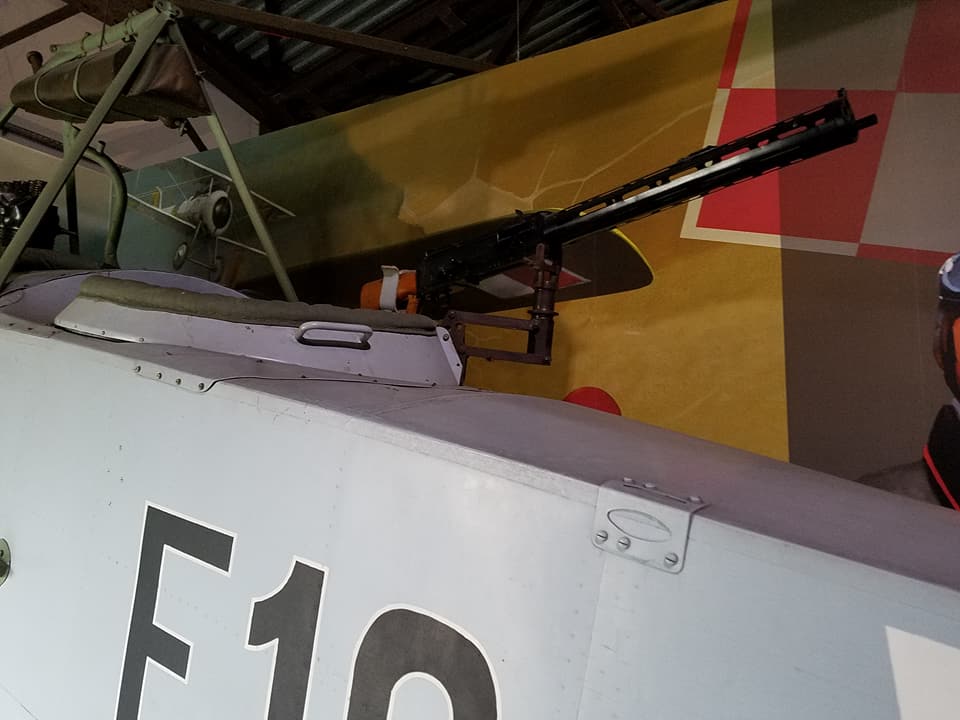 Cold war jets, like the Aeritalia F-104S Starfighter was a licensed production Italian version of the Lockheed F-104 Starfighter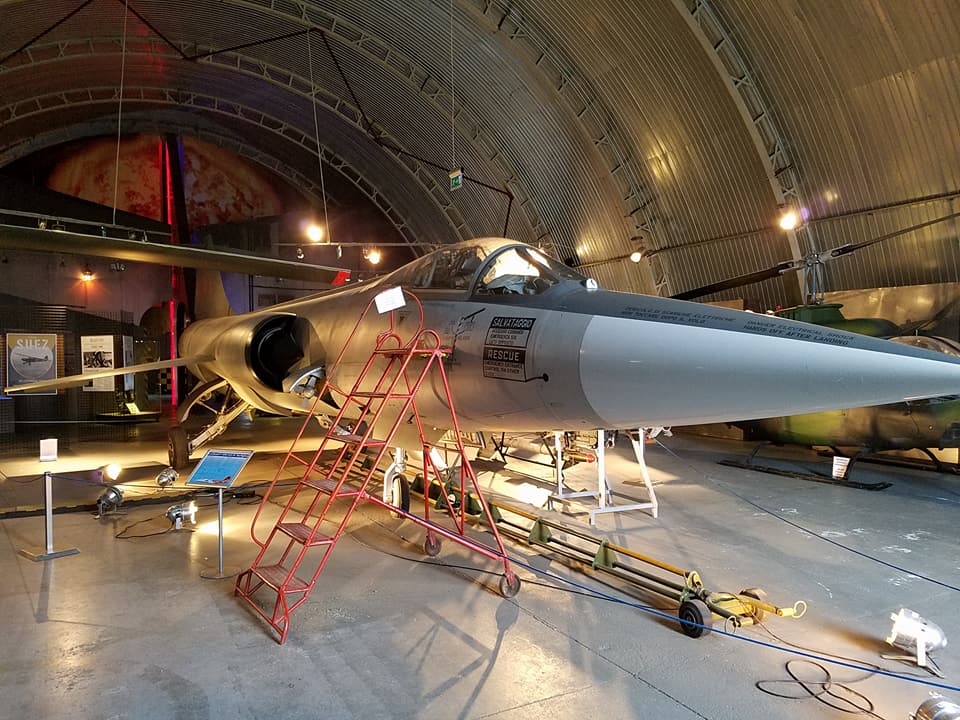 Dassault Mirage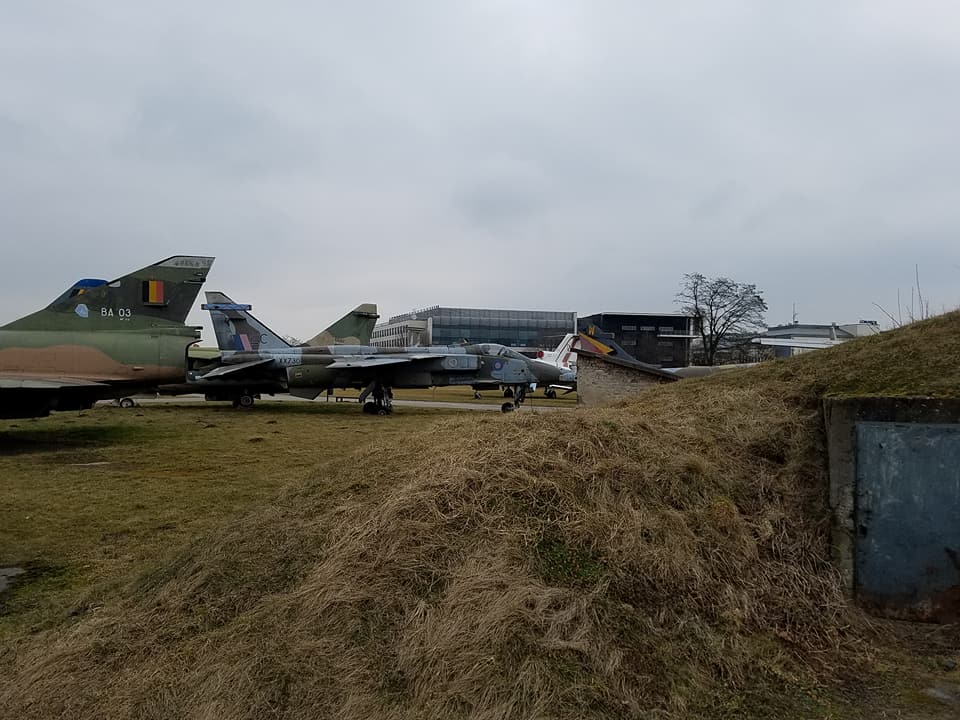 Republic F105 Thunderchief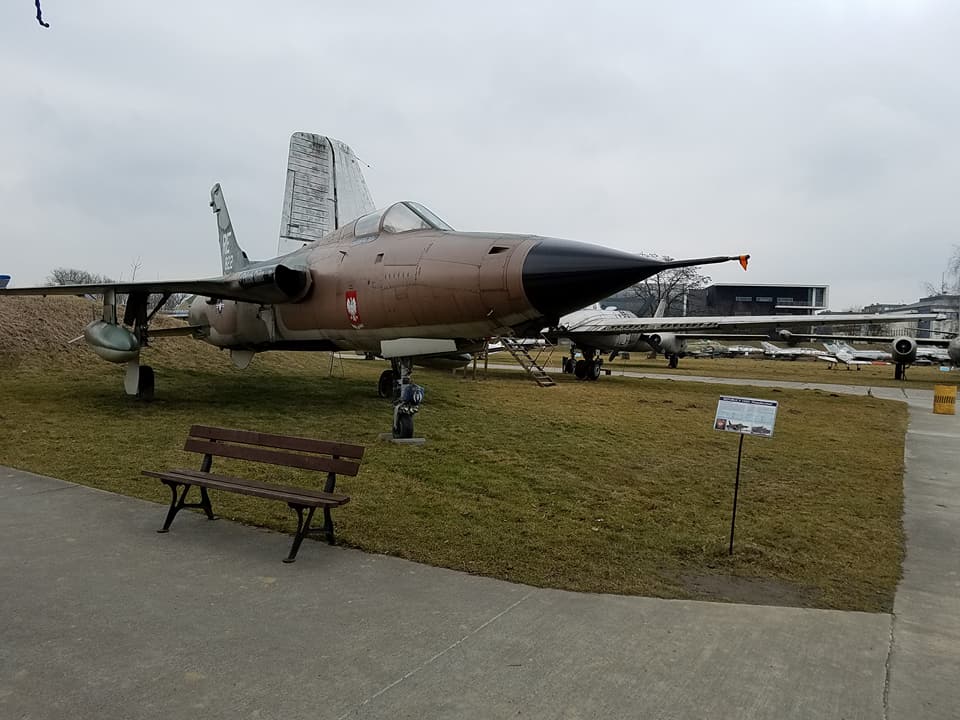 WW II transports, DC 3 and Junkers Ju52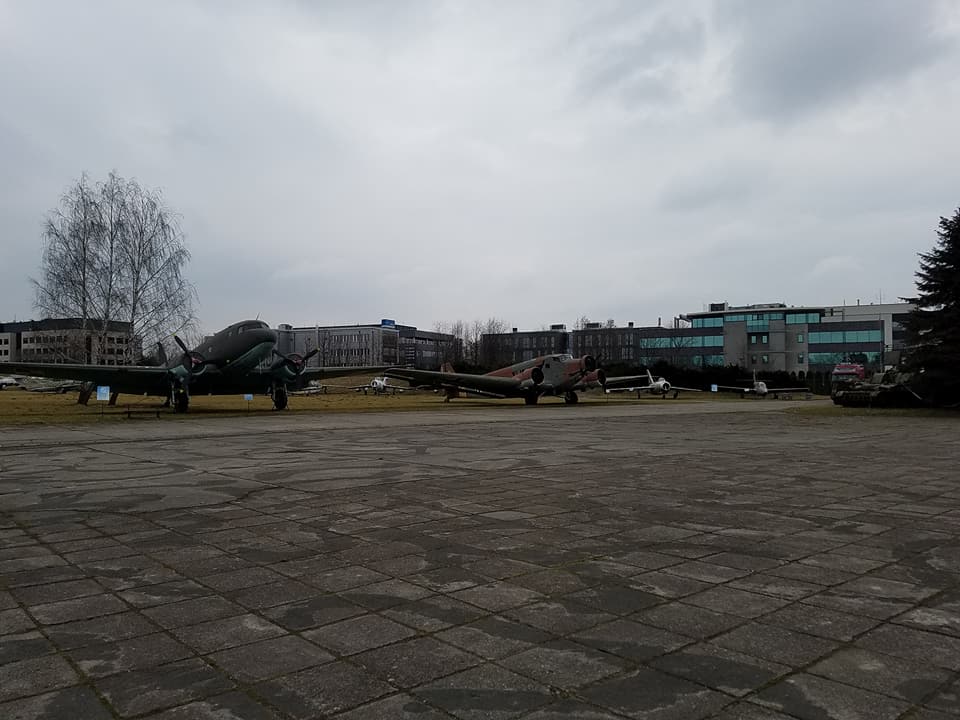 Saab Draken and Viggen

Ilyushin Il-28

Mig 29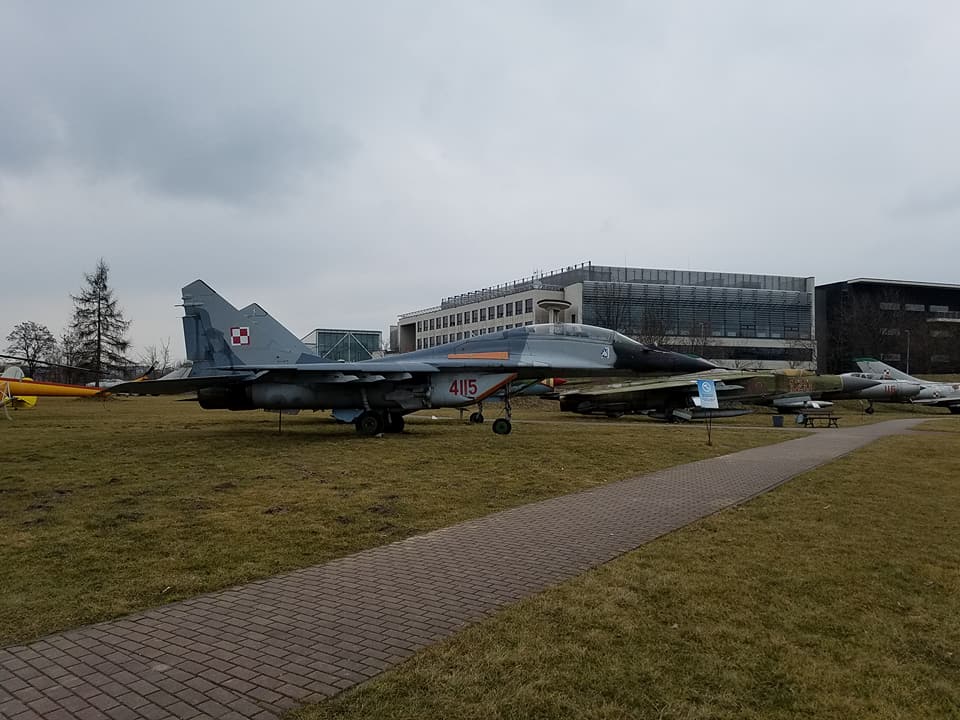 MiG 23

MiG 19

MiG 15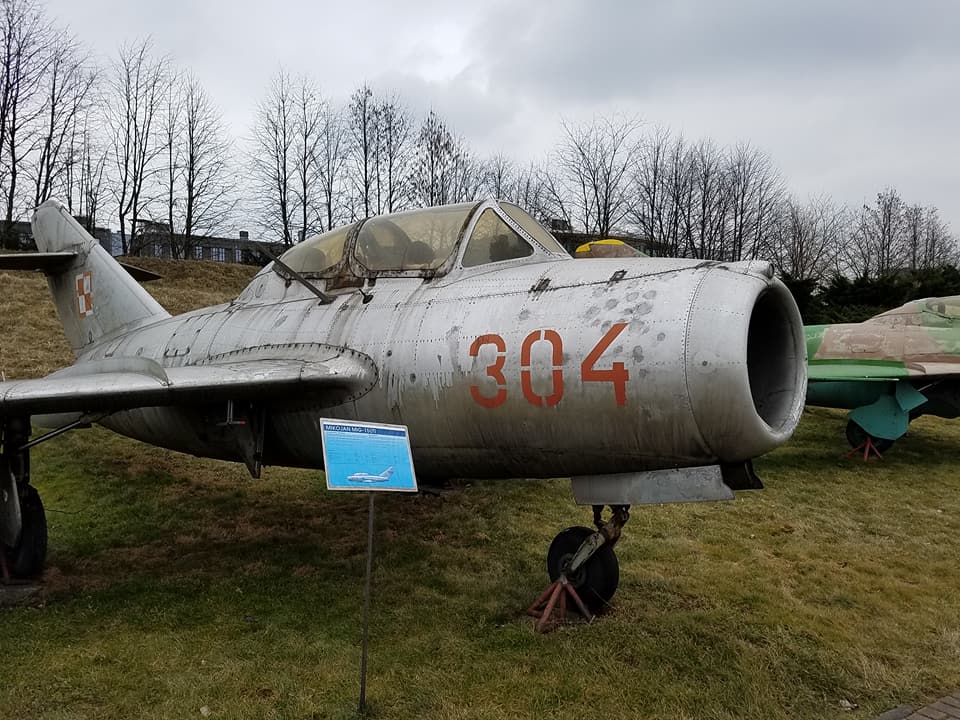 Ju52, and DC 3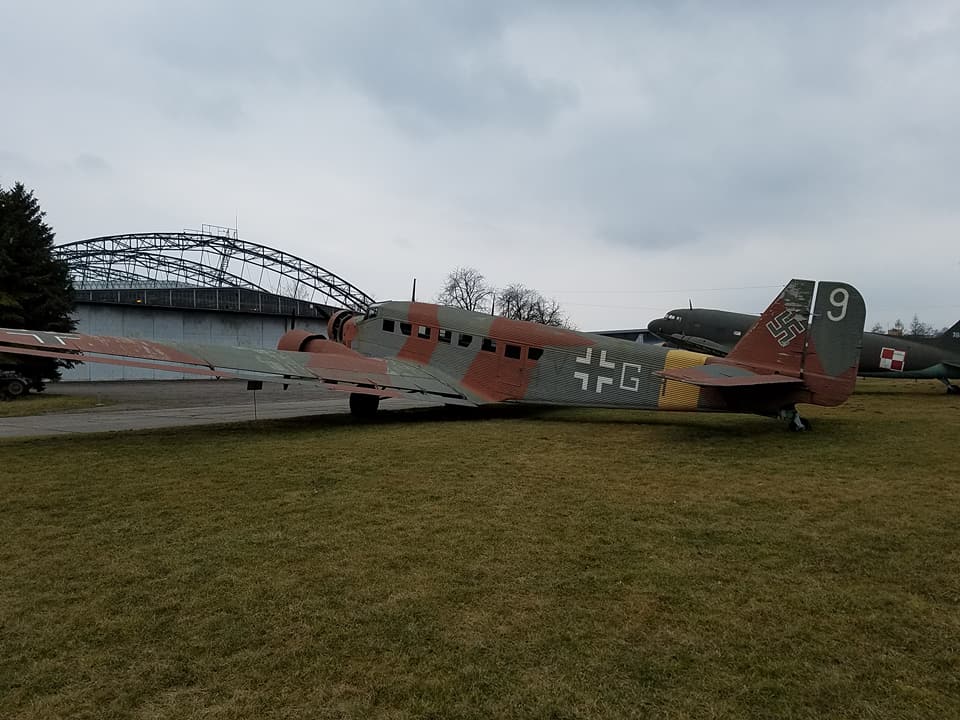 We then decided to head to Kościuszko Mound... which required a bus ride, then trander to another bus (mini-van).
We got across town, but had a bit of a wait for the bus to the Mound, so we grabbed some pastry at Pieczywo Buczek: Slimak z Serum. 8,70 Złoty
12:05 Mini bus (Route 100) to Kościuszko Mound
Kraków has four memorial mounds; two prehistoric mounds ( Krakus Mound and Wanda Mound), and two modern ones (Piłsudski Mound and Kościuszko Mound).
Kościuszko Mound was erected by Cracovians in commemoration of the Polish national leader Tadeusz Kościuszko. A serpentine path leads to the top, approx. 32 metres (1120 ft) high, with a panoramic view of the Vistula River and the city. It was completed in November 1823.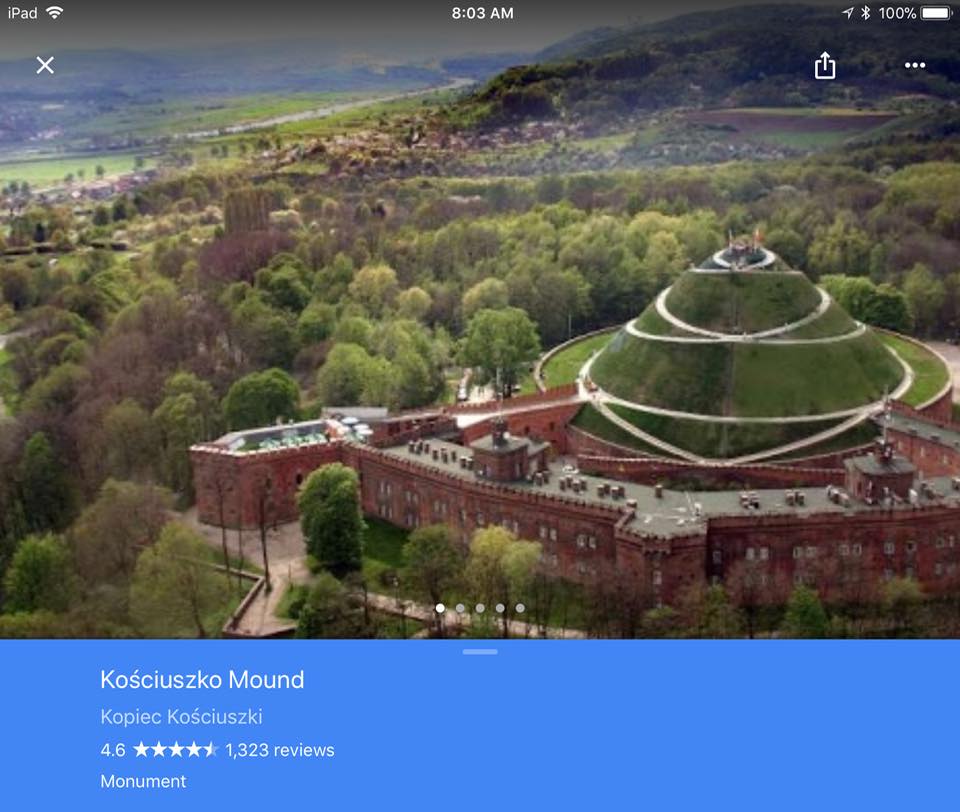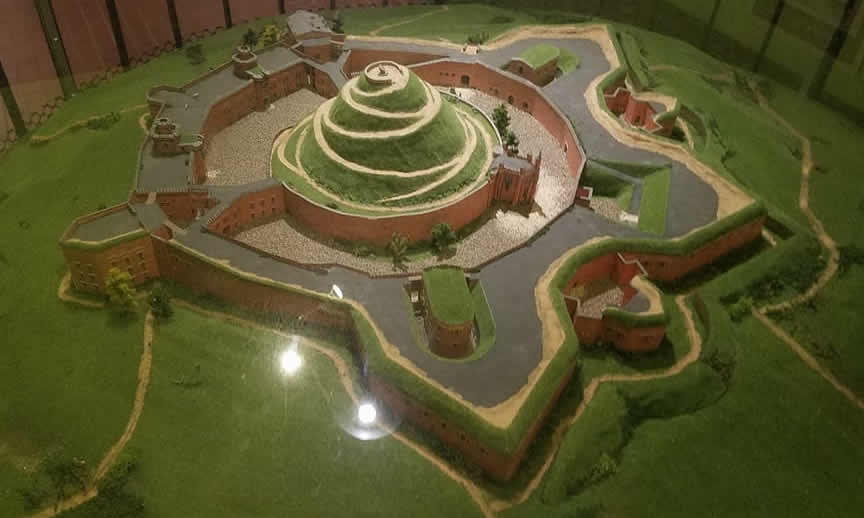 Up we went, in the cold and damp on slippery cobblestones, overlooking the fort, going round and round until we got some great views from the top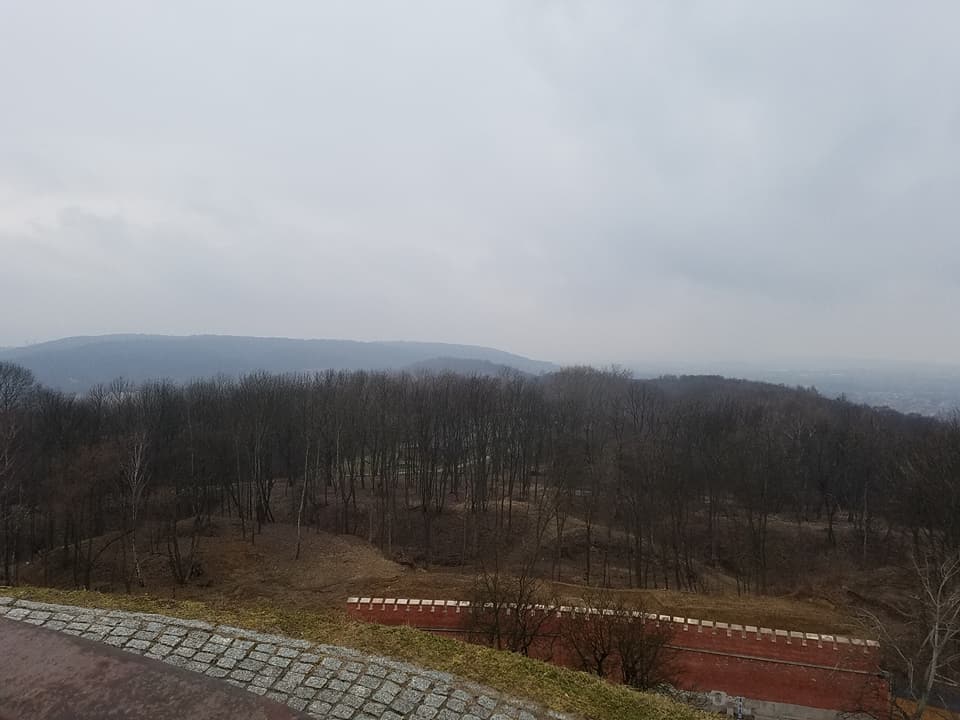 Then we headed back down, and headed to the Bastion and wax figure and museum exhibits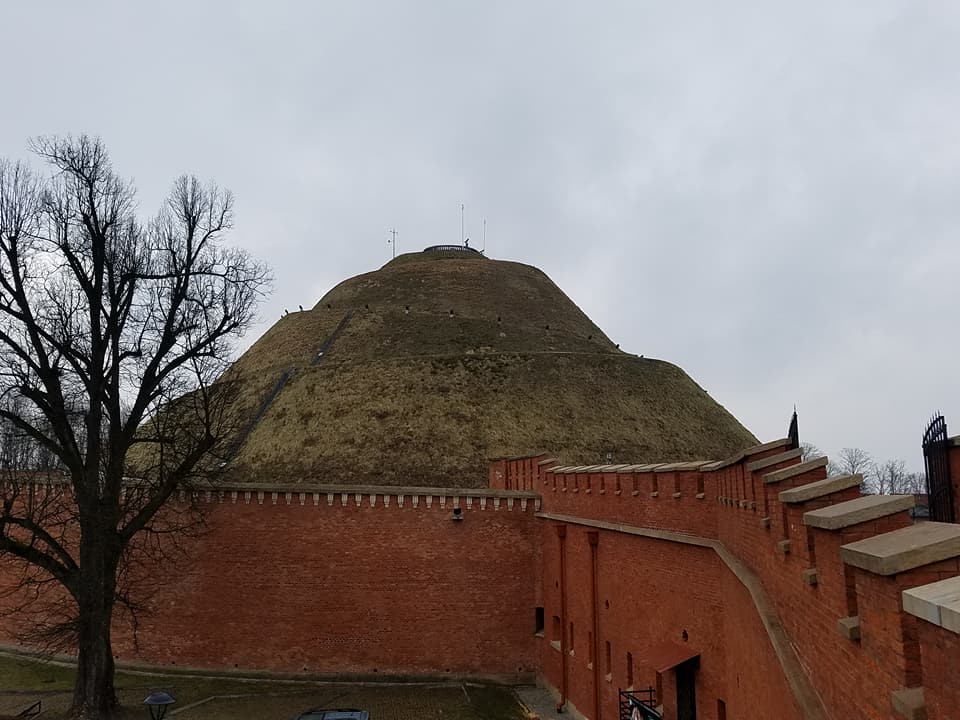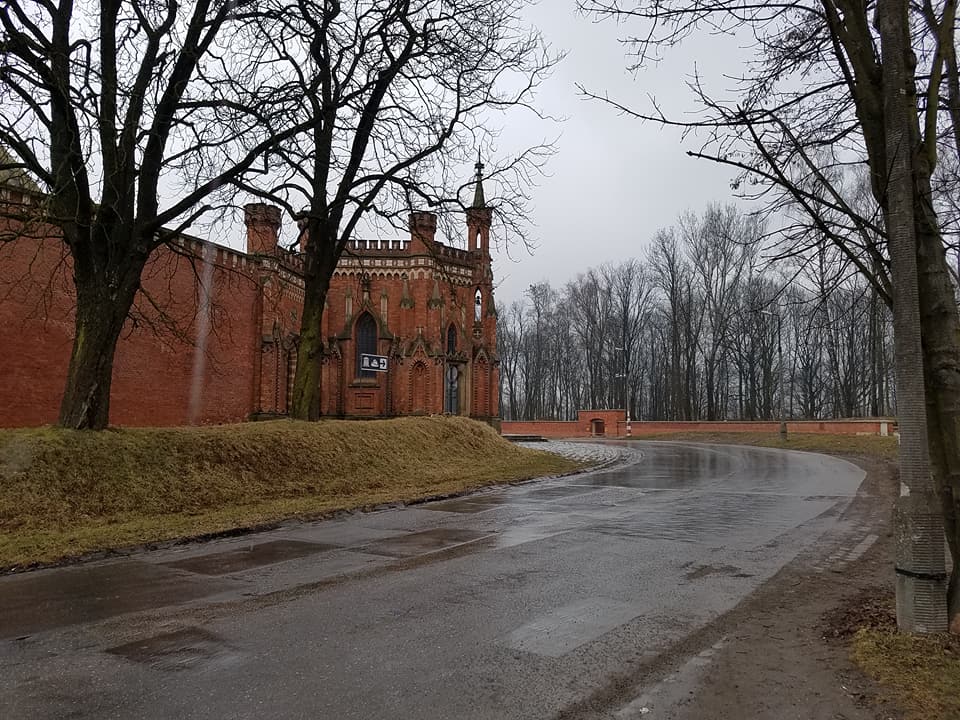 13:00 We caught the minibus back to town and jumped a regular bus to get back to Old town;
from there we headed to a Milk Bar... kind of a diner, for lunch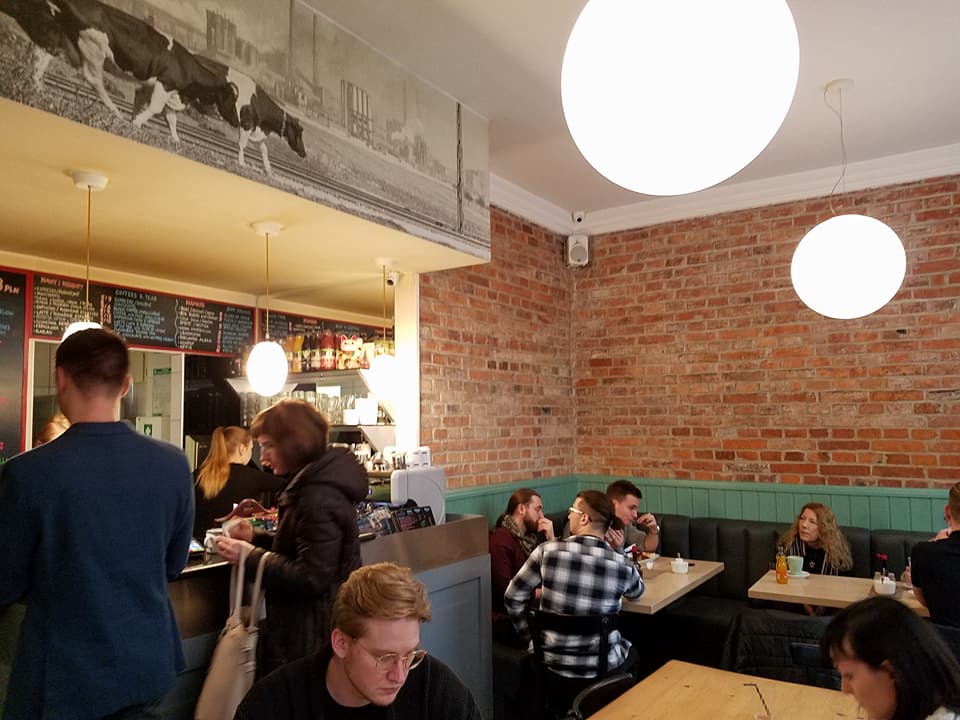 Tomesza for pannini, 42,00 Złoty
Not pictured, the Irish couple next to us.
We stopped at the Witaminko Grocery and bought tons of Fudge, 10,51 Złoty
We saw a souvenir shop, and grabbed a few souvenir for 10,90 Złoty

Then we headed back to the Cloth Hall; the upstairs portion houses the great Sukiennice Museum division of the National Museum, Kraków.
The museum houses the largest permanent exhibit of the 19th-century Polish painting and sculpture in four large exhibition halls which are arranged by historical period. The Gallery opened on October 7, 1879, and features late Baroque, Rococo, and Classicist 18th-century portraits and battle scenes by Polish and foreign pre-Romantics: the art of partitioned Poland by Jan Matejko, mythological and biblical scenes including some by Henryk Siemiradzki, plus the art of Jacek Malczewski, Józef Chełmoński; prominent impressionists Józef Pankiewicz and Leon Wyczółkowski; paintings by Wojciech Gerson and Julian Fałat, as well as large, and controversial Ecstasy, or Frenzy of Exultations by Władysław Podkowiński among other masterpieces.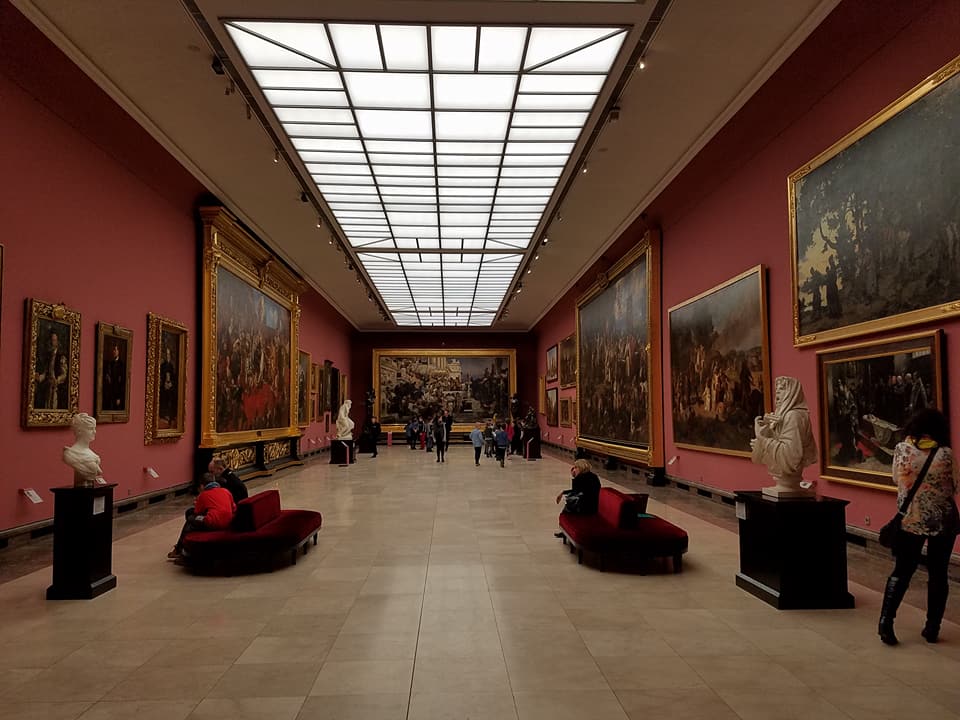 Jan Matejko

the monumental Nero's Torches by Henryk Siemiradzki on the left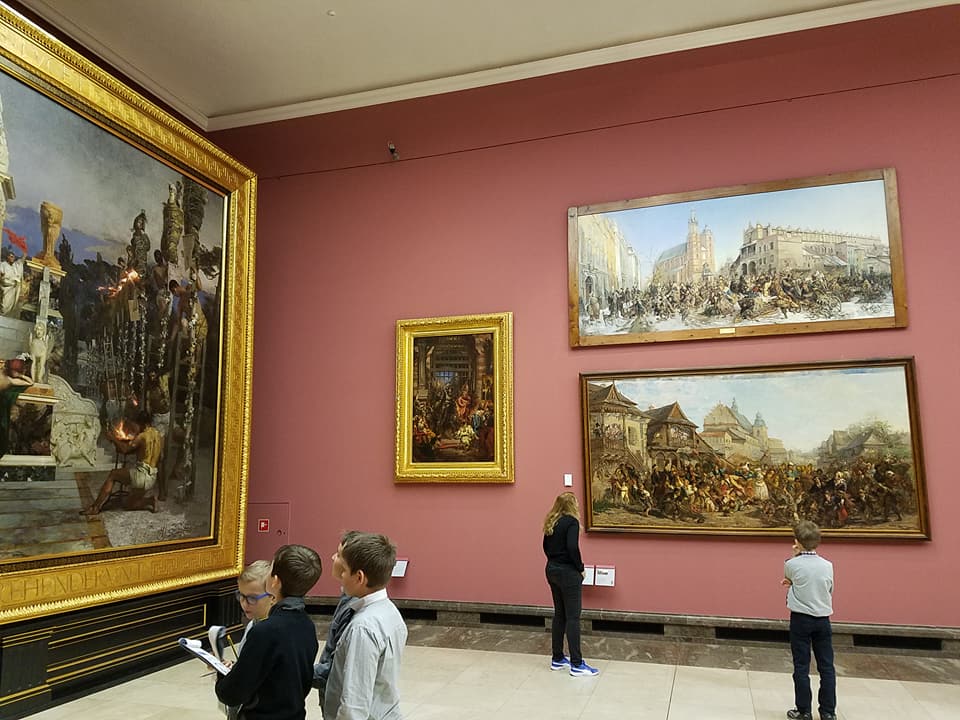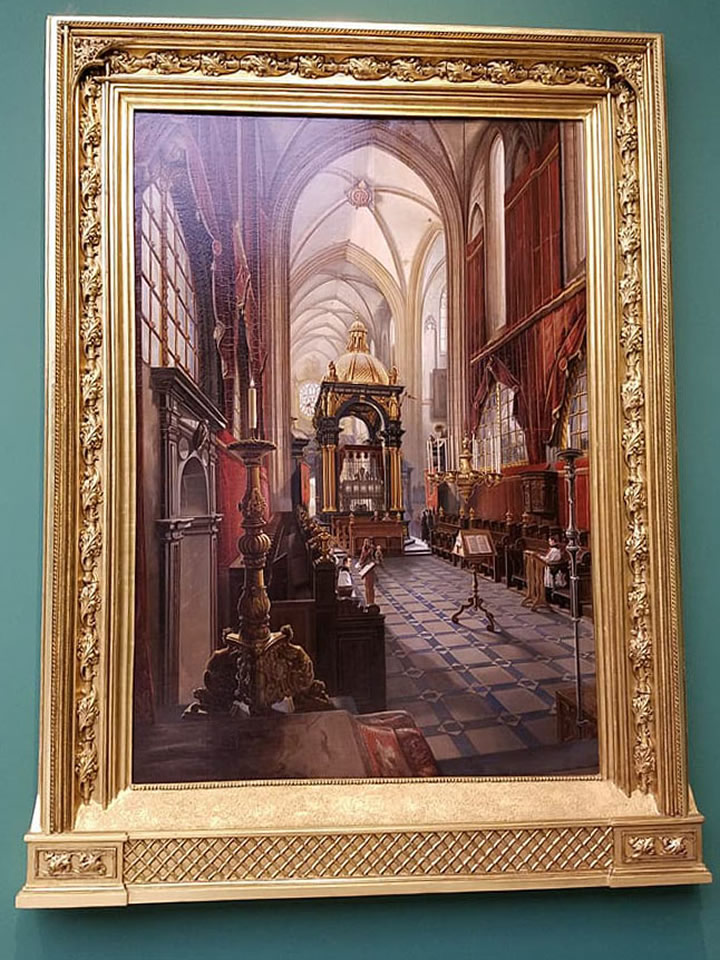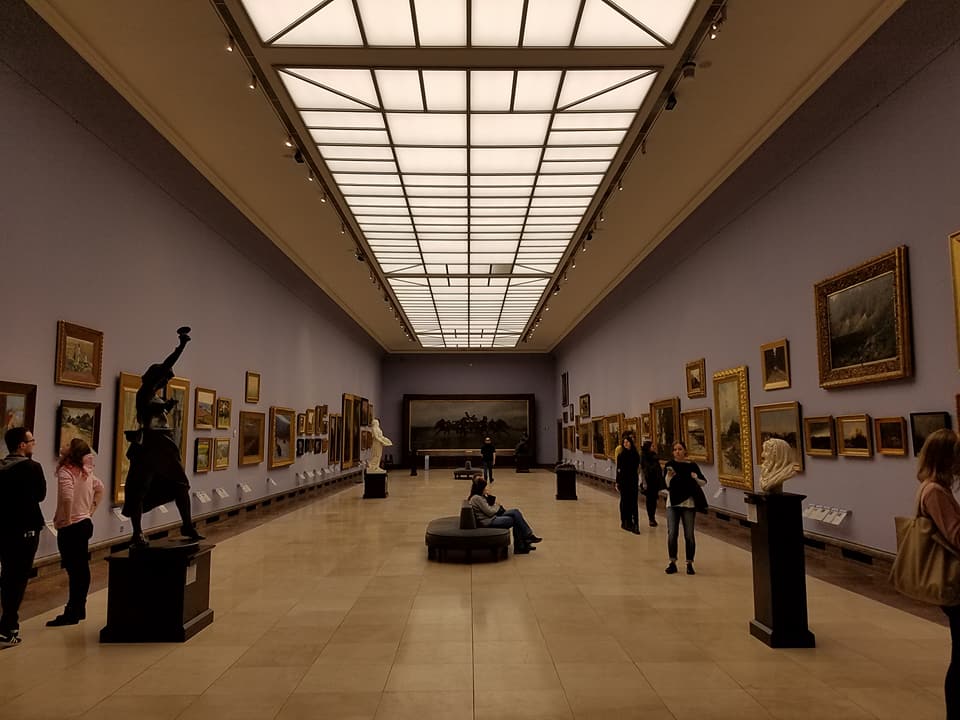 Then we walked to the Europeum, with art from non-Polish artists, such as Rembrandt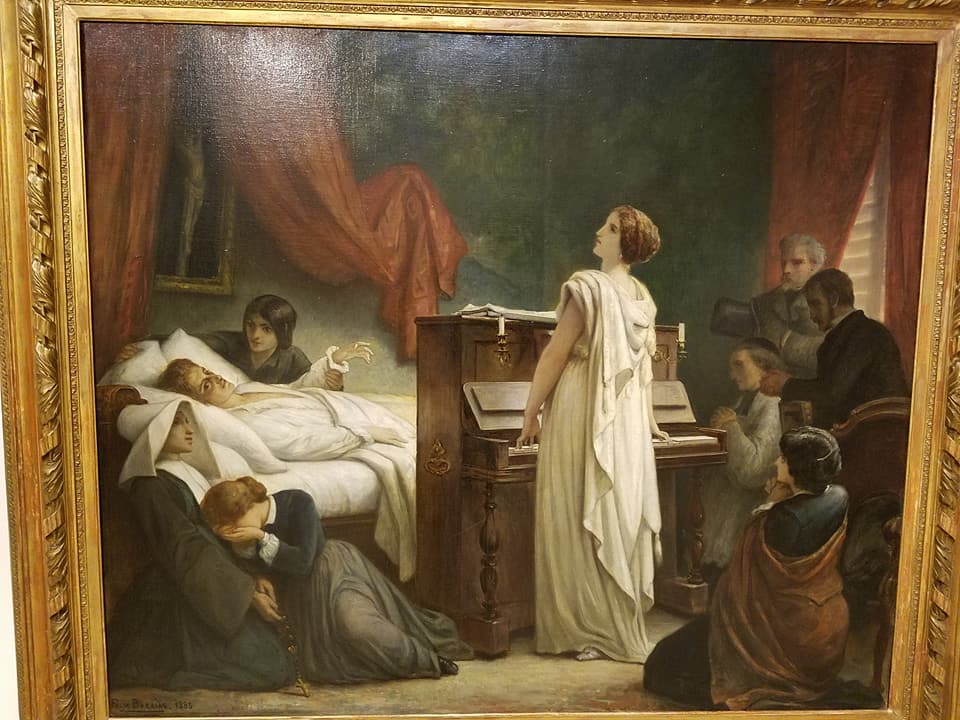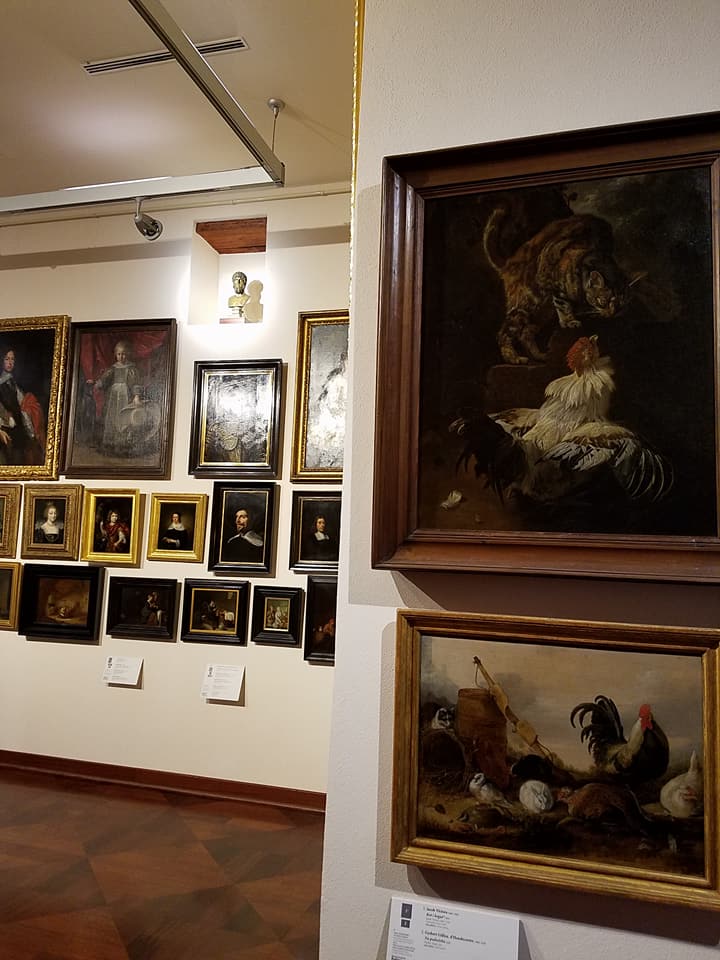 Rembrandt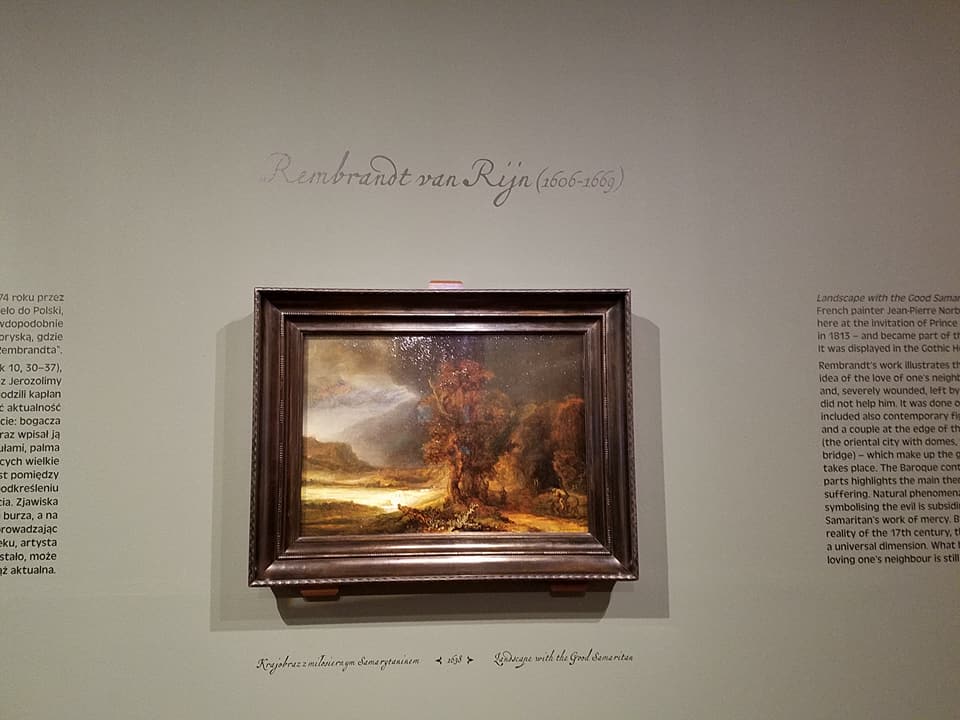 We wandered into a movie set, they were shooting in the courtyard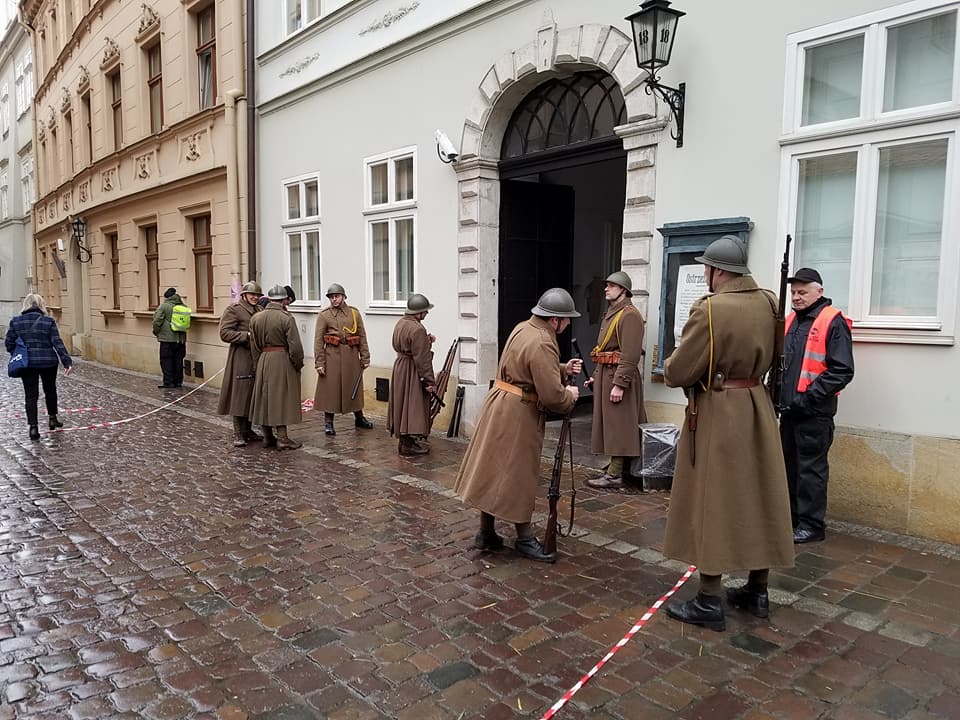 Heading back to Old Town, we passed a Statue of Nicolaus Copernicus (Posąg Mikołaja Kopernika)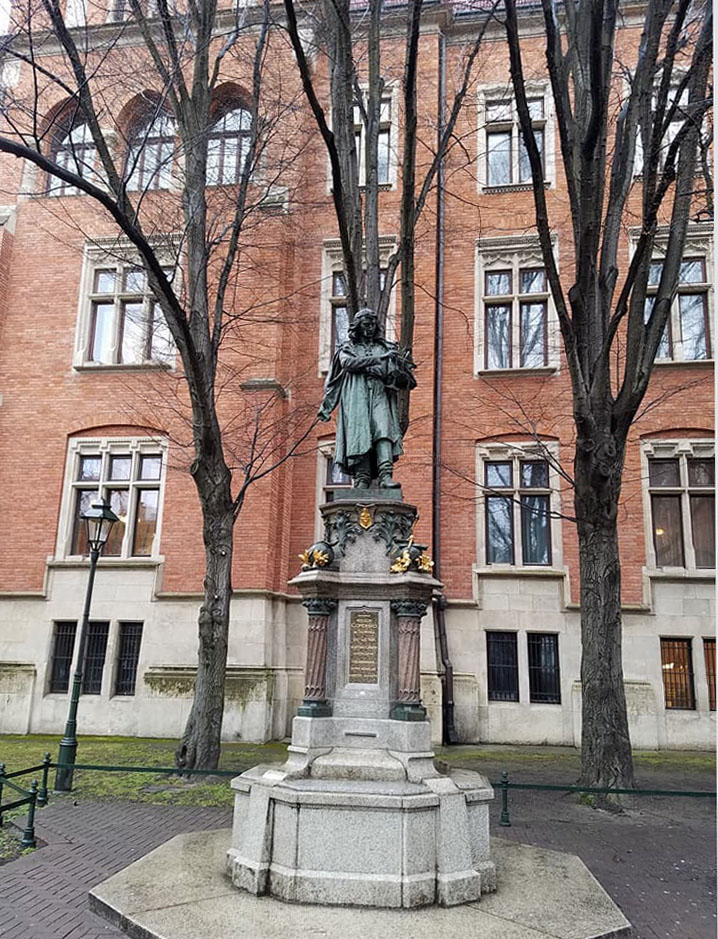 EFES Kebap for Dinner 38,10 Złoty
Do we even need to tell you we stopped for Pączki? It was 5,80 Złoty at Piekarnia i Kawiarnia Lajkonic... but sadly this caramel version was just okay.
6:00 Up
7:30 Breakfast
Our Last Breakfast at the hotel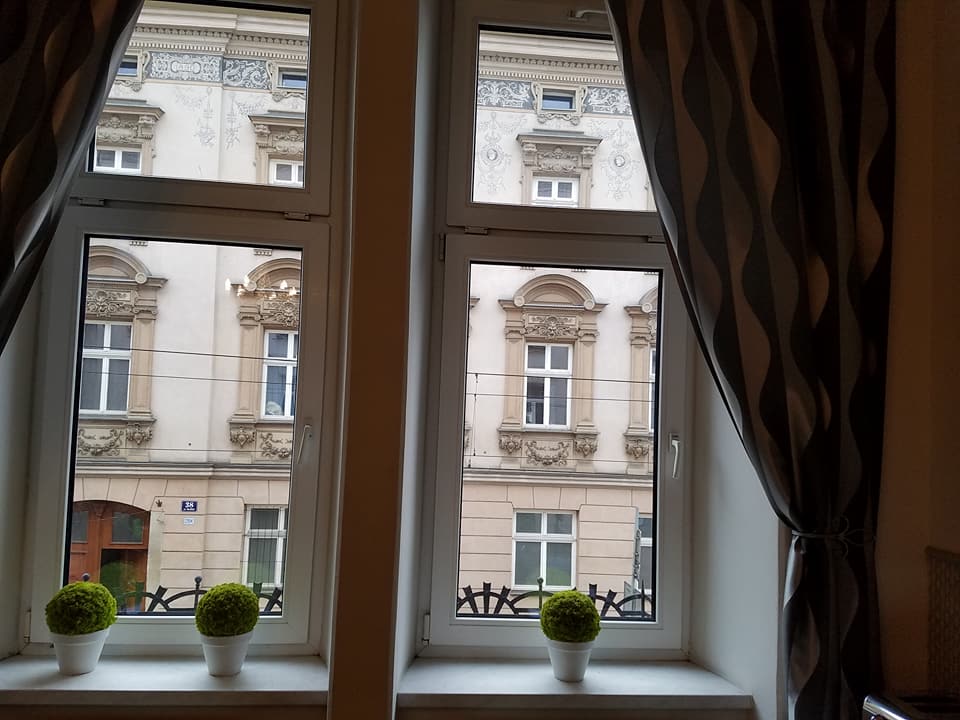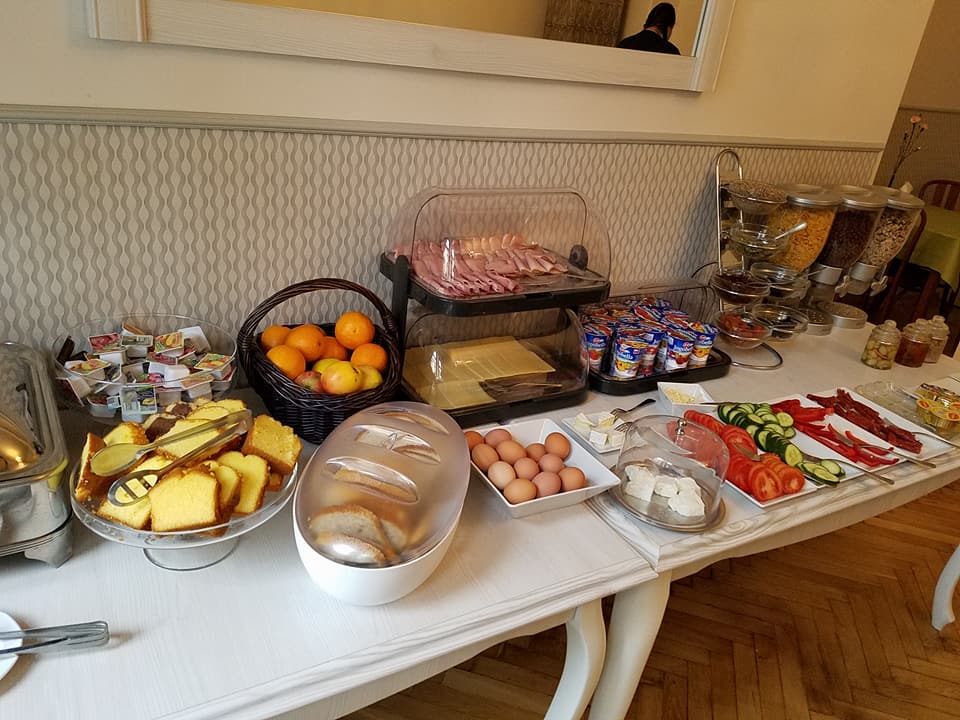 9:30 We walked to a bus stop near the Galeria, headed for the Wieliczka Rynek Kopalnia Salt Mines.
The Wieliczka salt mine reaches a depth of 327 meters (1073 ft) and is over 287 kilometres (178 mi) long. In 1978 it was placed on the original UNESCO list of the World Heritage Sites. Aside from the regualar mining process that has been occuring since the 13th Century, the miners have also created statures and dug out chapels, and even a huge catherdral. Even the crystals of the chandeliers are made from rock salt that has been dissolved and reconstituted to achieve a clear, glass-like appearance.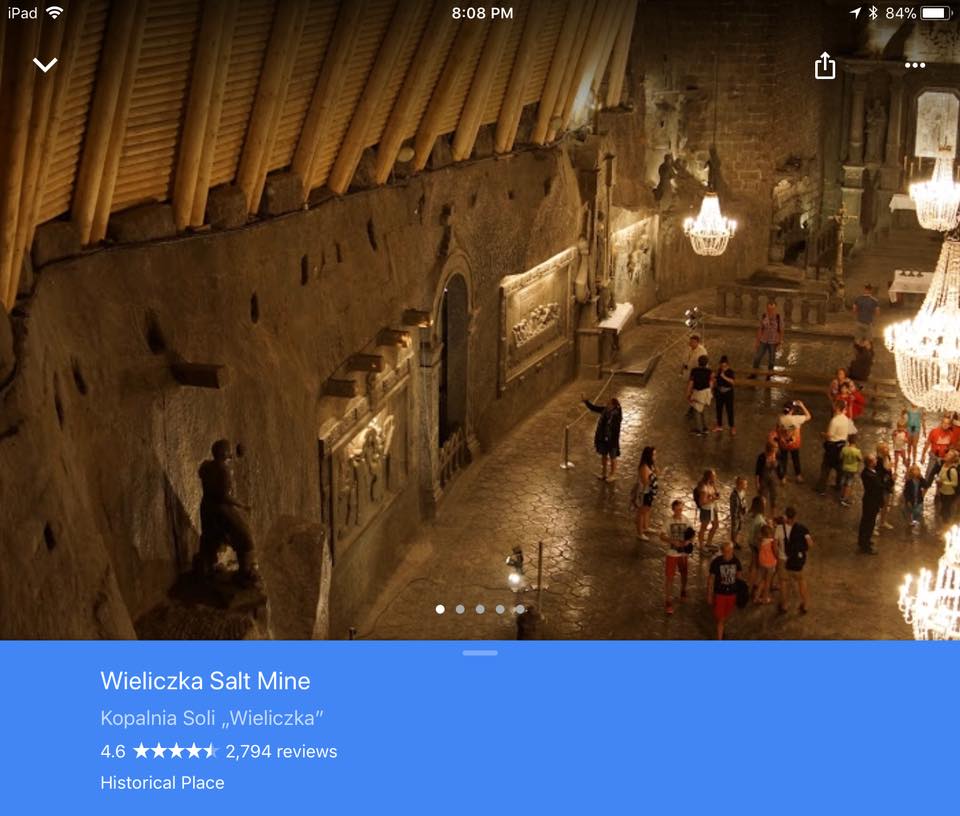 Purchased a pass to take photos 10 Złoty, and managed to get in to an earlier English group. We started by going down about 850 steps, 50 platforms...
obviously we were staying in the newer sections of the mine... only about 400 years old...
it was around this time I noticed I didn't have the hotel key.

Our guide was very good, even with the scripted jokes.
"Salt is very healthy for you, I myself am over 100 years old"
"You may lick the salt... it is antiseptic; as a matter of fact your entry price entitles you to eat up to 5 kilos (10lb)"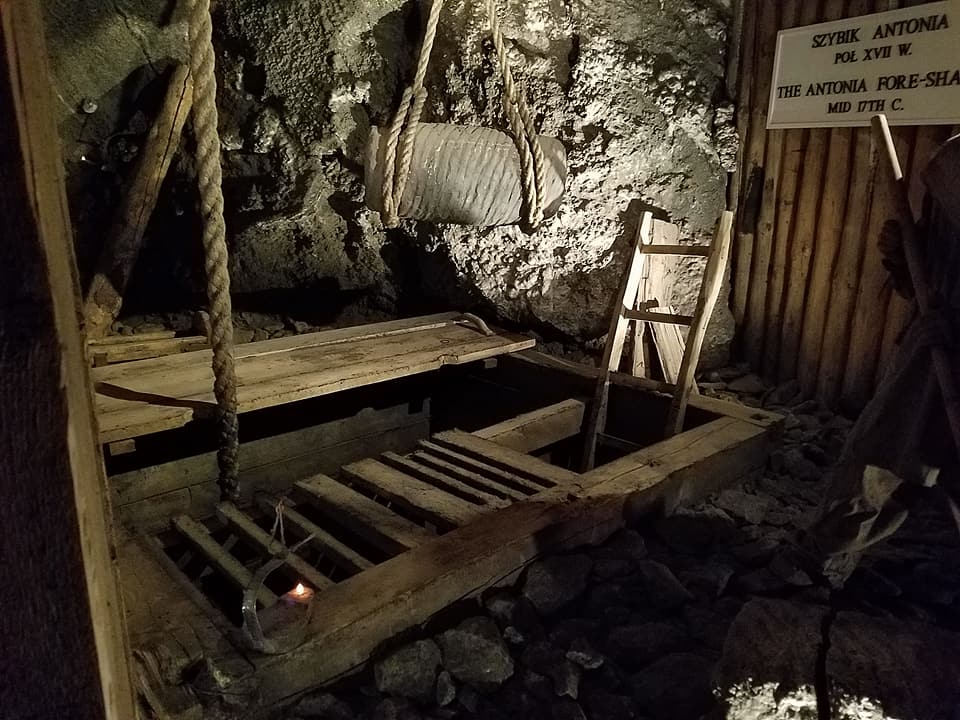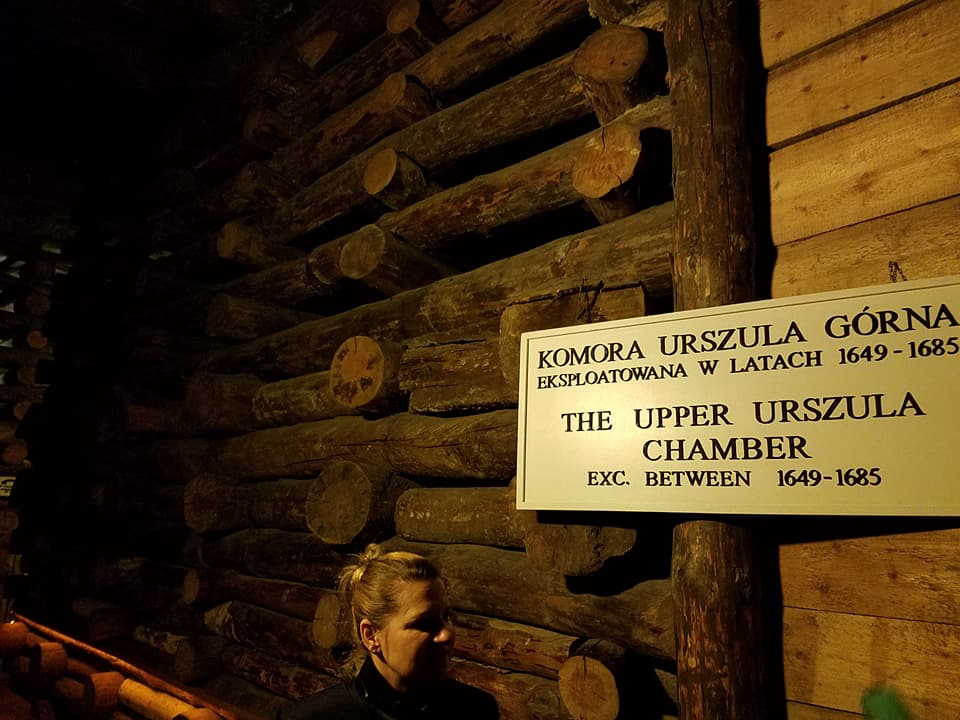 Rock salt is not white, it is gray. Even the floors were salt. The smooth walls in places was from the tremendous air flow needed for a mine.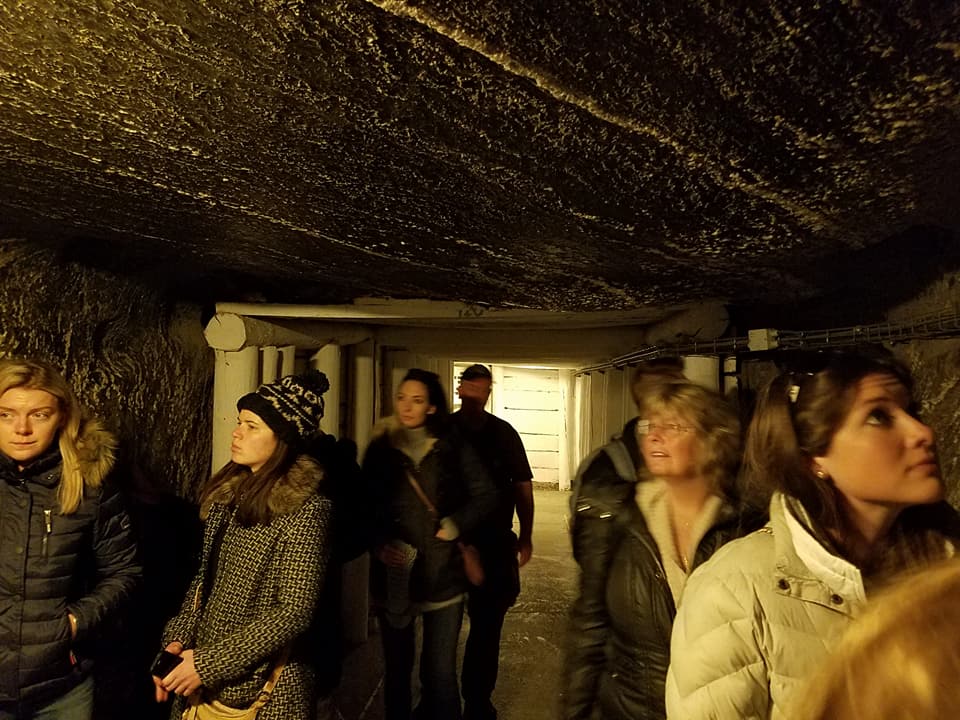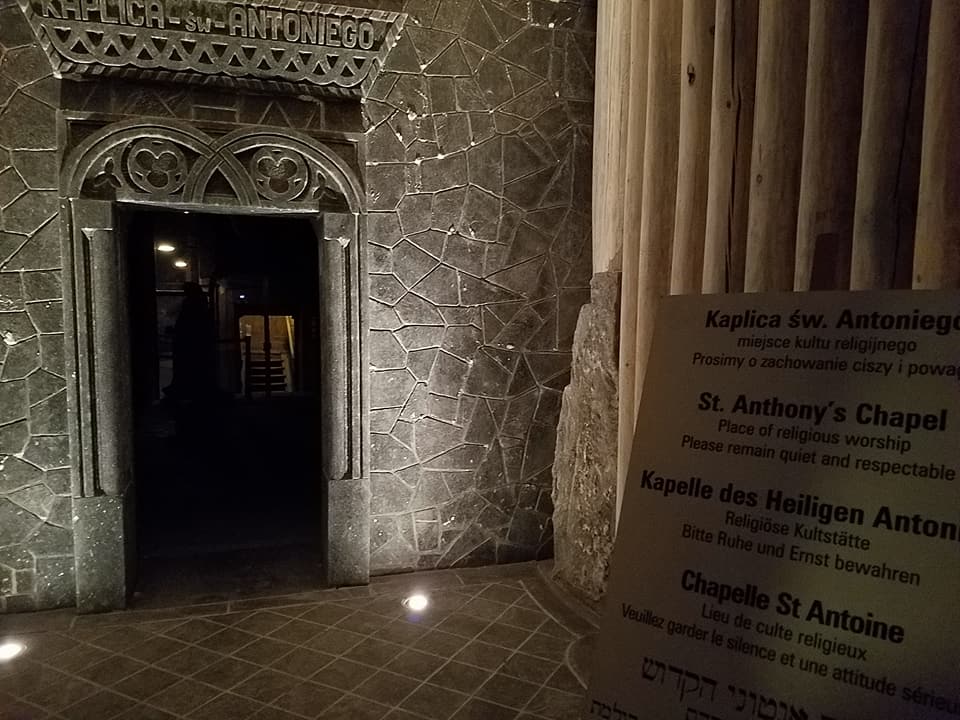 There is a legend about Princess Kinga, associated with the Wieliczka mine. The Hungarian princess was about to be married to Bolesław V the Chaste, the Prince of Kraków. As part of her dowry, she asked her father, Béla IV of Hungary, for a lump of salt, since salt was prizeworthy in Poland. Her father King Béla took her to a salt mine in Máramaros. She threw her engagement ring from Bolesław in one of the shafts before leaving for Poland. On arriving in Kraków, she asked the miners to dig a deep pit until they come upon a rock. The people found a lump of salt in there and when they split it in two, discovered the princess's ring. Kinga had thus become the patron saint of salt miners in and around the Polish capital.
Some salt was white, they call this cauliflower salt.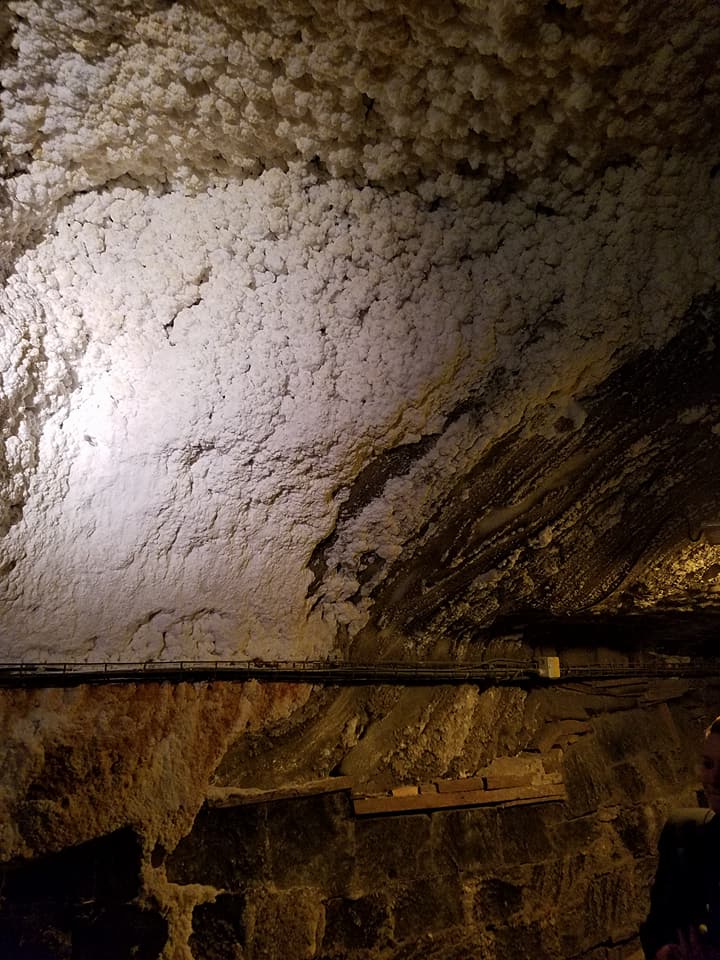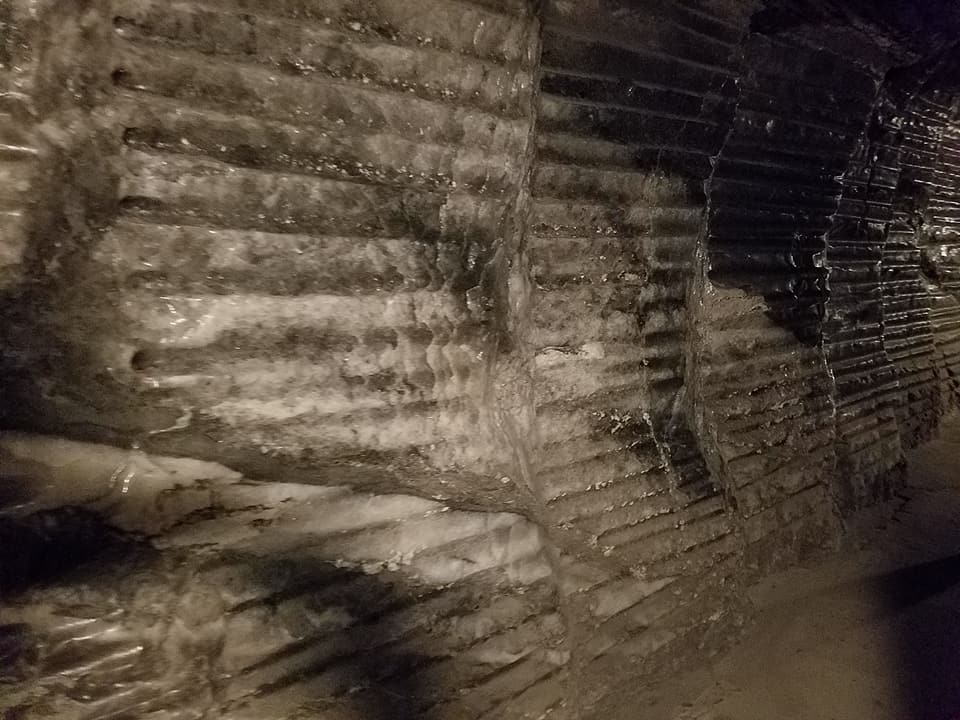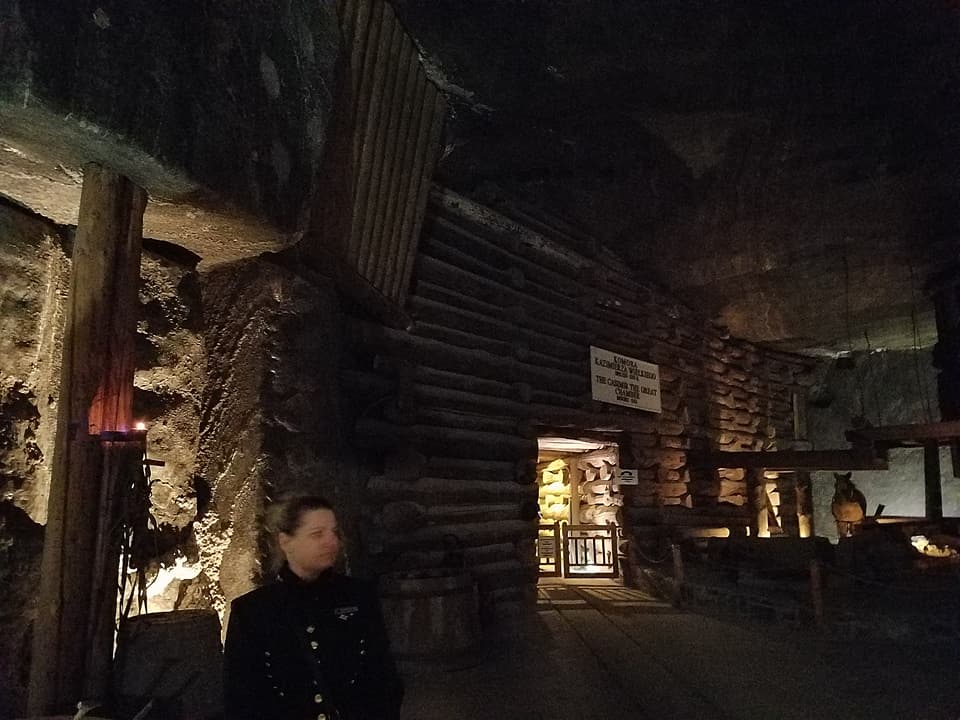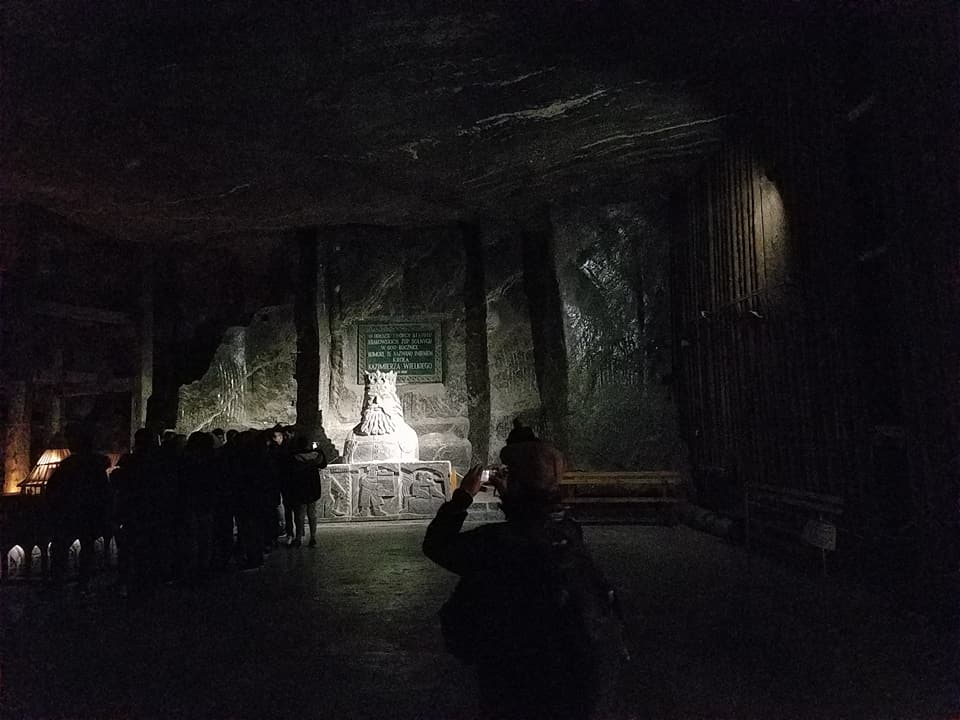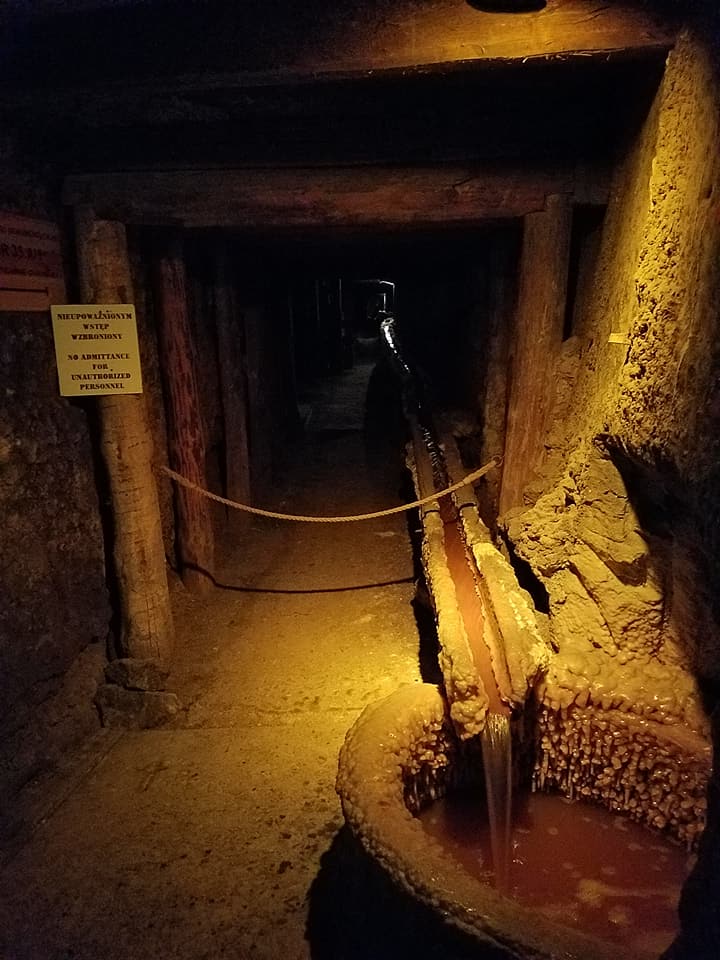 One way to get salt out easier was to saturate water and move the water about. There was also stables in the mine for draught horses.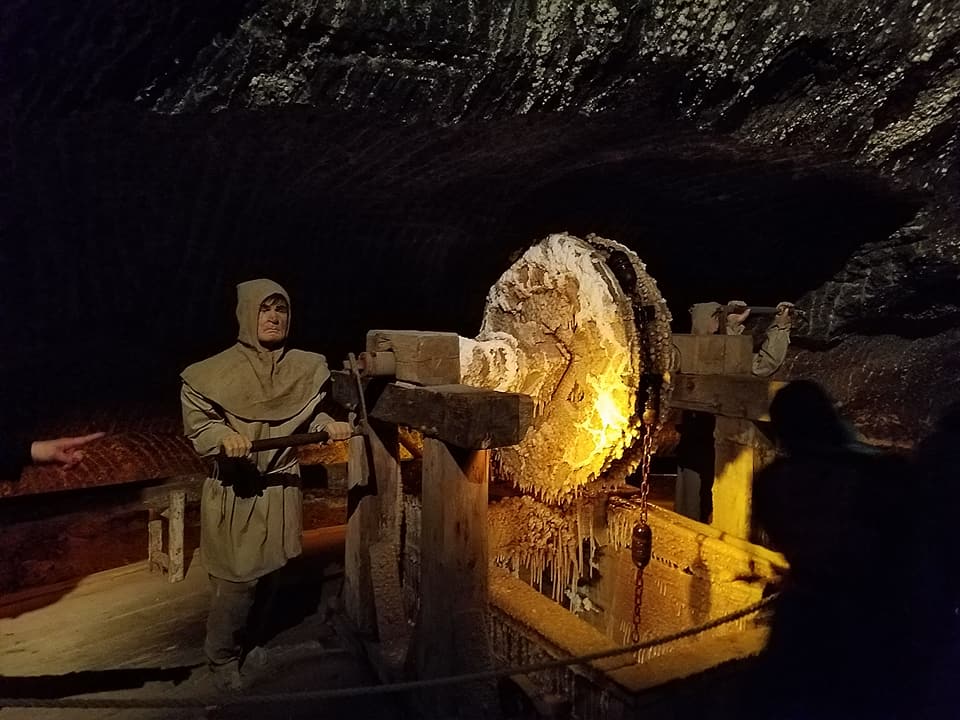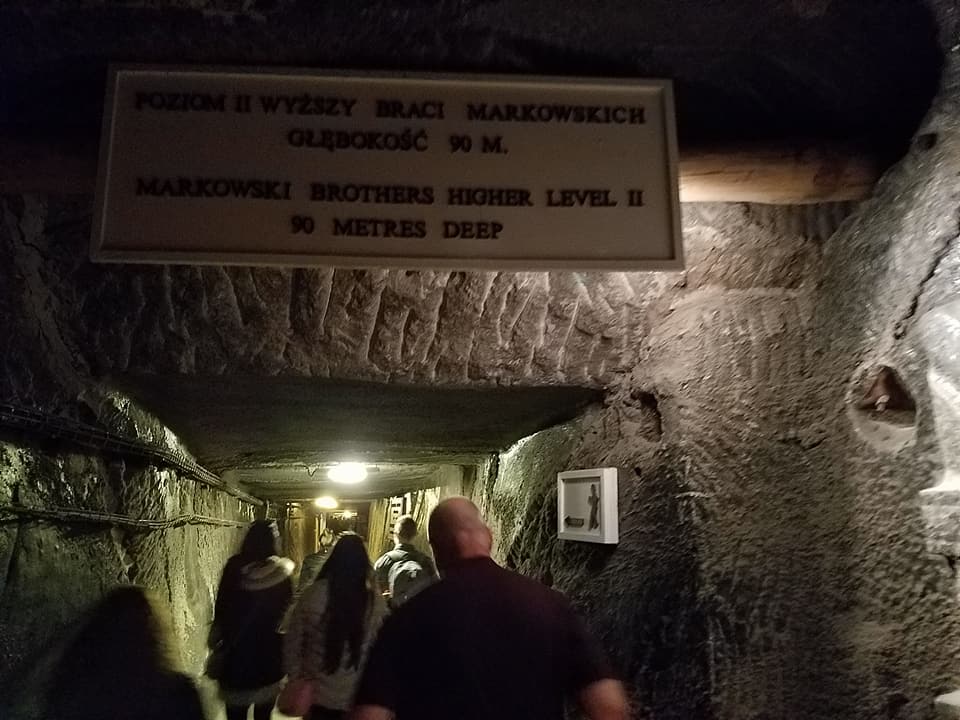 One of the small chapels.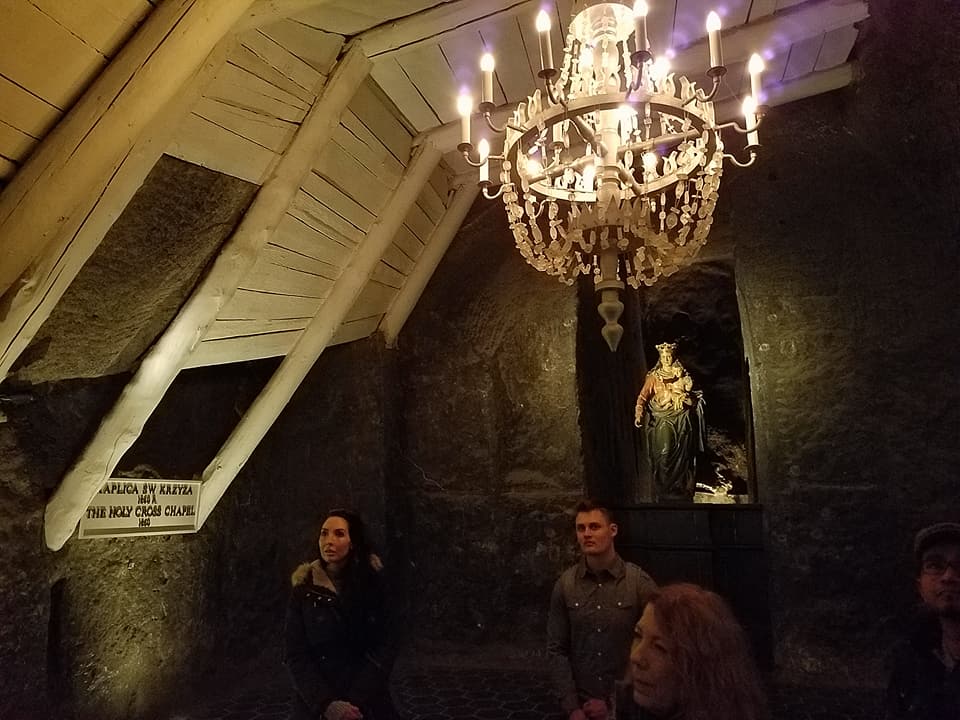 The big chapel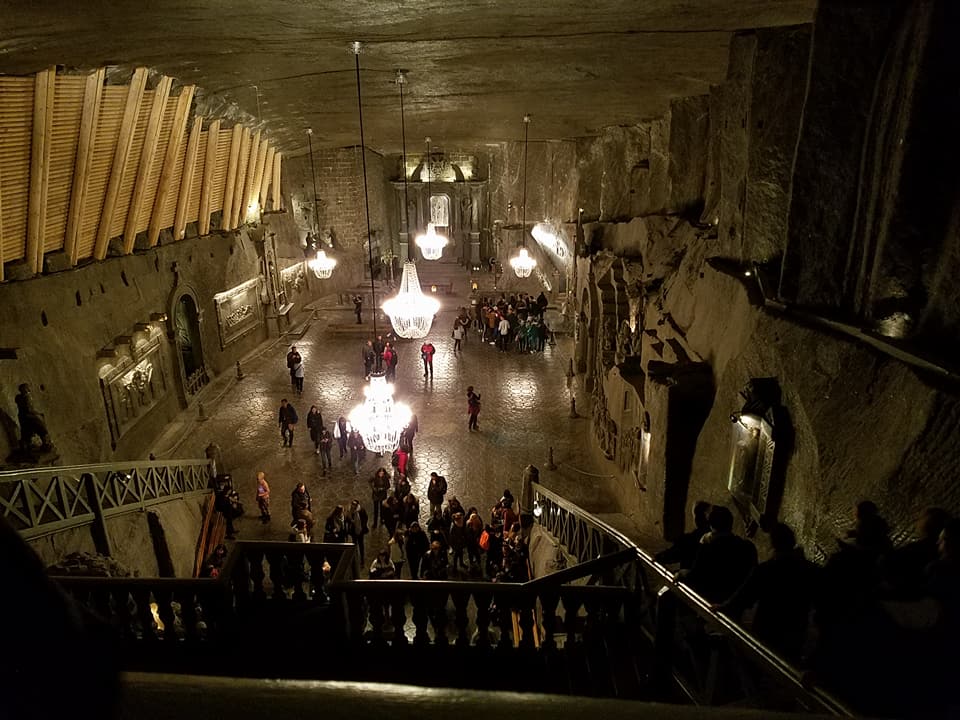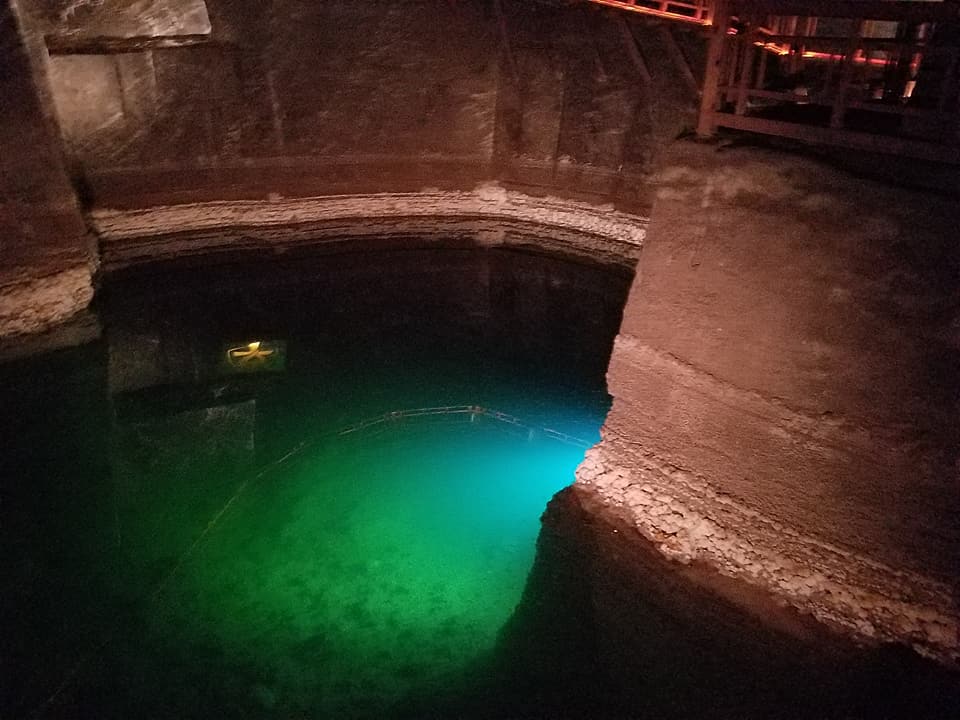 This is as deep as we got, I believe; 110 meters is 360 feet. What's odd is we were still above sea level.

The tallest chamber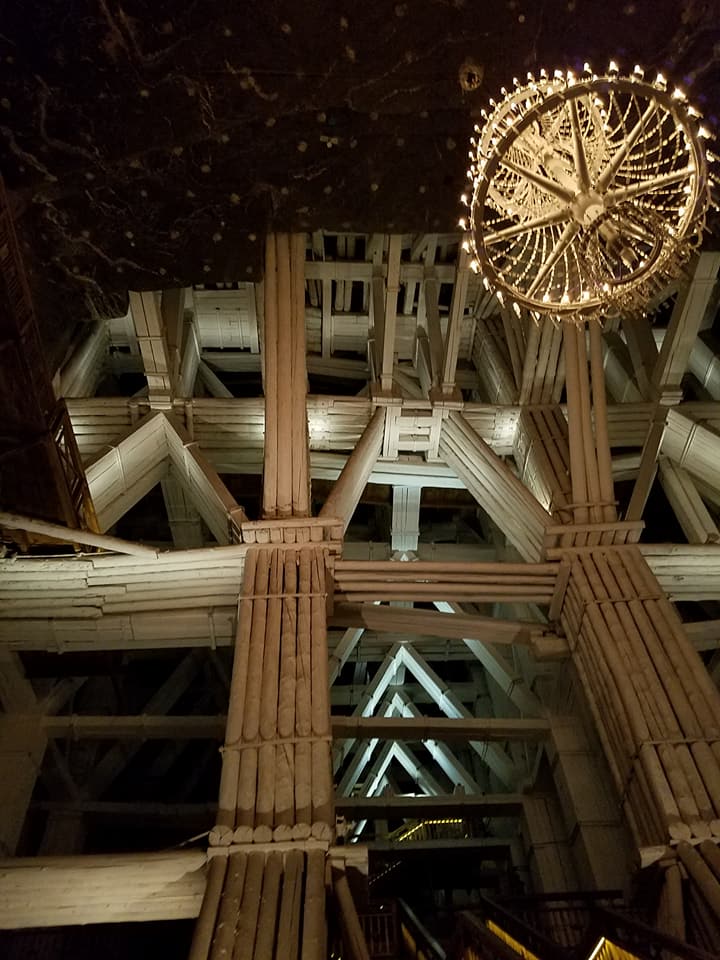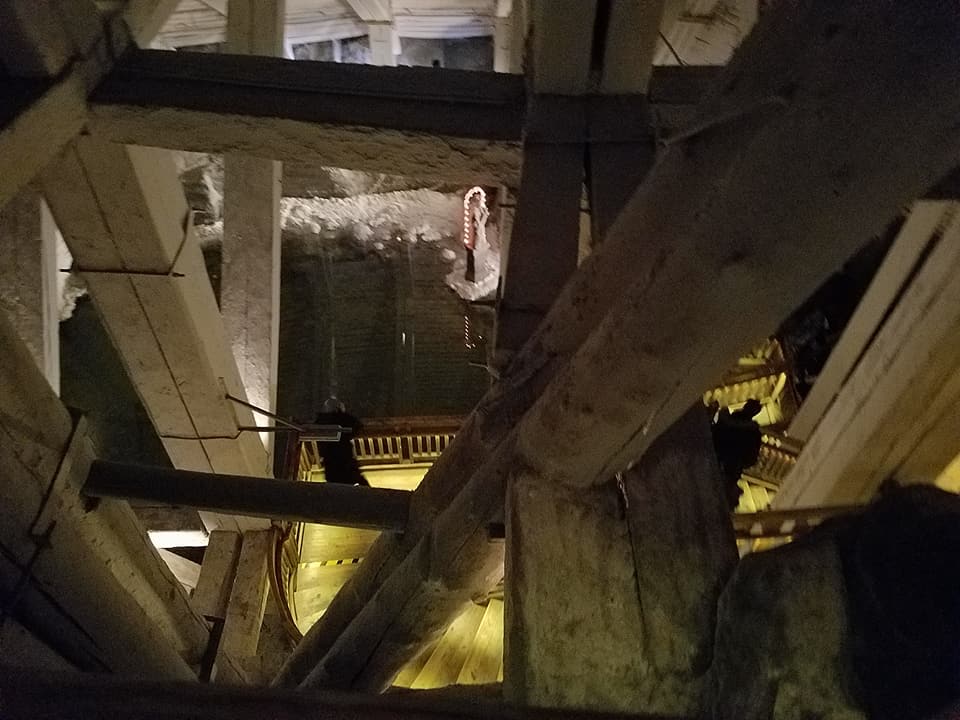 Gift shop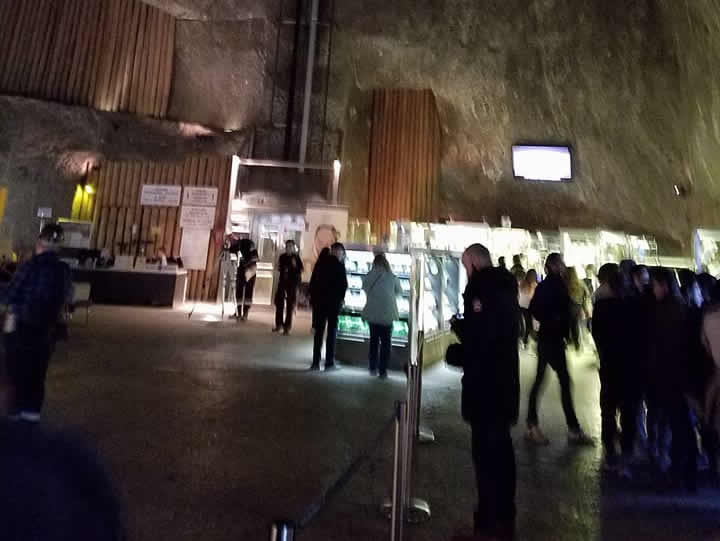 We bought souvenirs 7 Złoty.
From here is was a VERY long walk to the elevator, where we came up a different shaft.
Visited Lost and Found, no sign of hotel key
We caught the bus, passing Wawel for the last time.
Arrived at the hotel prepare to pay 100 Złoty for a new key, but found the key in the hotel room door. Bonehead salvation.
Milk Bar in Old Town, for lunch, 37 Złoty for the diner experience: eggs and bacon.
After lunch, we sought out the fudge shop again, 5,95 Złoty.
The Underground had been closed for a few days, but we finally got in... the entrance is in the Cloth Hall.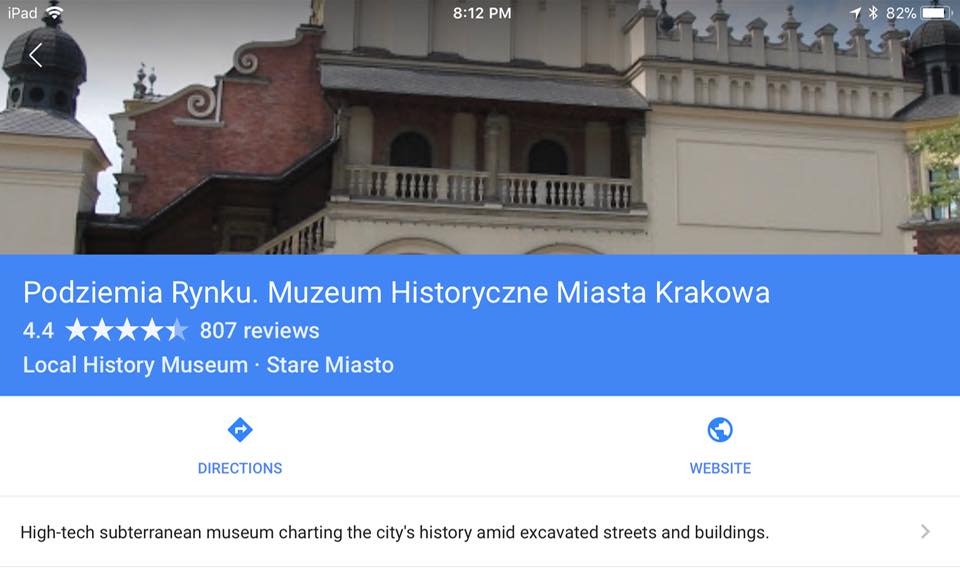 "Archeological works started in summer 2005, and the excavation of the area under the eastern part of Cracow's Main Square was completed after 5 years. This should not be a big surprise considering the archeological layers of the Main Square contain 1000 years of history. The result of this research is presented in the underground exhibition, whose main aim is to present very close connections between Middle Age Cracow and other Middle Age European cities."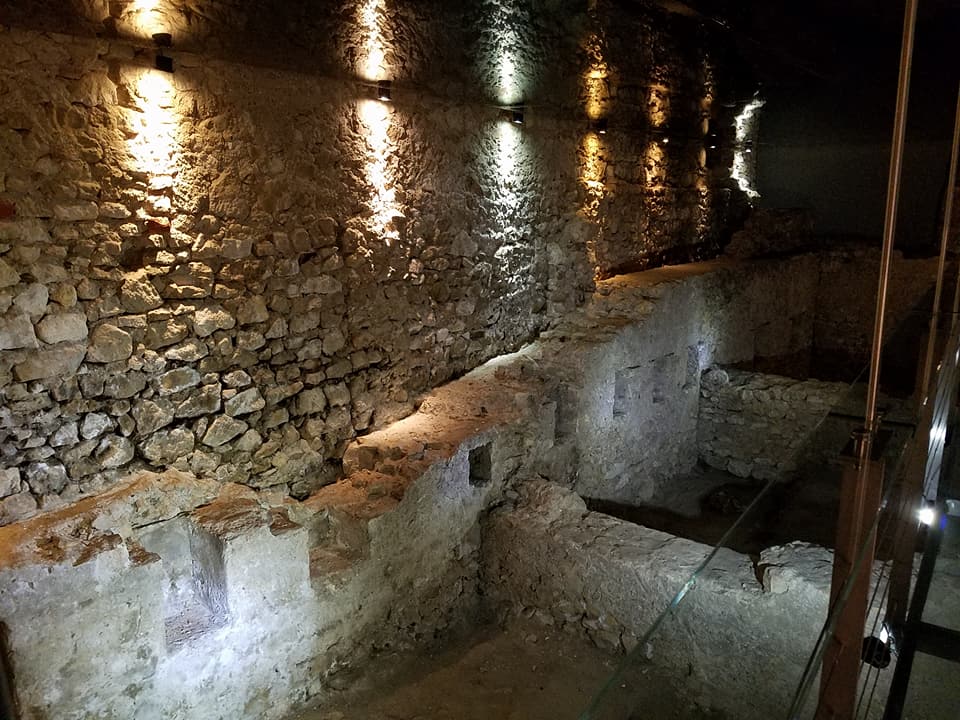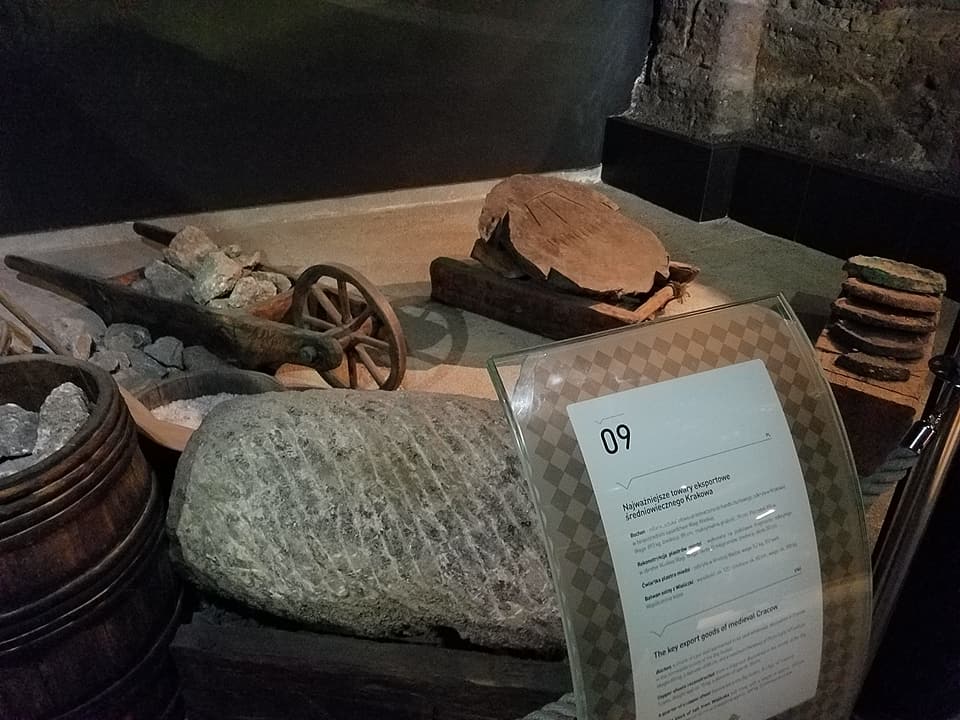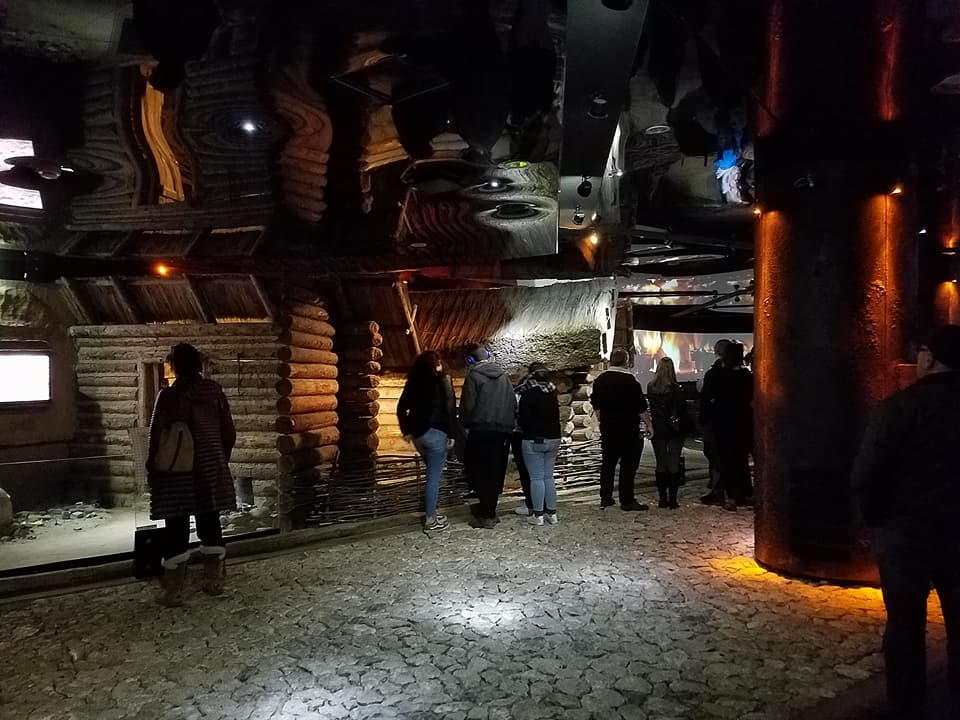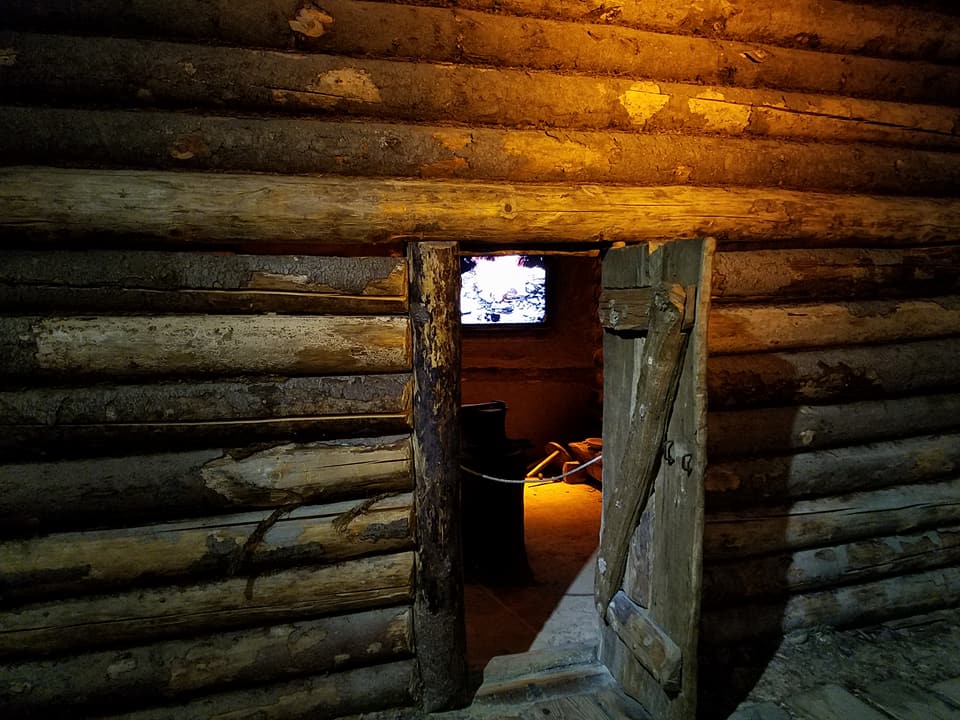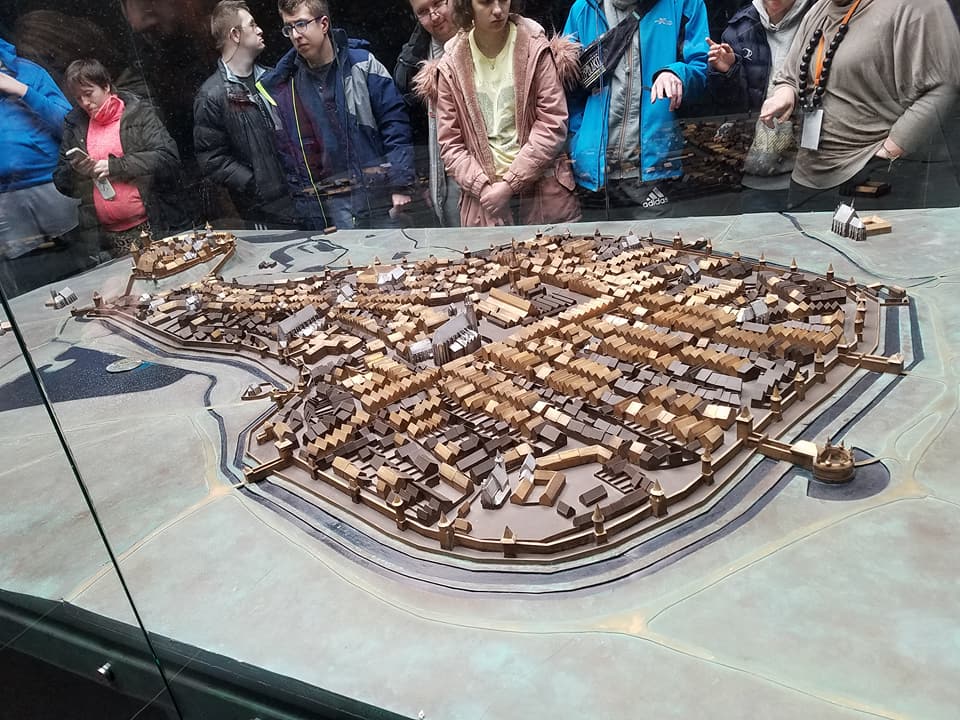 Finally, we saw the exhibit on how they dug up the square by the Cloth Hall to excavate the Underground.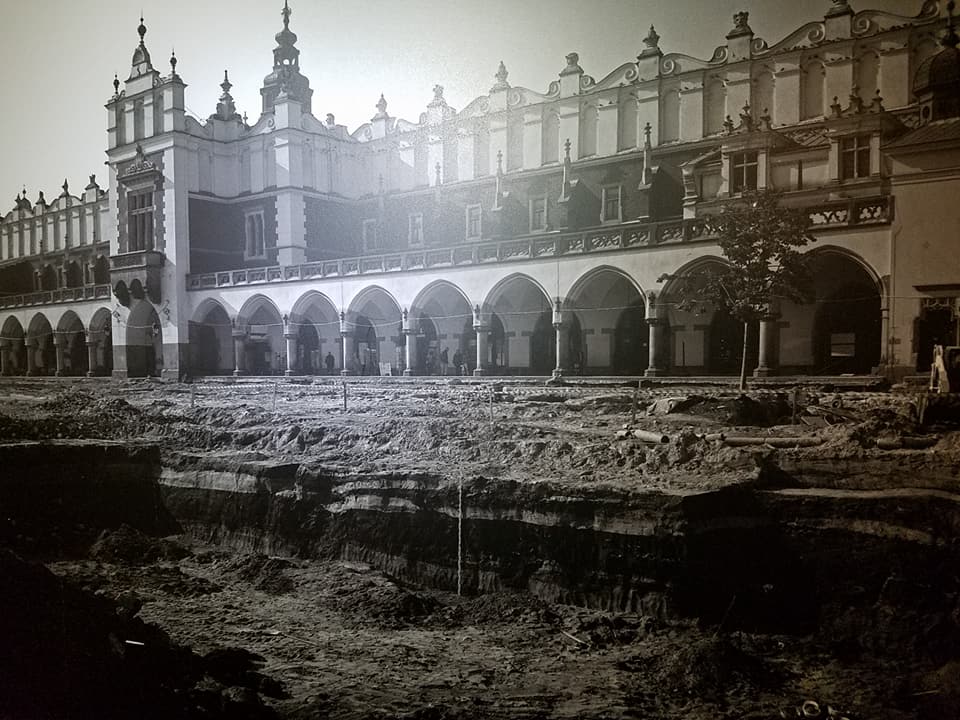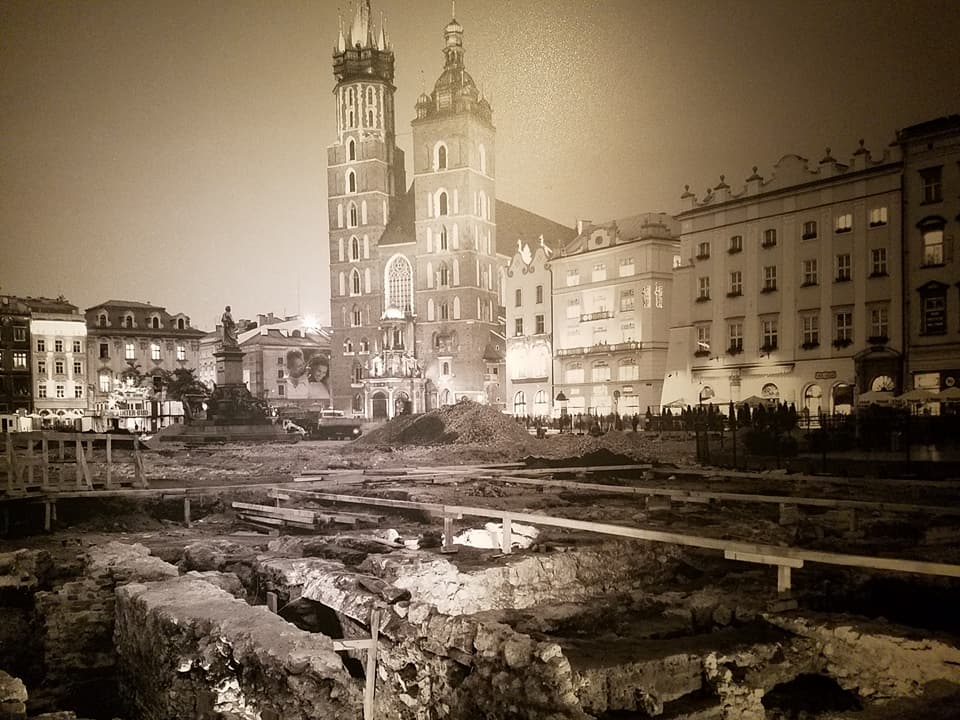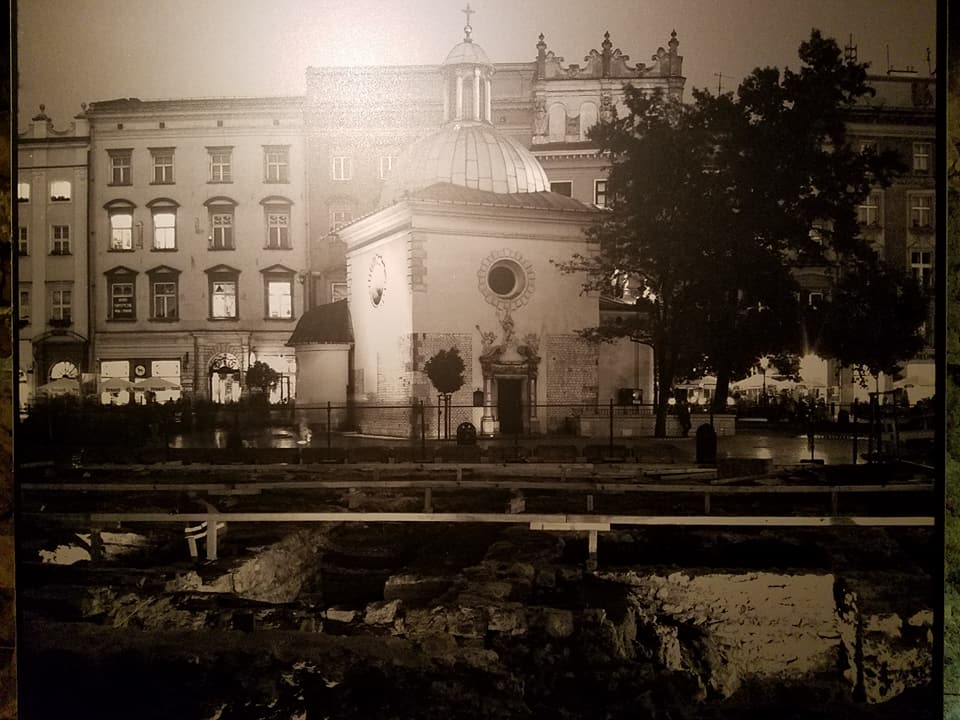 We headed back to the hotel, but took the chance to grab souvenirs 12 Złoty
and obwarzanek krakowski (sold from street carts) 1,60 Złoty; it is a popular snack in the Polish city of Kraków, where it has the status of a regional food with protected geographical indication. It is closely related to, but distinct from, bagels and pretzels.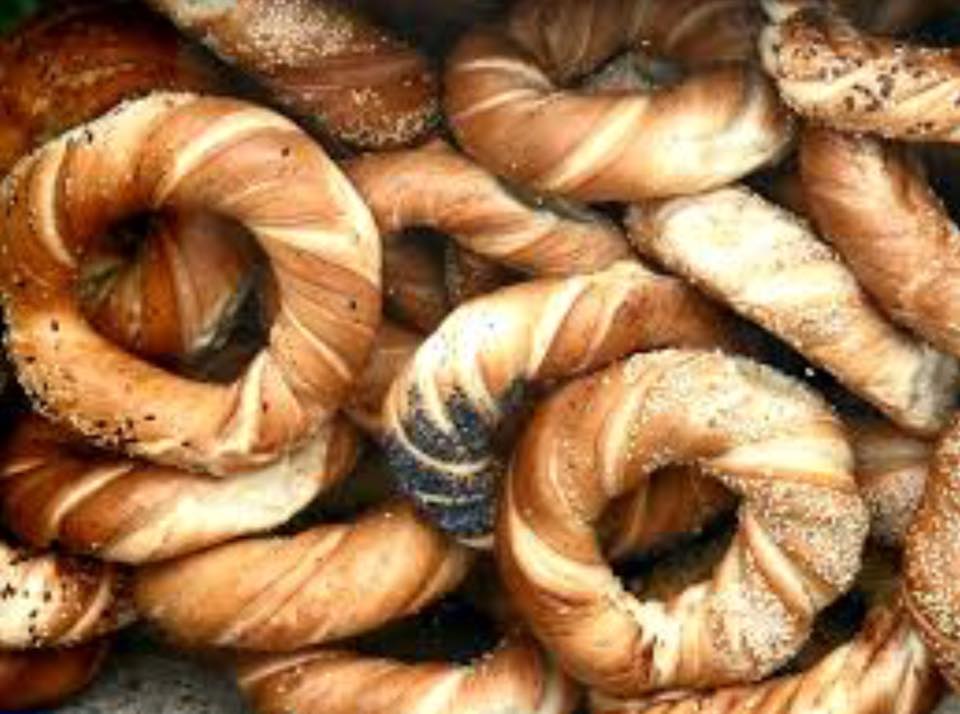 The Old Market was open as we headed back to the hotel; it was close to wrapping up the day but it was still fun to wander around.
For our last meal in Poland, of course we had Pizza and pasta! It was around the corner from the hotel, and we had to turn in early; 50 Złoty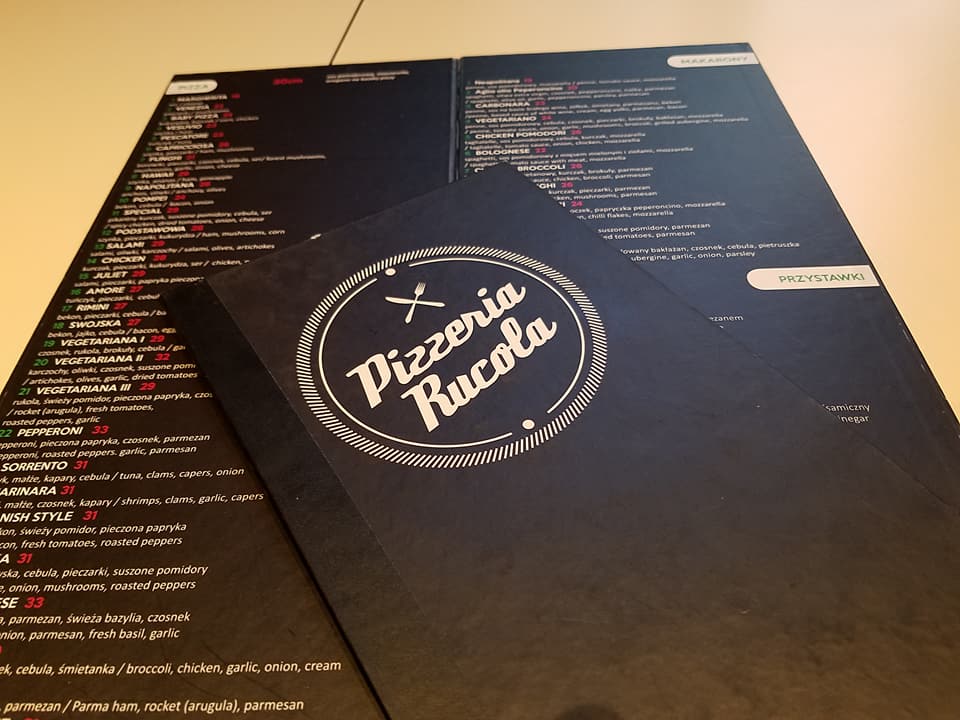 then we stopped at the Avita market under the beautiful clock to get snacks for the plane, 7,69 Złoty.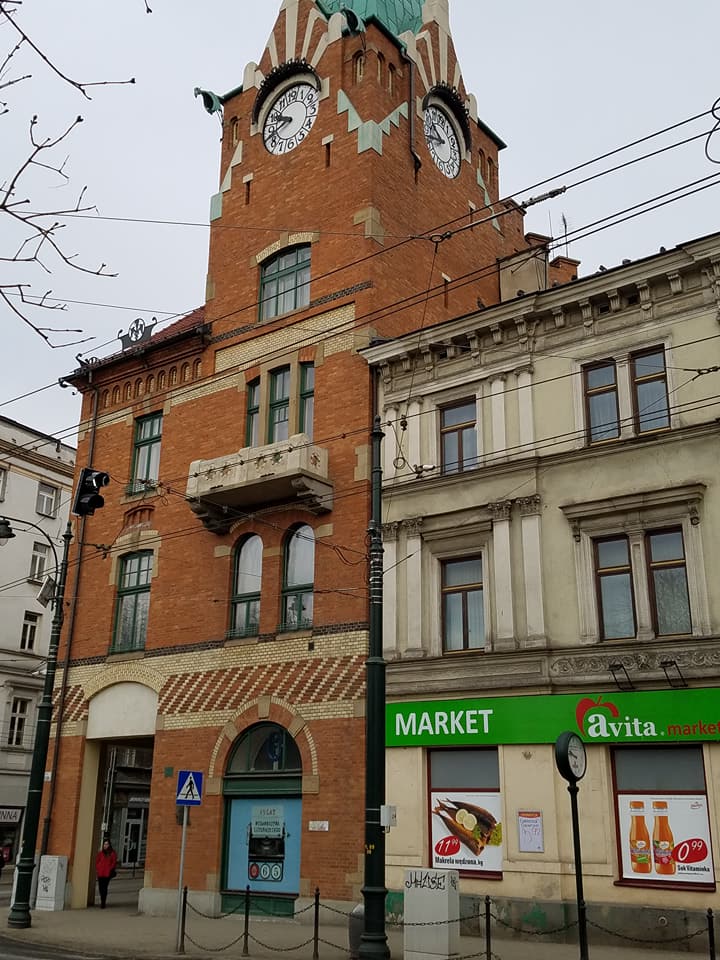 Just after packing, the hotel staff dropped off some breakfast bags, and we settled in
1:00 am up, and ate our bagged breakfast.
3:00am Talixo API via Holiday Taxi
for private transfer to Kraków Airport, 10 Złoty tip
3:45-4:30, waited for staff to check in at the airport, then headed through security.
The airport sadly had a smoking box for patrons who needed nicotine... but the door kept opening letting the fumes out.
DL 9631 KLM 1992 City Hopper KRK-AMS
6:00am-8:00am 2 Hr
06D, 06F Embraer 190
Layover AMS
8:00am - 1:25pm
5 Hr 25 Min
9,30€ for drinks.

Cattle Car boarding

DL 163
AMS-MSP
1:25pm-4:15pm
8 Hr 50 Min
43 D, 43E 777
Global Entry System on the fritz, so we had to do the manual route.

Layover MSP
4:15pm - 5:55pm
1 Hr 40 Min

DL 1825
MSP-AUS
5:55pm-9:01pm
3 Hr 06 Min
22A, 22B 717-200

Total Time KRK-AUS
21 Hr 1 Min
Plane was delayed, arrived in Austin at 9:35pm

to House
I always close with: "What a great trip," but this was a very special trip to a fantastic city.